Footy Trek 2016: Bank Holiday Edition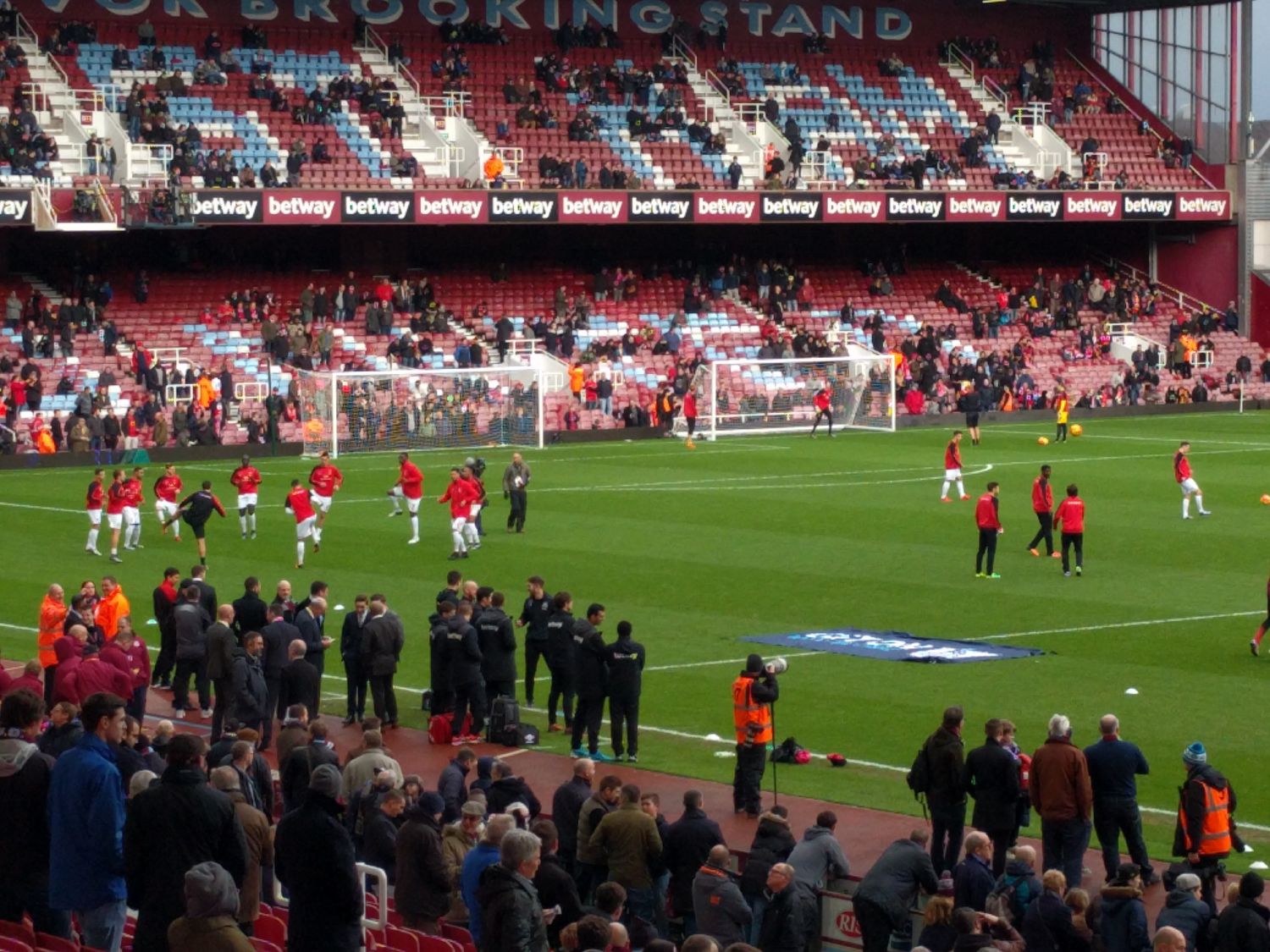 So, many years ago I did a soccer (RE: Football) tour of England with a couple of friends. We did a football match, toured a stadium or visited a team museum pretty much every day for a week and a half. It was wonderful, and we all came back strident Liverpool FC fans.
Hearing much about this trip another friend, Dennis approaches me with an offer that's too good to refuse. He does a lot of travel for work, and has airmiles that are about to expire. He simply has to use them before January 1st.
Additionally, he is a West Ham supporter, and this is West Ham's last year playing in their long-time home the Boleyn Ground. And, over the New Years break Liverpool will play West Ham at the Boleyn Ground for the last time. A free flight and a long weekend of footy? We make plans to fly out on New Years Eve!
It turns out getting a free flight to the UK was the easy part. Tickets to a football match are so much more difficult to come by these days. But in the end we do get them, although we are seated apart from each other. And, me being me, I scour the fixtures up and down the English football pyramid and find some other soft targets we can set our sights on. Why go to the UK for one match, if you can squeeze in five?
And now the kharma bit: As Dennis was picking up the flights I booked up in a Hotwire 'Deal' hotel room at the Raddison Blu Edwardian in Cannery row. This area of town has been taken over by the financial service sector as back-office space. As such was totally and completely dead over the New Year's bank holiday.
Upon check-in we were asked why we were in town. Then who we supported. Well reader, it turns out that this is the hotel West Ham United stay at before home matches! What are the chances?
We hung out in the lobby - not too much - but did enjoy seeing the expensive cars roll in that evening and the West Ham stars descend from them.
We start off our trip with a New Year's day trip to Loftus Road to see a Championship (RE: Second Division) match between Queens Park Rangers and Hull City. Many moons ago on that first football trip I was here, and, my how things change! Where there were jerk chicken shops, someone has dropped a huge pedestrian mall! The profile of the neighborhood has definitely gone upmarket.
Our seats are - well there's no other word for it - amazing. We're in the front row, basically a meter from the touchline. An injured Charlie Austin is in the box seats with his family just a few rows behind us.
The home team however, are operating at a suboptimal level and - the fans are grumpy. They're not steamed up, there's just a sense that they are over this shit.
Hull City's away fans are in fine fiddle. They bring in the new year with a lot of energy.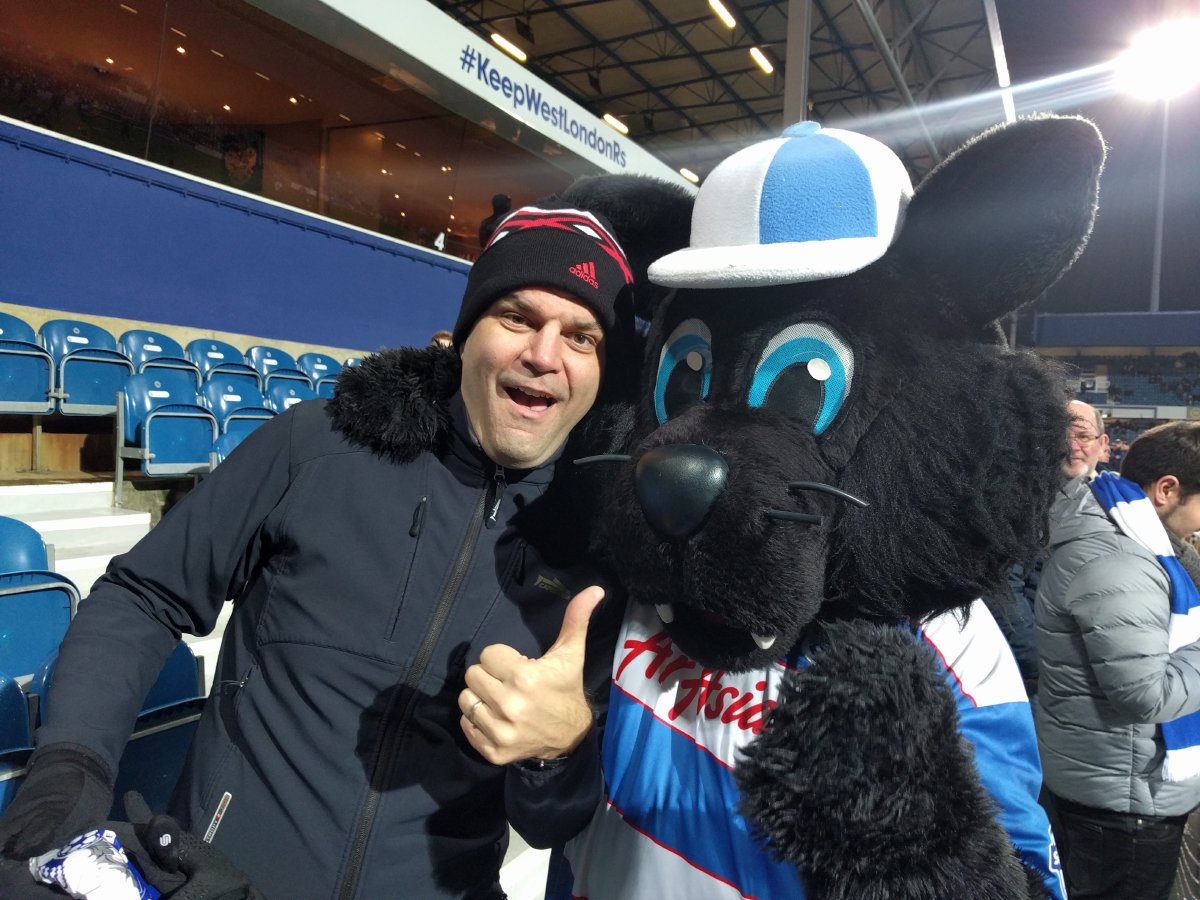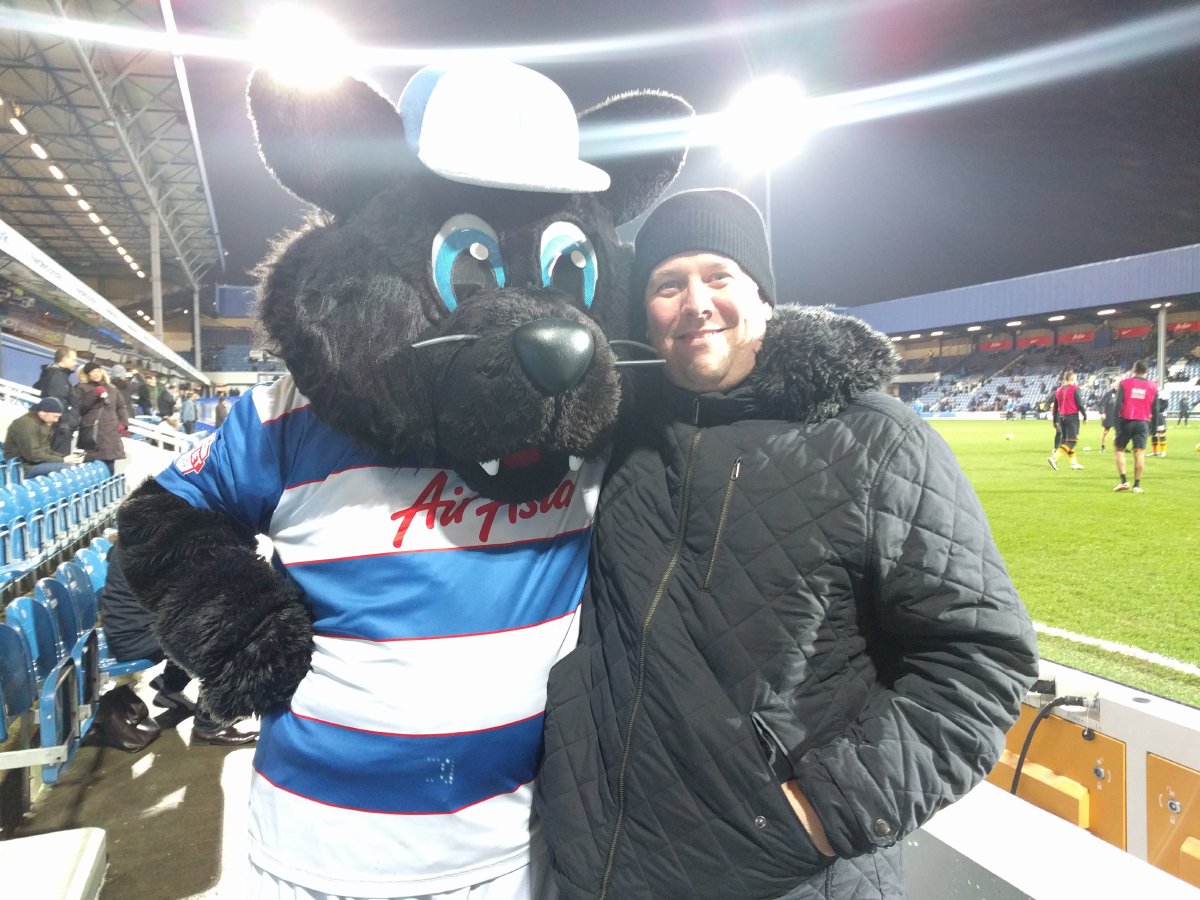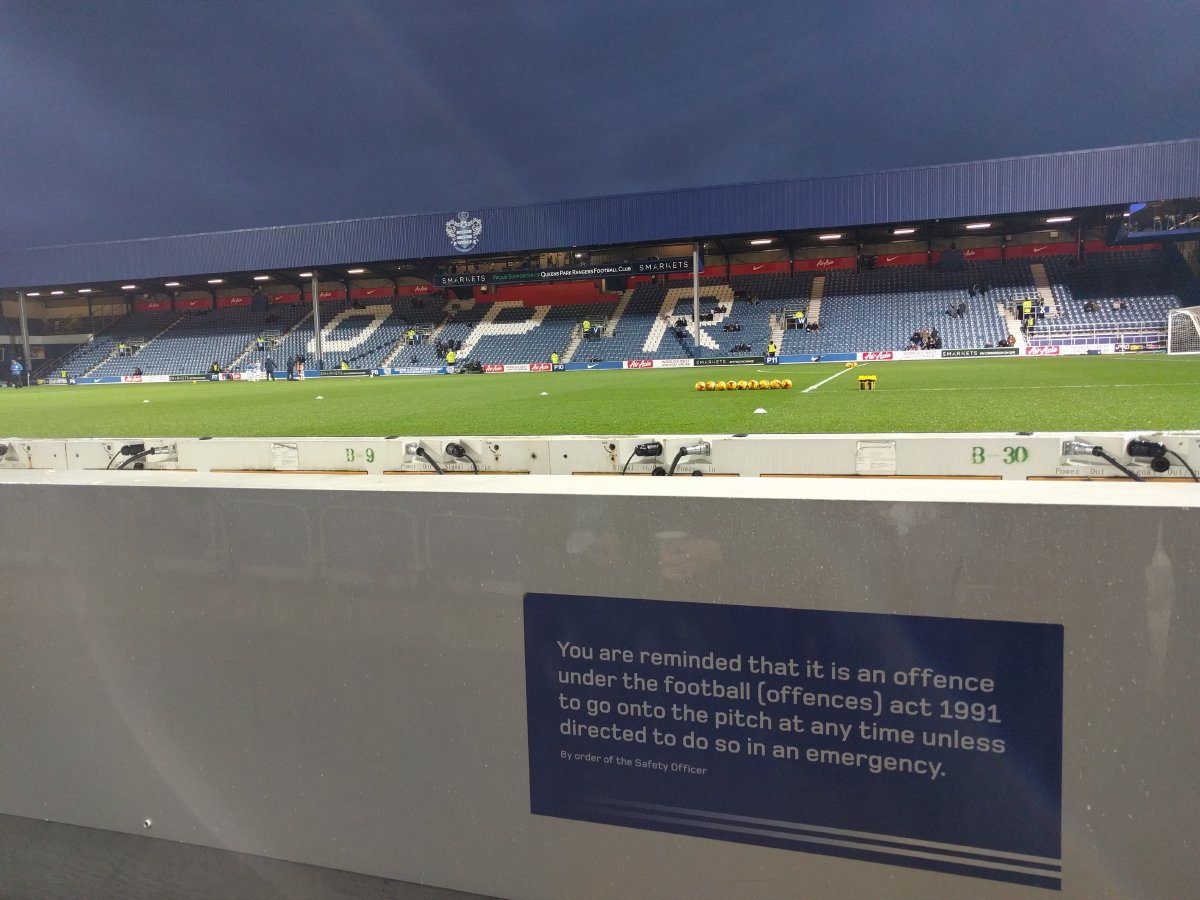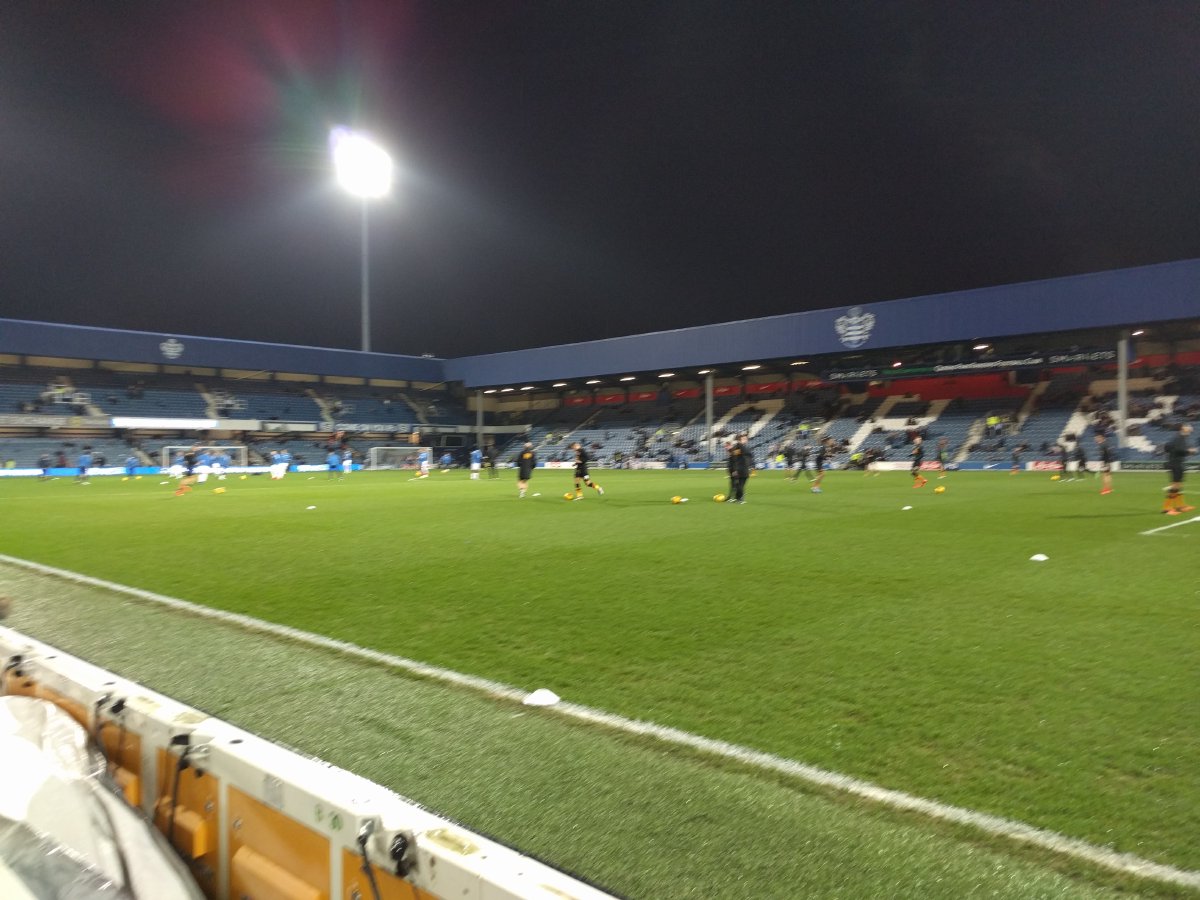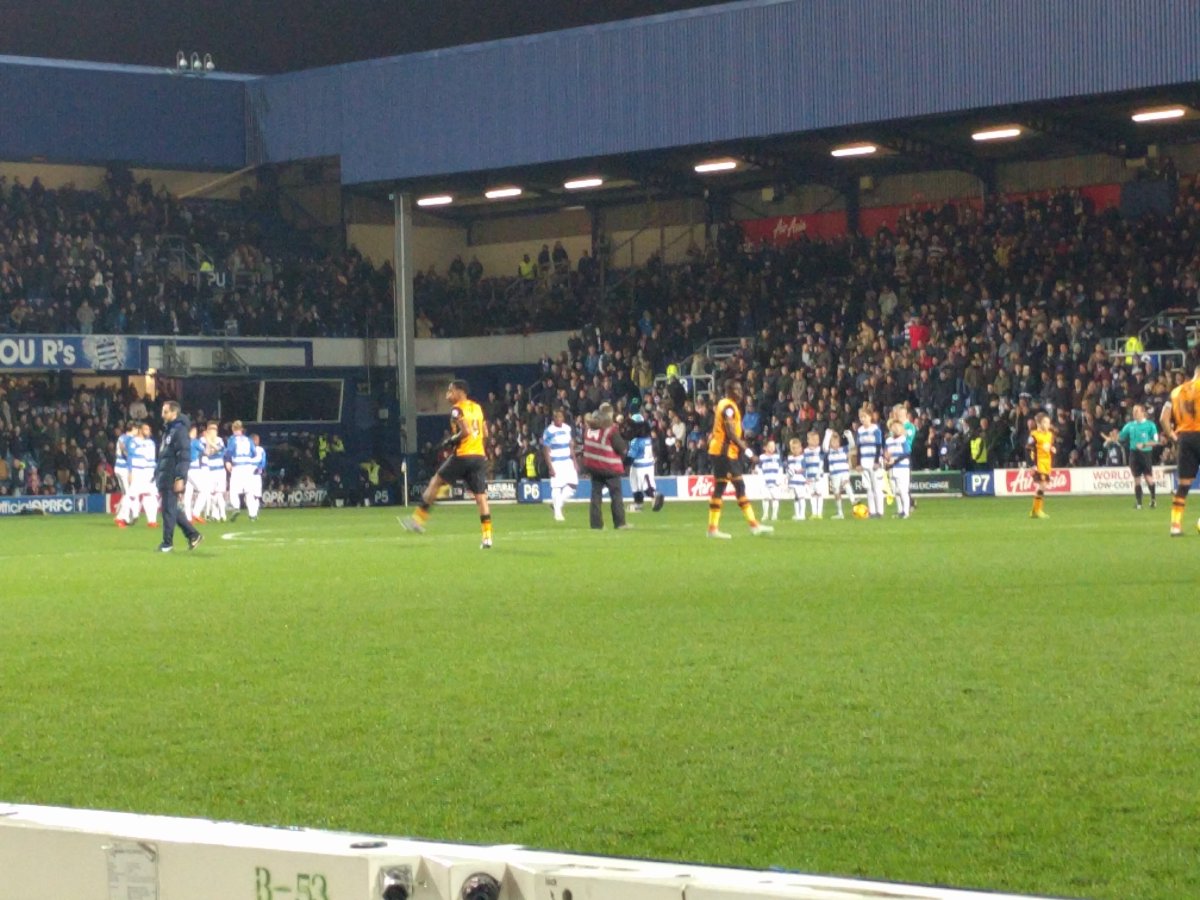 ---
"Arrange your face", is a quote often used by the character Thomas Cromwell in author Hillery Mantel's "Wolf Hall" books. Those books focus on the often dangerous world of Henry the XIII's court, where straying too far from what Henry thinks is acceptable - even with a stray expression of disapproval -  is dangerous. And that's what it feels like sitting with West Ham fans watching them beat Liverpool at the Boleyn Ground. I really needed to arrange my face as those goals went in. But, I did in the end keep my head.
Dennis, it's easy to say, was very pleased with the result, and the bloodthirstiness of the home supporters. Always blowing bubbles!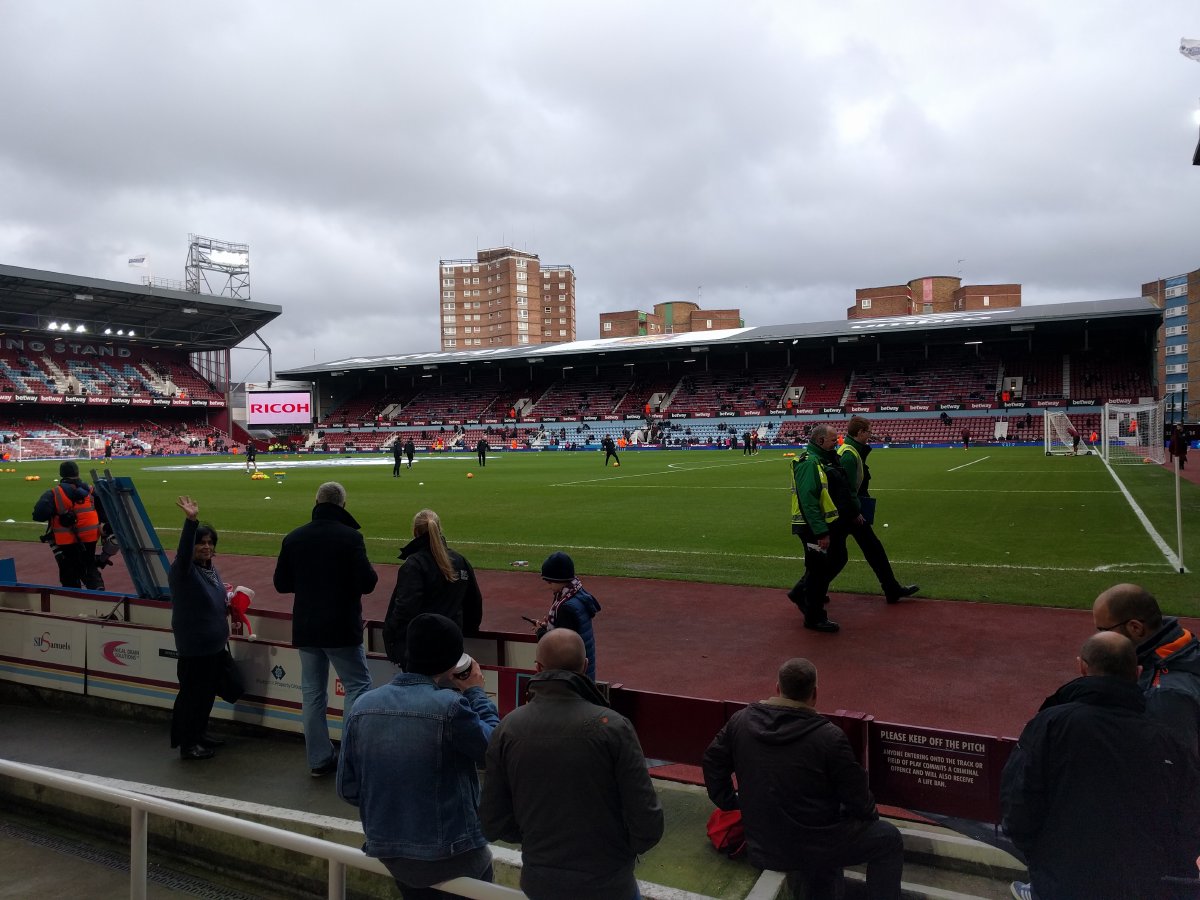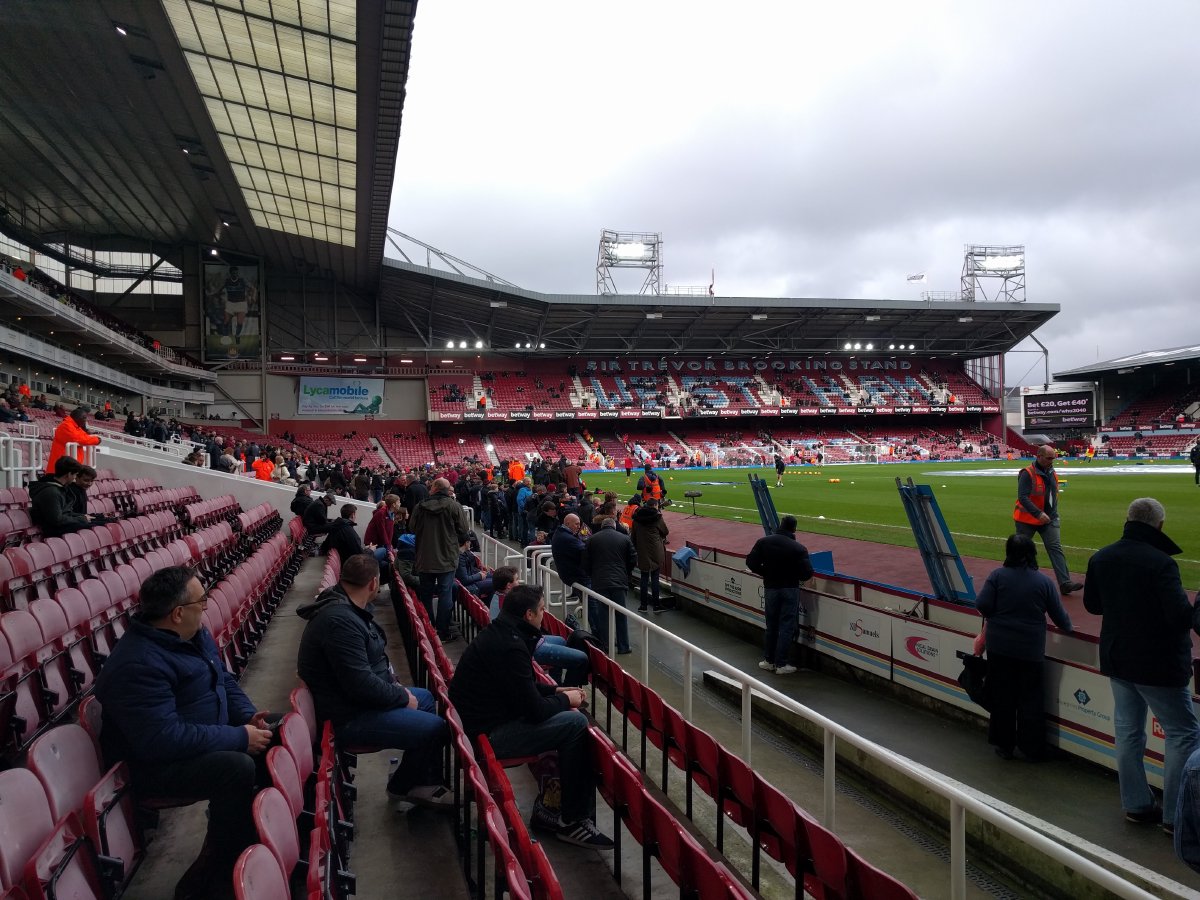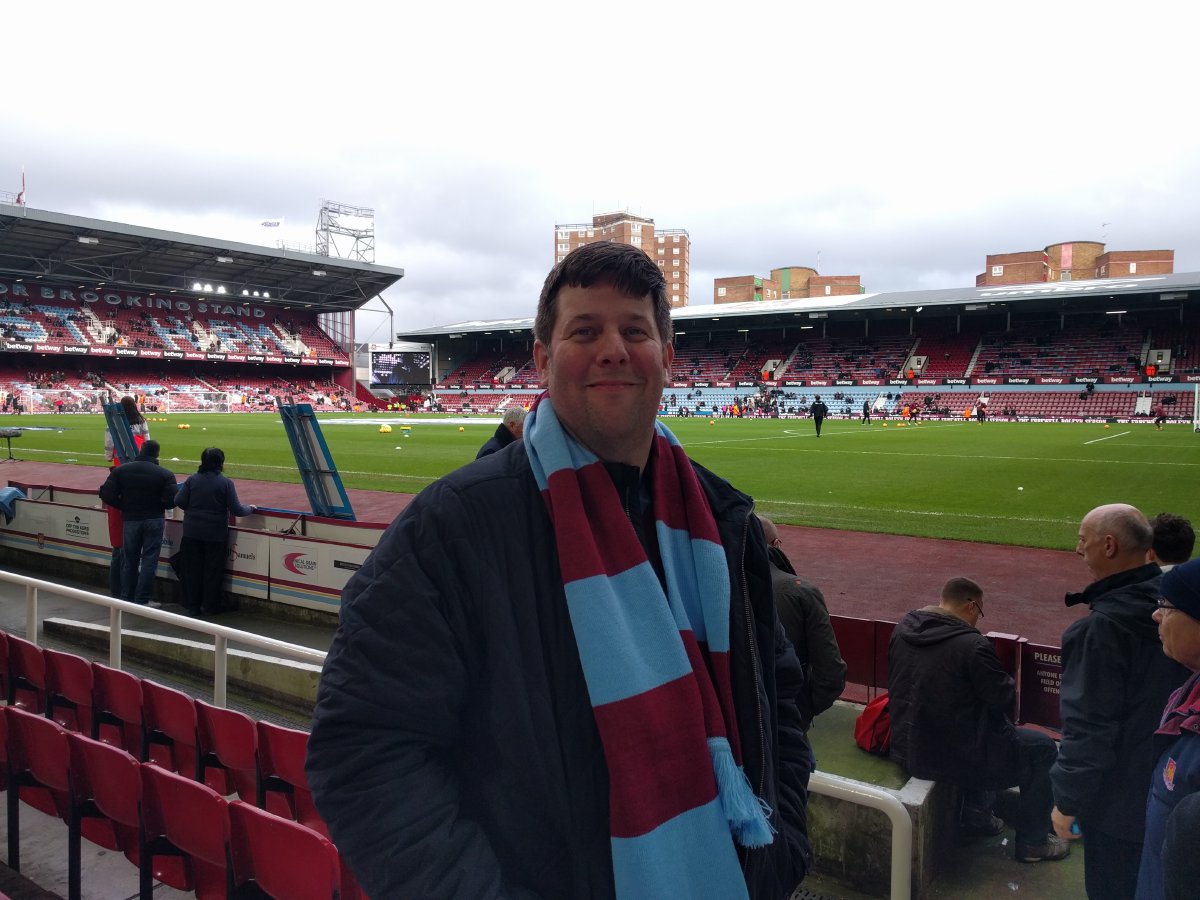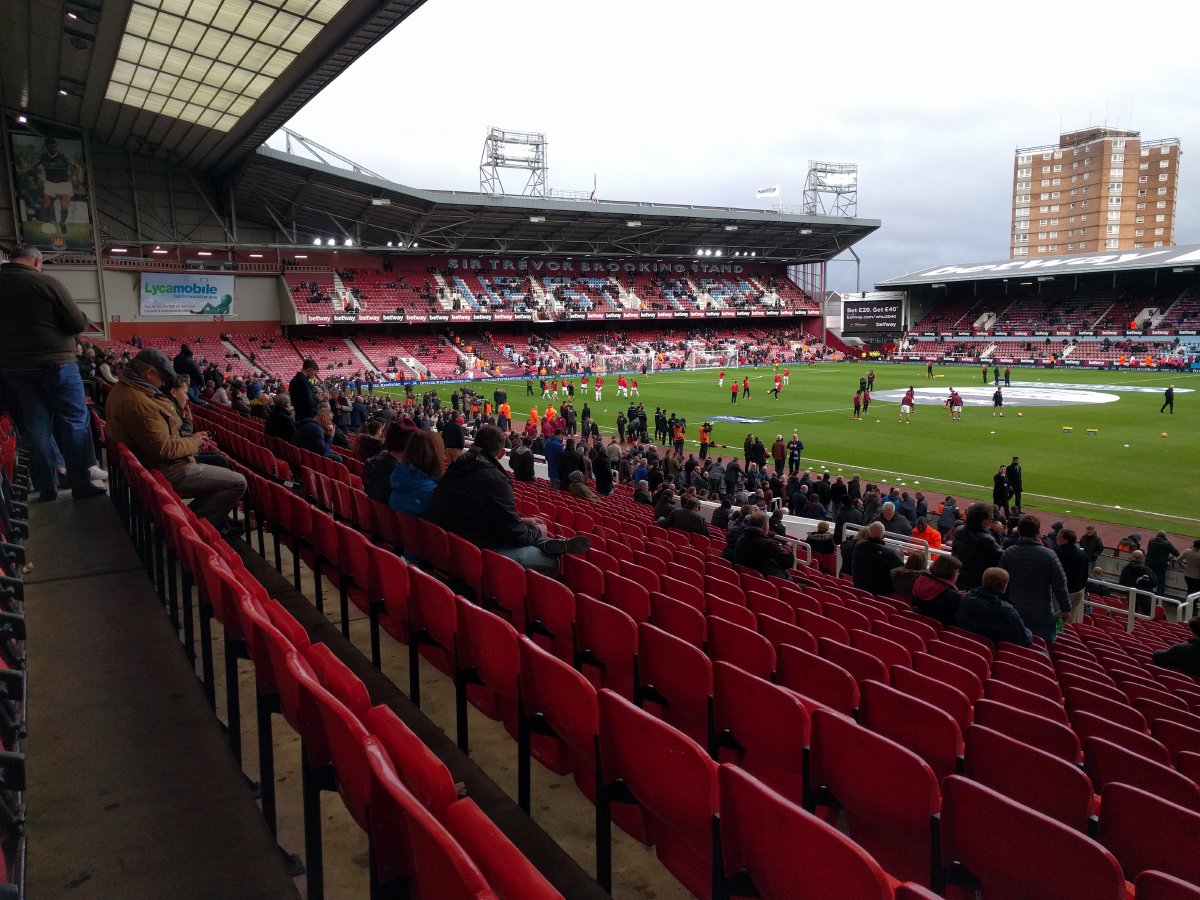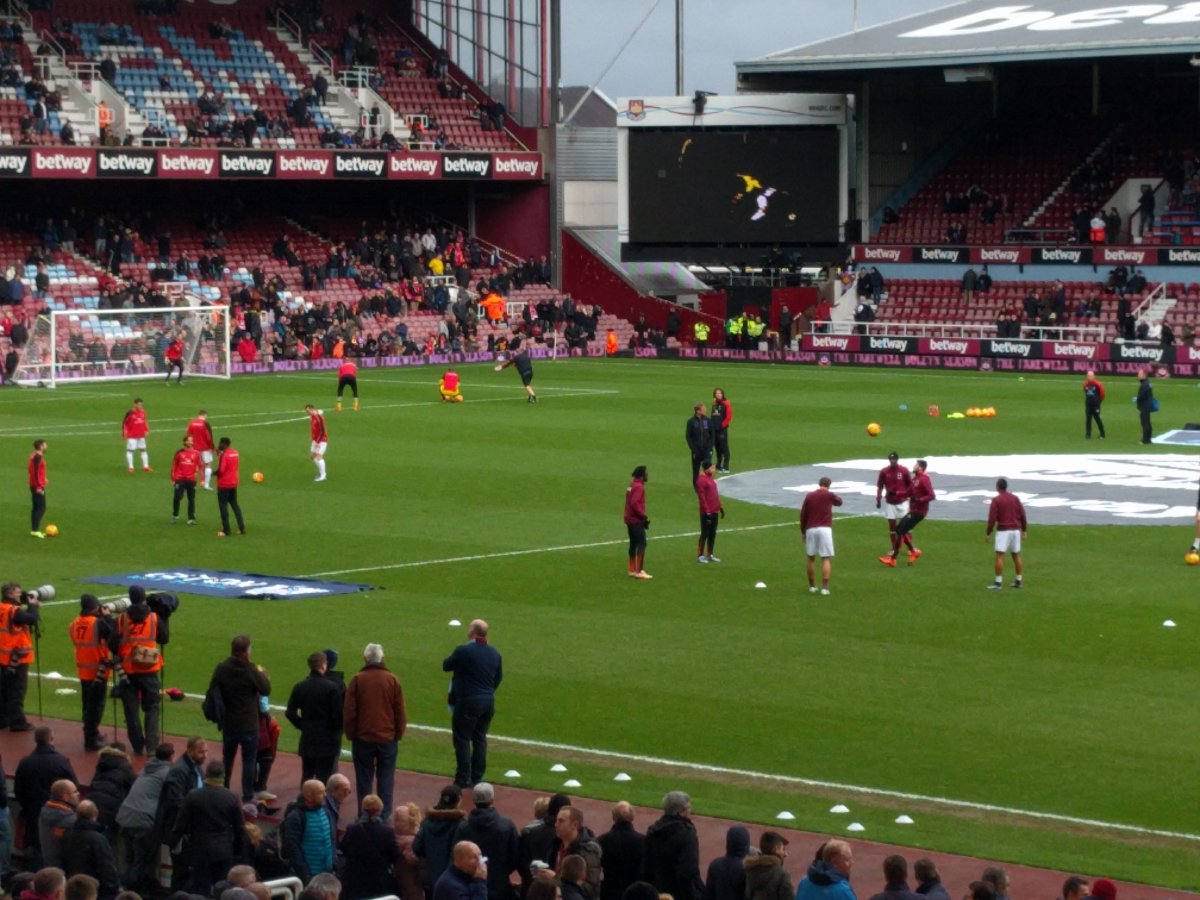 ---
As West Ham and Liverpool were the lunchtime fixture, there's a host of matches happening at the more traditional 3PM kickoff. So we head to the nearest football ground hosting a game that day - Hornchurch. Which is also the home to the West Ham women's team.
Hornchurch are a non-league side. Meaning they're an amateur community run team. We arrive late, and the box office is closed. But we've come too far to turn away. After a bit of waiting someone pulls up with a delivery to the clubhouse, they pop the gate for us and don't want to be bothered with an entrance fee - so we're in.
We mill around the ground a bit and find seats, the football on offer might not compare well with what we've seen earlier in the day, but it's good to get out and see how the other half plays the game.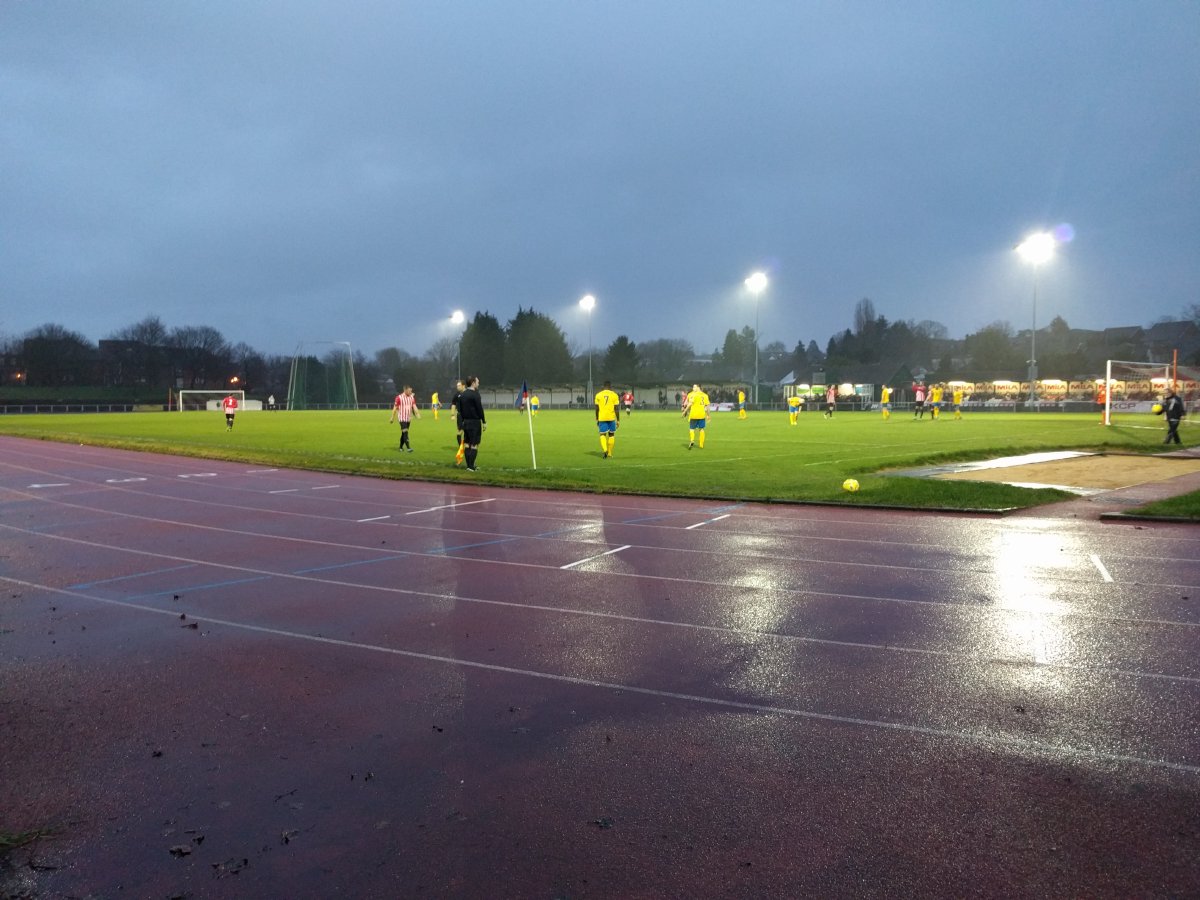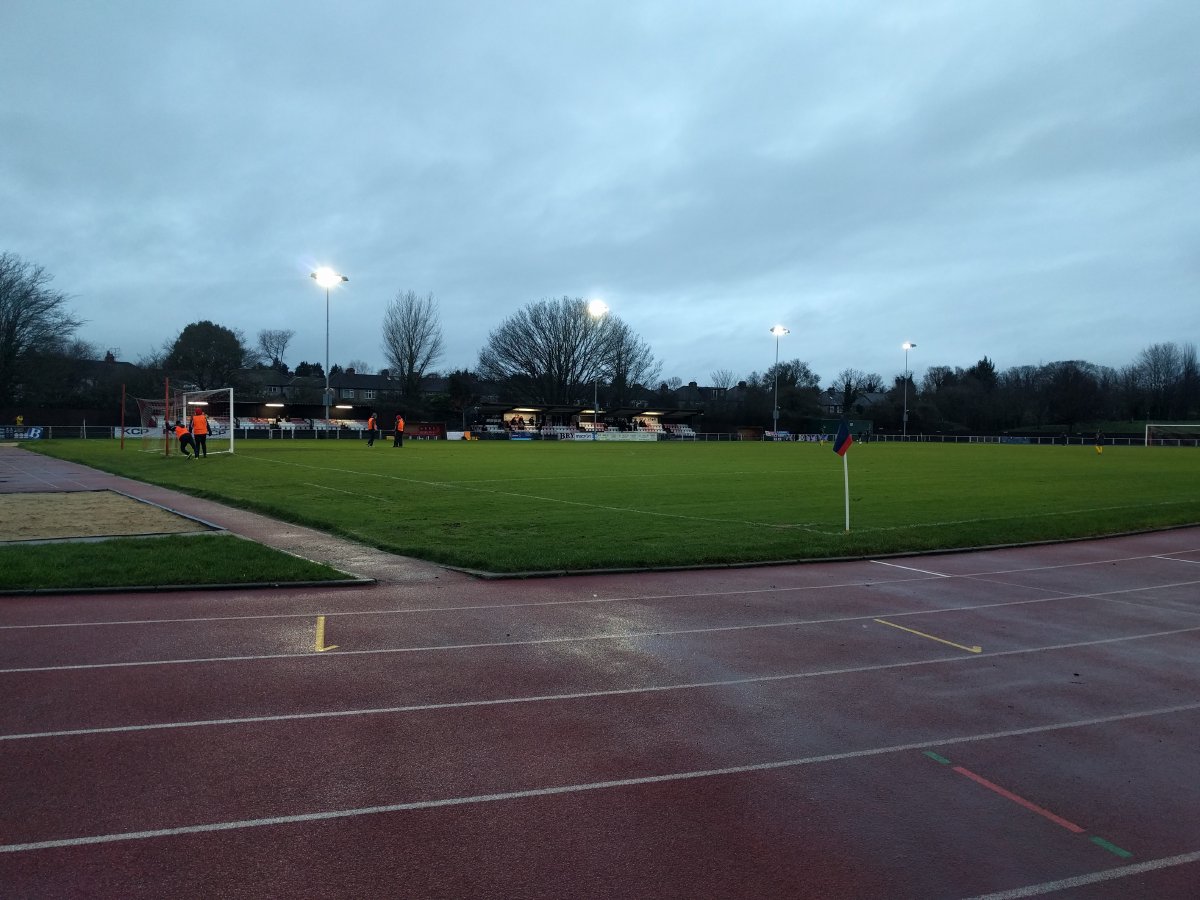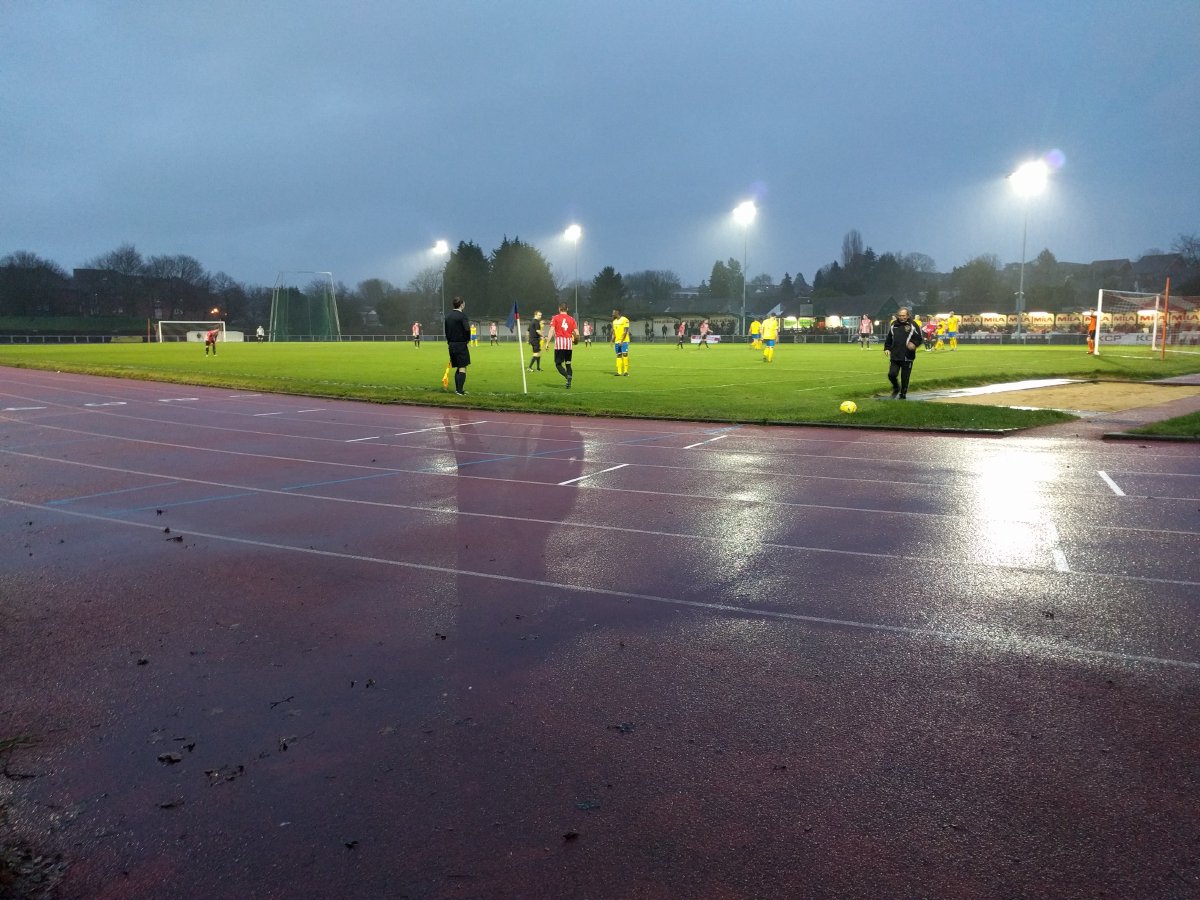 ---
But can they do it on a cold rainy day in South London? That's the question I was asking myself as the weather changed, and it's become rather bitingly cold, that damp kind of cold that makes it feel a few degrees cooler than it really is.
But walking up to Selhurst Park, you have to appreciate that place for the - I don't want to say mess - but you have to appreciate it for the mess it is. Let me explain: As you walk up to the Arthur Wait Stand, it looks like a very typical stadium, bricked and built close to residential housing. However, if you walk around to the Main stand where the team store is bizarrely there's a parking lot and gas station, not facing the stadium, leading right up to the stadium.
You see, the Main Stand is built on top of a grocery store! While you are watching the game on TV, right behind the side that's on television, people are shopping, getting their kids diapers and in the parking lot beyond that filling up their tanks! Hey, it takes a village, am I right?
Once in the stadium, we are seated very close to the Chelsea away supporters. There's also a group of vocal Crystal Palace supporters, but they are much further down toward the Holmesdale Road end. And as we look around doing a silent survey of the people around us Dennis and I begin to notice something - we've been seated in a tourist section! I don't know if I should be insulted or impressed with the way the higher-ups at Crystal Place have created a human shield to separate the "motivated" away fans from the equally partisan home supporters, but in the end I have to say "well done".
Now, those away fans had a lot to celebrate as it turns out, as Chelsea - who had been in a bit of a slump - turned it around and controlled this match.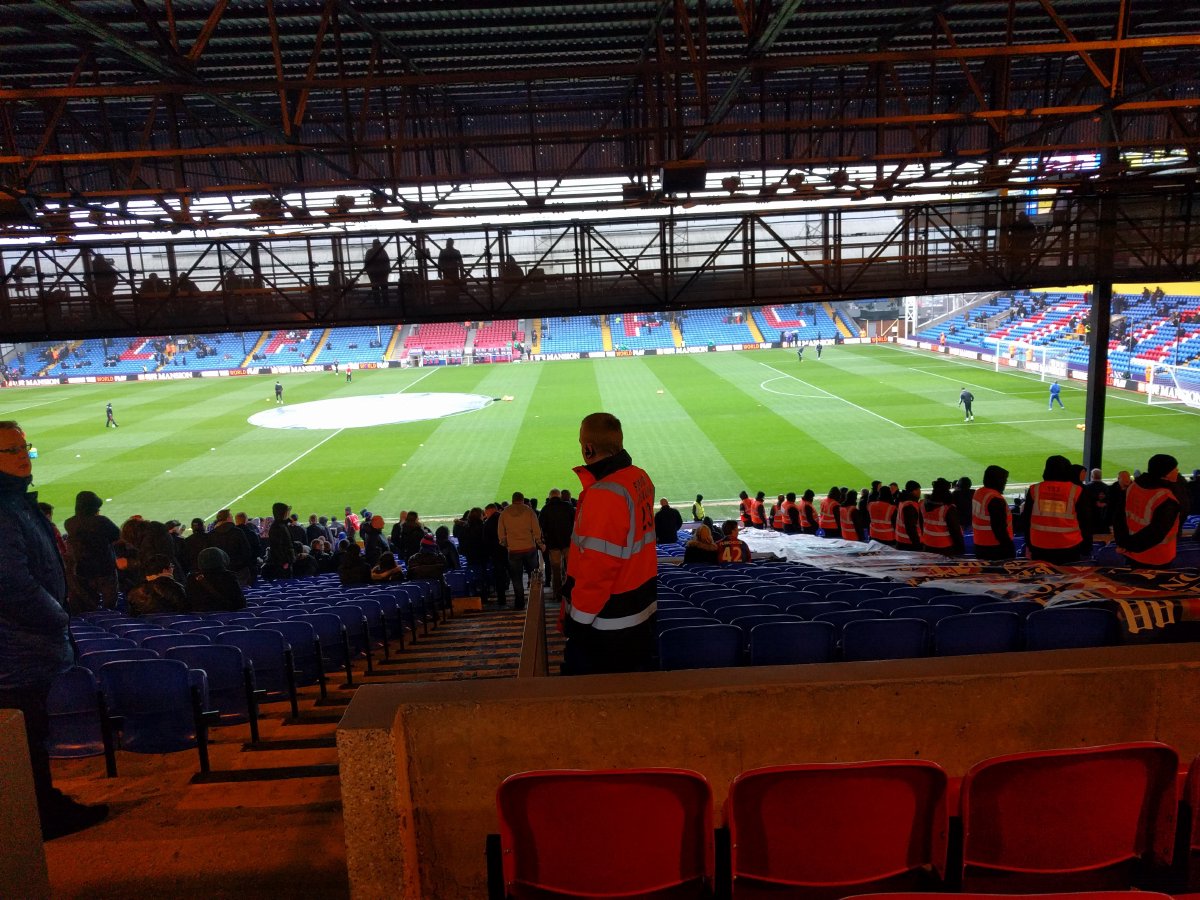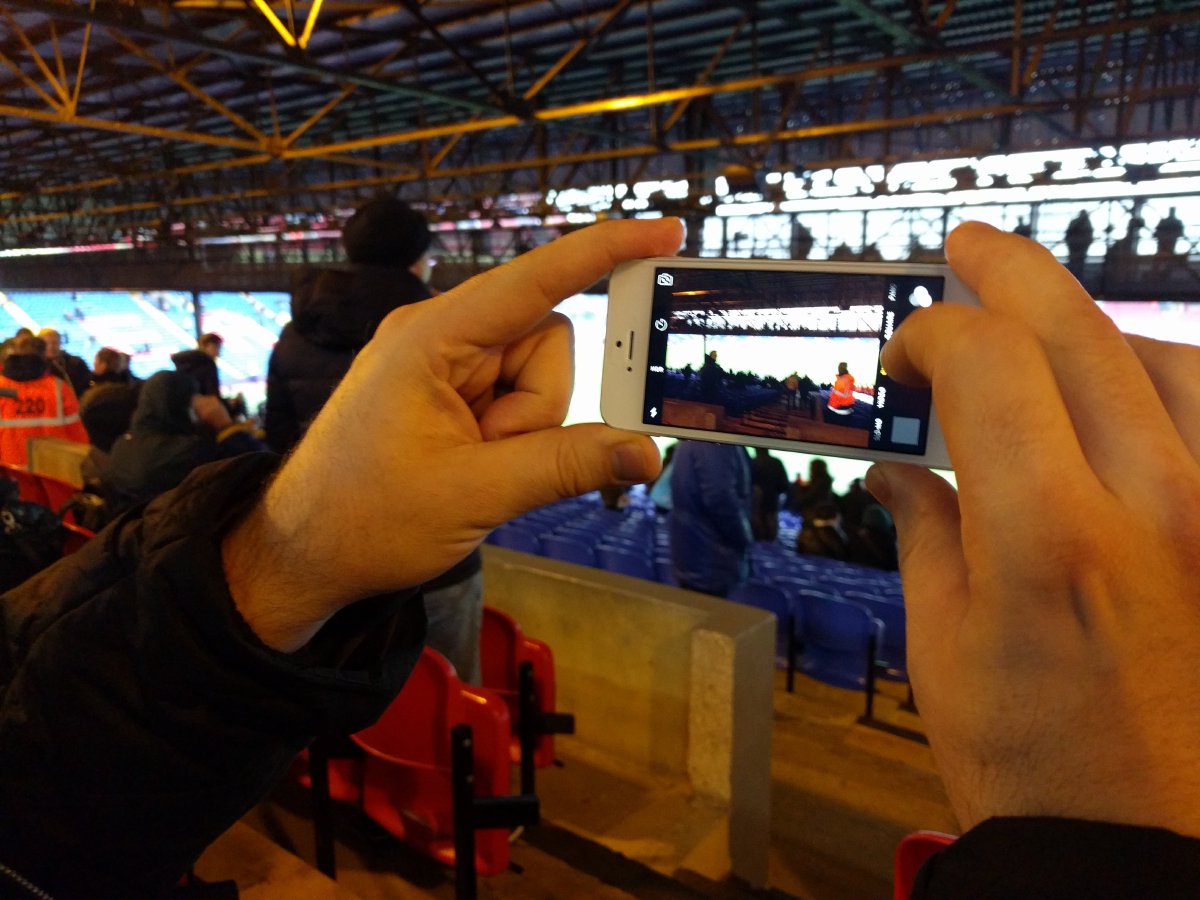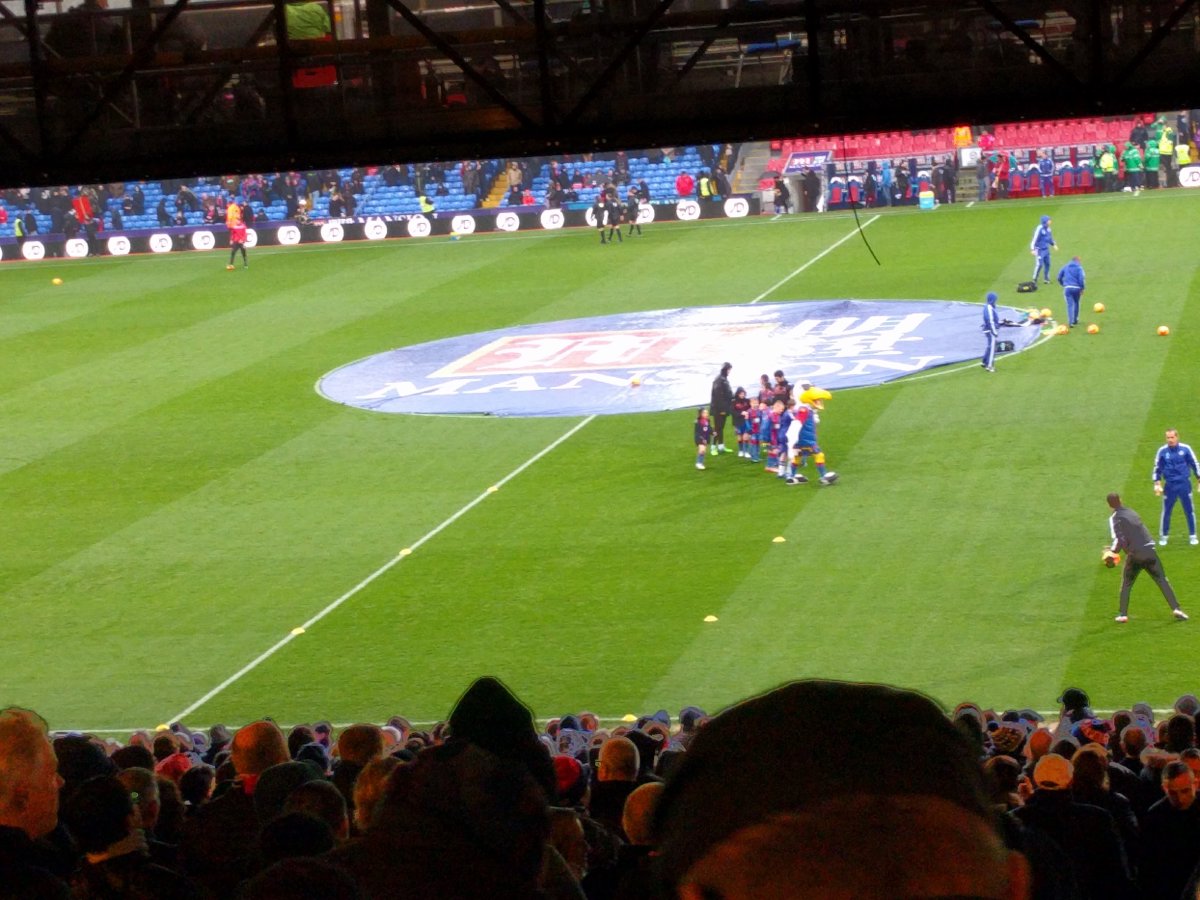 ---
It's a Monday, so that must mean it's a day of Stadium Tours. We begin the day at the Emirates Stadium, the new home of Arsenal Football Club. While built only a few hundred yards from their original home at Highbury is massively different.
The team's new stadium is a high-end, but somewhat generic, stadium. It does paper over the uninspired modern stadium hulk with some nice features (like the statuary on the concourse).
Once inside, there's no longer an old fogie tour guide doing party tricks for those he's leading through the stadium - there are too many people doing tours for that. Instead there is a somewhat off-putting audio tour, fed into your ears by a personal player you carry around with you. This it turns out, I would come around to later.
On view in the stadium was the garage where team buses park, a trip upstairs to the executive level, locker rooms, player tunnel, home and away players seats, media room, and interview cubbies. Followed by the team museum and store, where we loaded up on items for our Arsenal supporting friend Tom back home.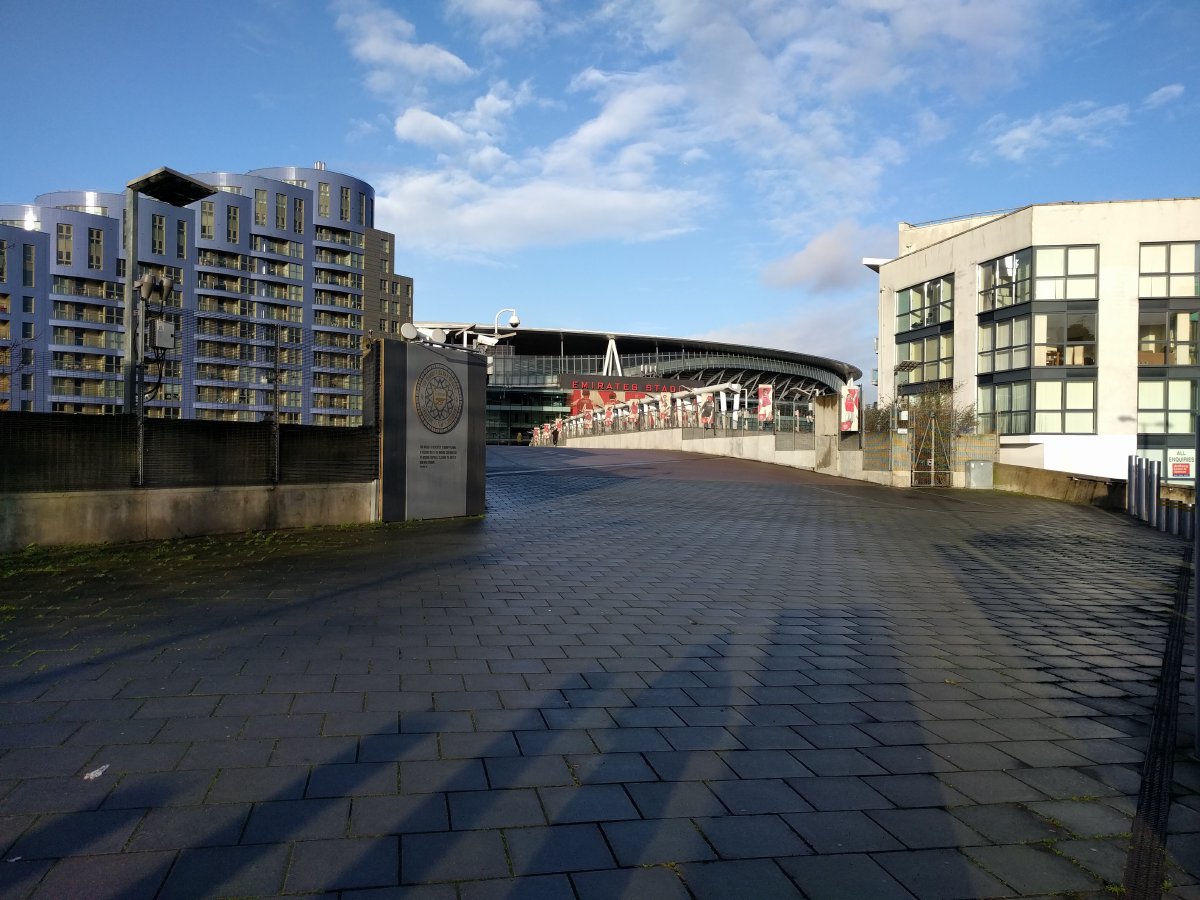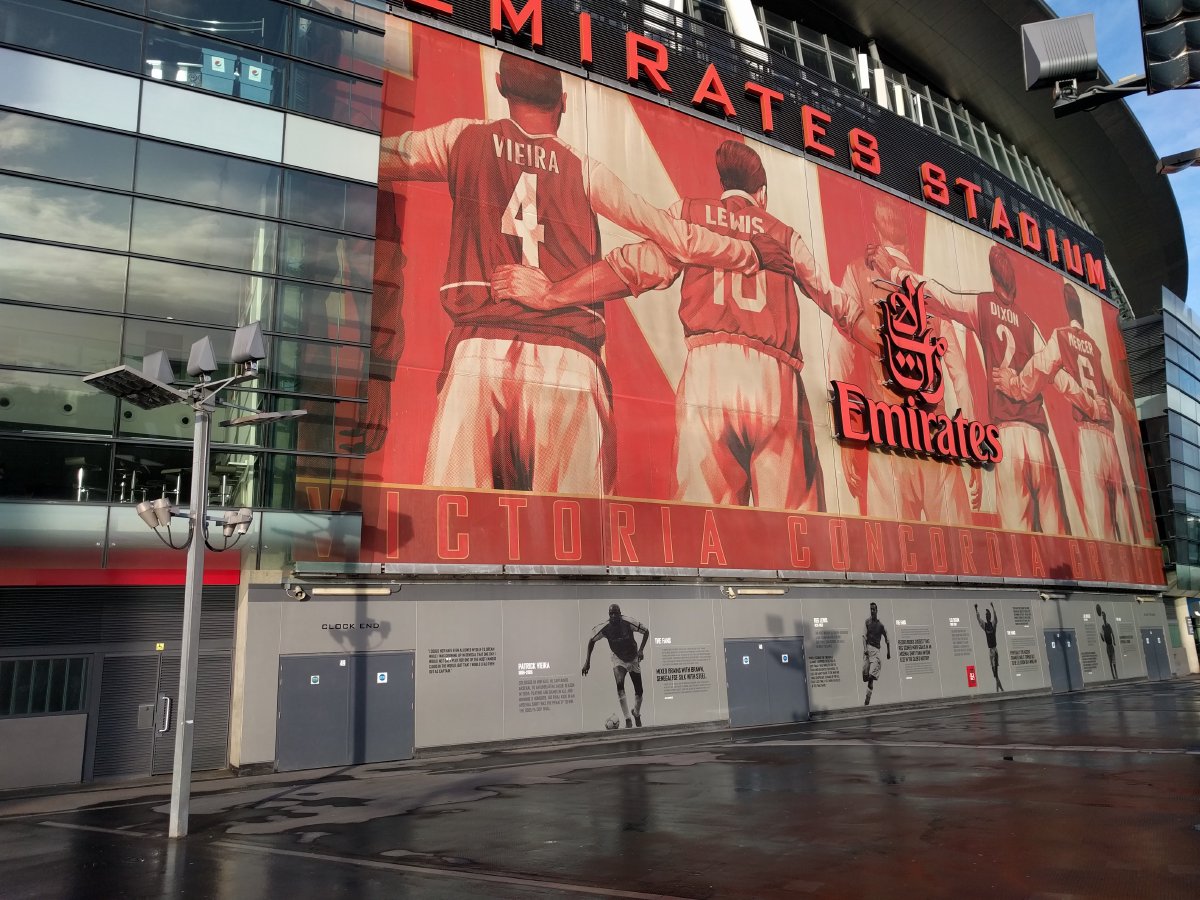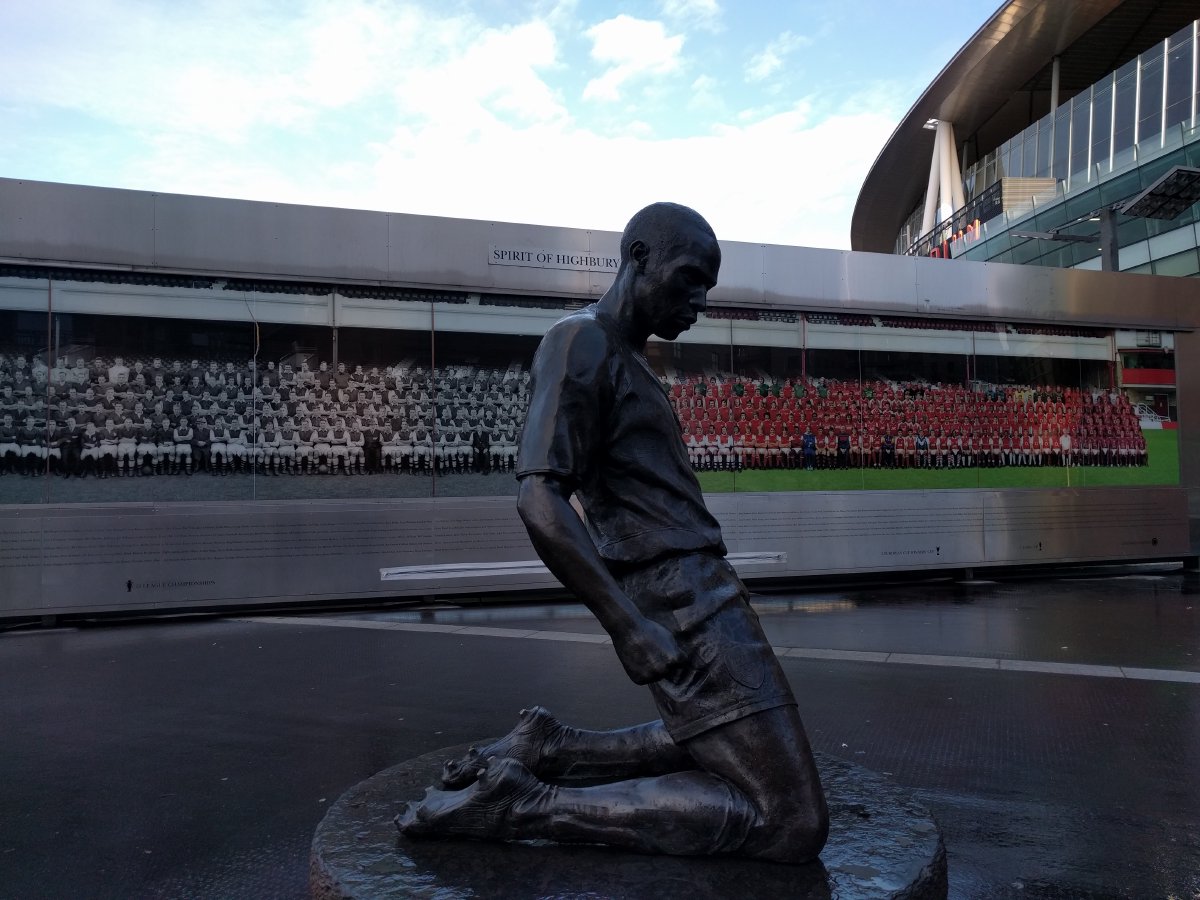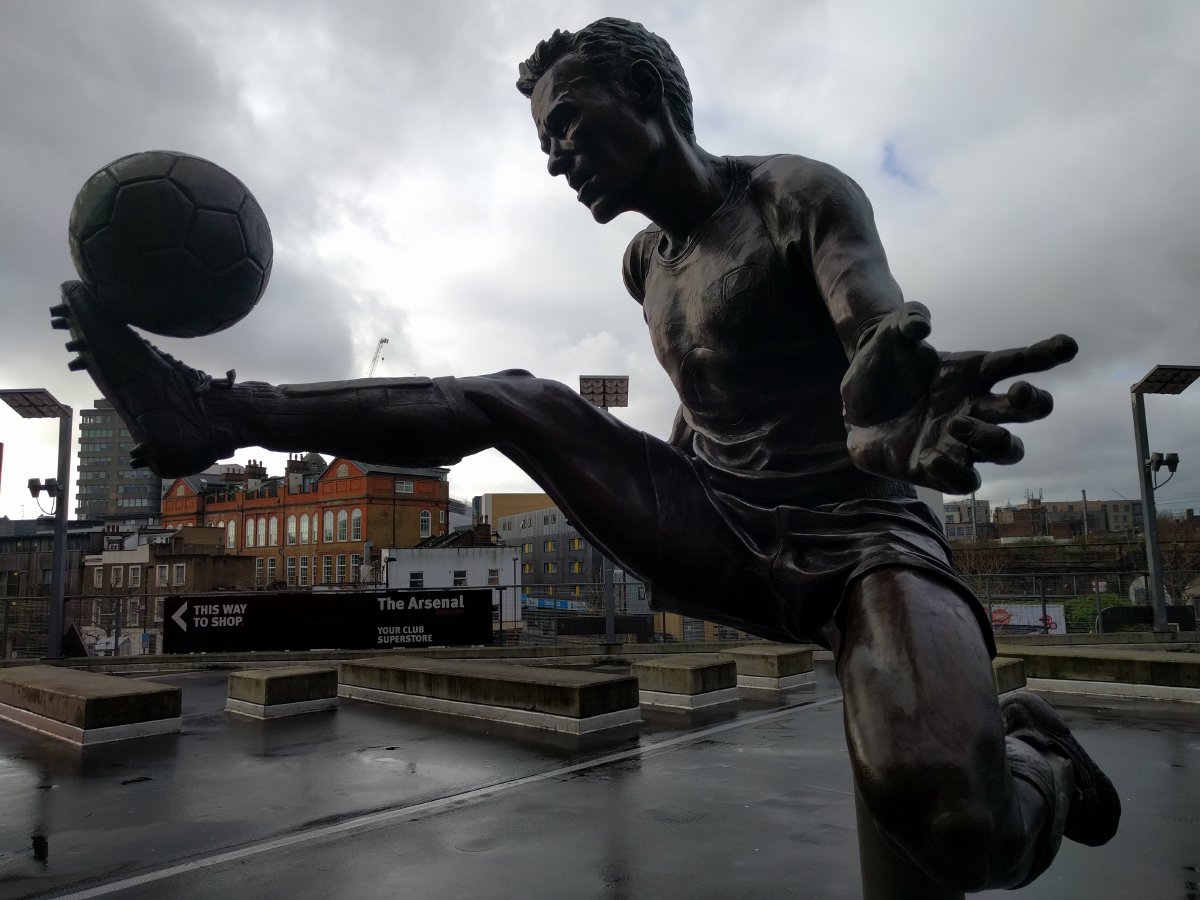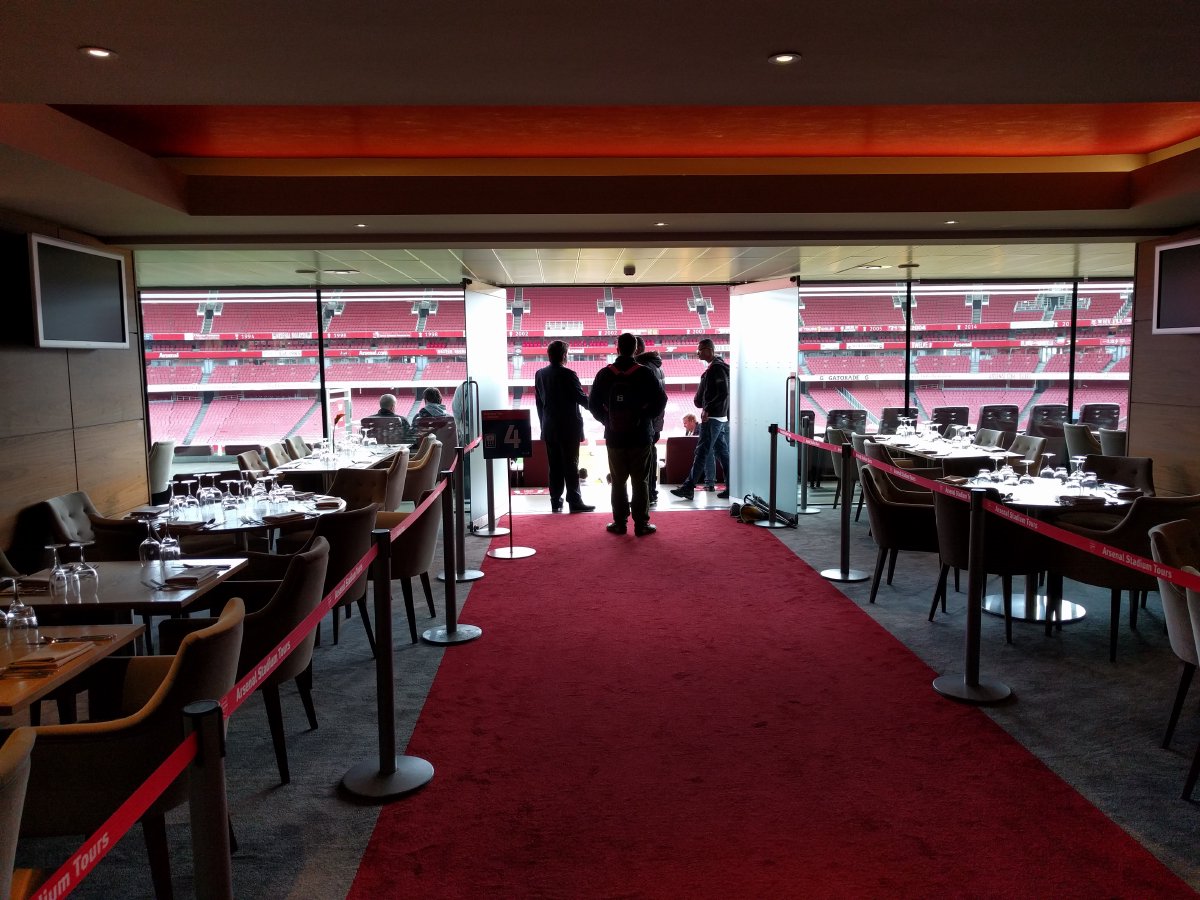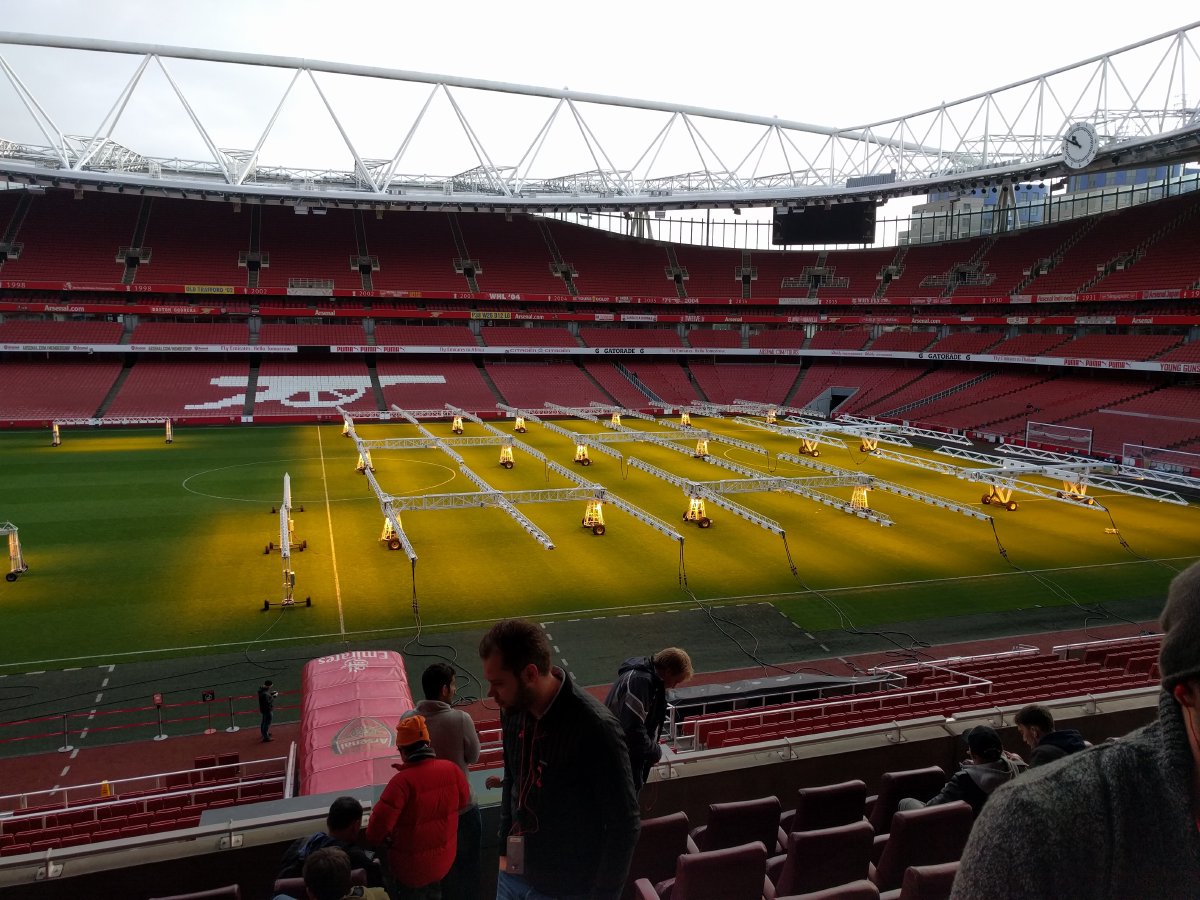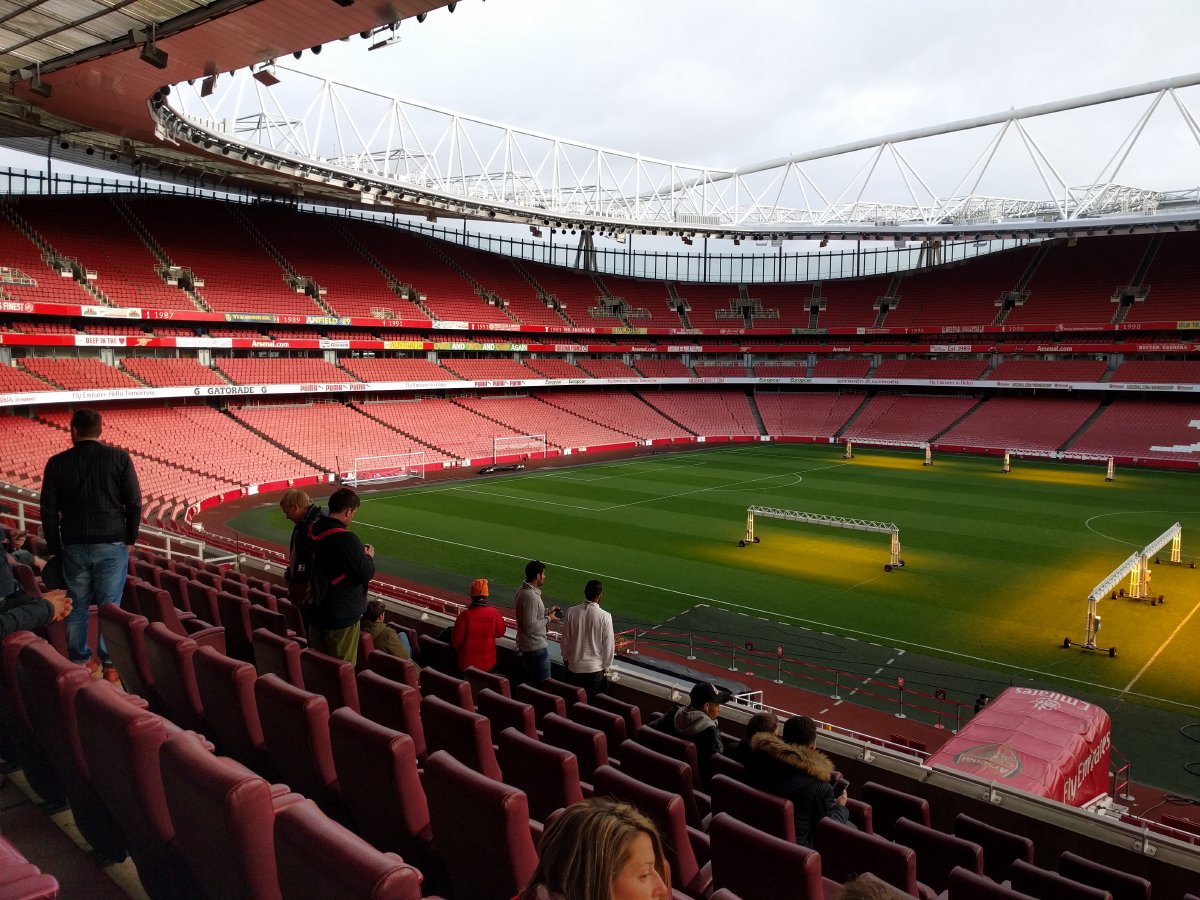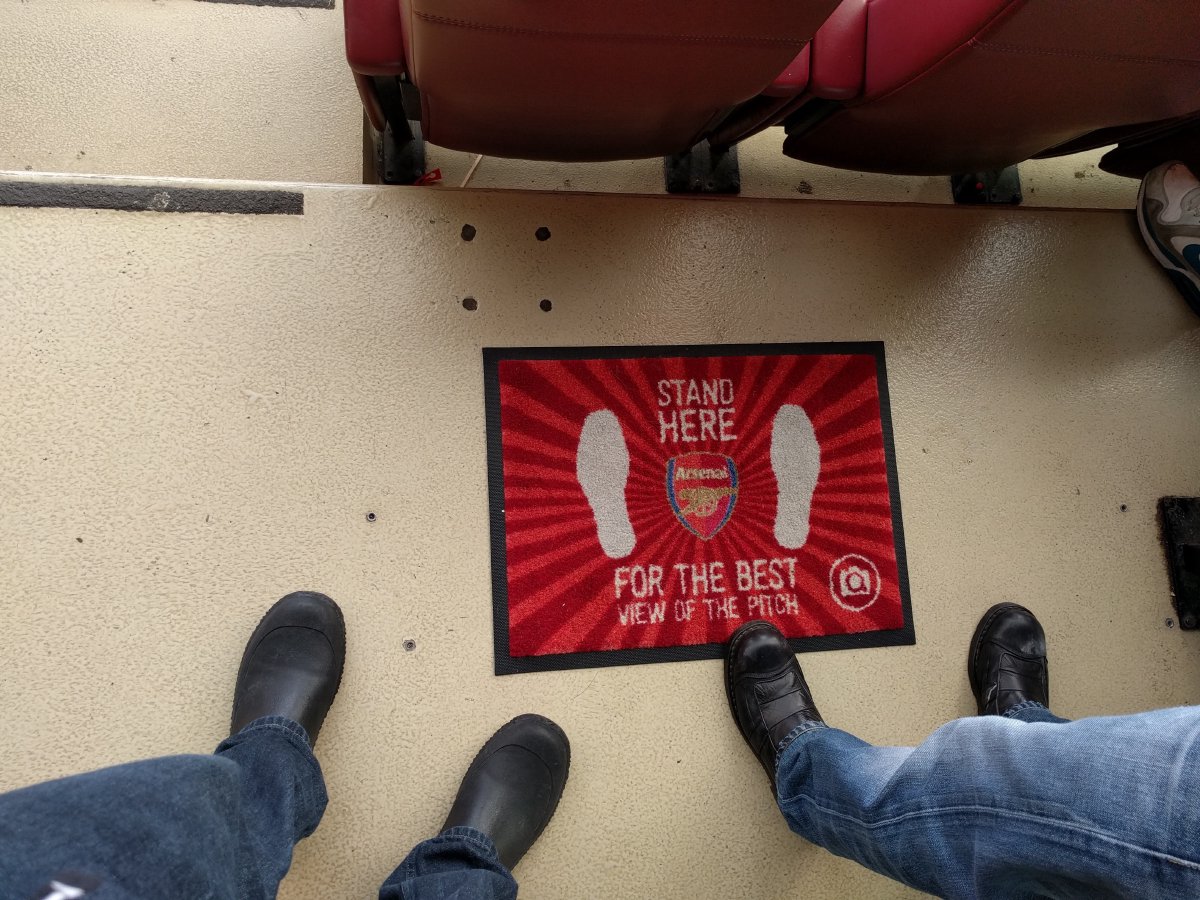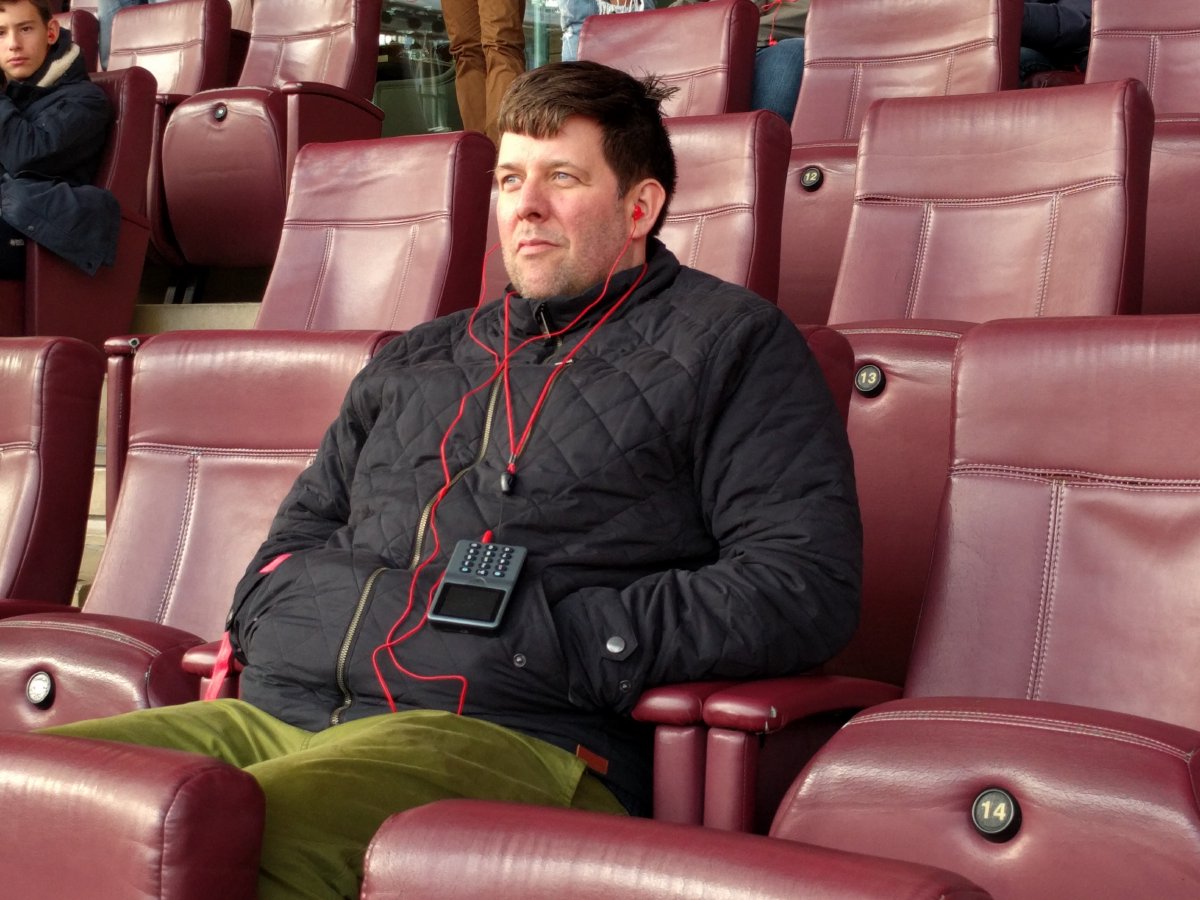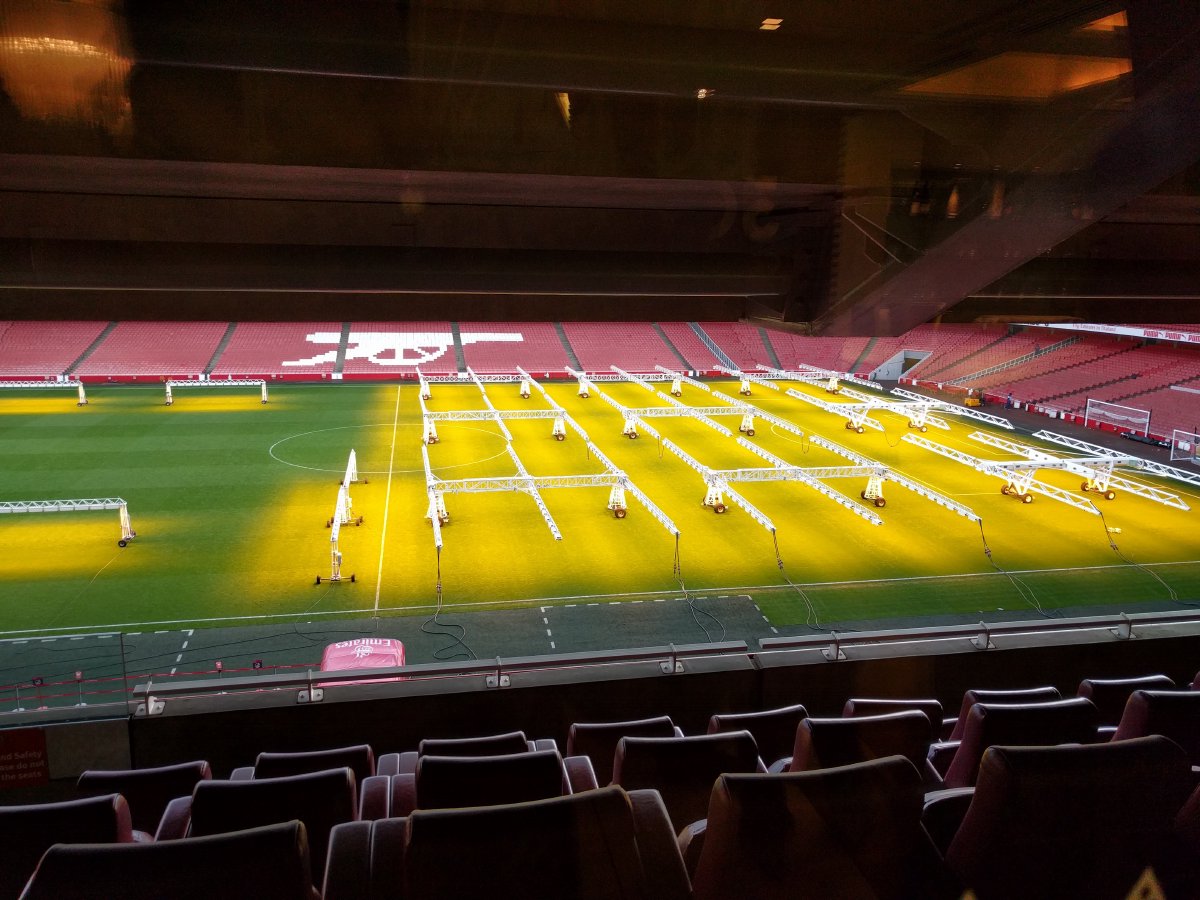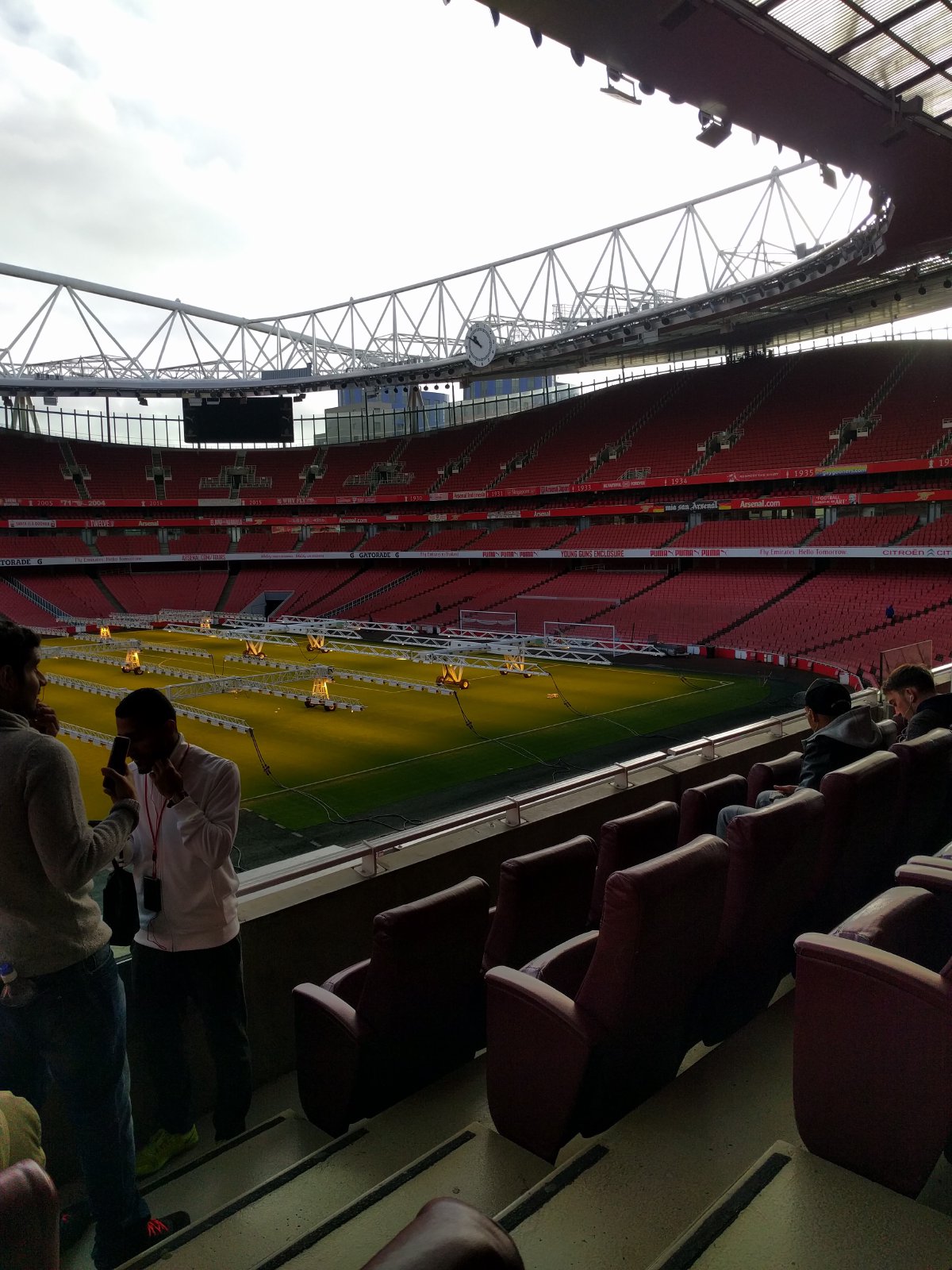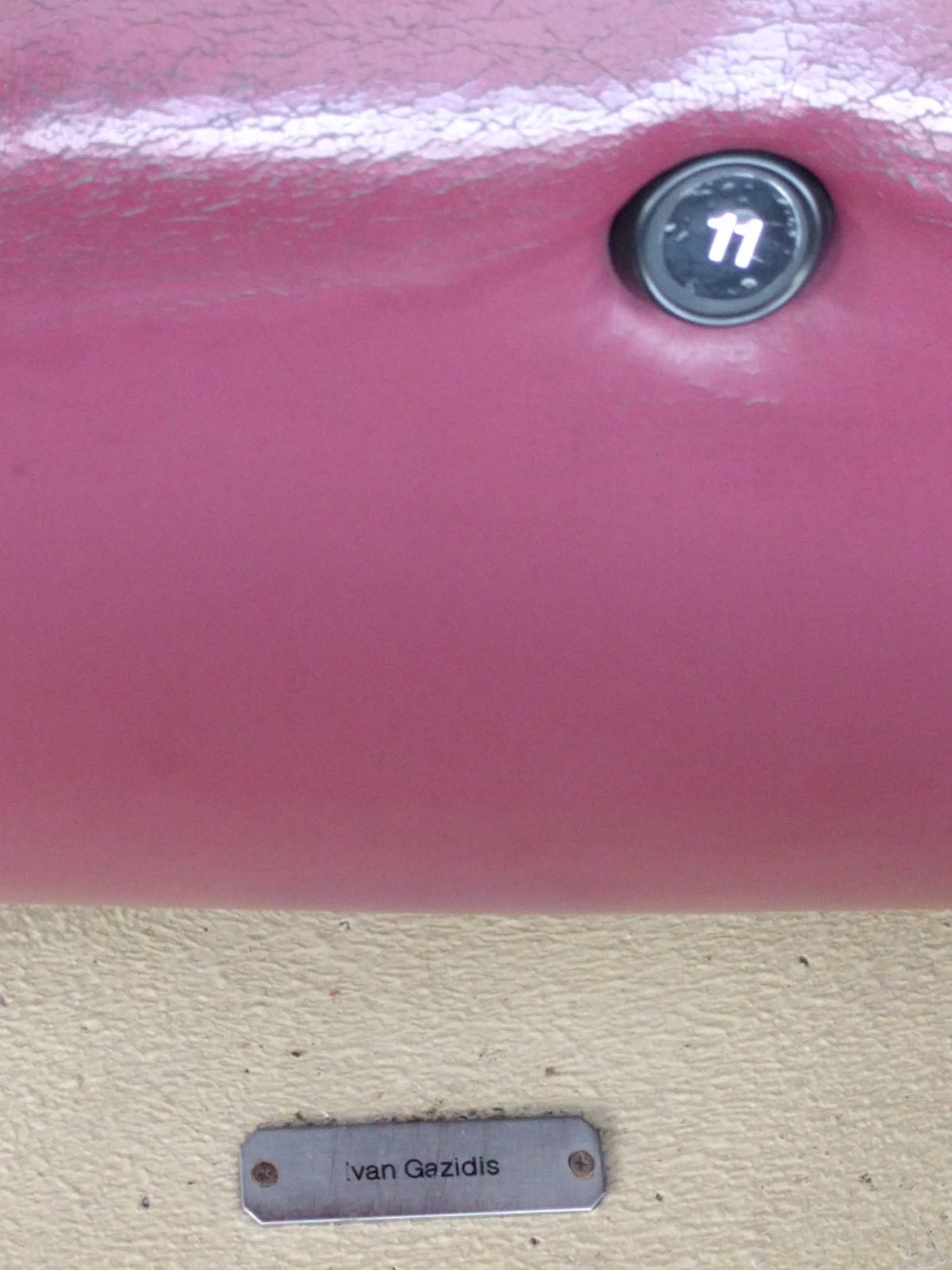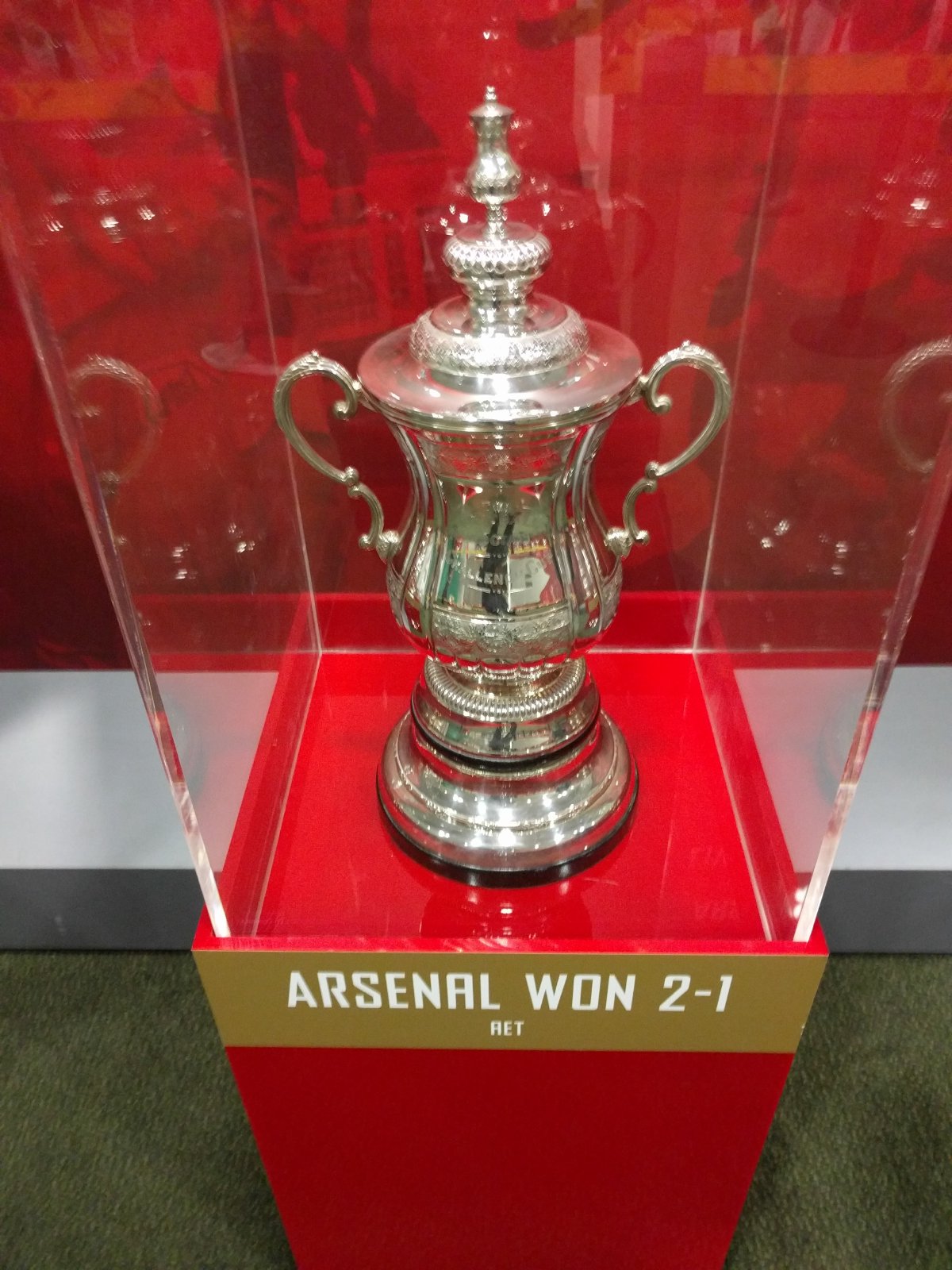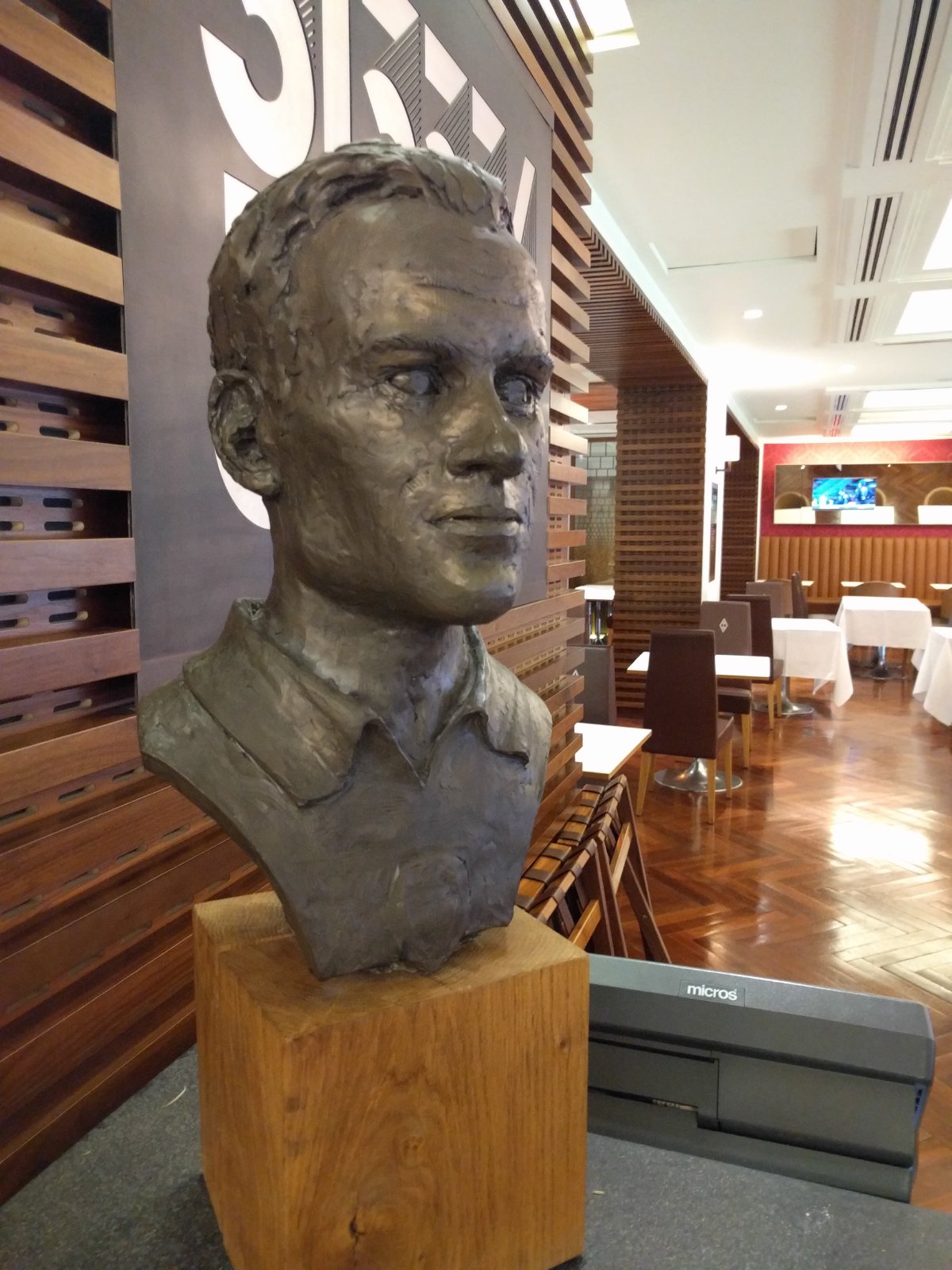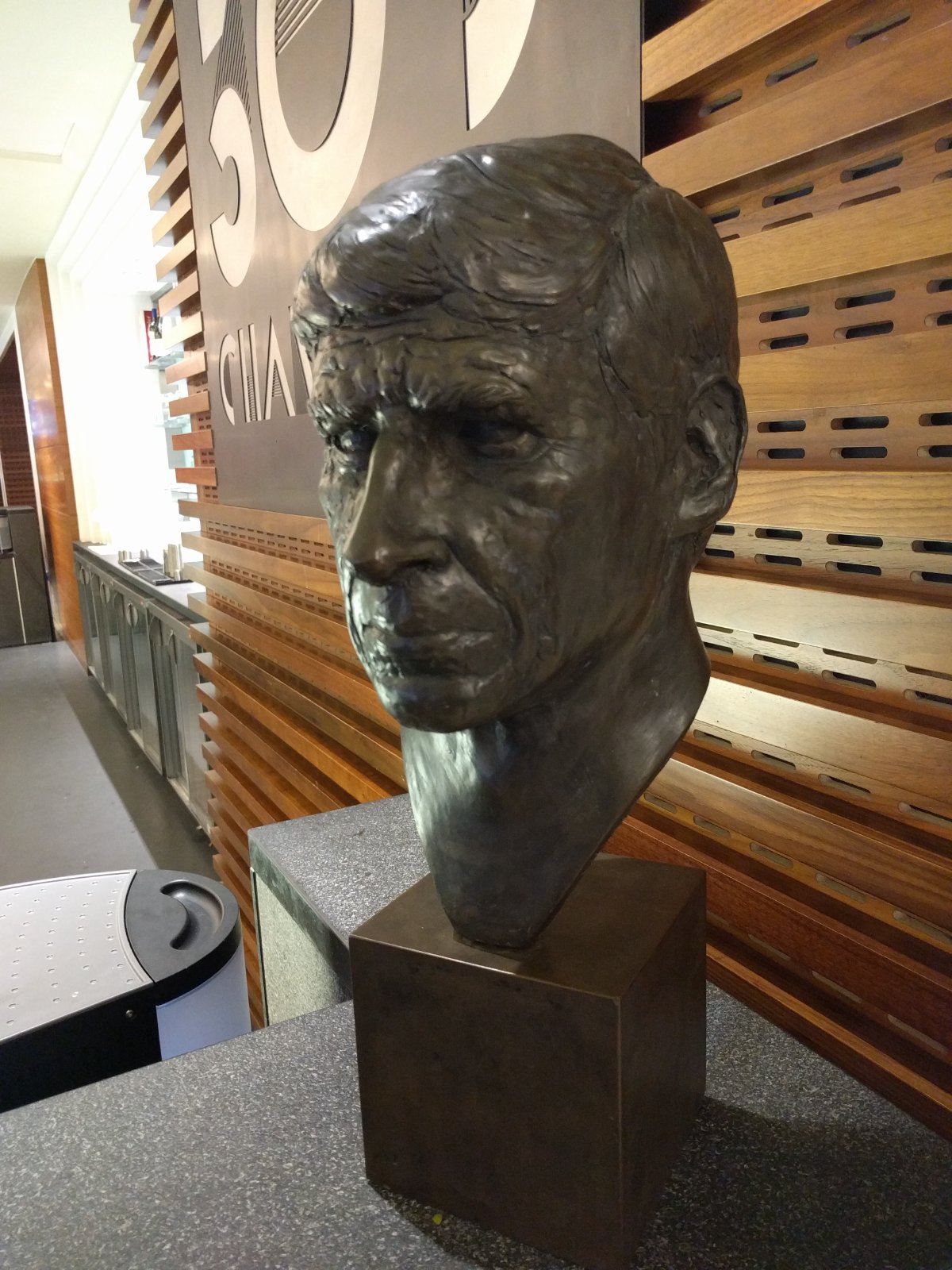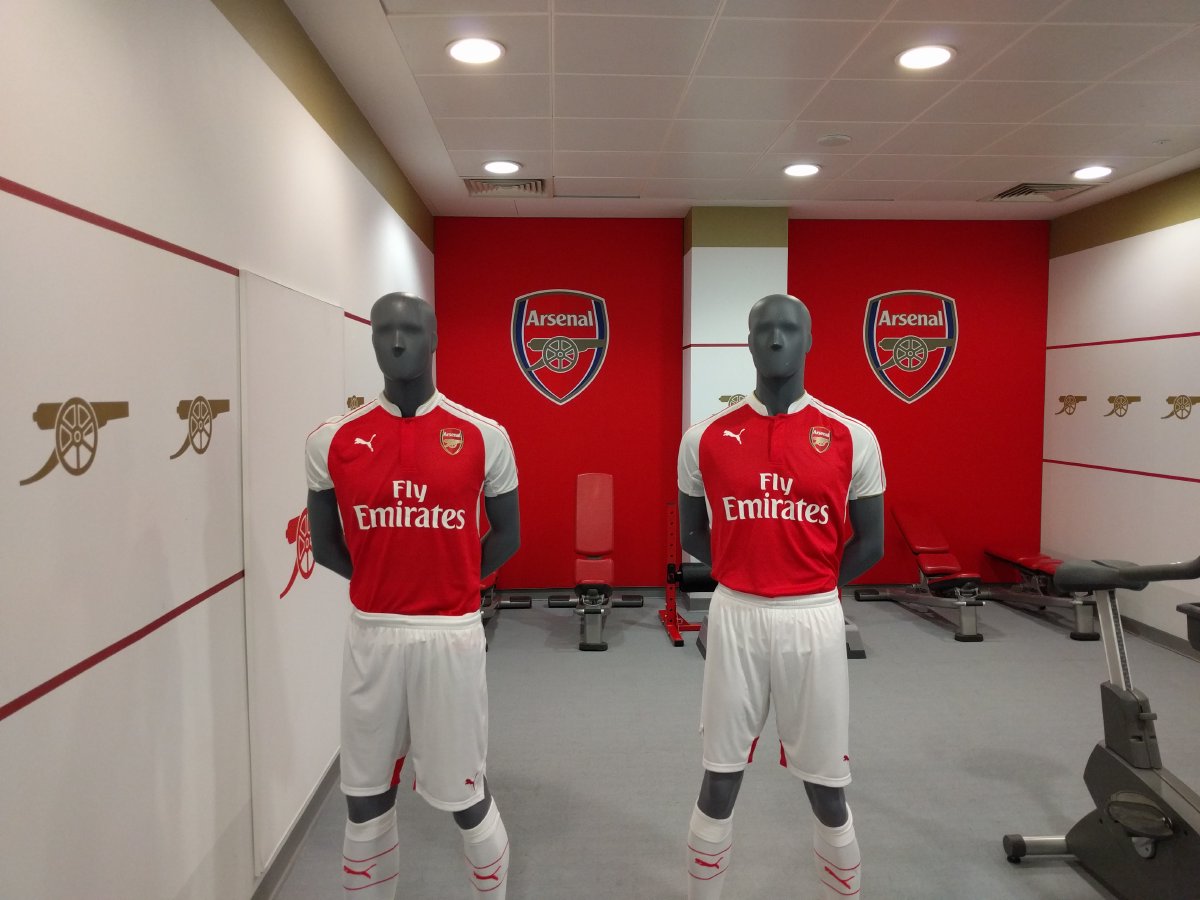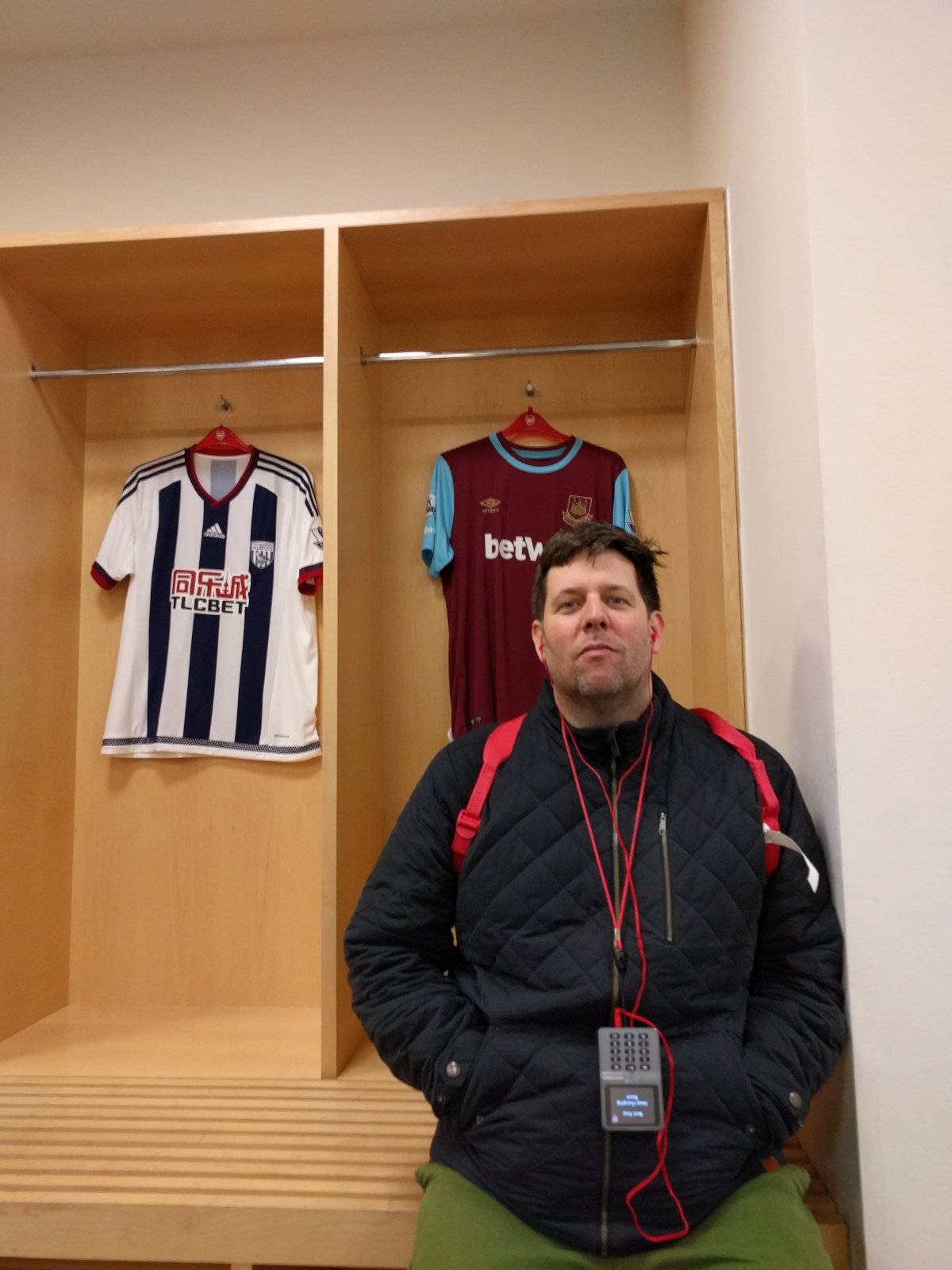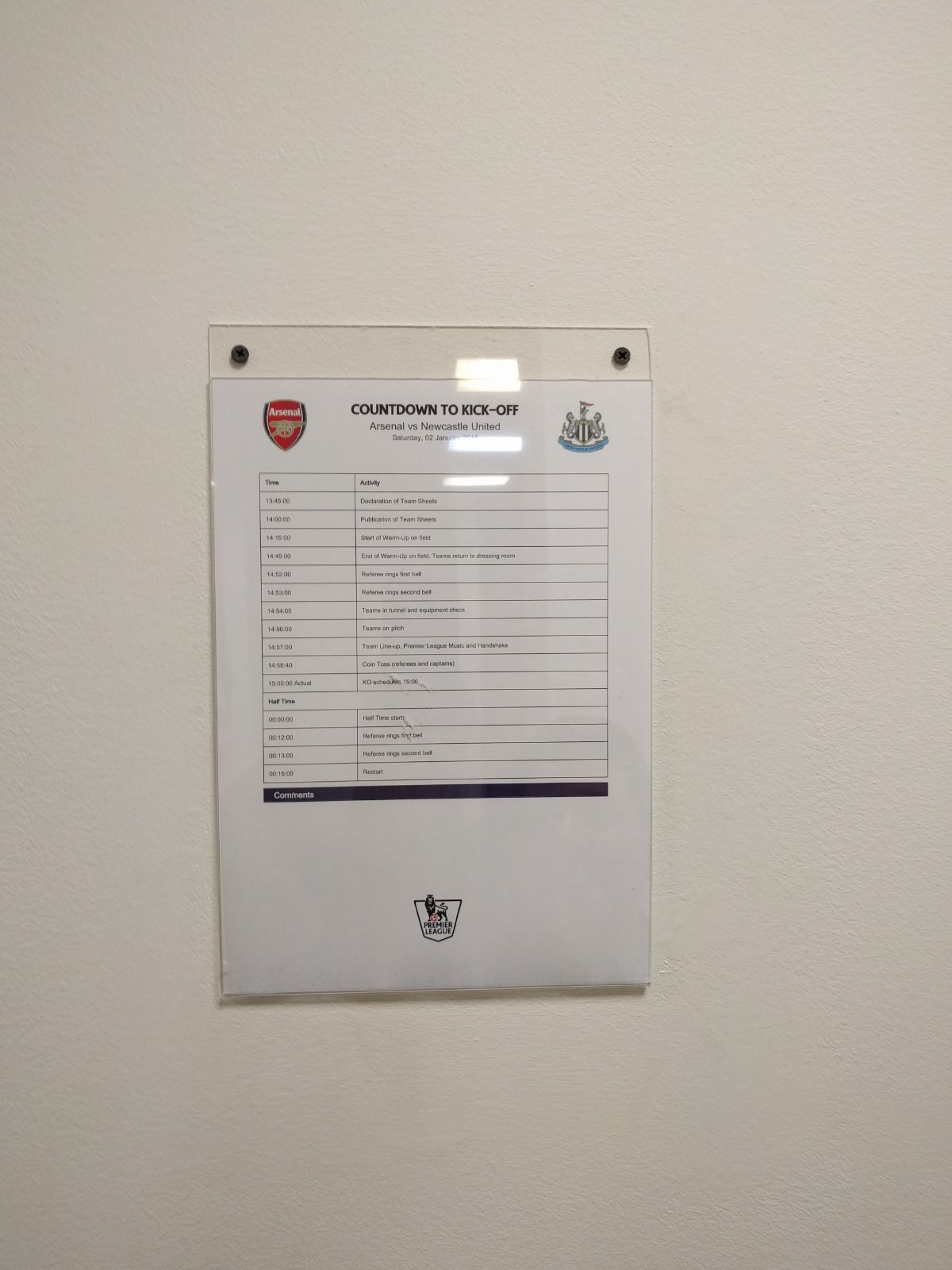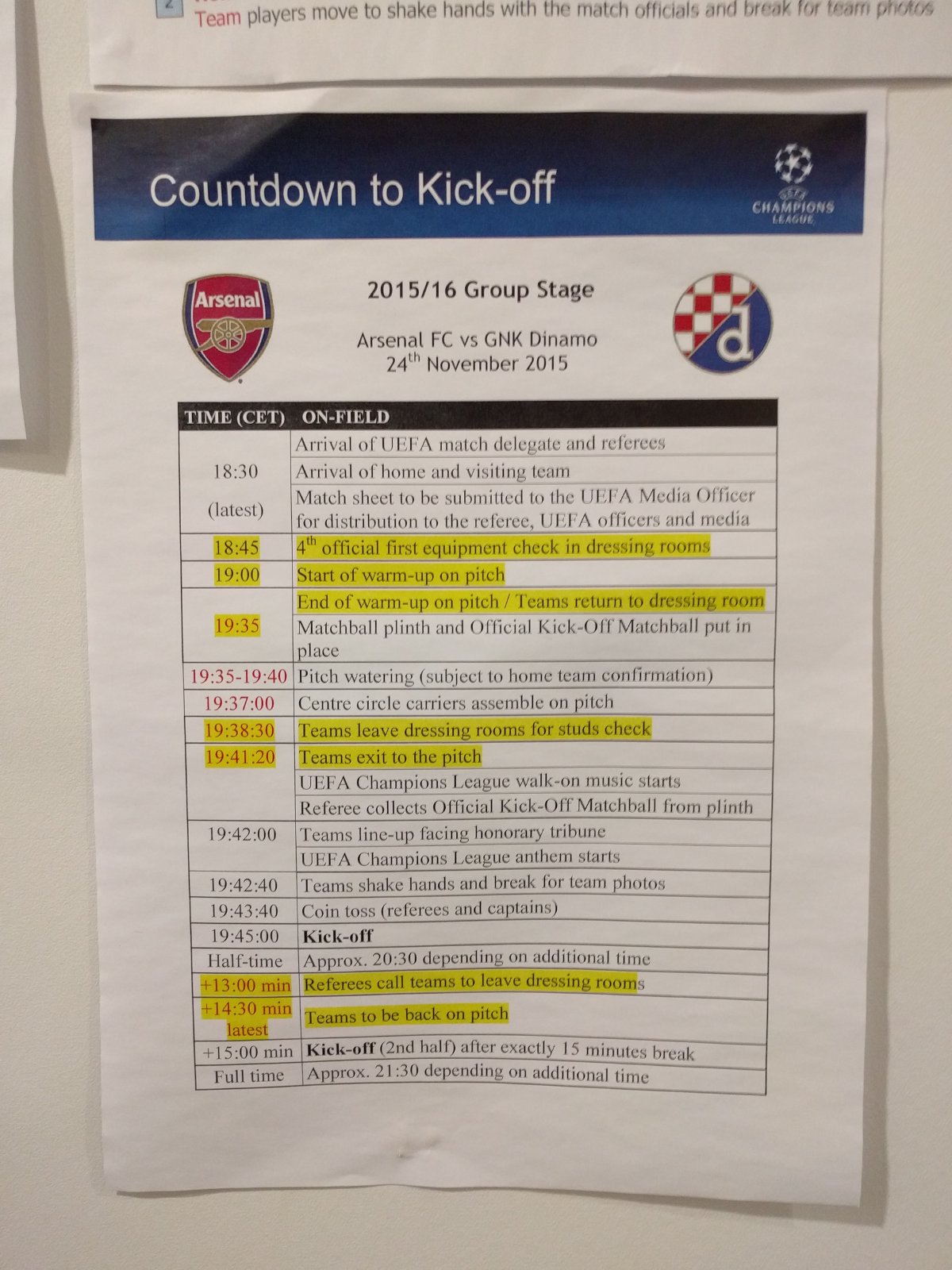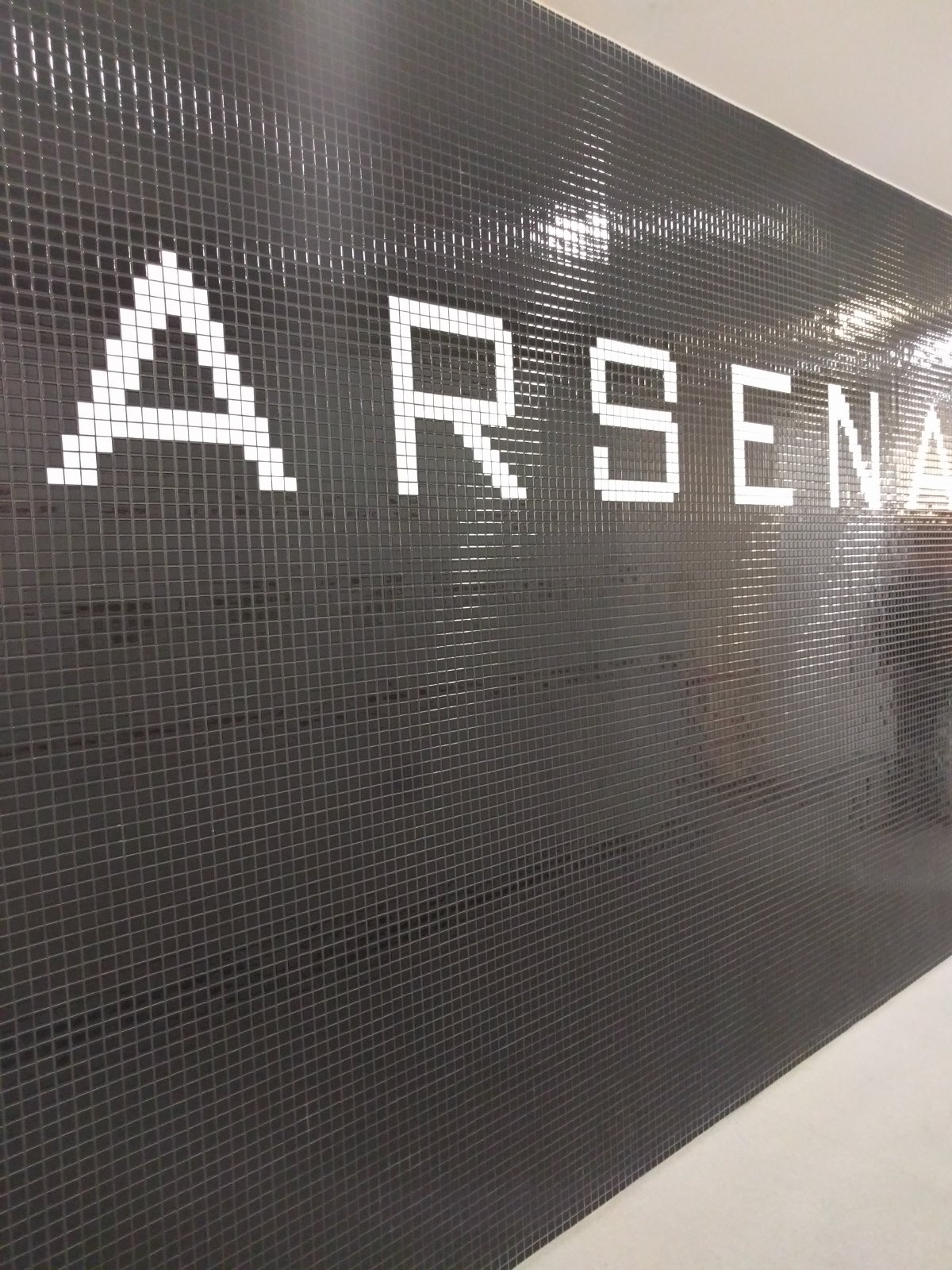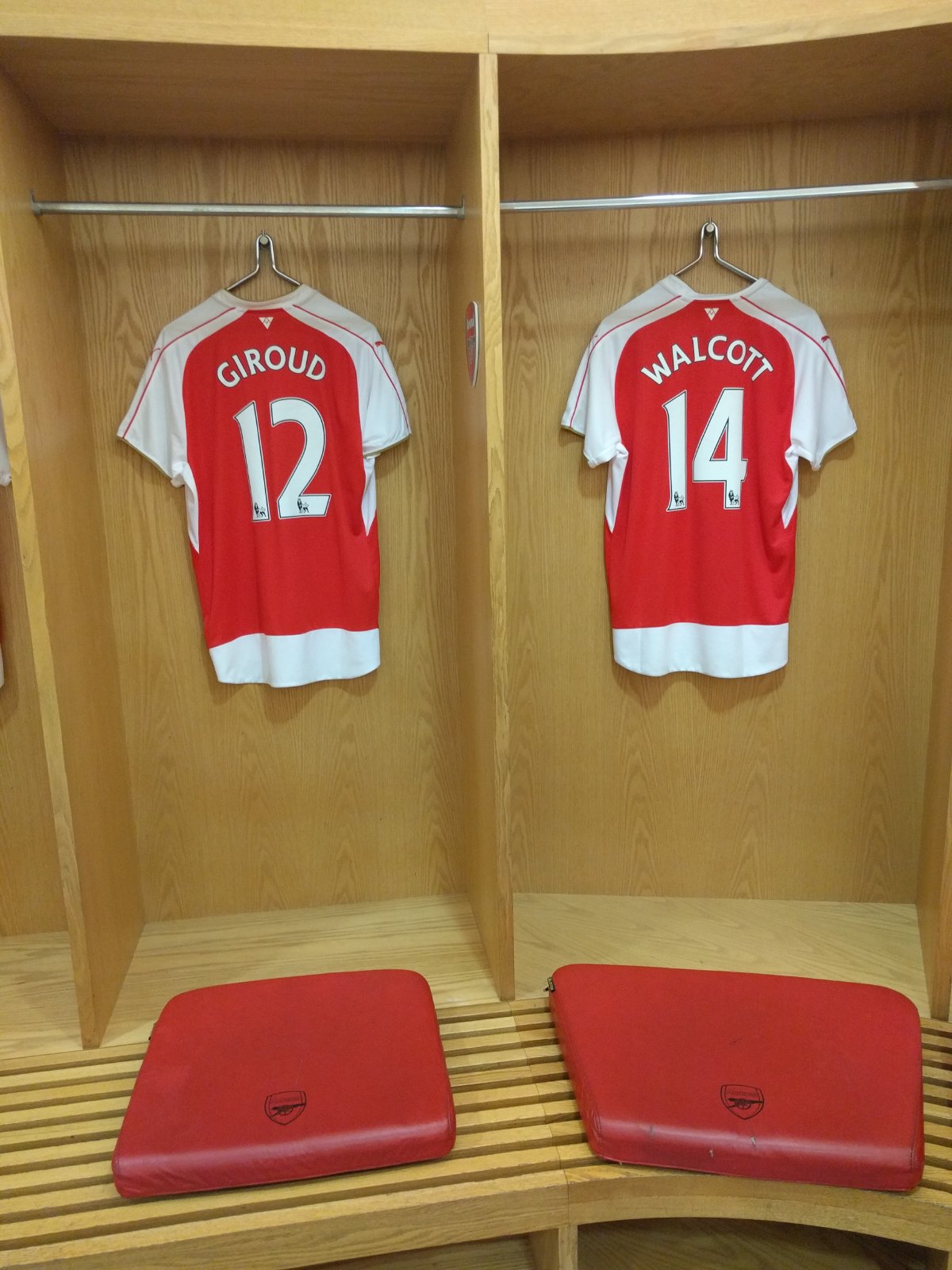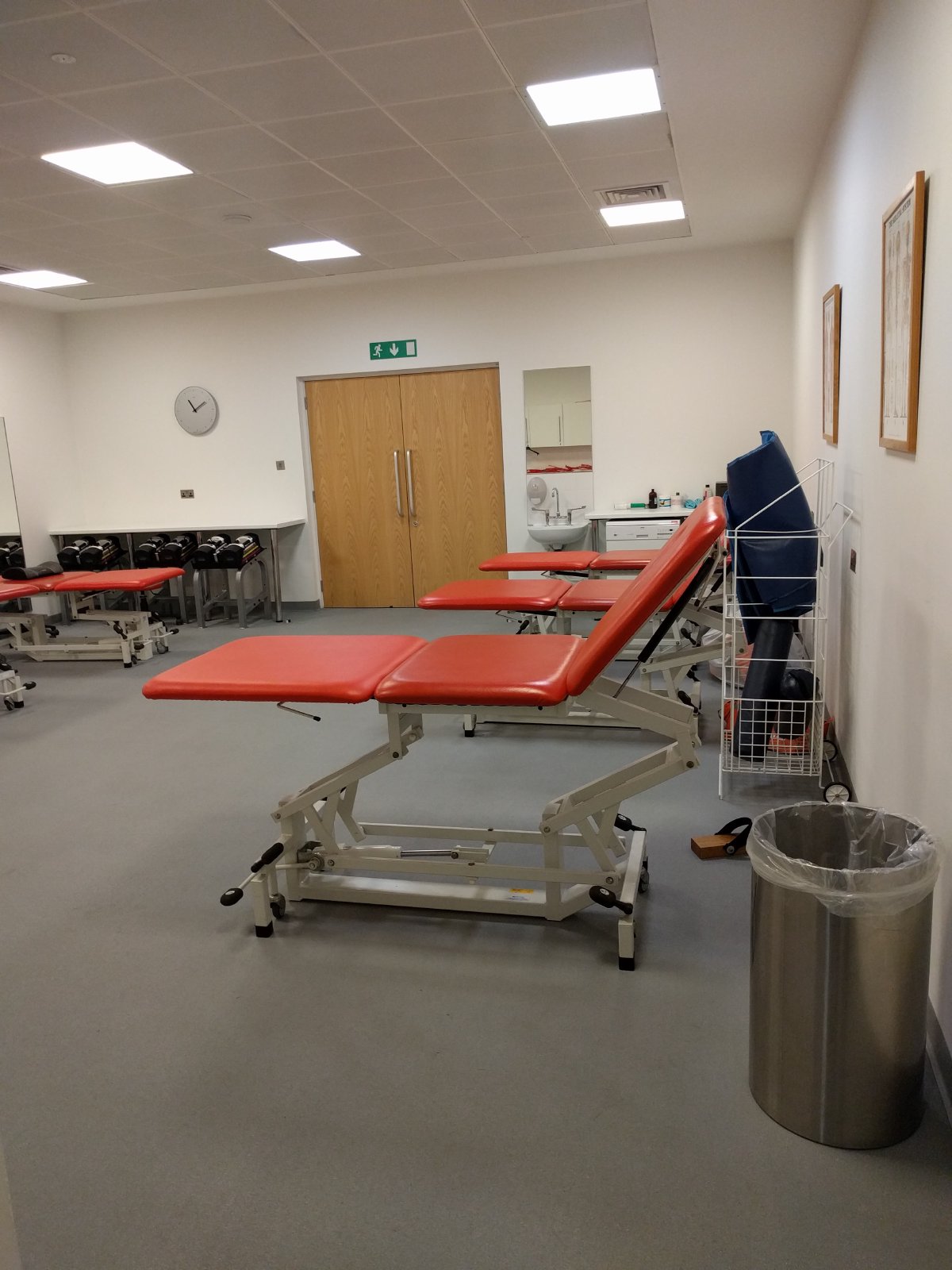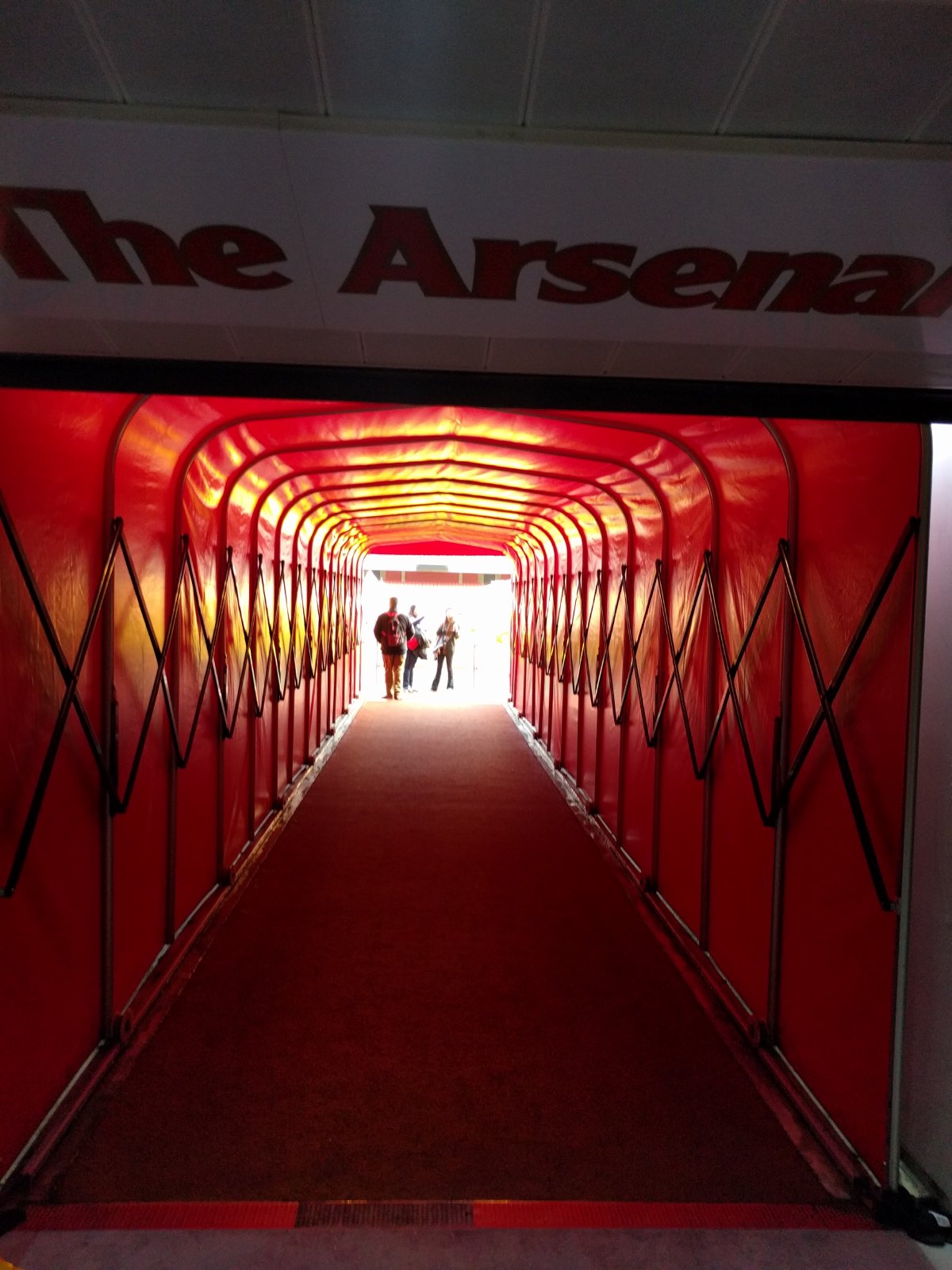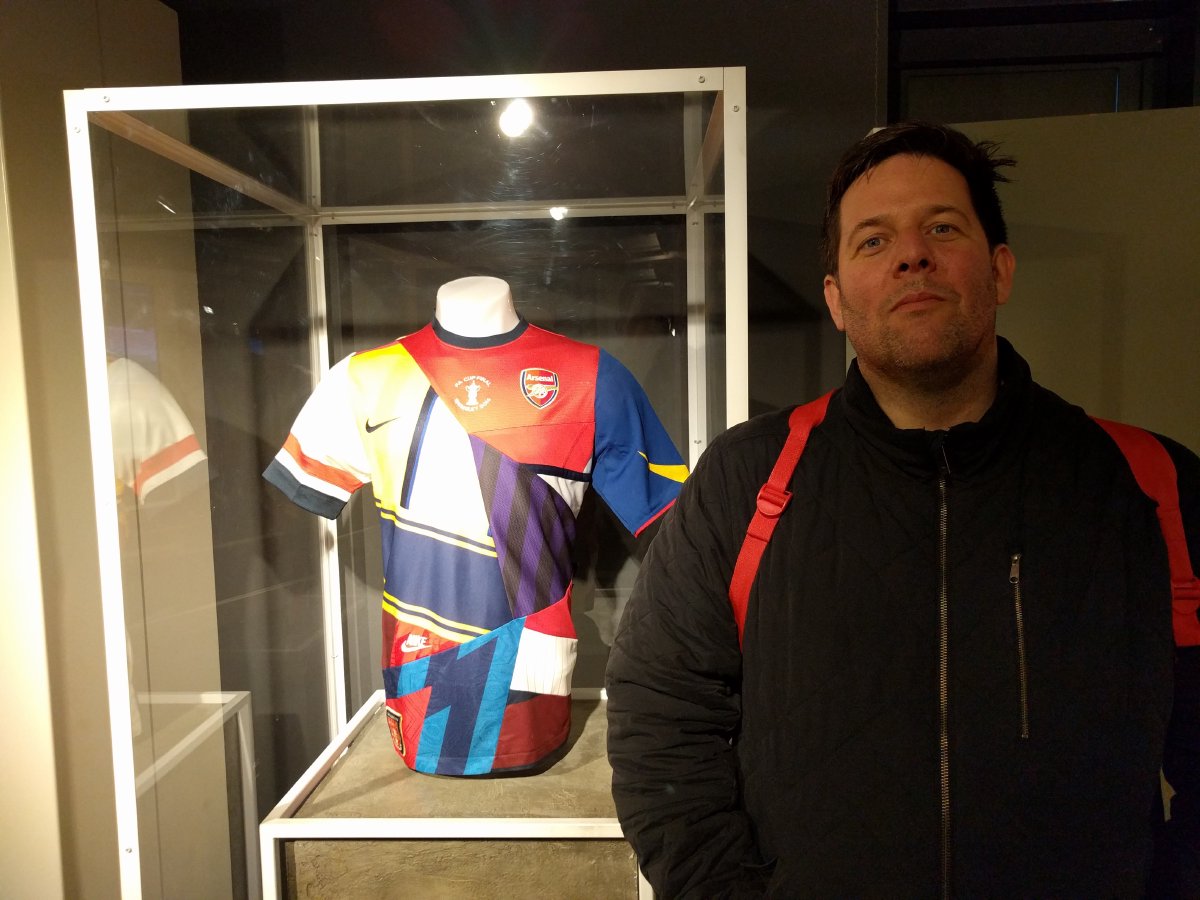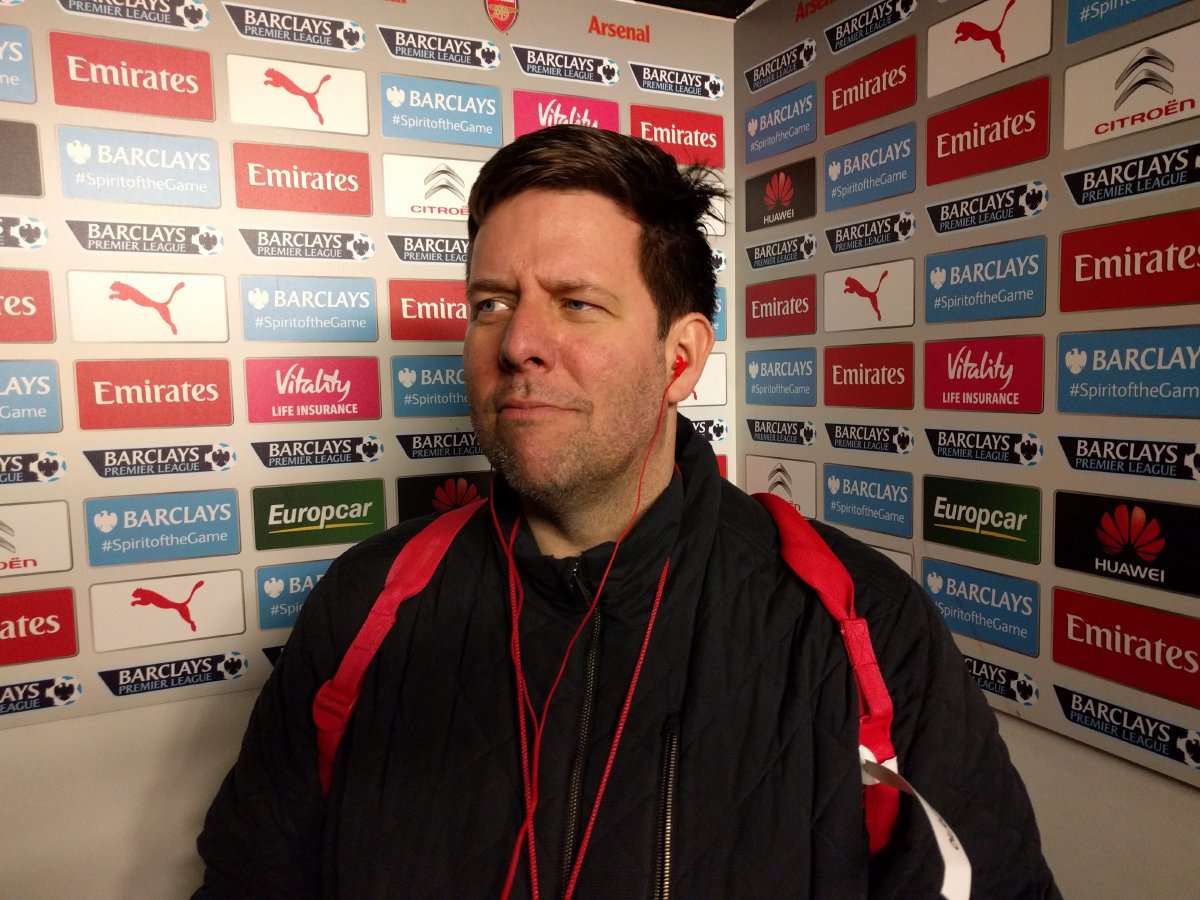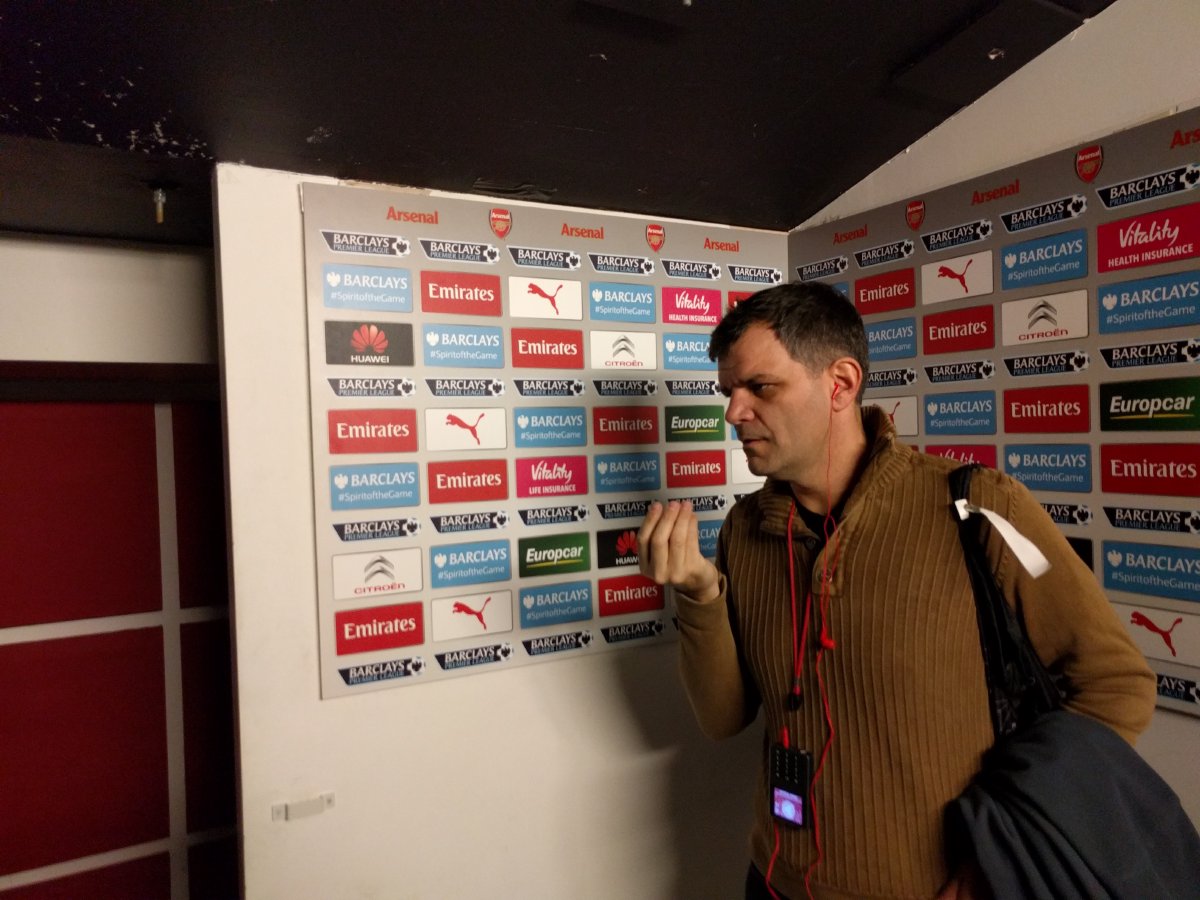 ---
Straight after touring the Emirates we're off to White Hart Lane, the home of Tottenham Hotspur. The teams are less than five miles apart in North London and they are arch-rivals.
This plays out comedically at the security gate as both Dennis and I are laden with merchandise from the Arsenal store for our buddy Tom back home. We try to camouflage the contents of the bag with our gloves and jackets before they get inspected by the security staff. Pro tip: playing down to people expectations of a dumb American tourist in a situation like this is the way to go.
We are not tarred and feathered for our sins against Tottenham, and join our tour group.
For the White Hart Lane tour we are led by a guide in a group in the old-fashioned way. Which at first impression I found more pleasant, but some of our fellow tourists were a bit pushy, so maybe audio isn't so bad after all.
Everyone was given left-over stuffed animals (it being after Christmas). And we are taken first up to the media room, then into the executive dining room and suite.  Then down to the media box, then down again to the locker rooms.
The home locker rooms were pretty high standard and parts of it were off limits lest you track in some bacteria onto the floors from which the players - in bare feet - could get an infection.
The visitors' locker room was ridiculously spartan. Just a bench with hooks on the wall, and walk wherever you want, the Premier League rules don't specify that we need to protect our opponents feet from any bacteria. Gamesmanship - I love it.
Finally, we are out through the tunnel and pitchside to the players seating area. Parts of the White Hart Lane pitch receive very little sunlight at this time of year because of the way the stands around it are configured, so there are all manner of artificial lighting and fans circulating air to keep it in tip-top shape. 
And that's it we're led out through the gift shop - as it should be.
---
It's our last night in the UK, and having done my homework I've found a Reserve League home match at Rush Green! This is West Ham United's training ground out in the suburbs. A reserve team of first teamers returning from injuries and second string players who need to get competitive minutes is playing the Bournemouth reserves.
I've never been to a reserves match, so I'm excited to peel back one more layer of the footballing onion. Dennis, unfortunately pulled up sick after our recent sprint of matches. It's understandable, we've been on the go outside a lot and it's turned bitterly cold.
But, I completely abandoned him anyway.
It's not that hard to get too from our hotel, a bit of a tube ride and a hop on a bus for a bit. There's no fee to get in, and a few hundred (maybe a thousand?) attendees - pretty good for a Monday night.
It's a jovial atmosphere, and a good result for the home team. Alex Song, who's a former Barcelona player, is returning from injury and plays the second half - well, most of it. Okay, part of it.
Headed back into the city after the match disaster strikes, well, what I perceive as disaster. I missed my train by less than a minute. At this hour on a Monday night back home in DC that could mean a 30 minute wait for the next one. However, I'm in London, and three minutes later, the next train shows up. Wow, a public transit system that's robust - that's exciting.
---
Sadly, it can't All be Football
When you do a football trip, the focus is the football, but sometimes other things slip in. Dennis enjoyed the pletoria of Pret a Manger's available. We spent a bit of time around the tower of London and taking in the sights of Canery Row and Blackwall.