Footy Trek 2018: The Five-a-Side Edition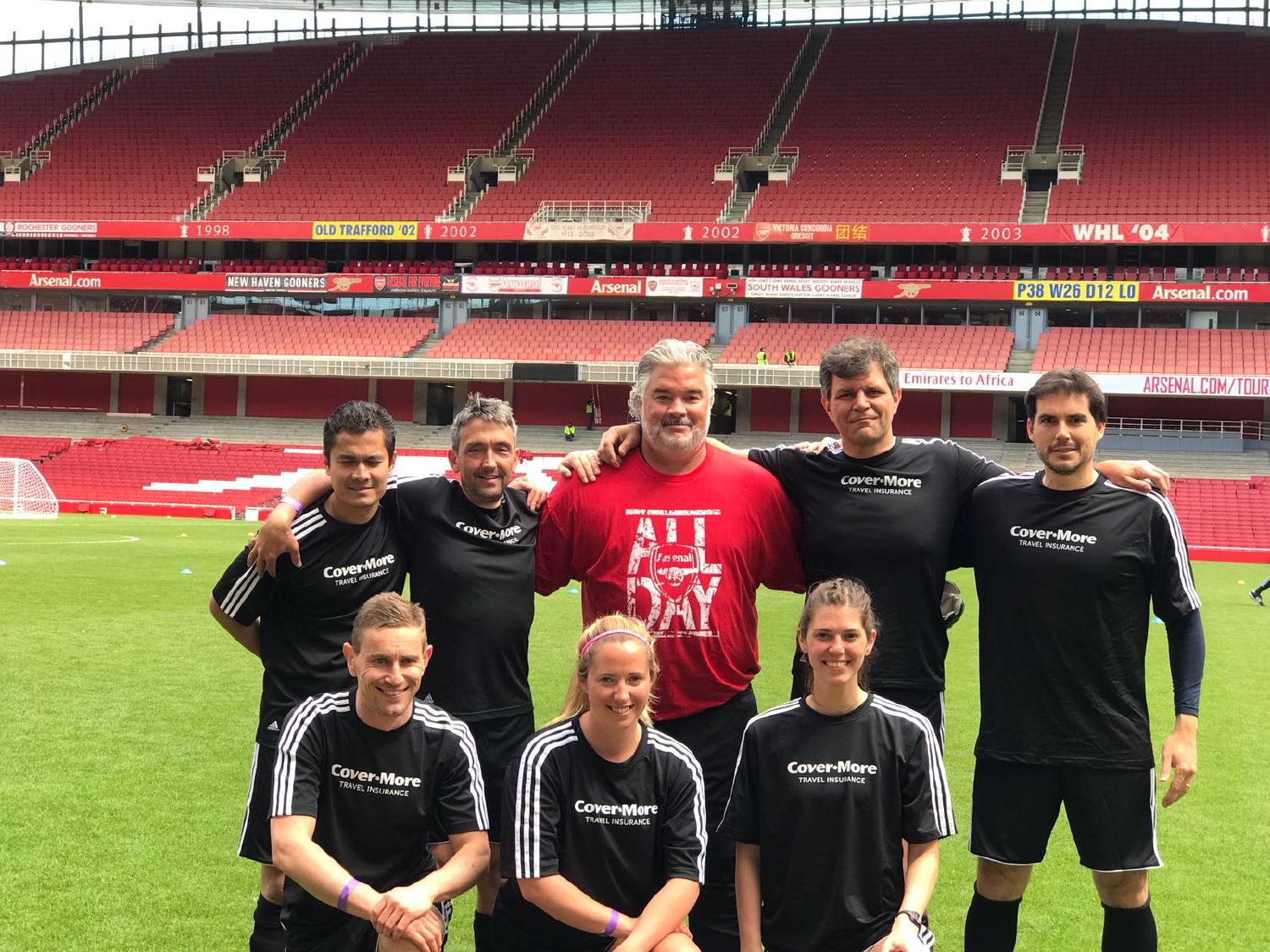 I'm not sure how it keeps happening. But after football (RE: Soccer) trips last year, and the year before, not to mention the one I did ages ago, the opportunity - neigh obligation - falls in my lap. You see, the company I work for Cover-More Group is the official Travel Insurance of Arsenal Football Club.
As a thank you to their sponsors, Arsenal hold an annual five-aside tournament after the last home match of the season. My boss is responsible for organizing the team and despite doing football trips to the UK so recently, well - this one is a work commitment. Guess I have to go.
If you've been visiting me here for long, you know that if I can wedge more footy action into a trip, I will. So, after scouring the fixtures Ifound a match to attend the day before our five-aside tournament. Small complications -it is in Wales.
But is a three hour train ride going to stop me? Heck no! After a less than restful night on the red-eye over, I try to sleep on the train to Wales. It's my first trip here and Wales is - different from England. There is much more extractive industry evident after a very horse-country train rained through the English west country.
After getting settled into my hotel in Swansea I stroll around town a bit before the match. It's a delightful town! I really enjoy the harbor area and the beach.
I have a bit of time and walk through town to the stadium, nothing is too far away in Swansea.
The match itself doesn't go the home teams way, and more or less relegates them to the second division for the following season. As I walk back into town with some very very irate fans there is talk of who will stay and who needs to go in order for next season to be a success. "Maybe the Yank owners will go now." Now is a time to keep my lips sealed, no need to voice an American accent.
Now, I do need to be back in London by midday tomorrow. So, I slept for a couple of hours before checking out of my hotel at 3AM for a train back east. I believe my total time on the ground in Wales is just over 12 hours. I would like to return though!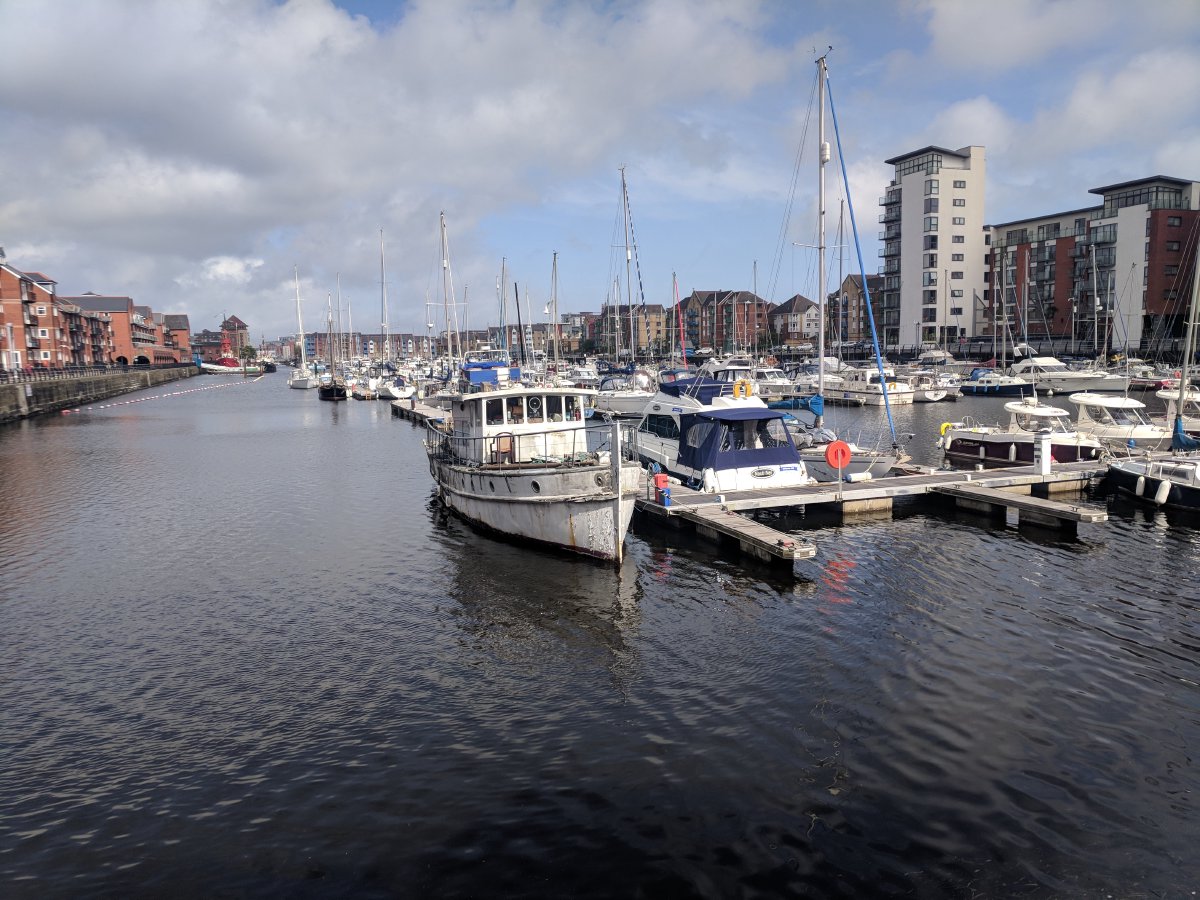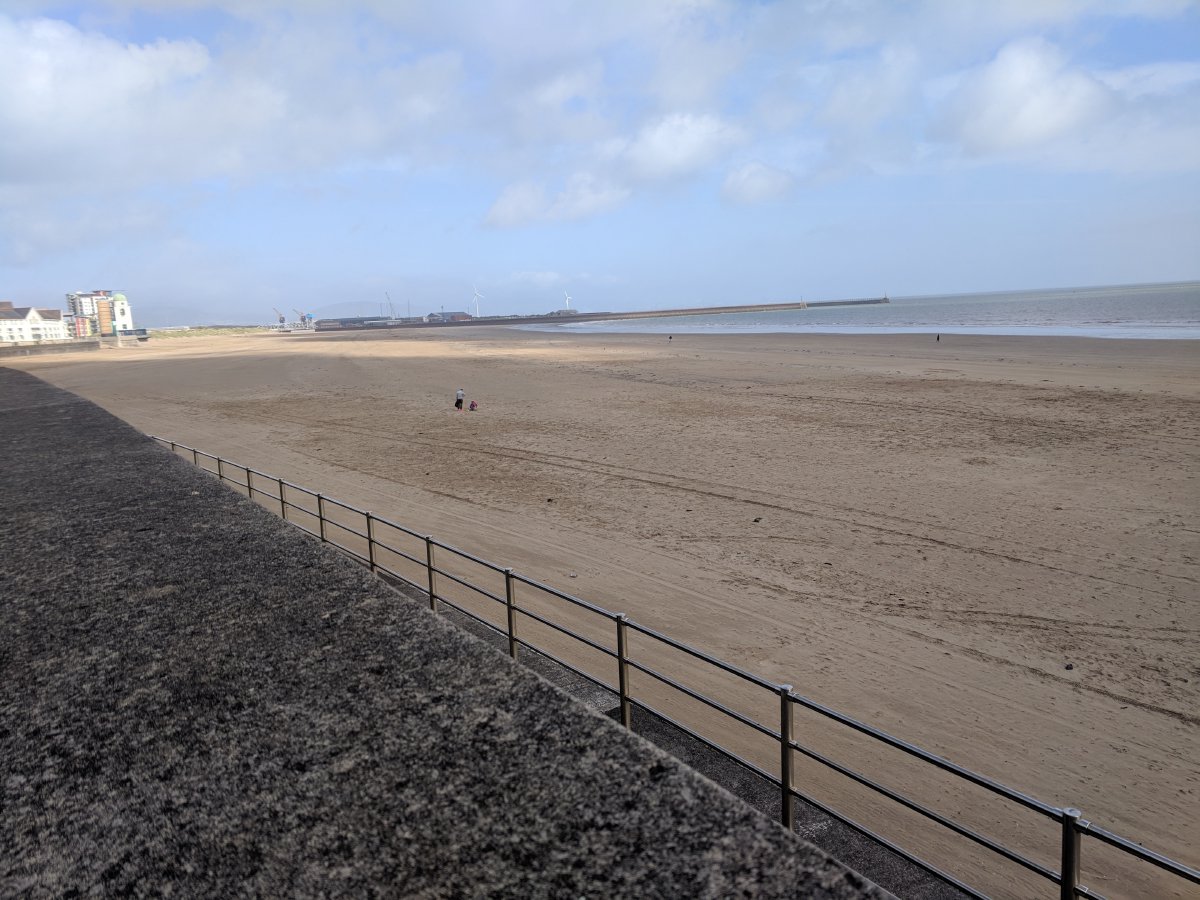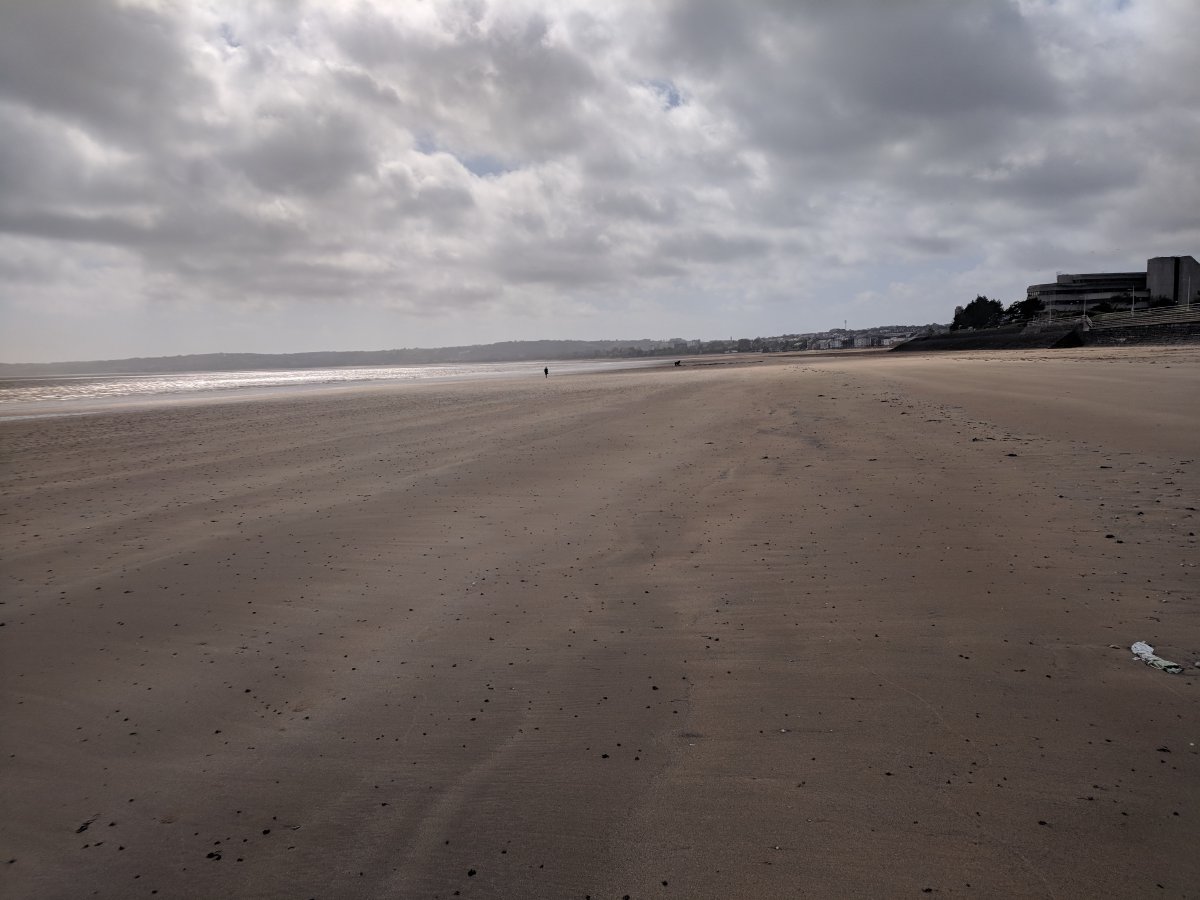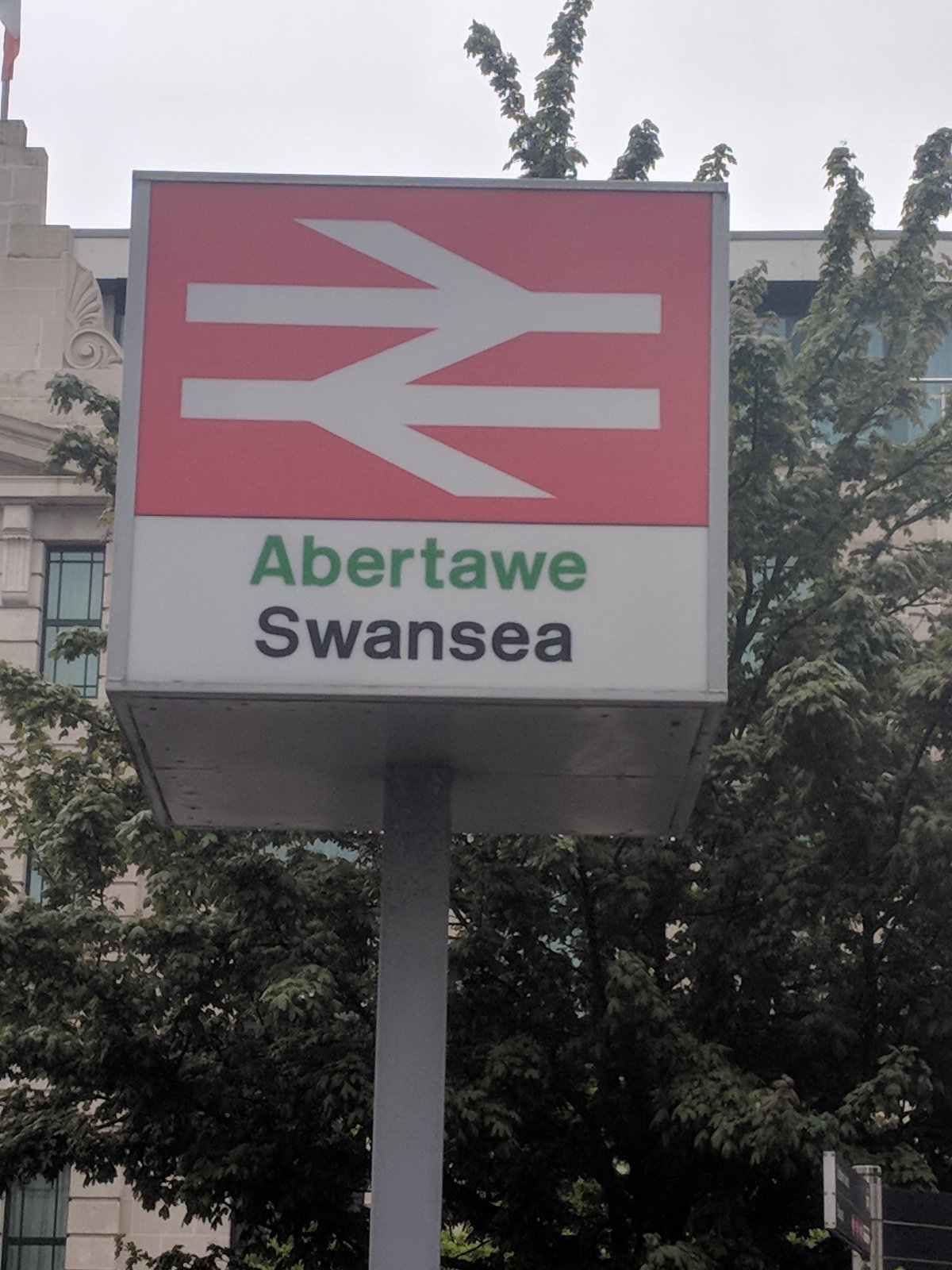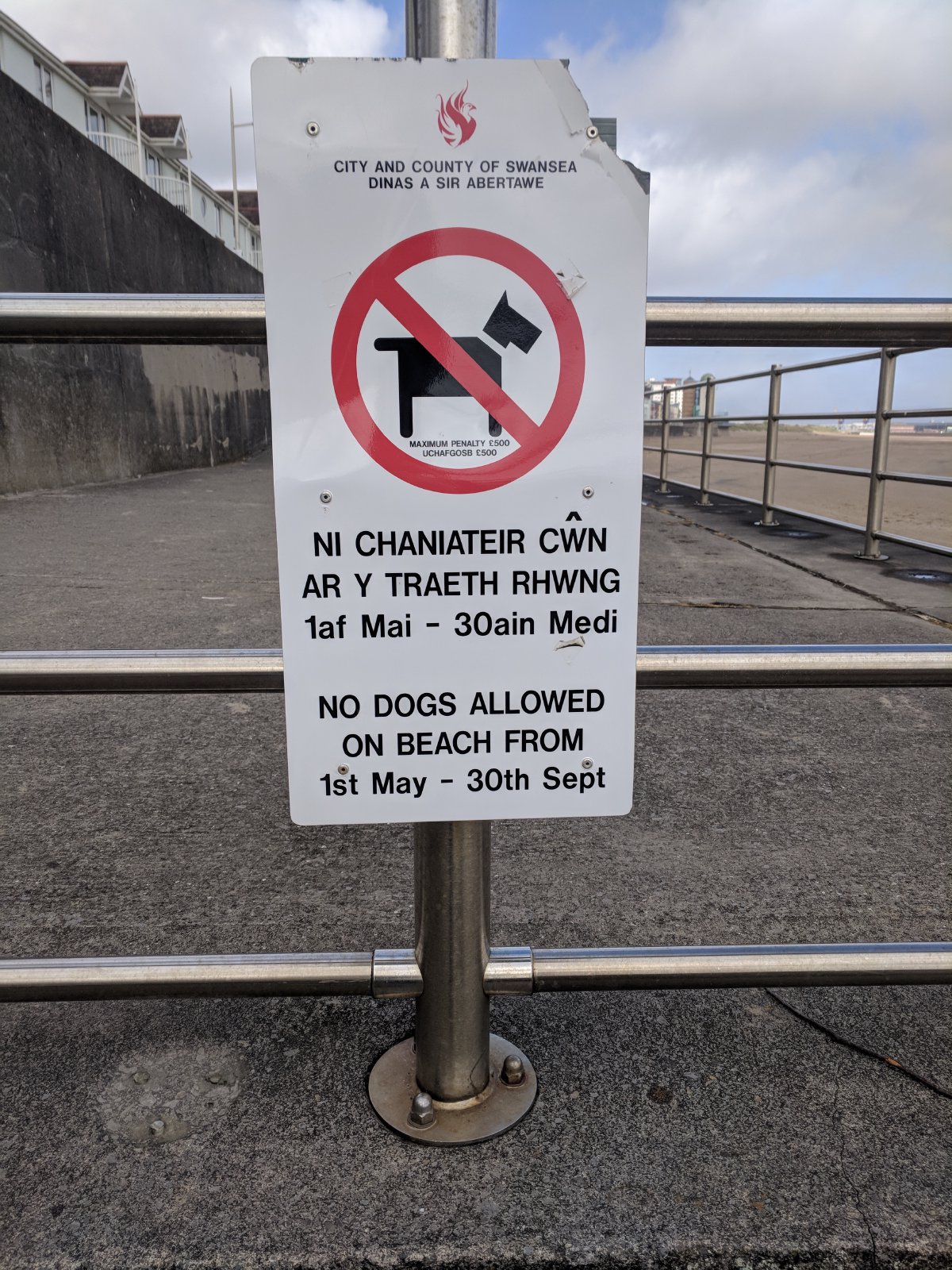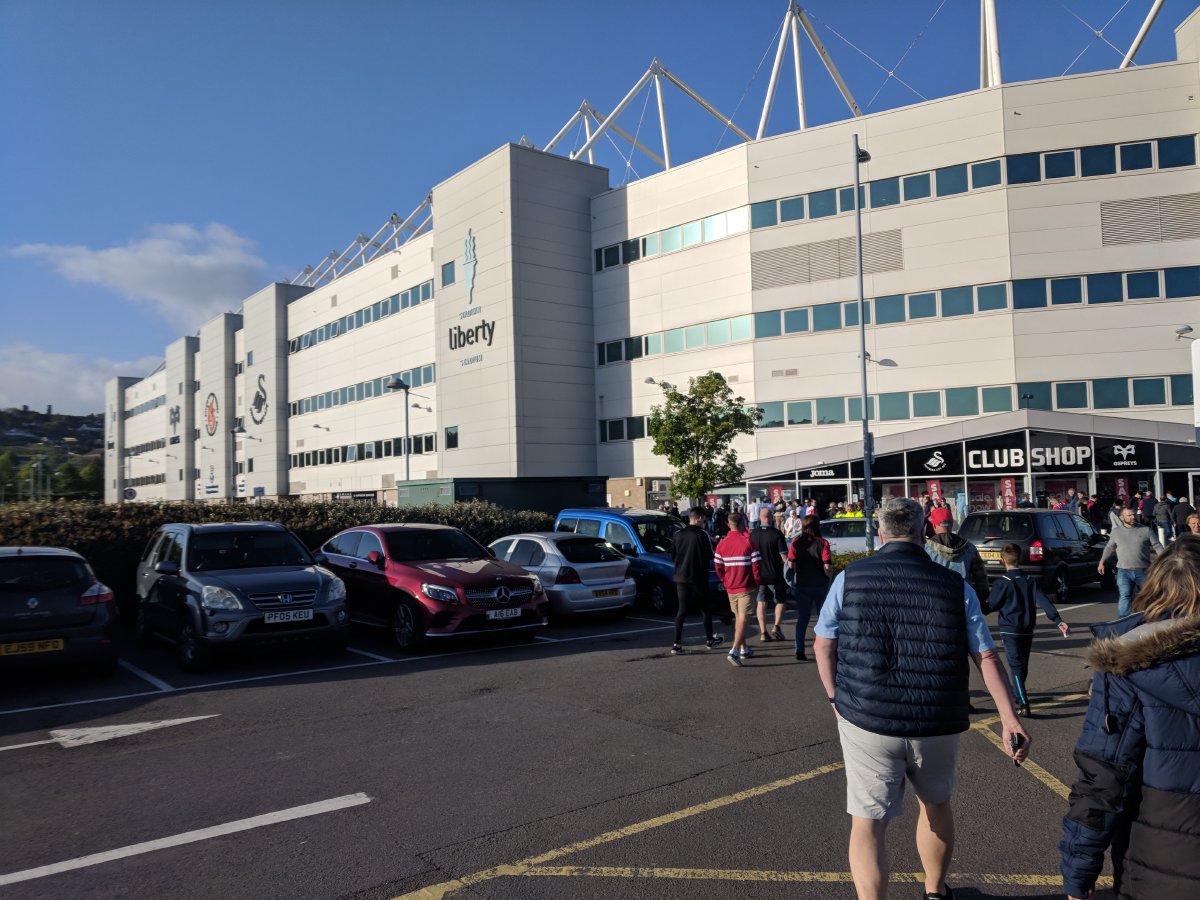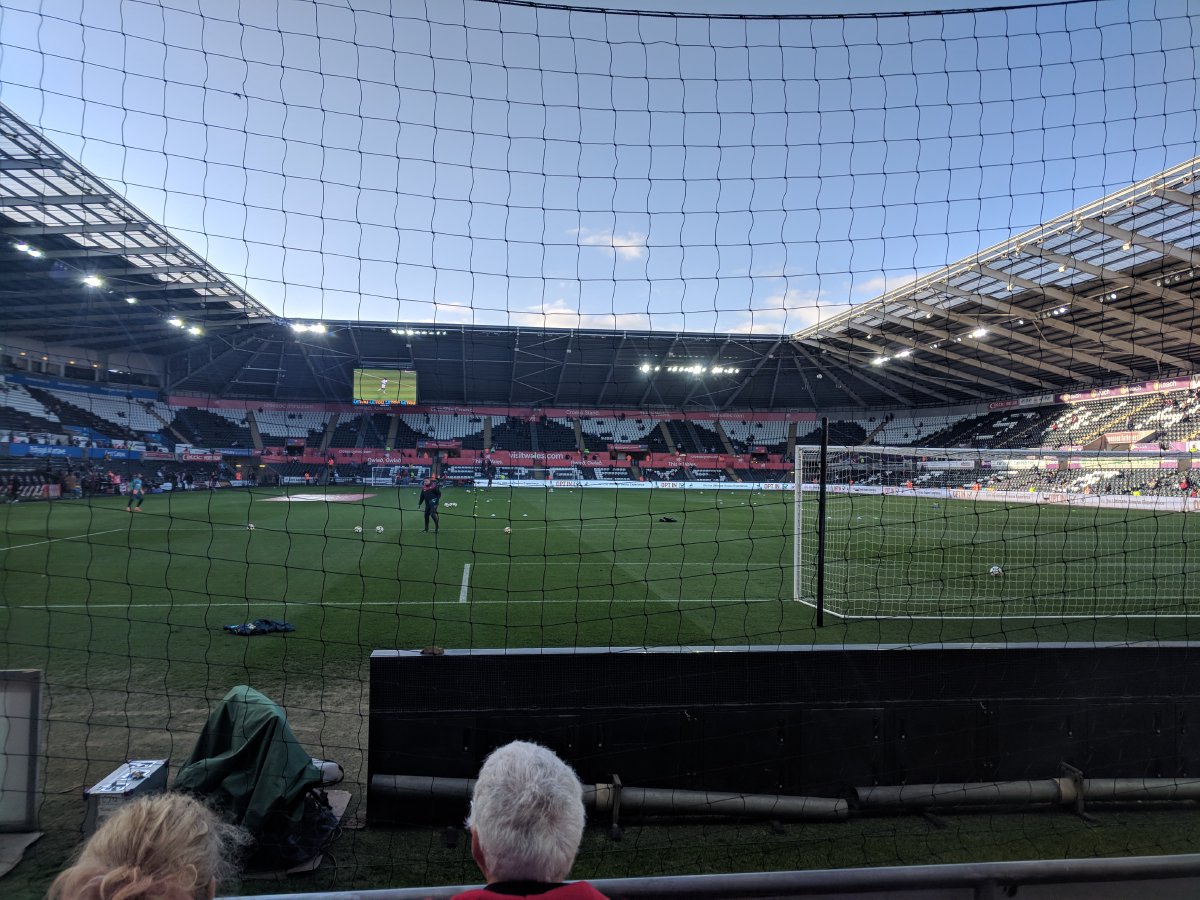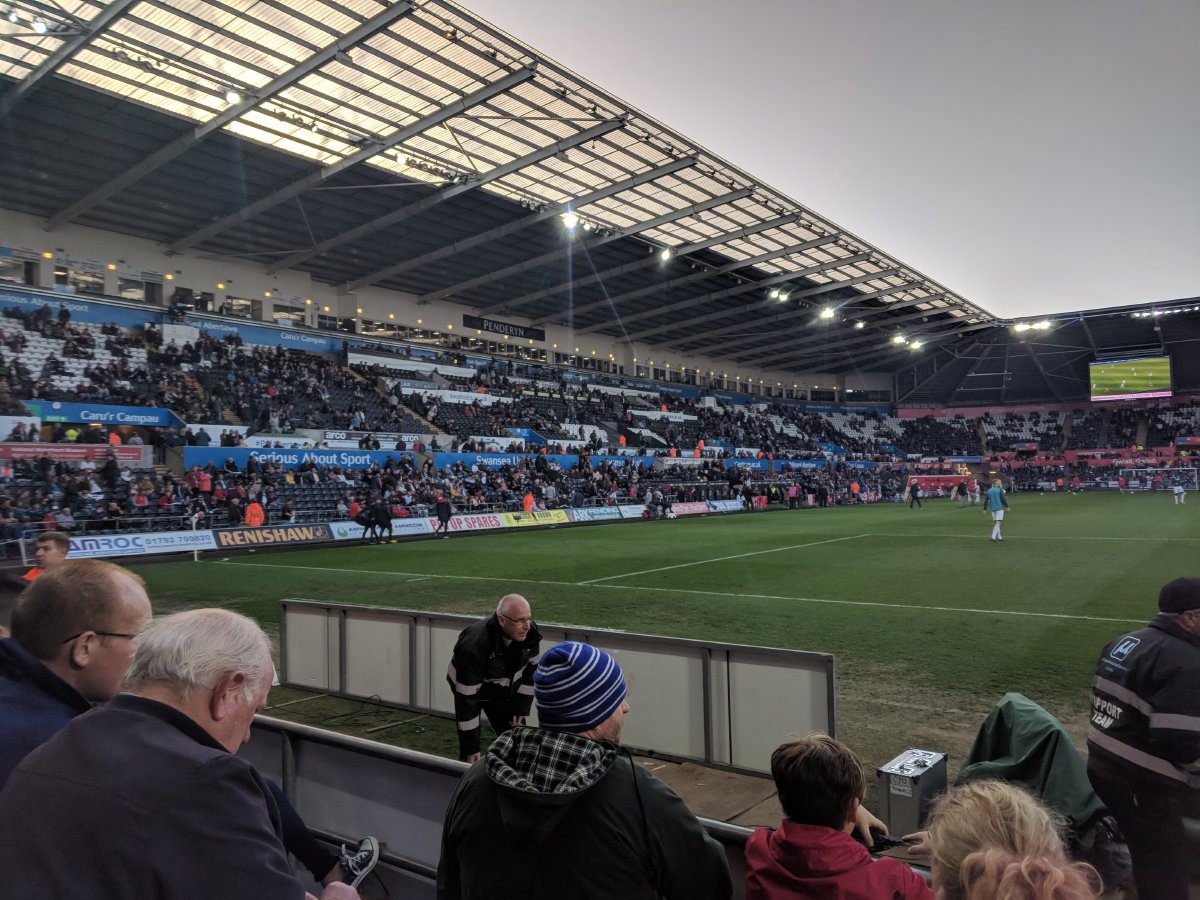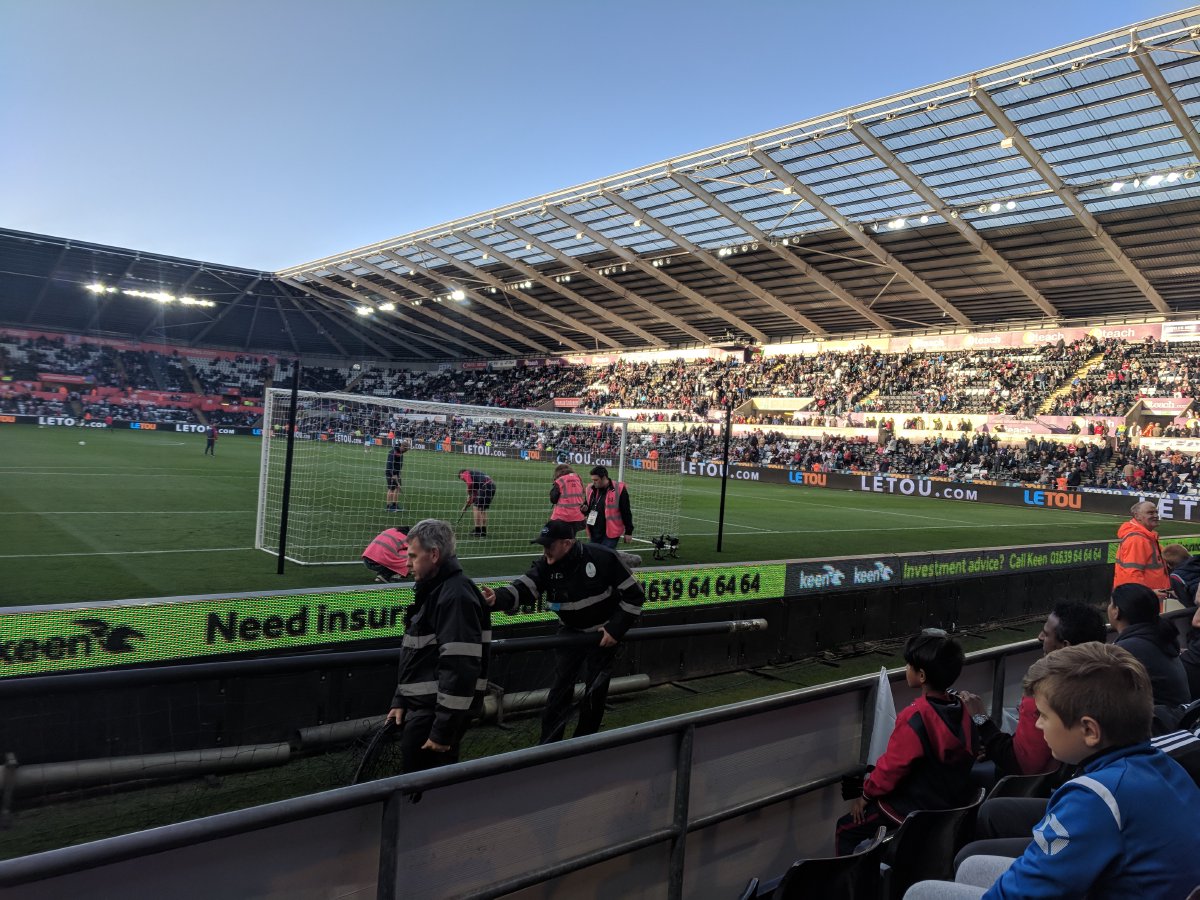 ---
After departing Swansea at 3AM, I tried to sleep on the train back to London with mixed results. I'm reunited with my teammates at our hotel and just like that we're off for the events of the five-aside.
There's a bit of excitement as we head into the stadium and get changed in the (away team) locker room. One small point - we have not practiced and well, that starts to show once the first match commences. Our first opponents, disassemble us.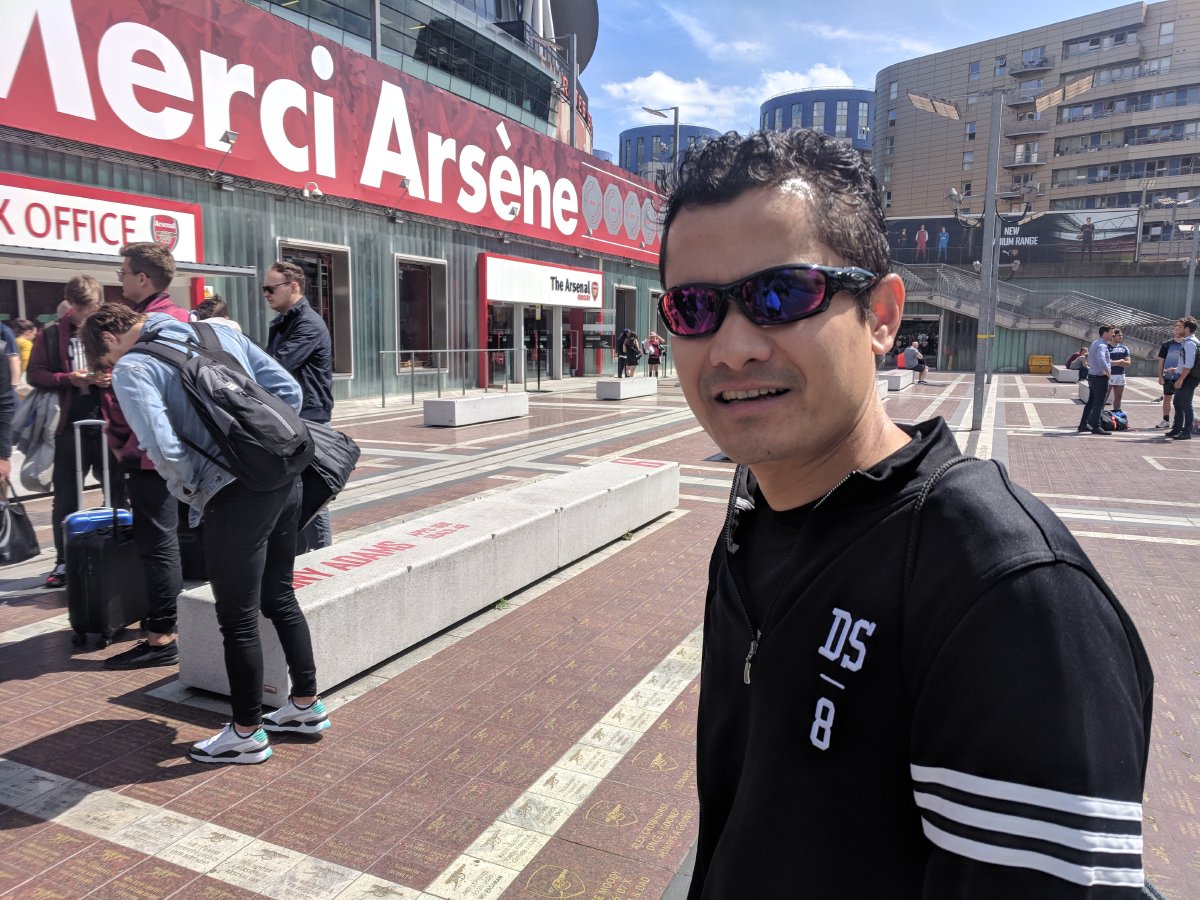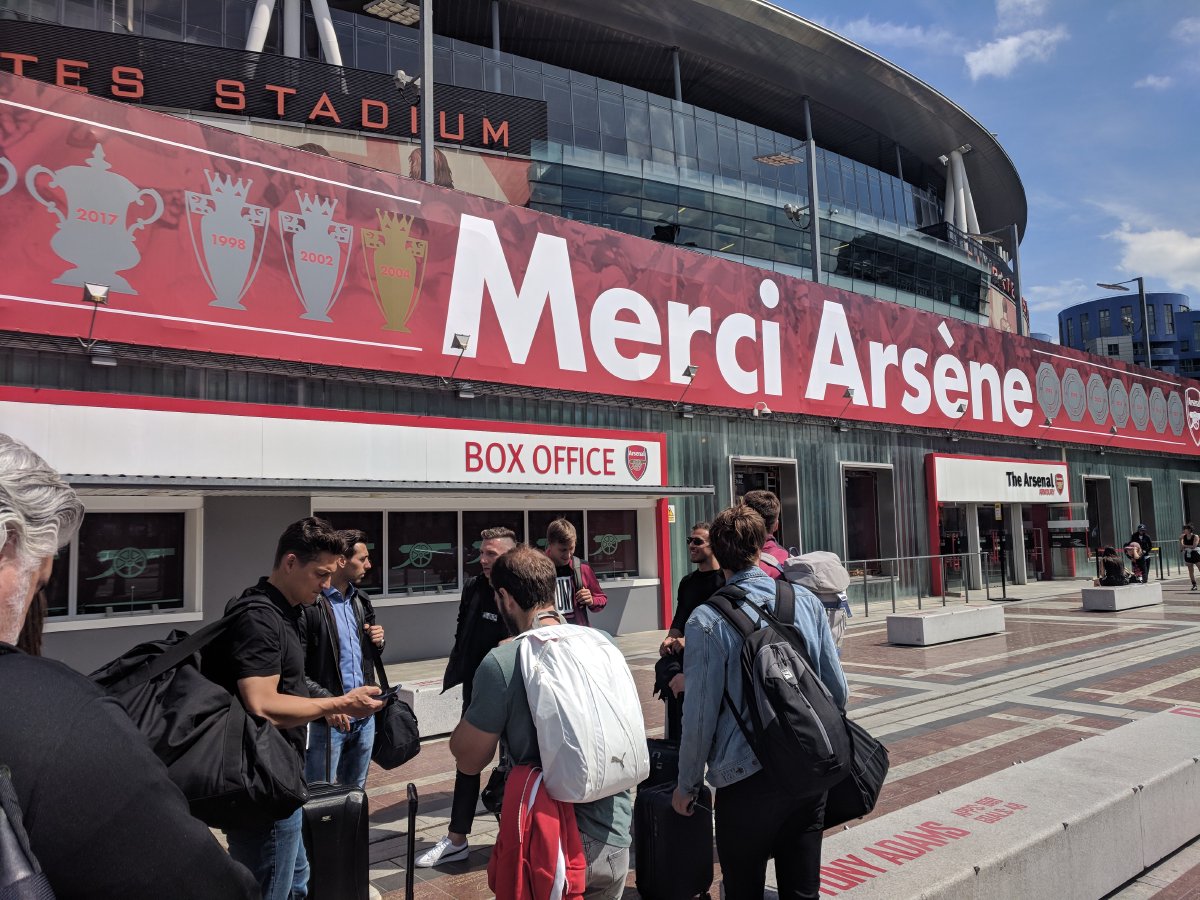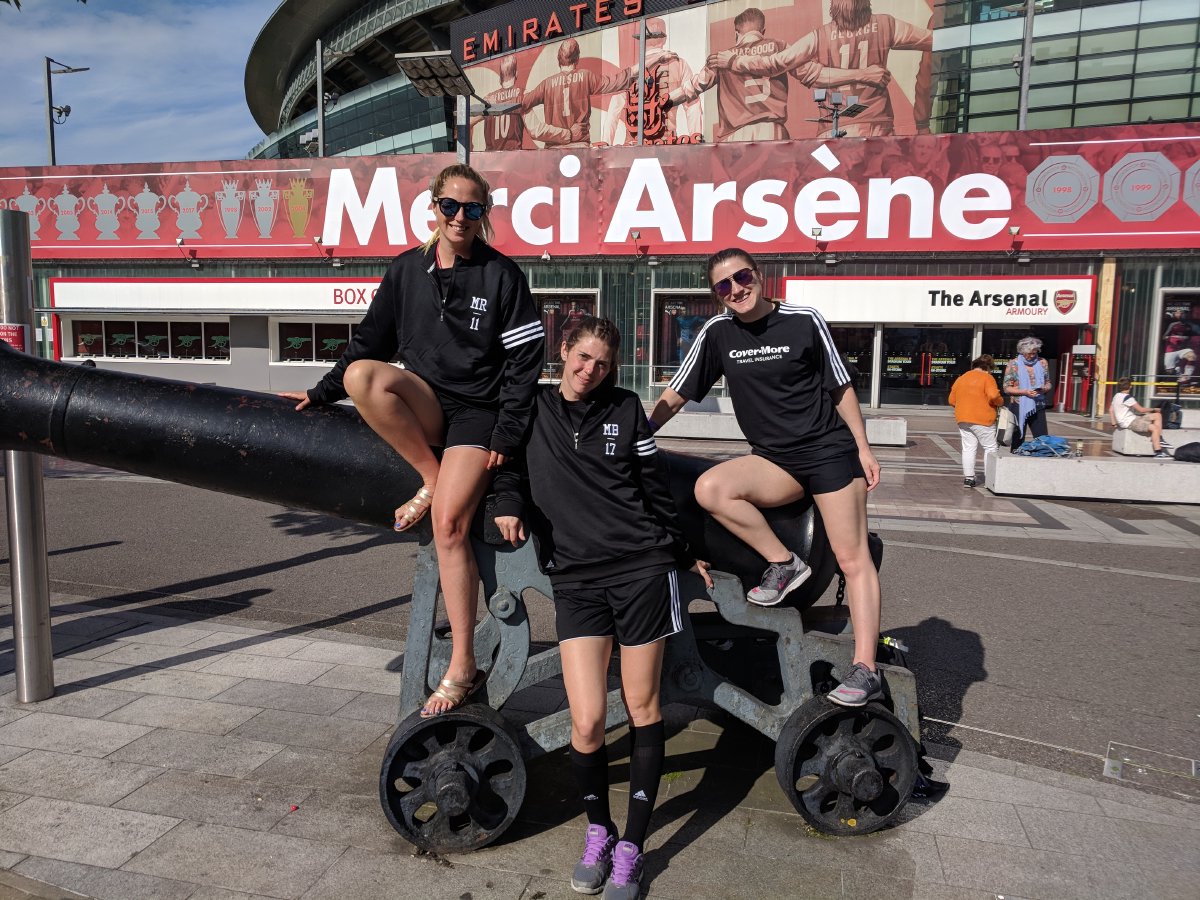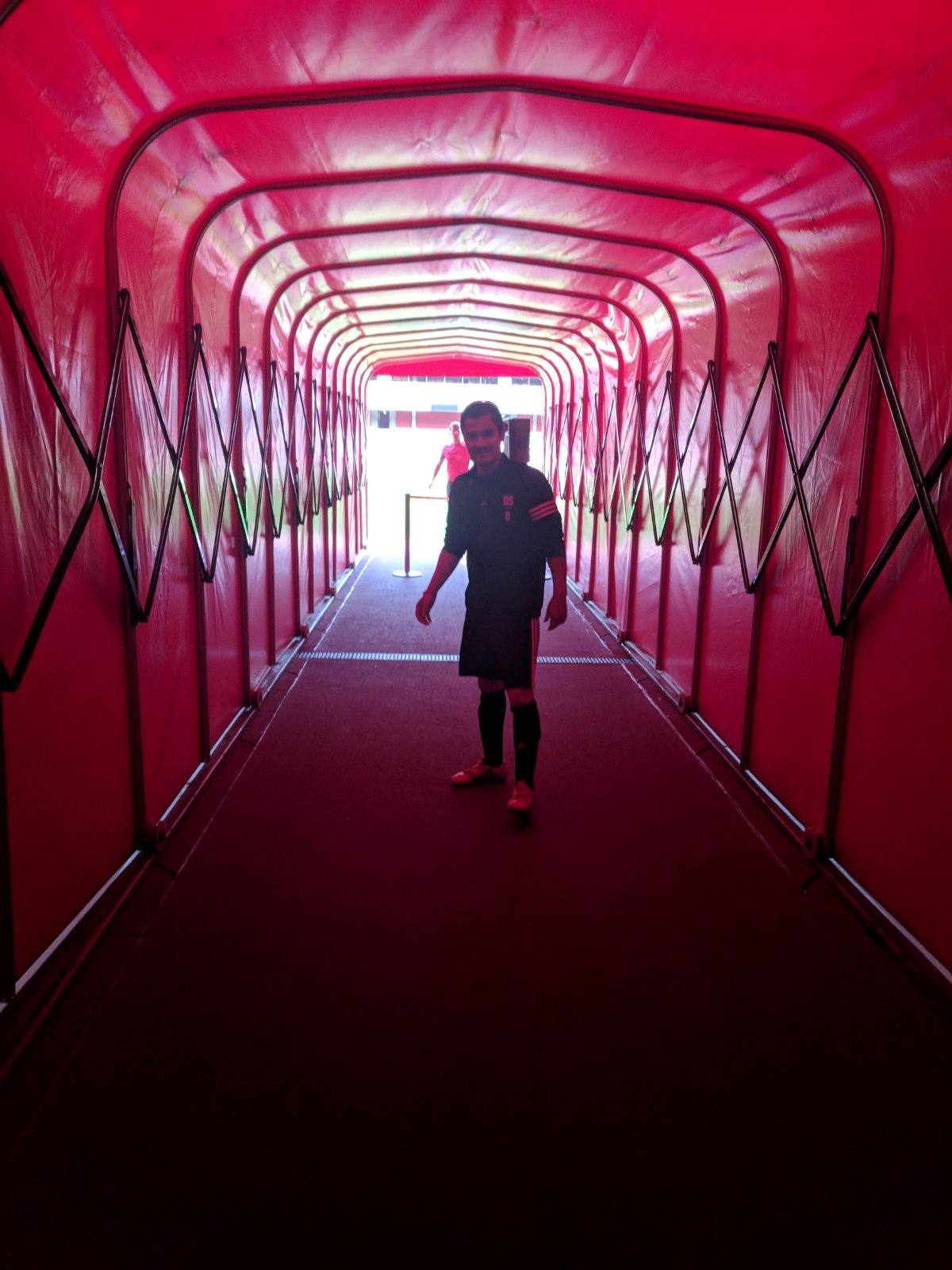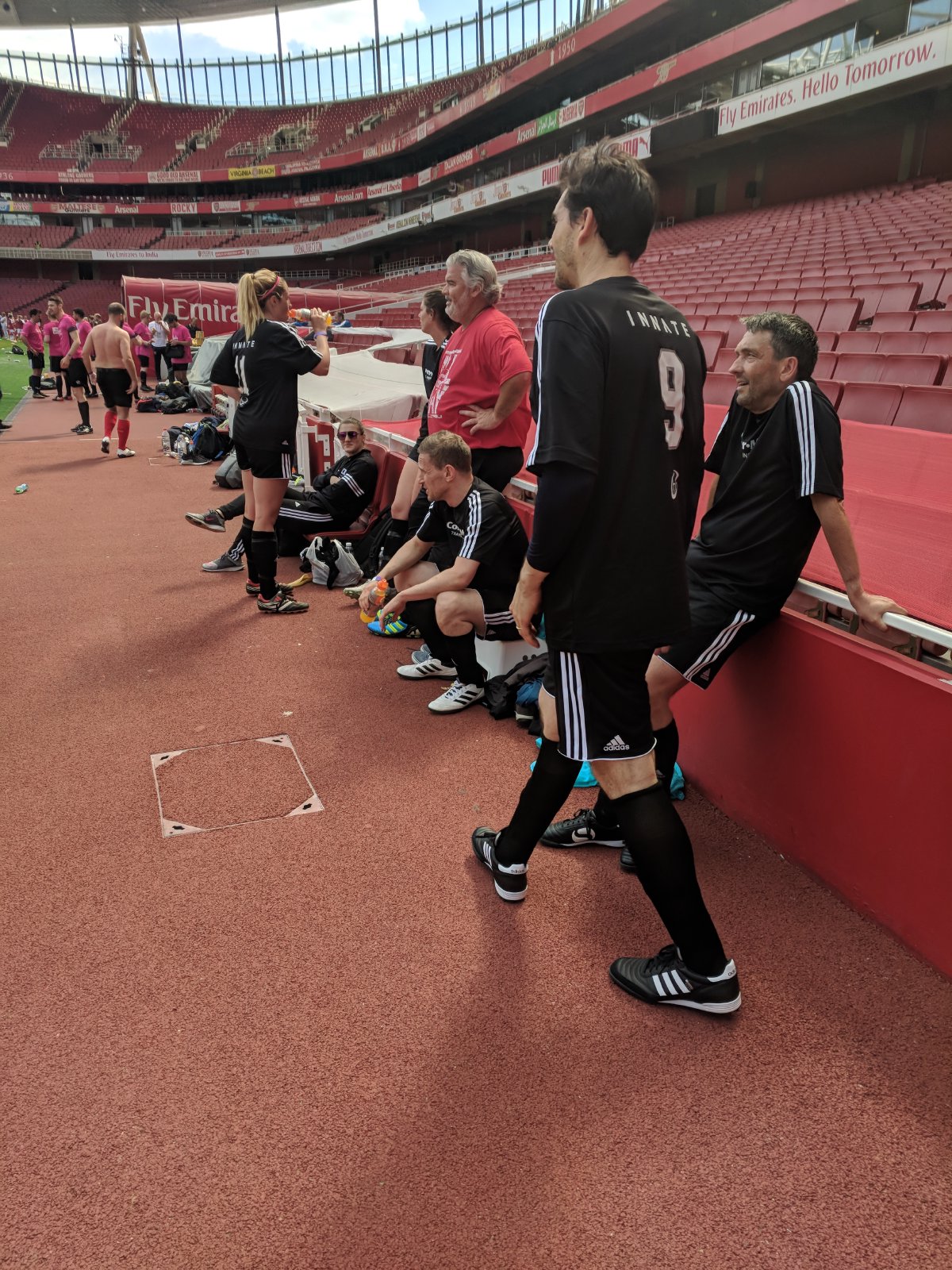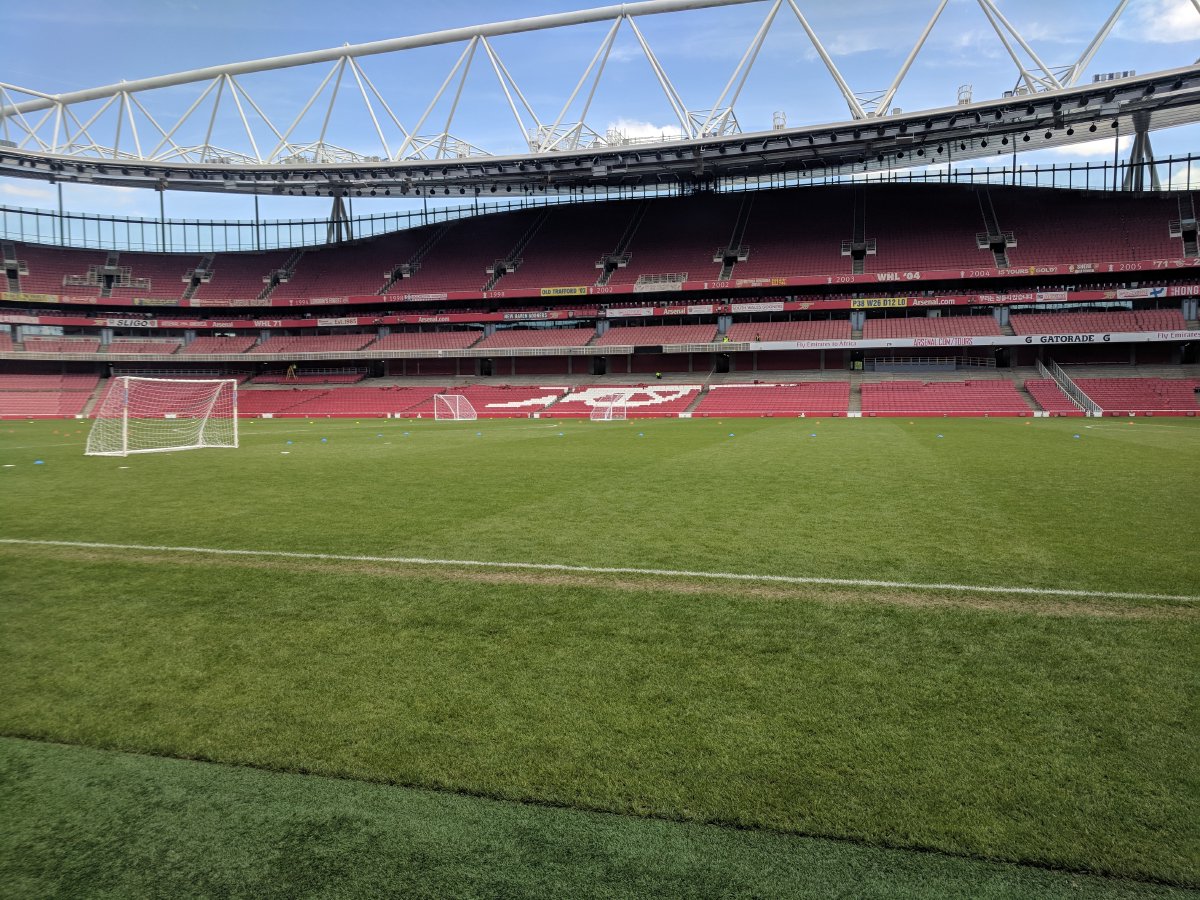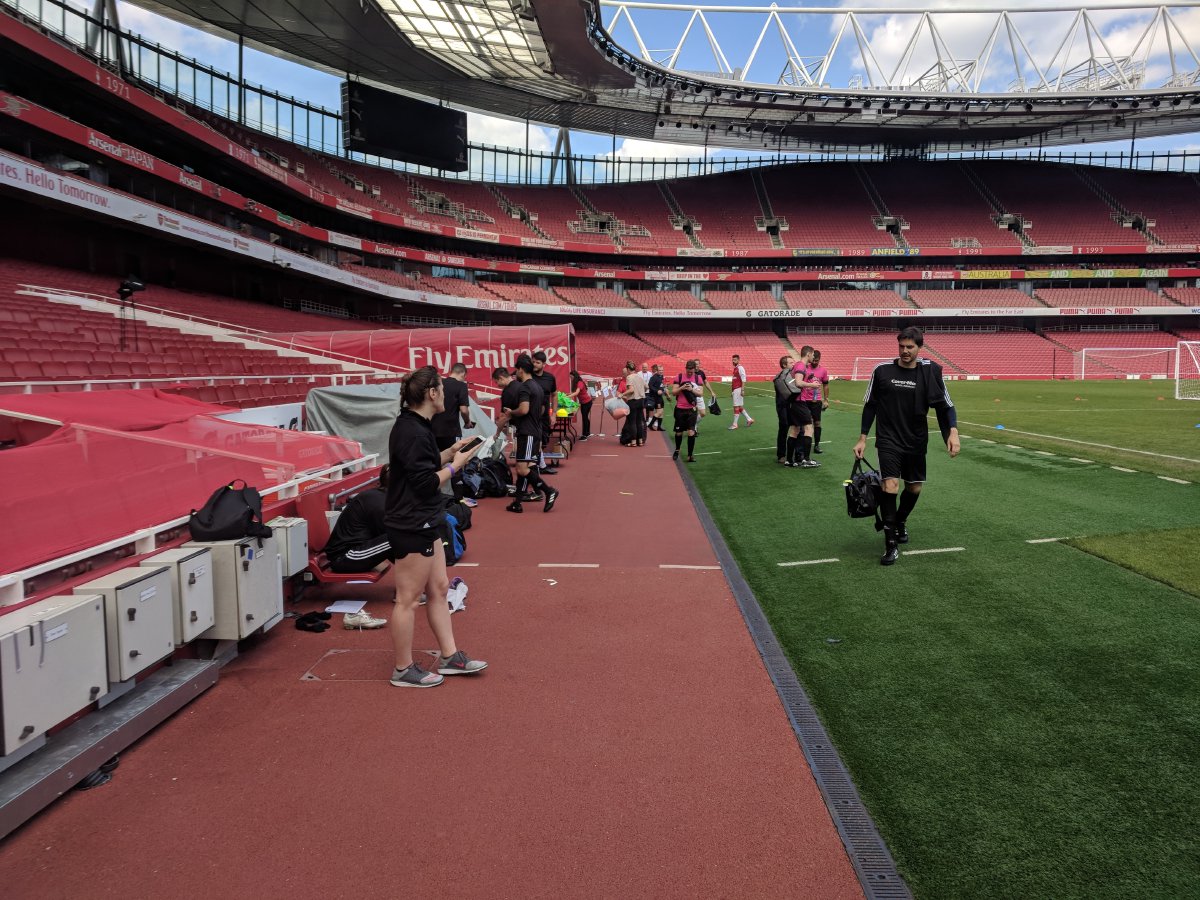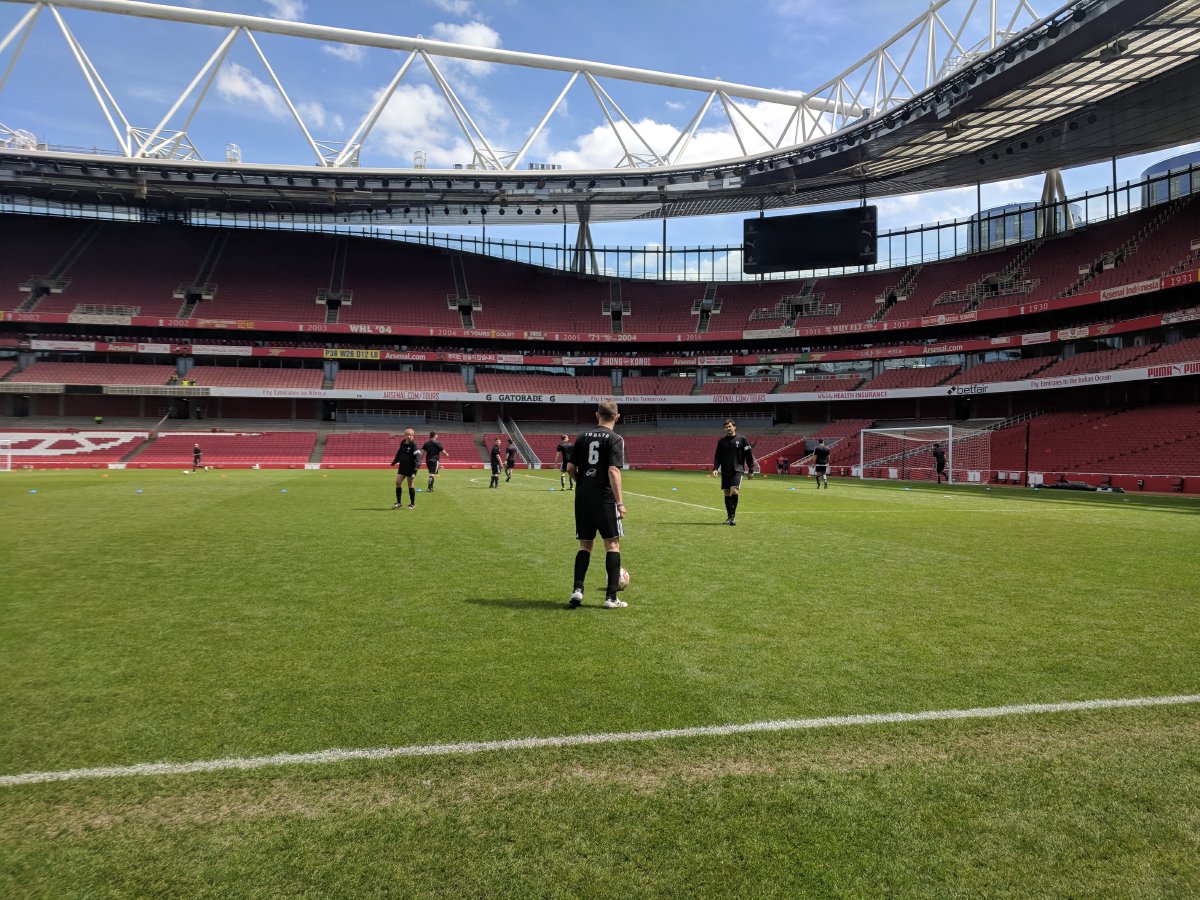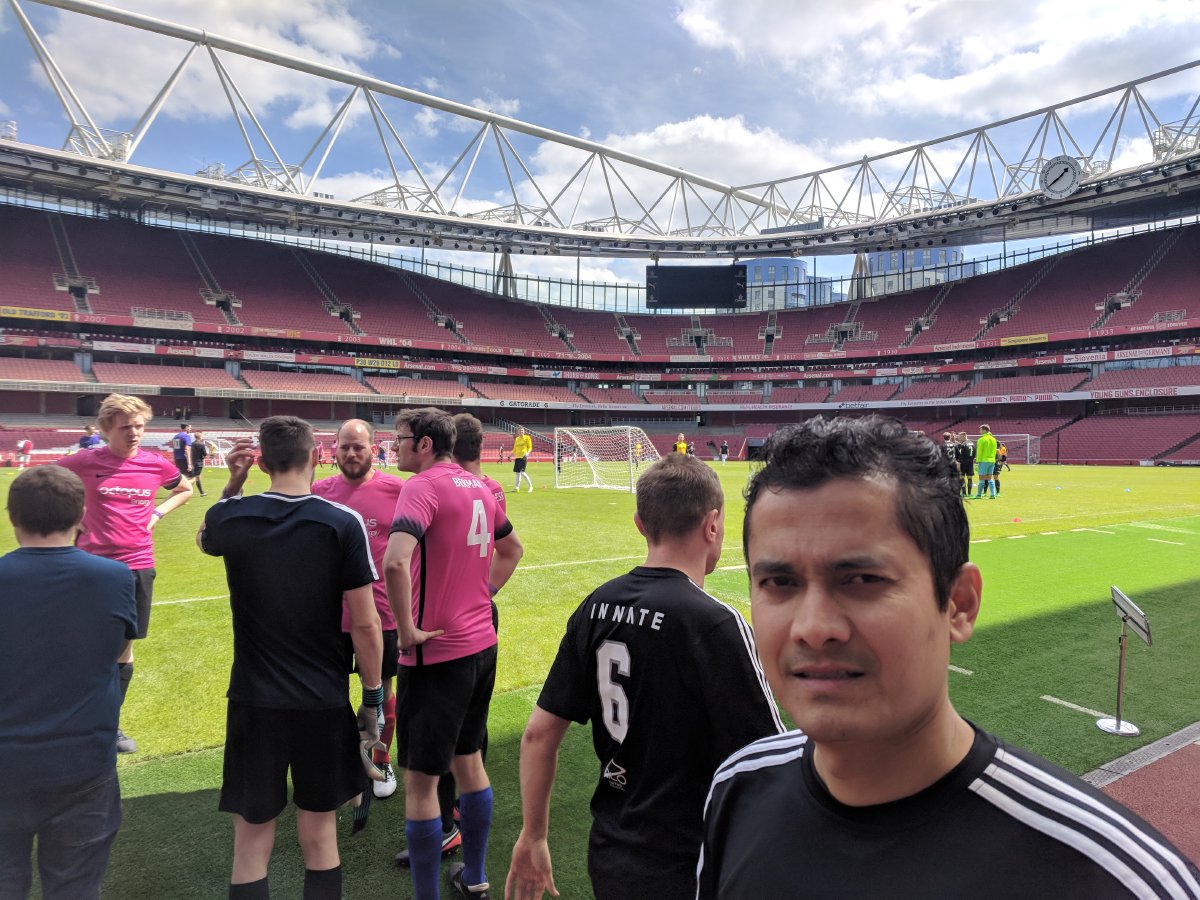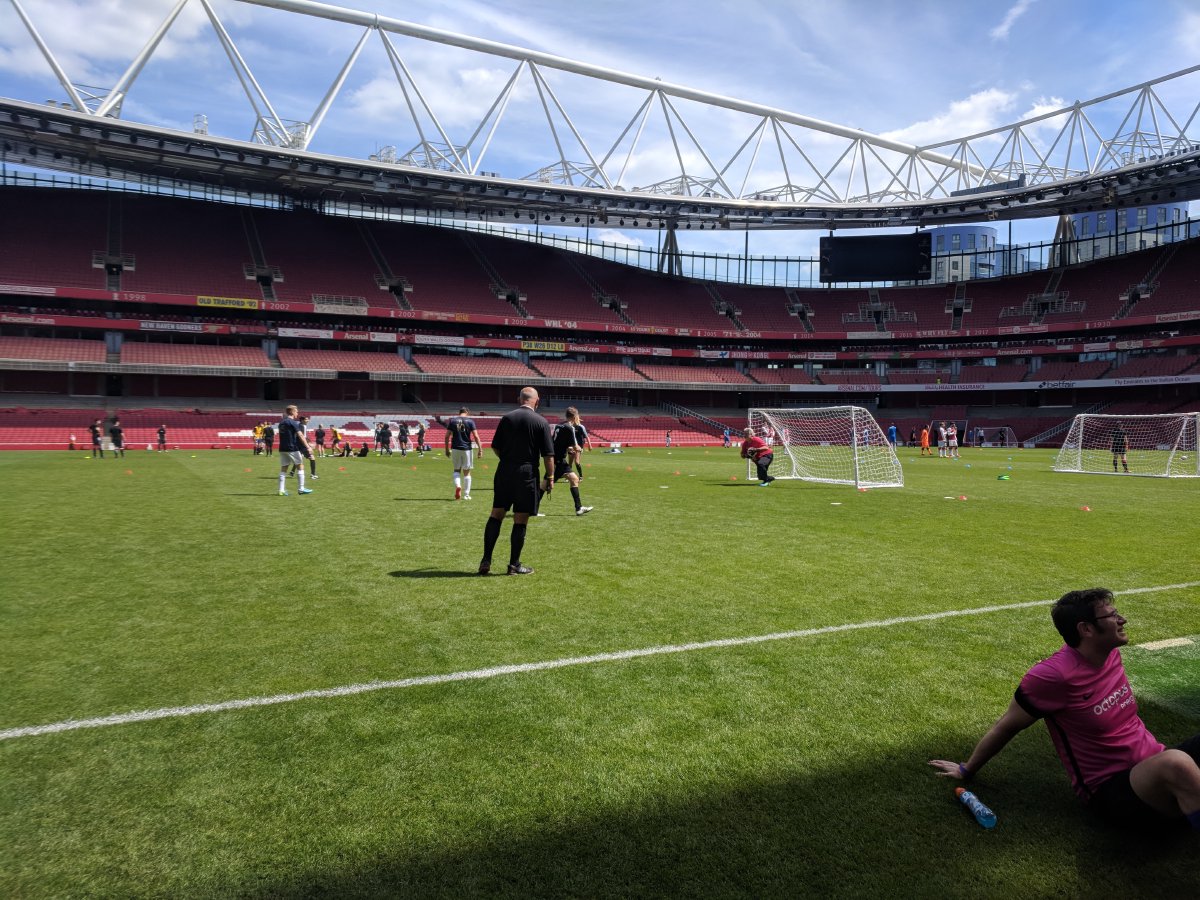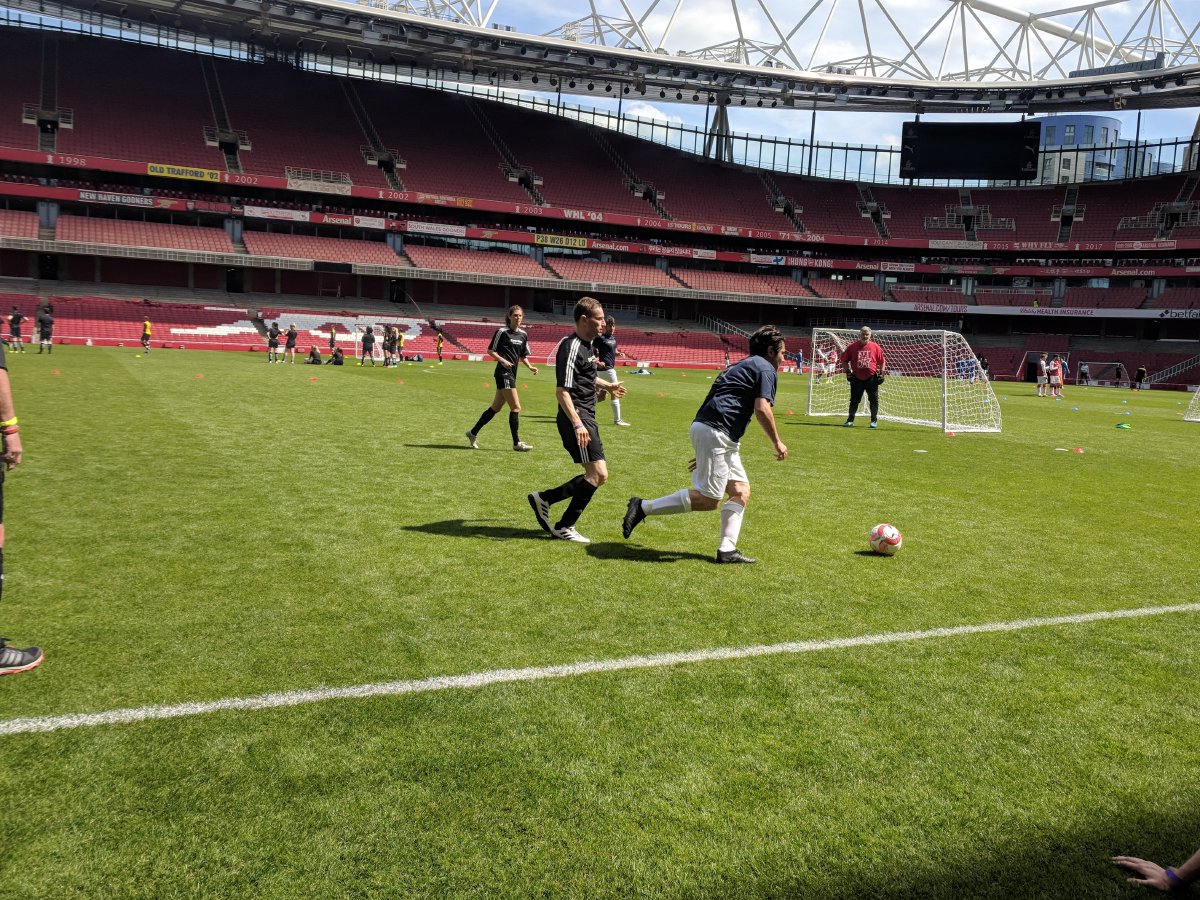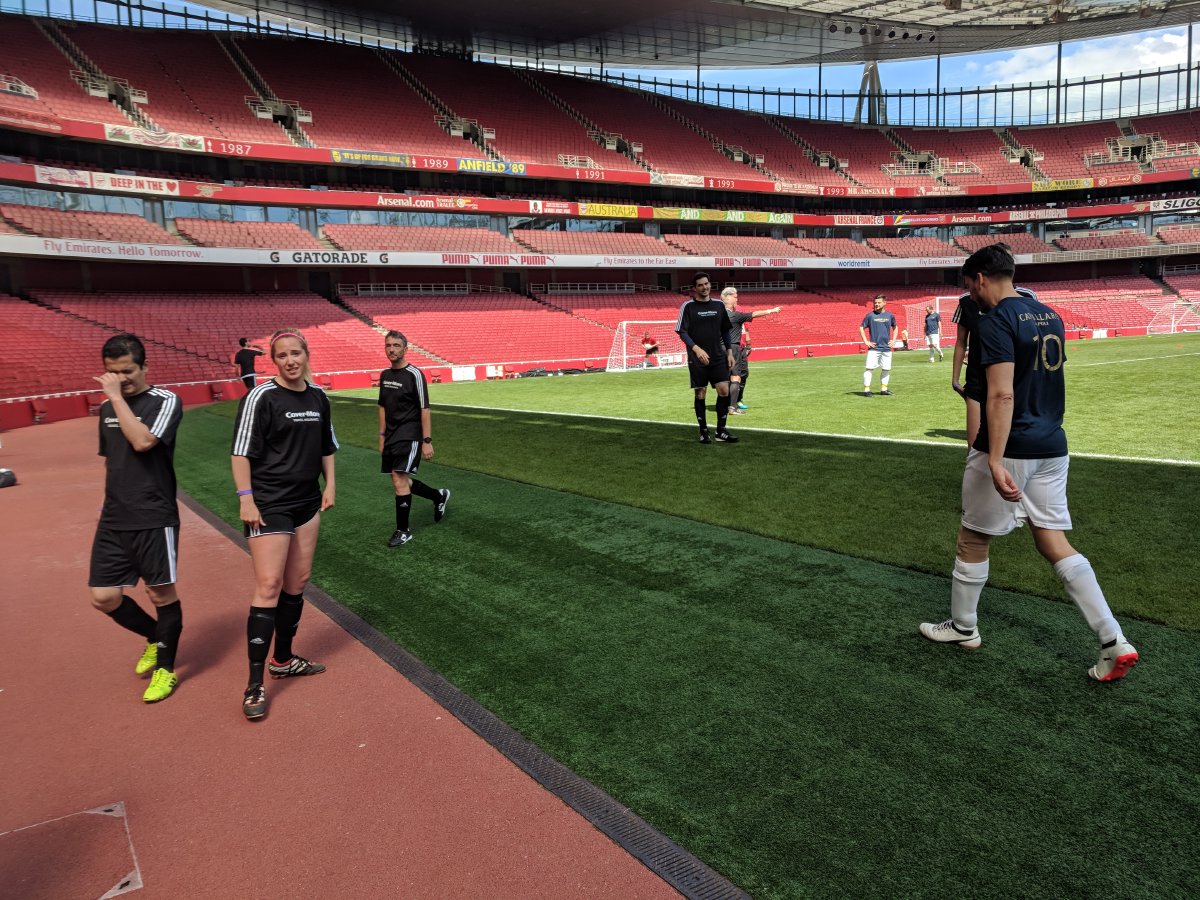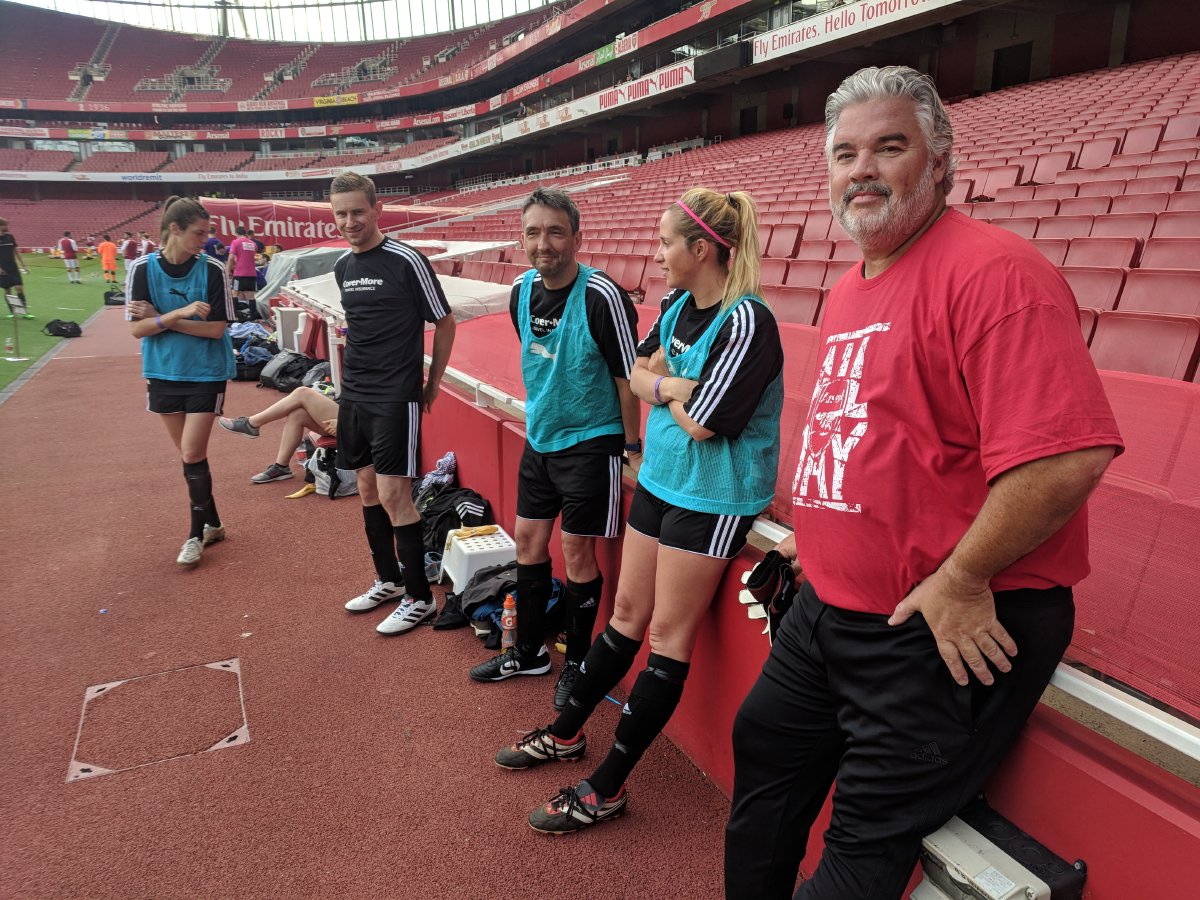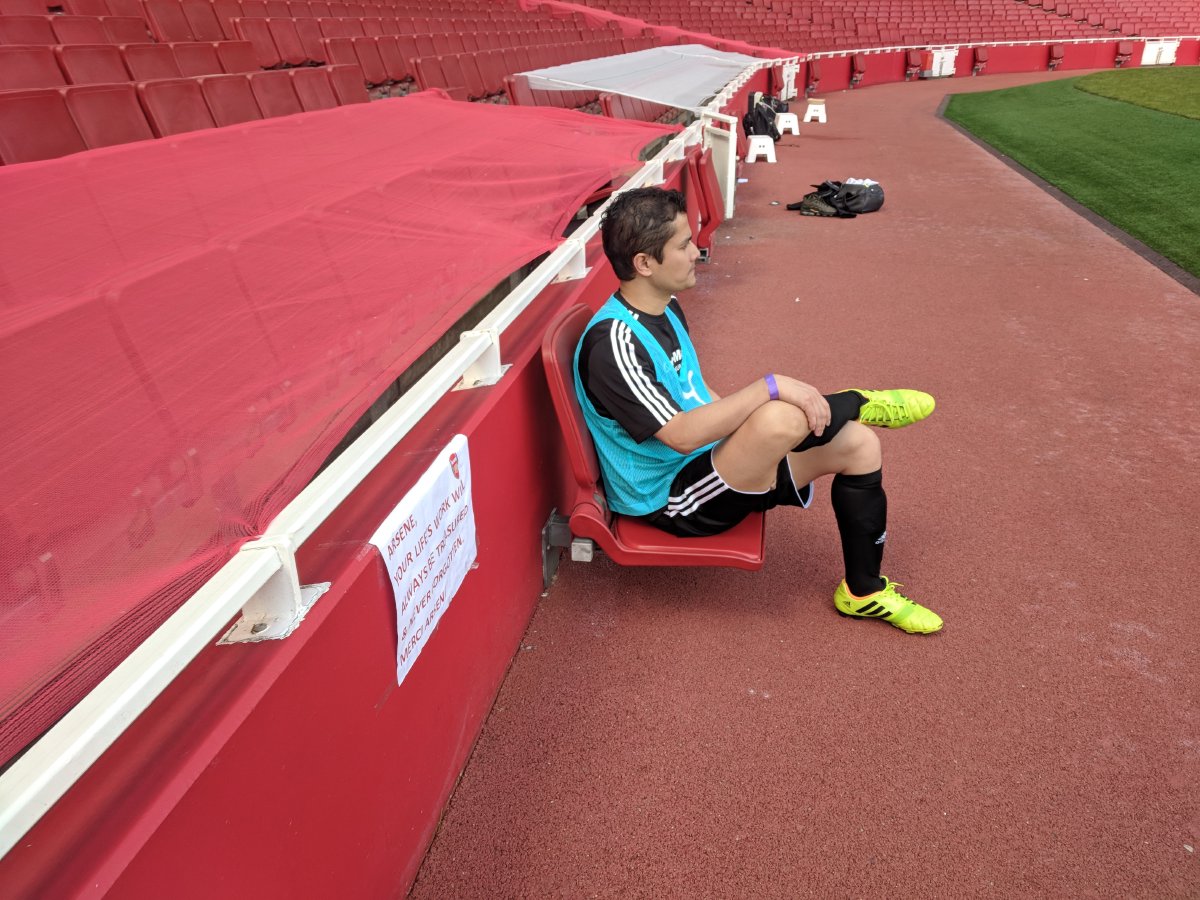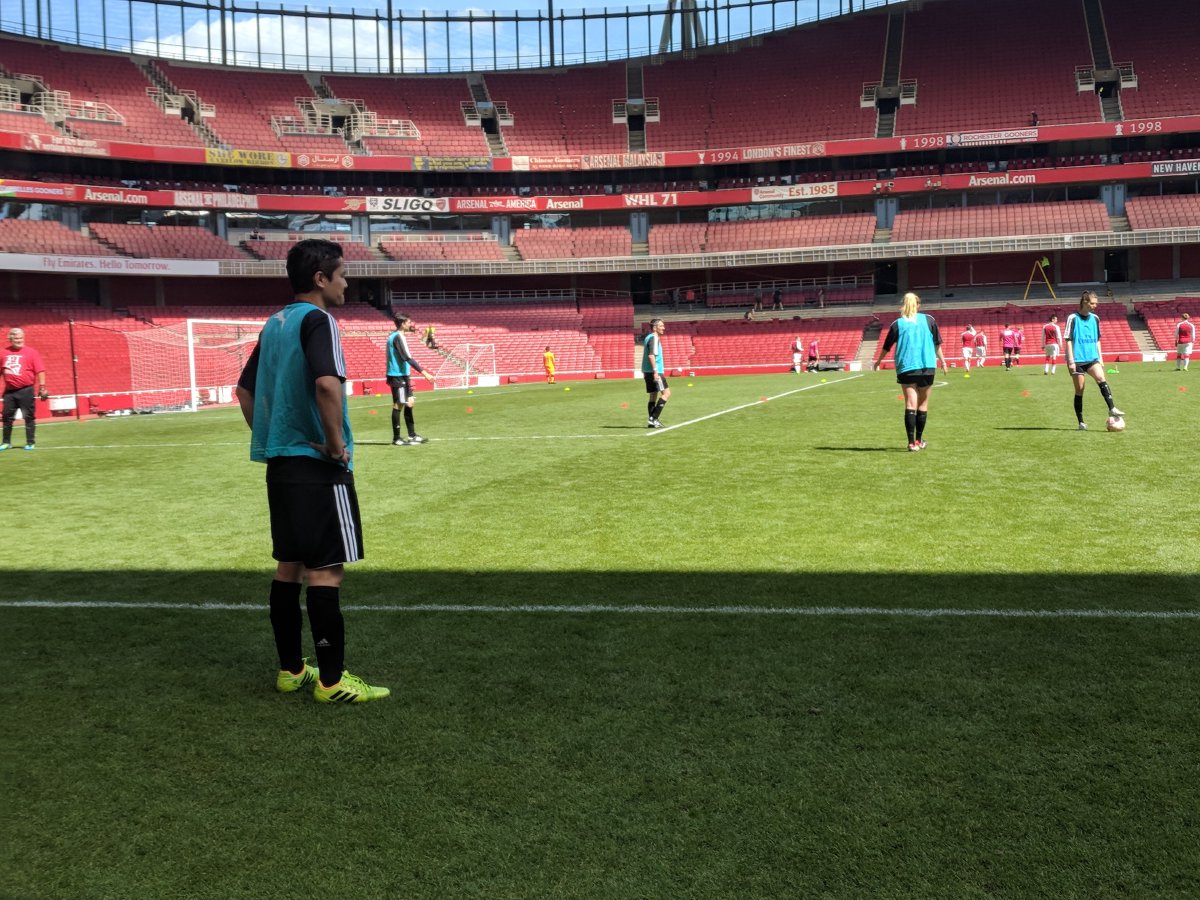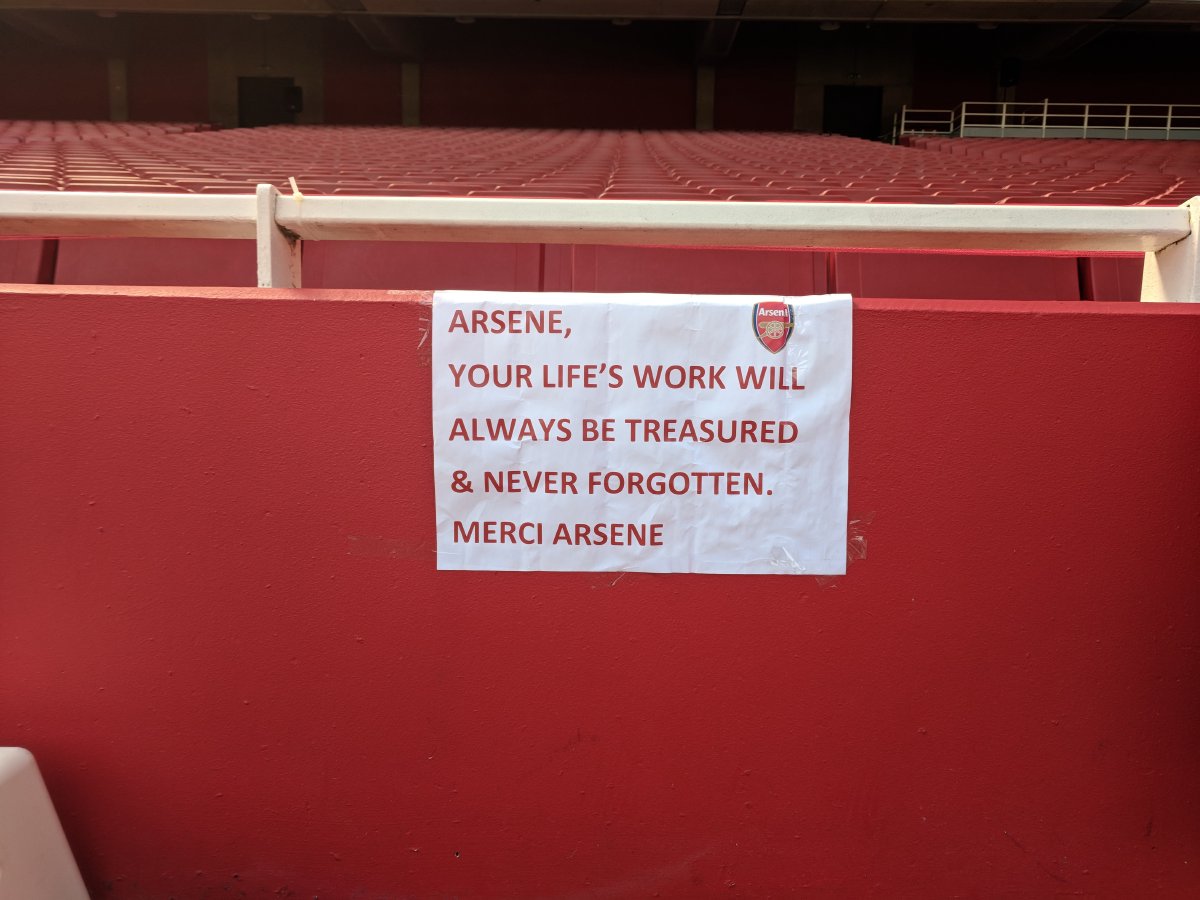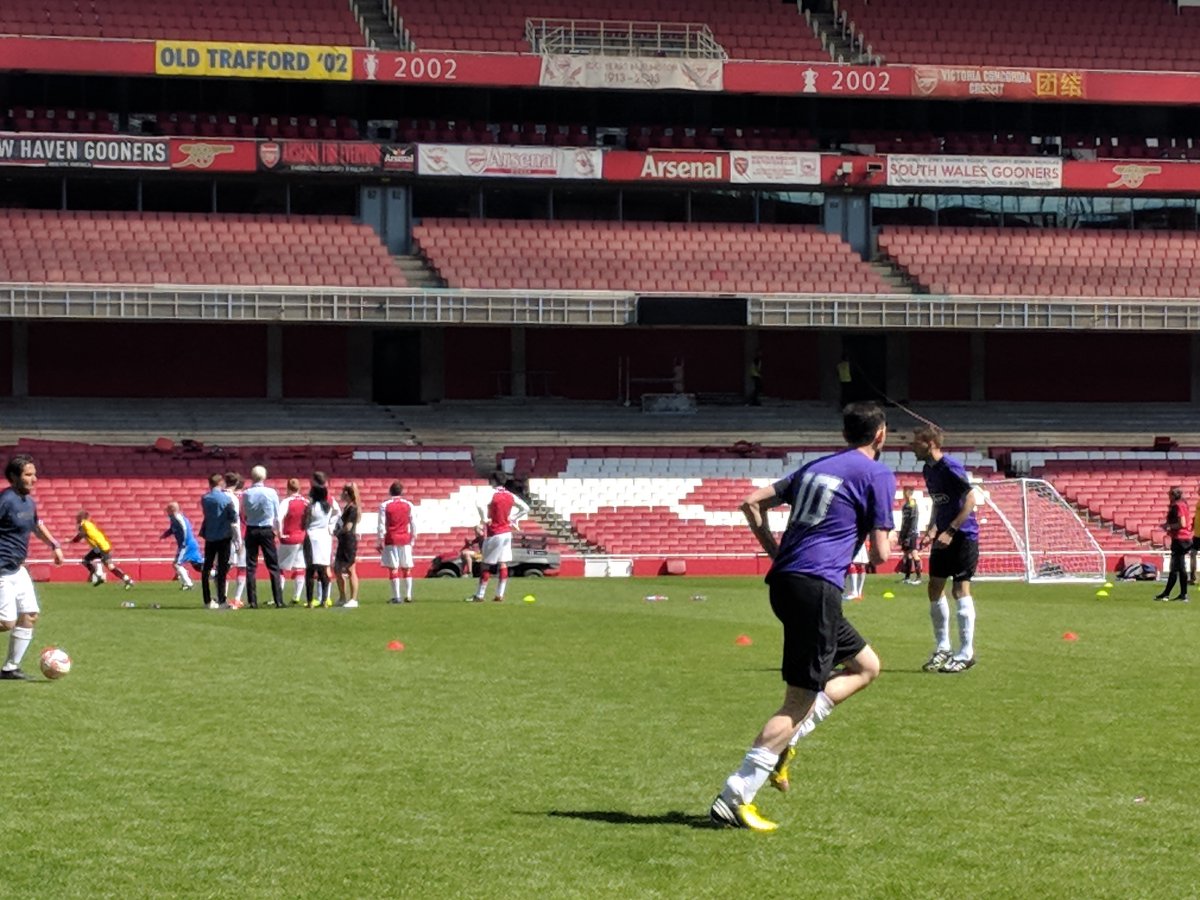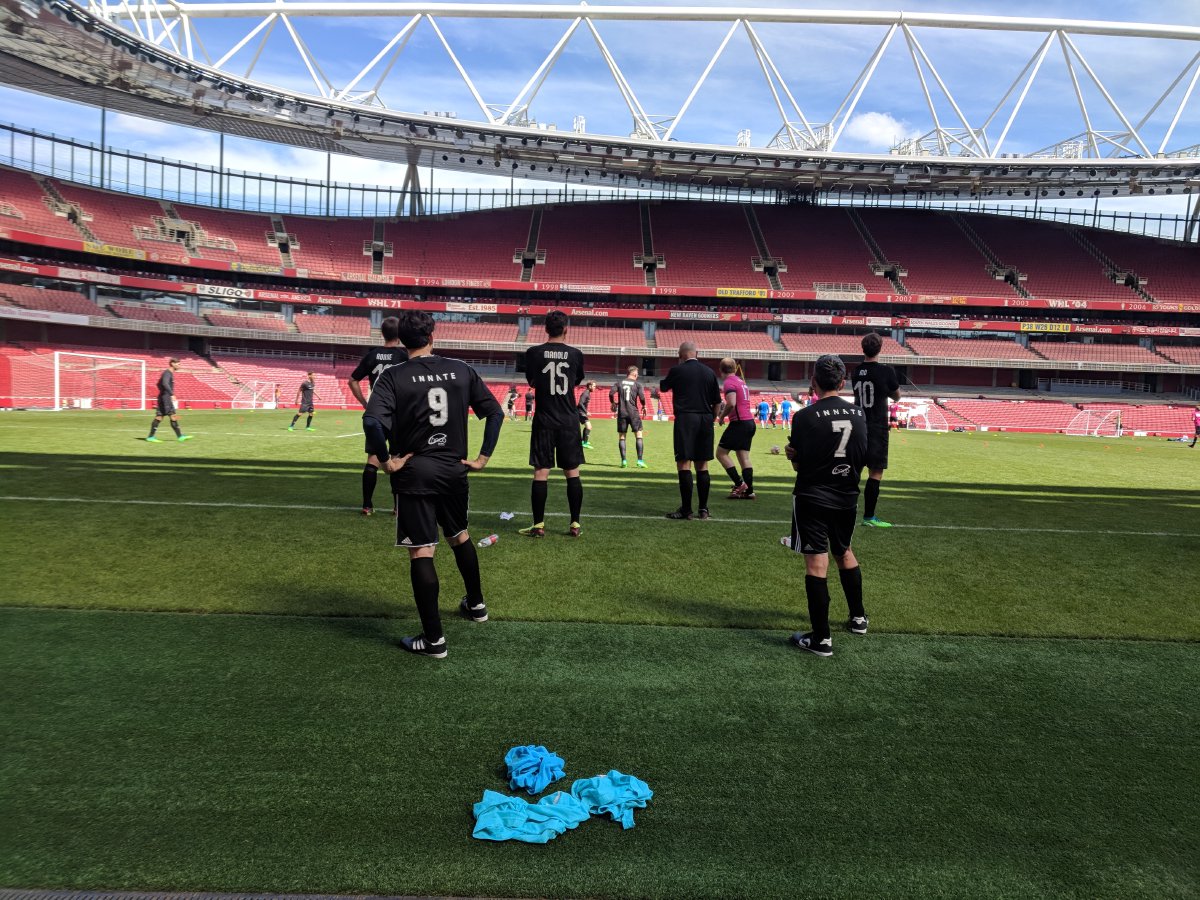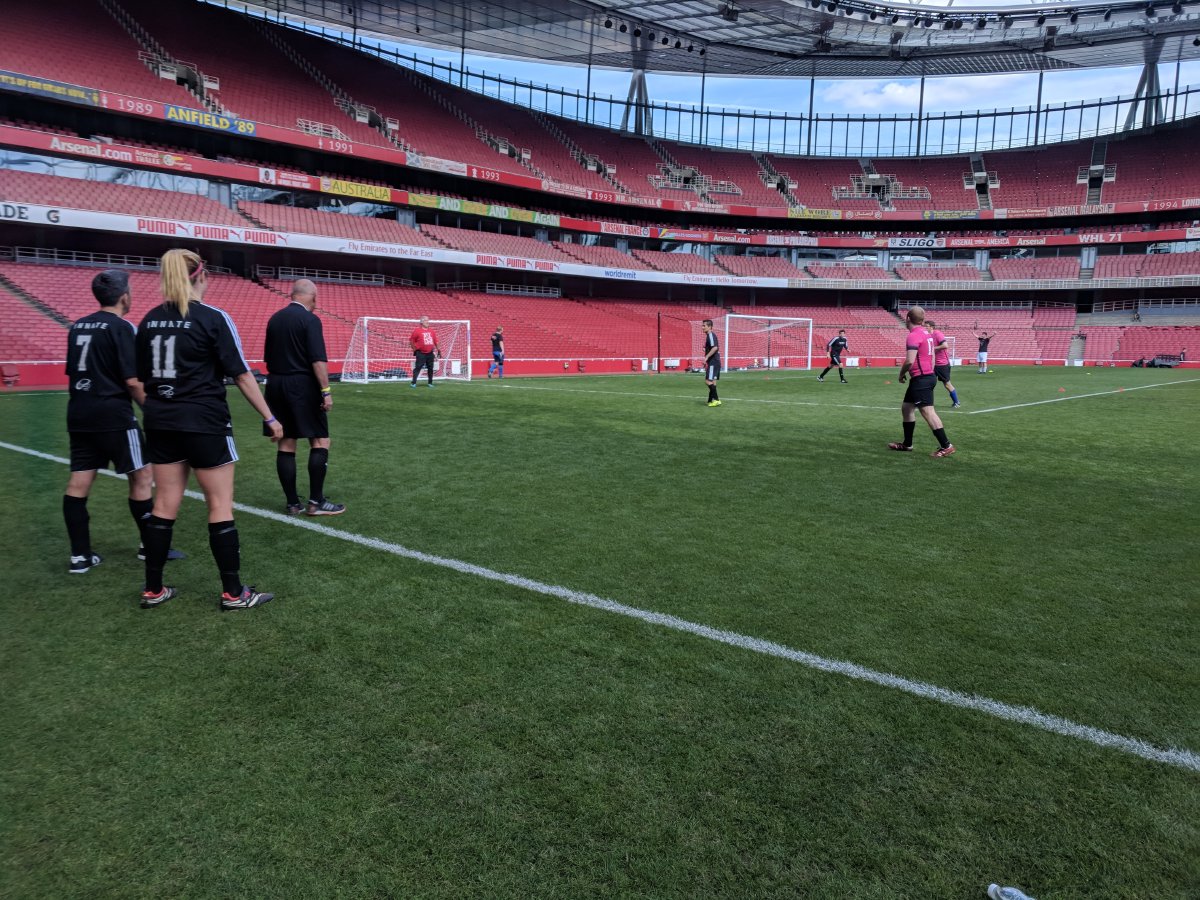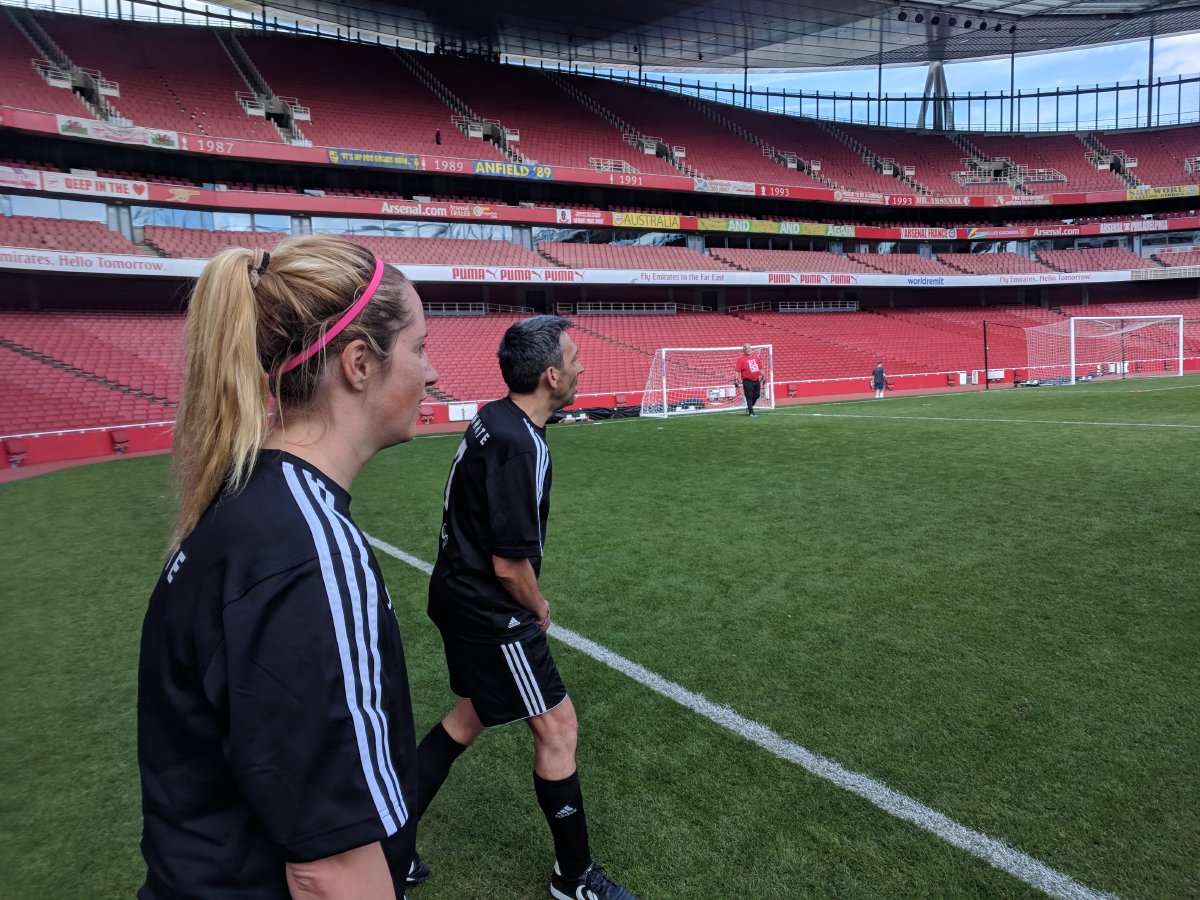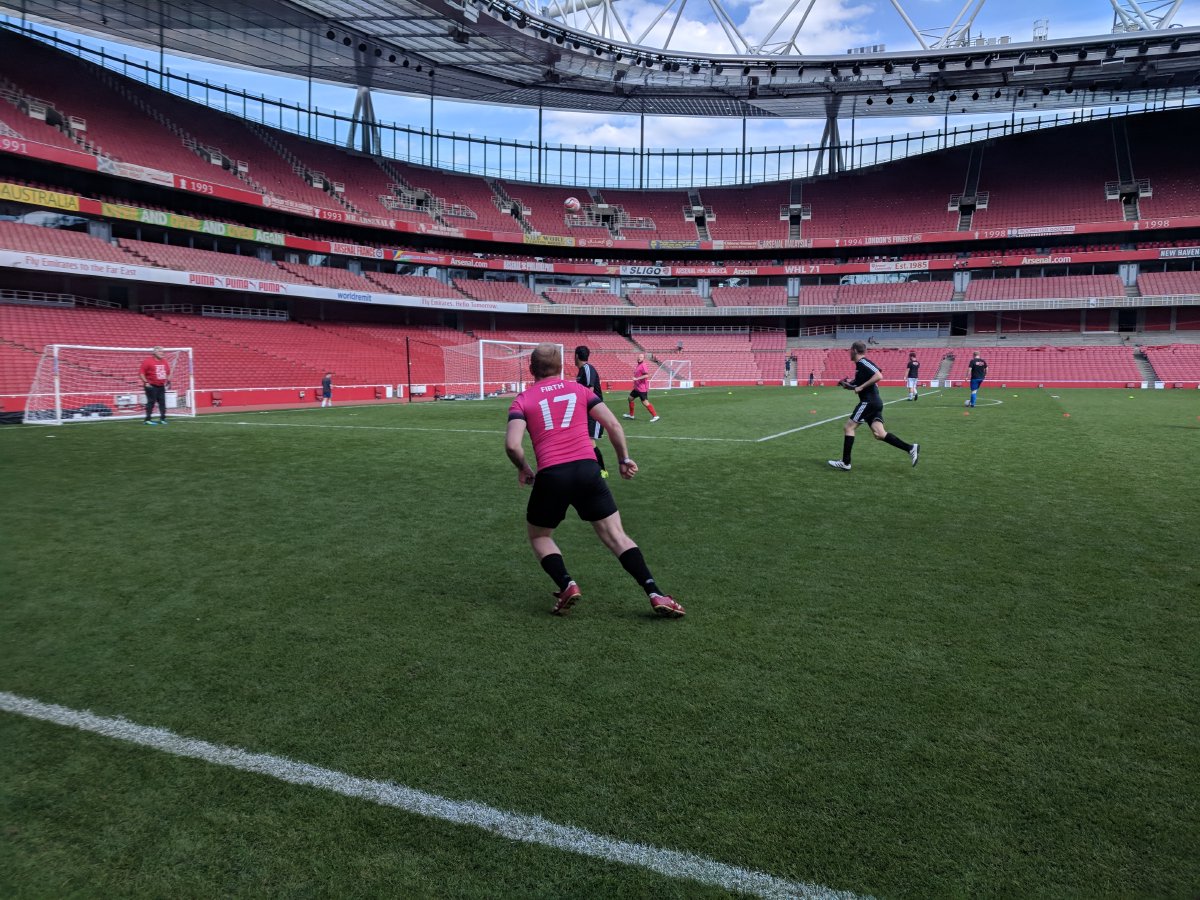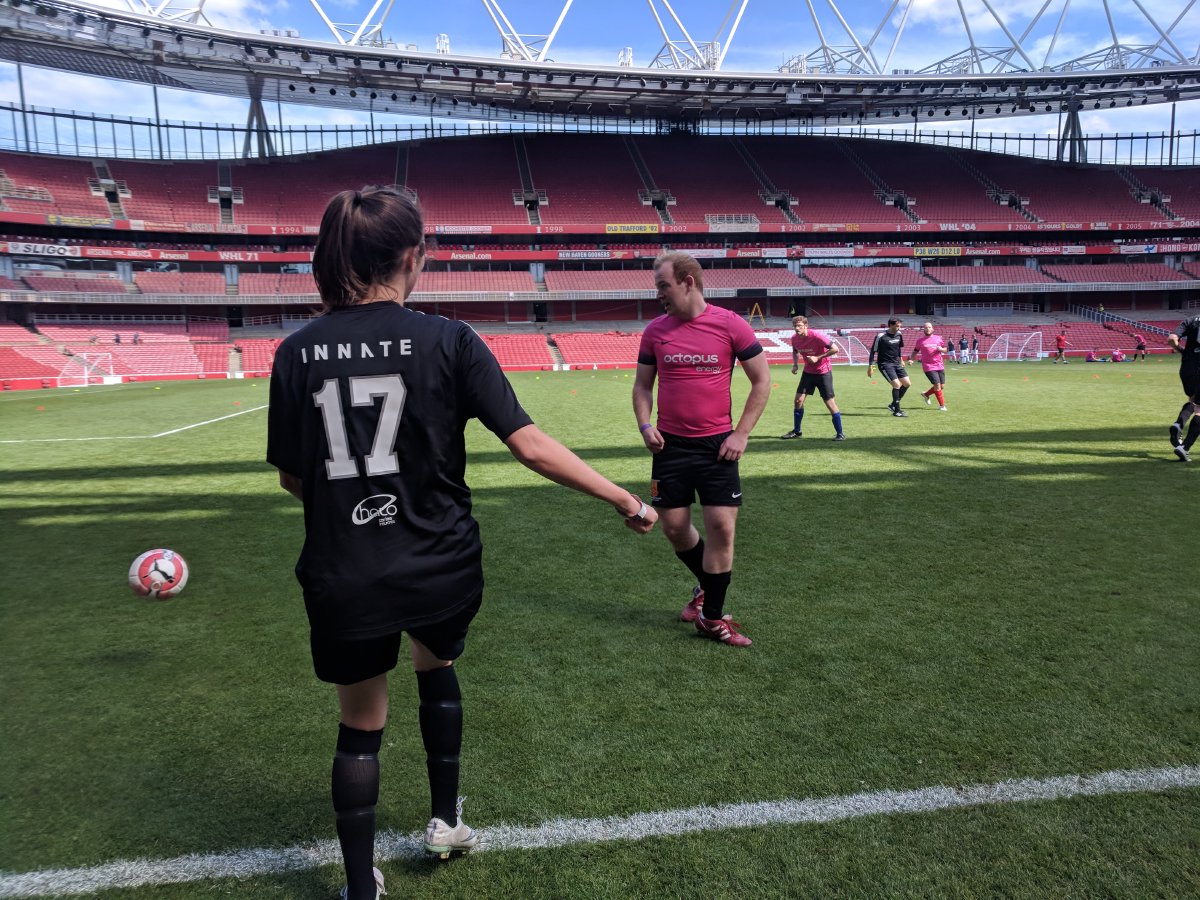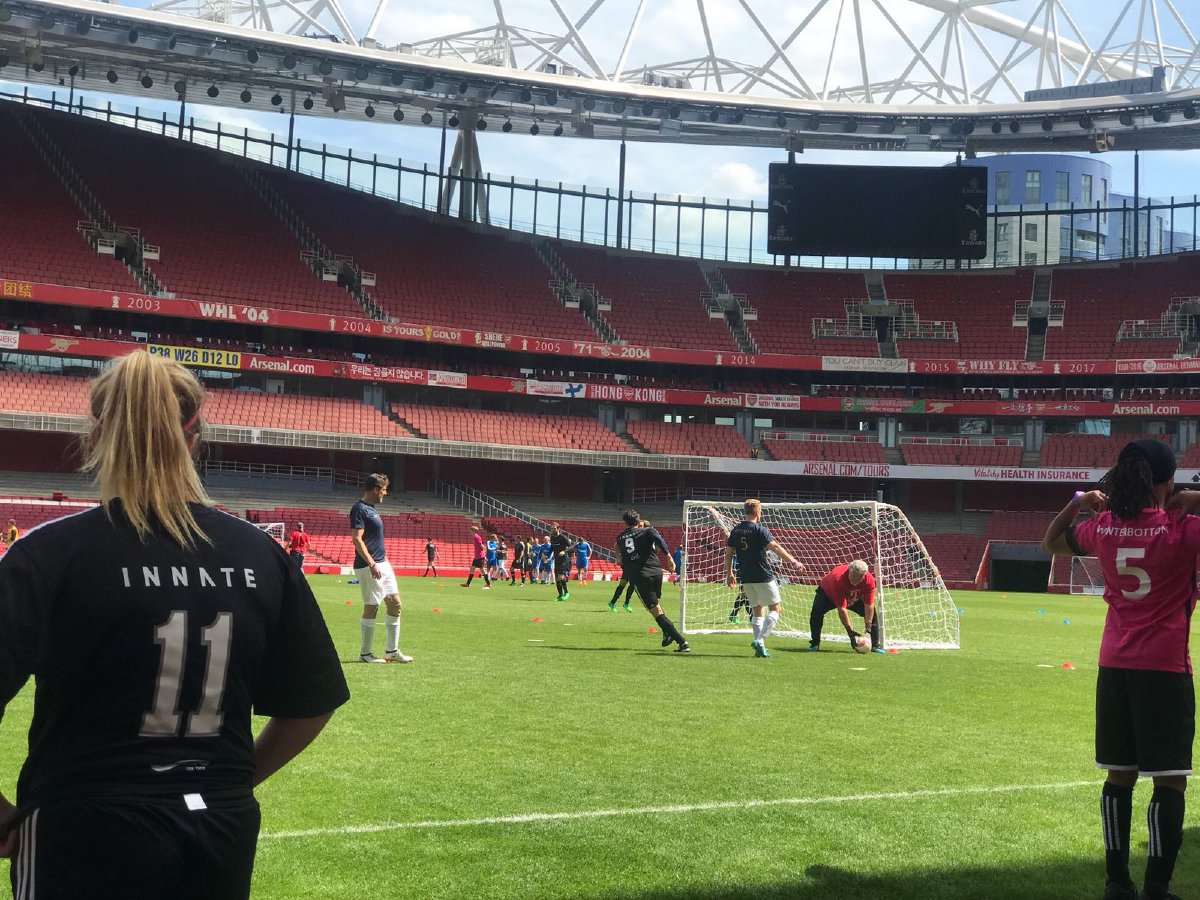 ---
Our second match goes - somewhat - better. But honestly, I am not too miffed by our second loss. These guys are all Italian, we are sleep deprived Americans who've not practiced together.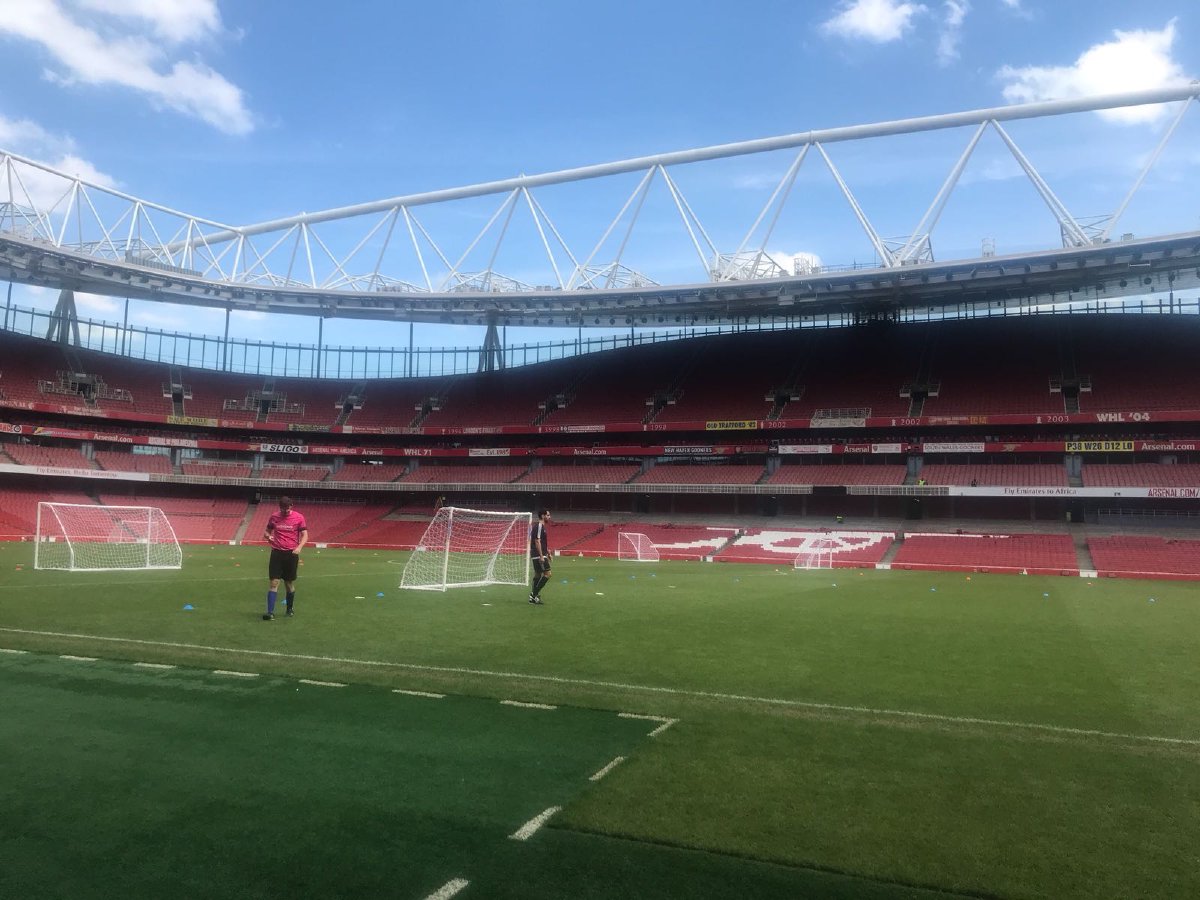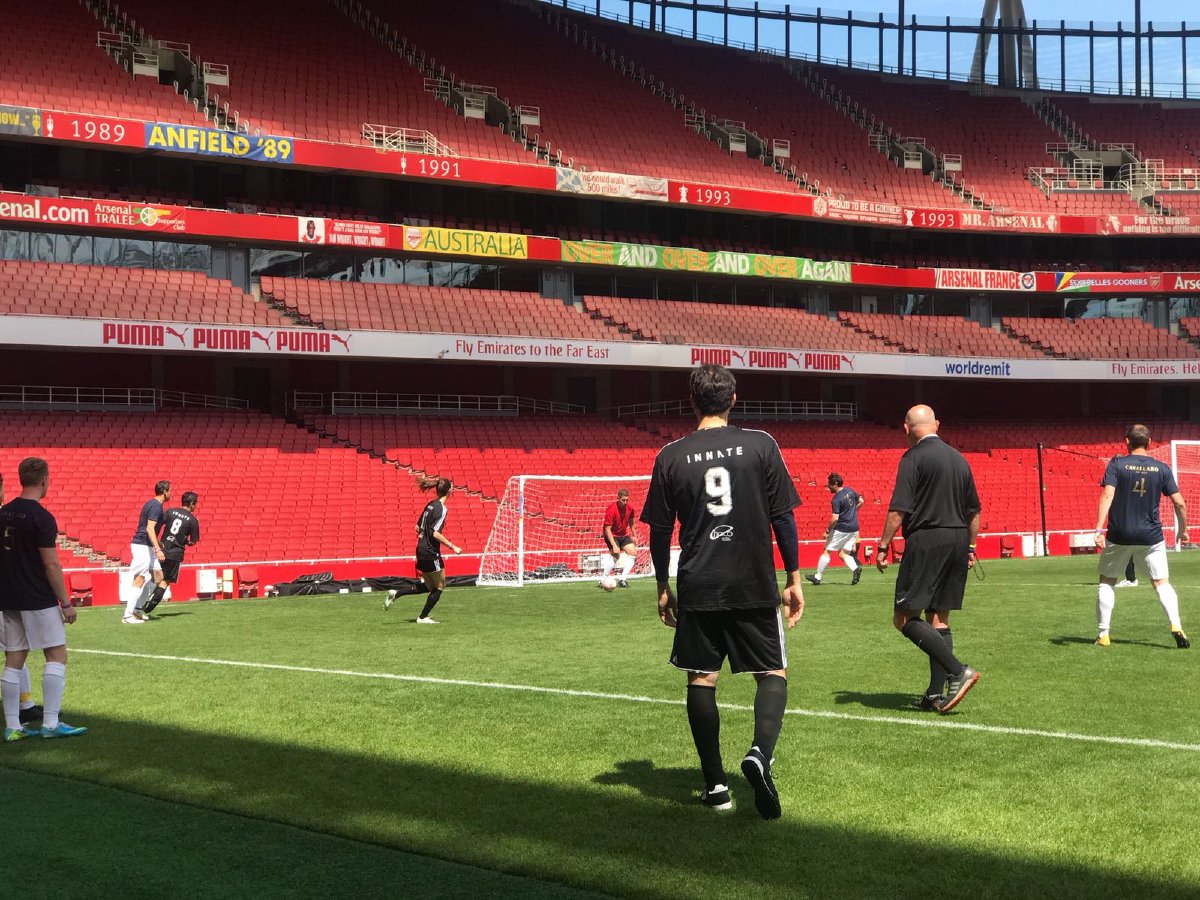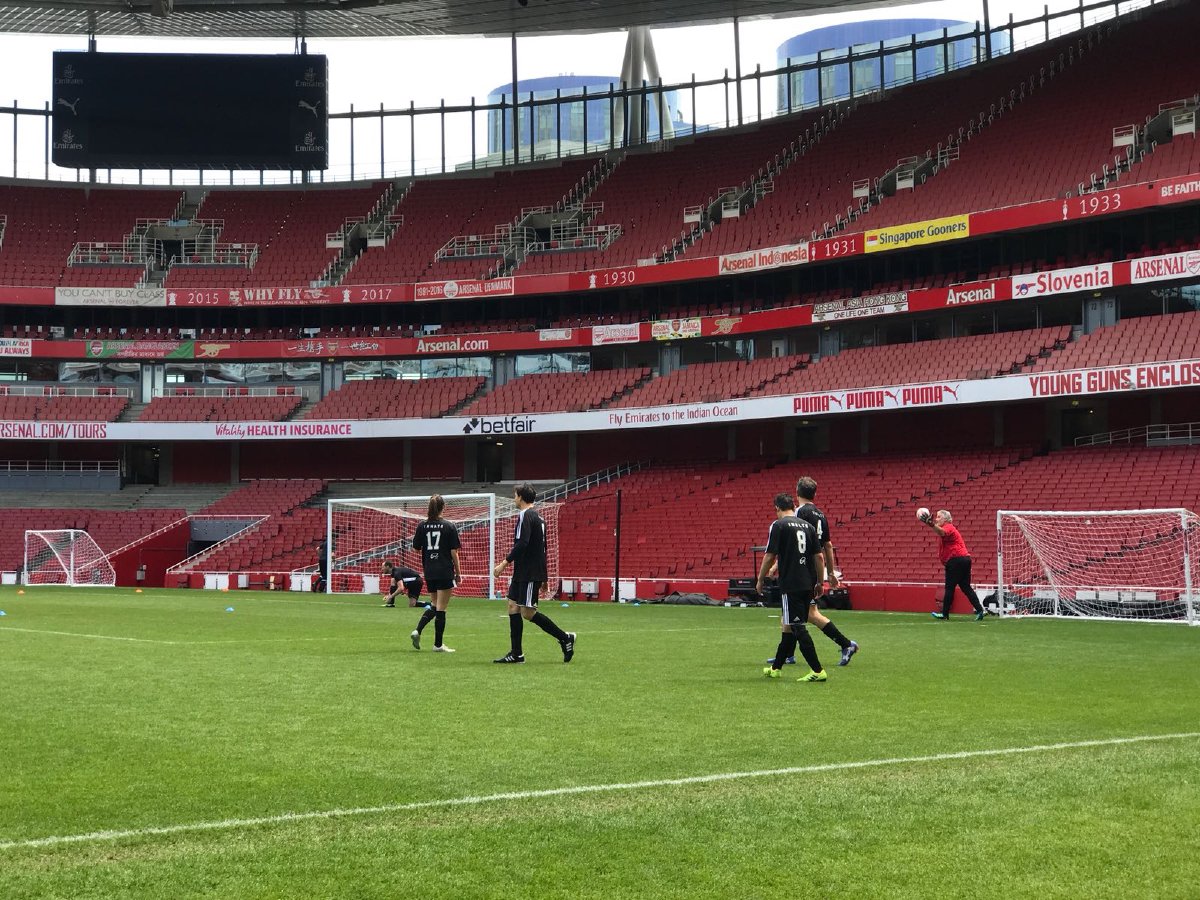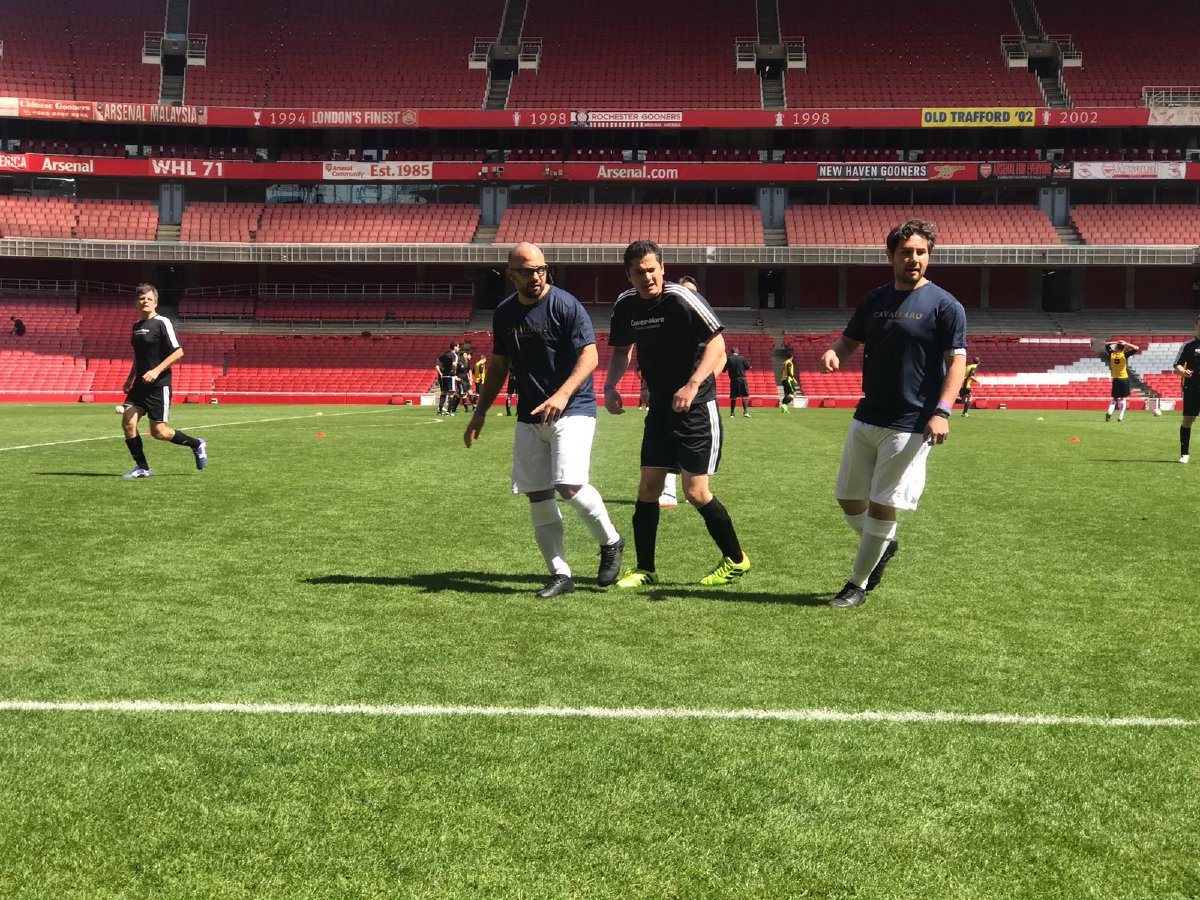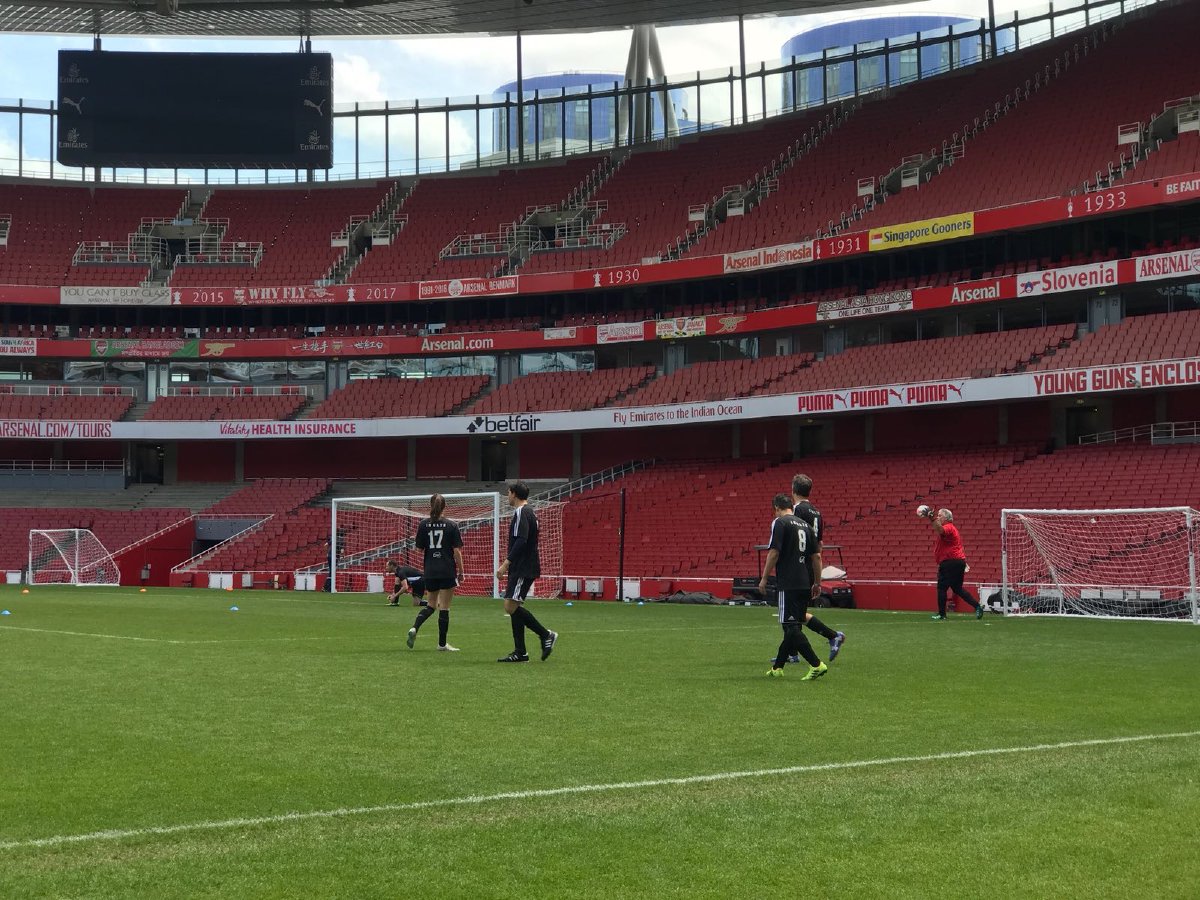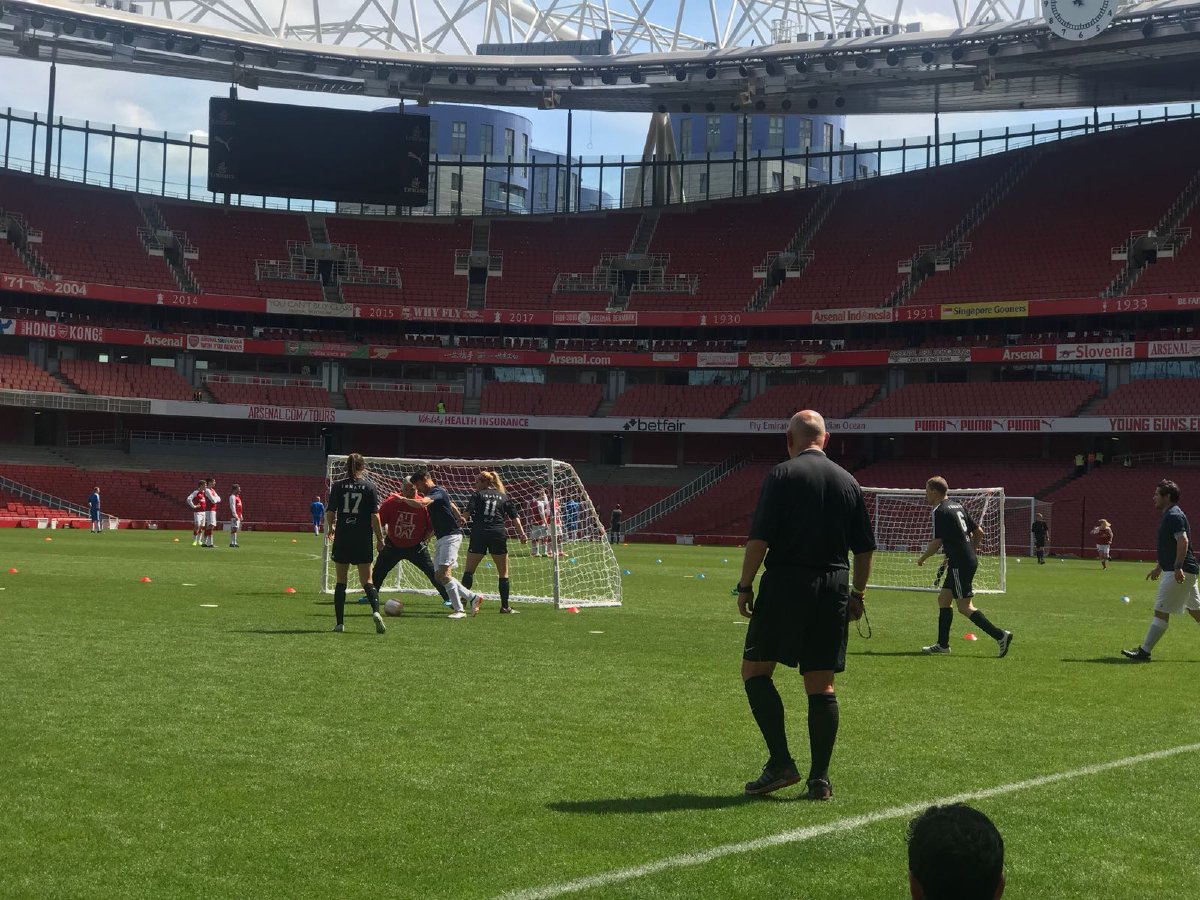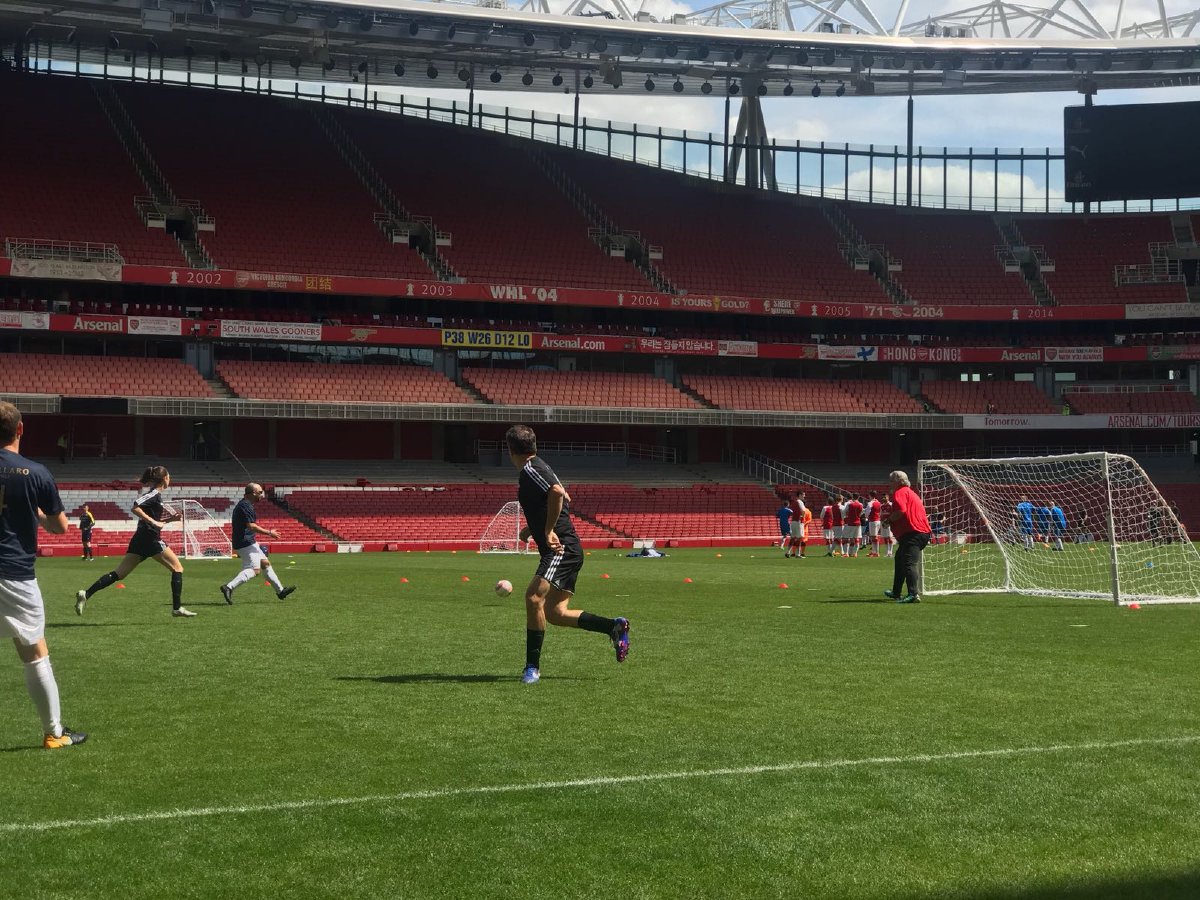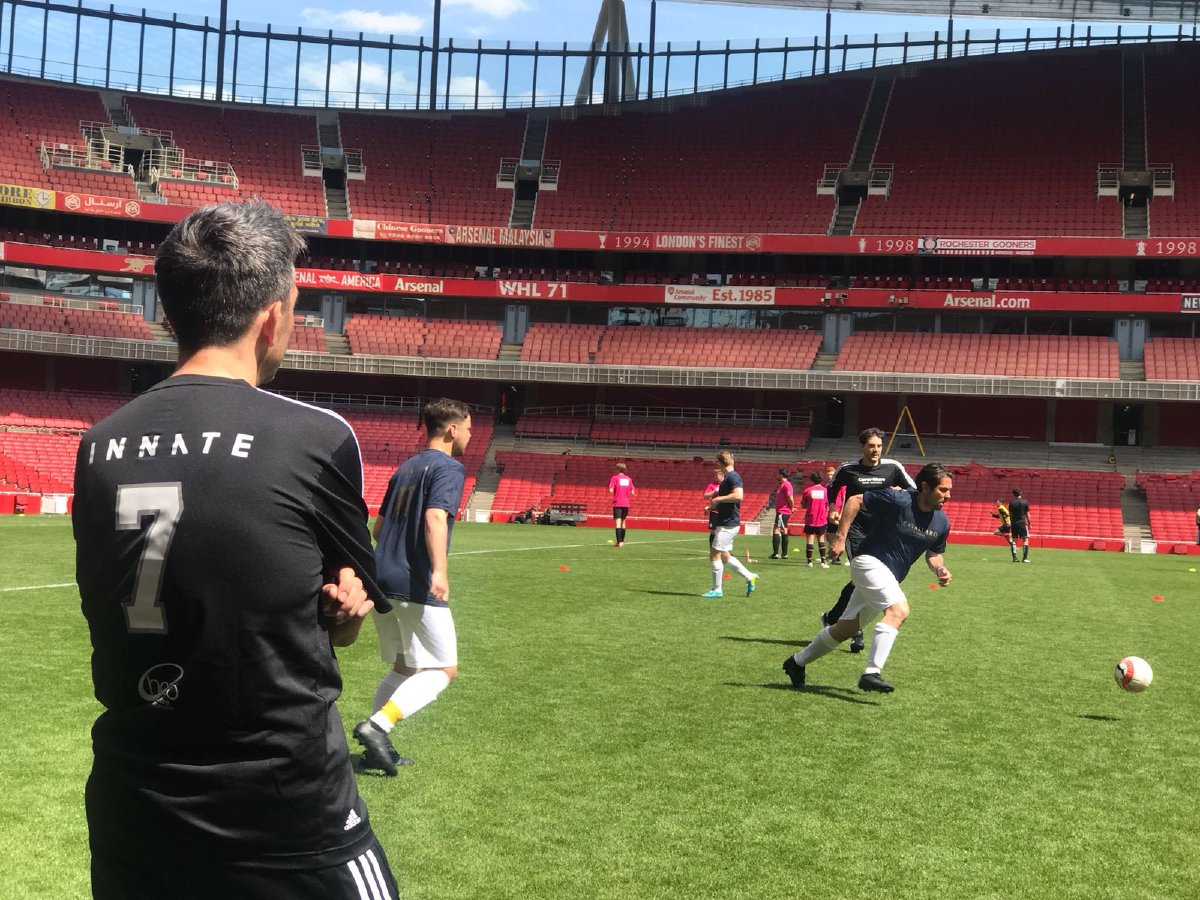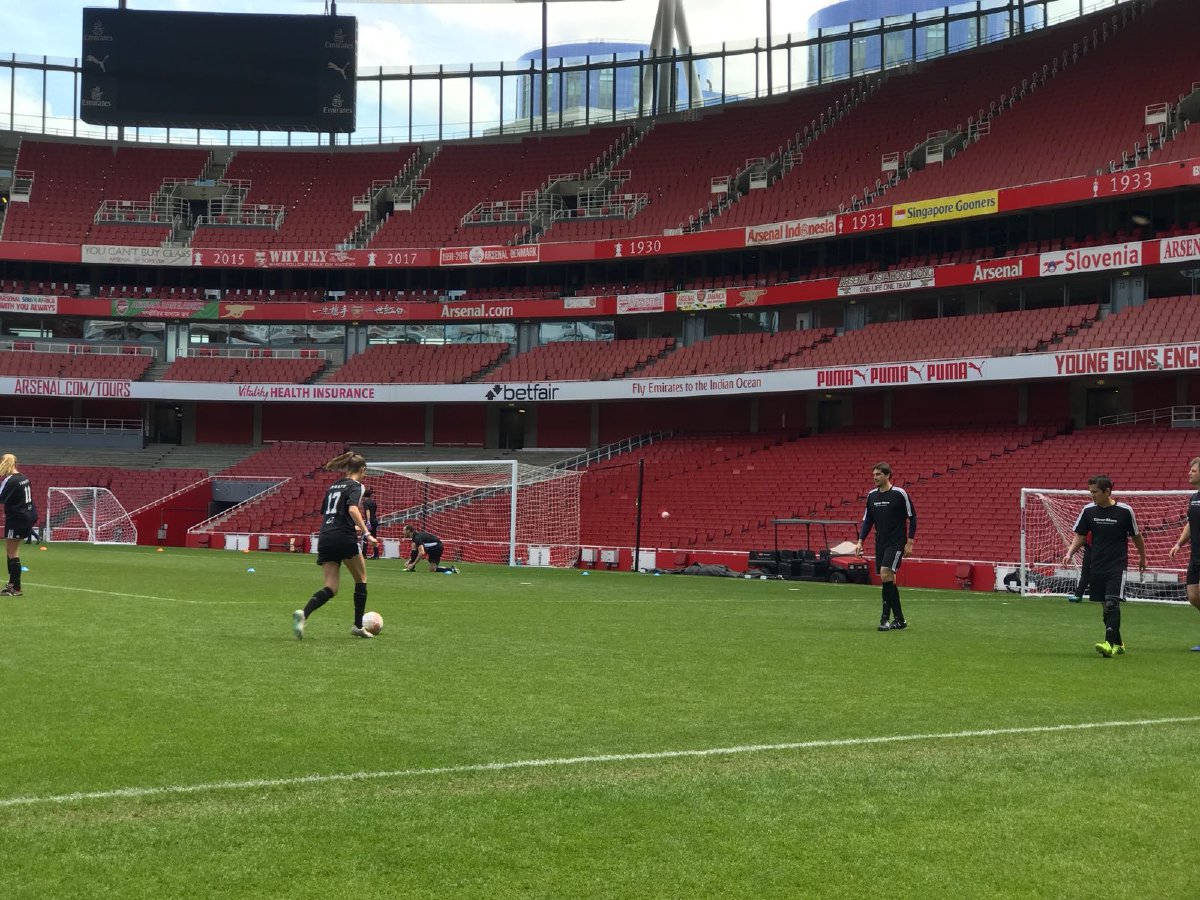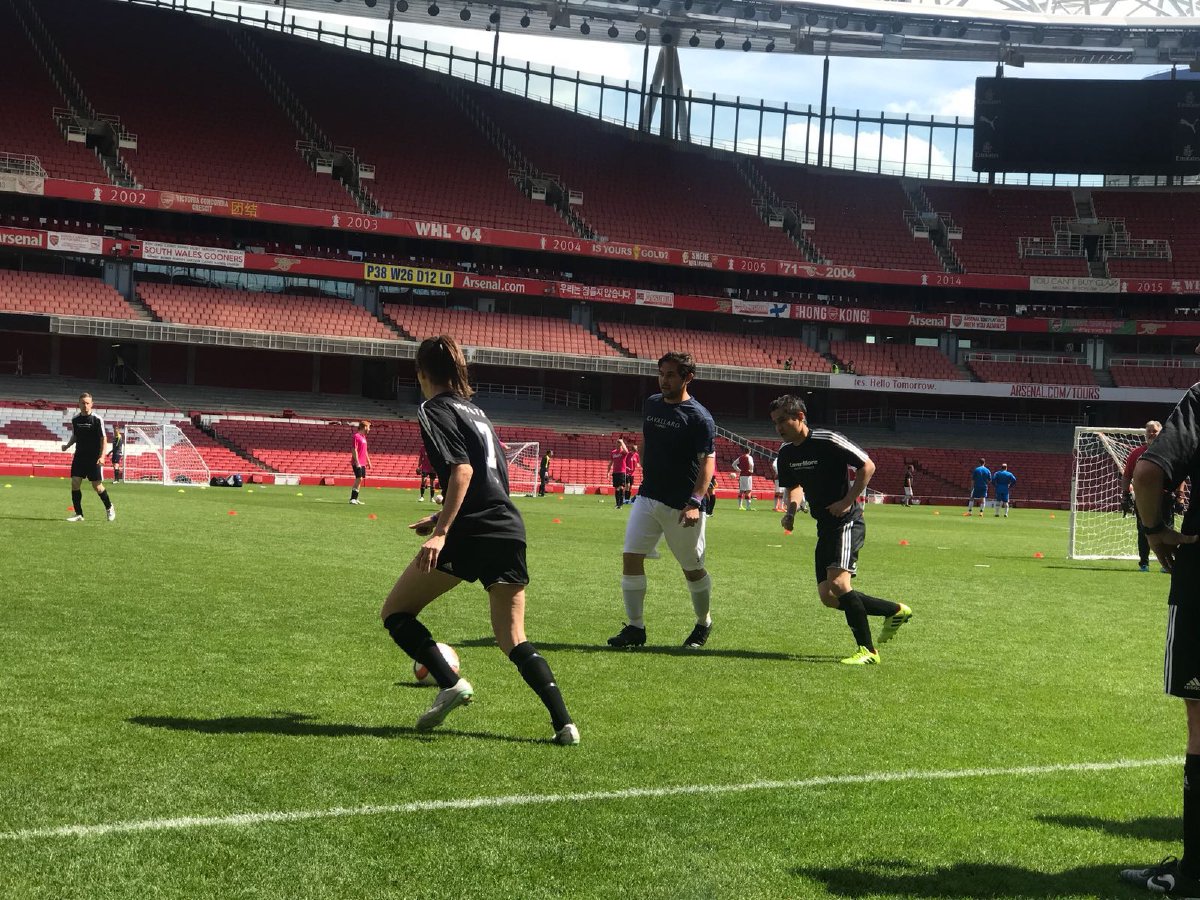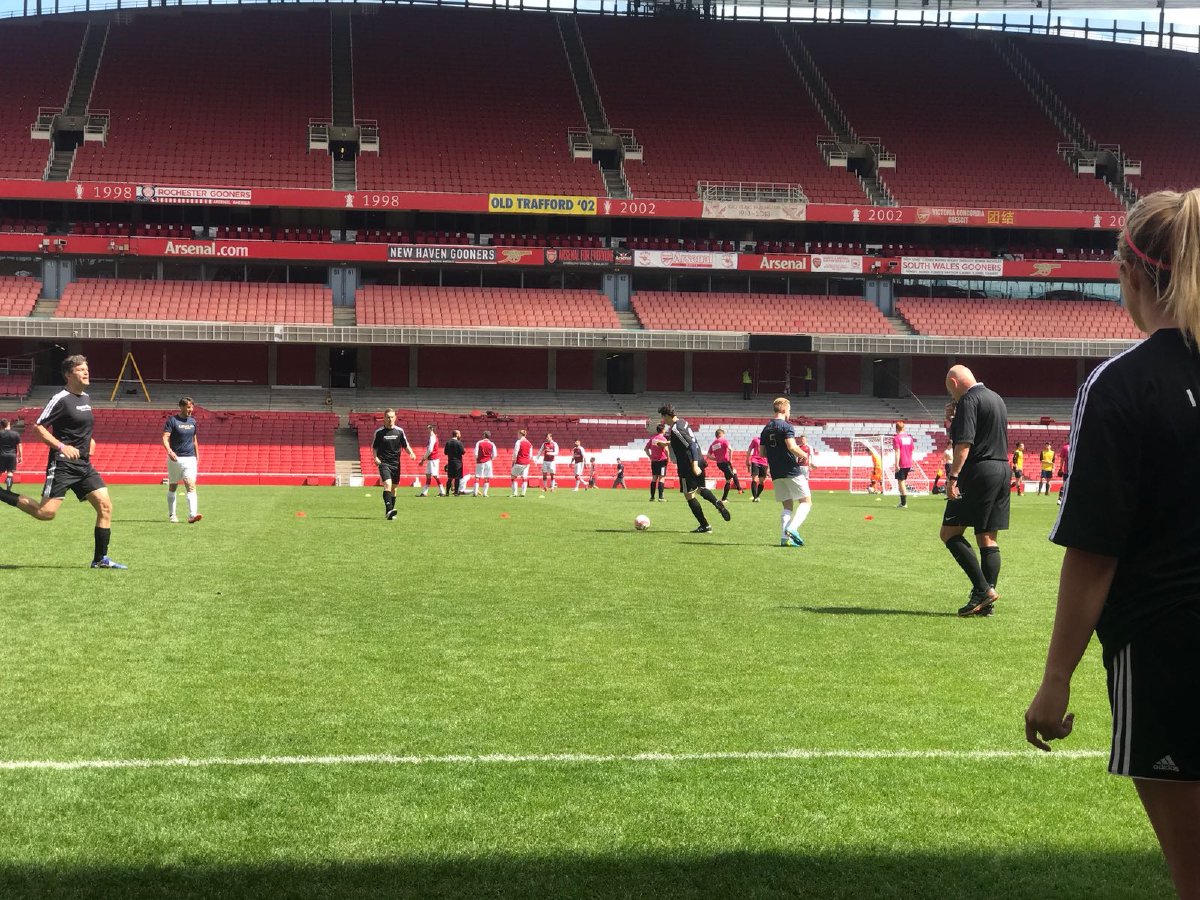 One thing to consider when playing a soccer tournament against teams from companies that sponsor football clubs. The kit providers are sponsors too. And they employ professional soccer players and retired pros.
The last match has us up against at least one former pro: Michu. Not too long ago I had this guy on my Fantasy Premier League team, now I'm playing real soccer against him, and while he is retired, he is still much much better than anyone else on the field. Team Puma tears us open and looks inside to see what gooey bits there are.
But, it doesn't last forever and after the match we are escorted off the pitch to a buffet lunch in the executive dining room. It's pleasant and there are a surprising number of vegetarian options.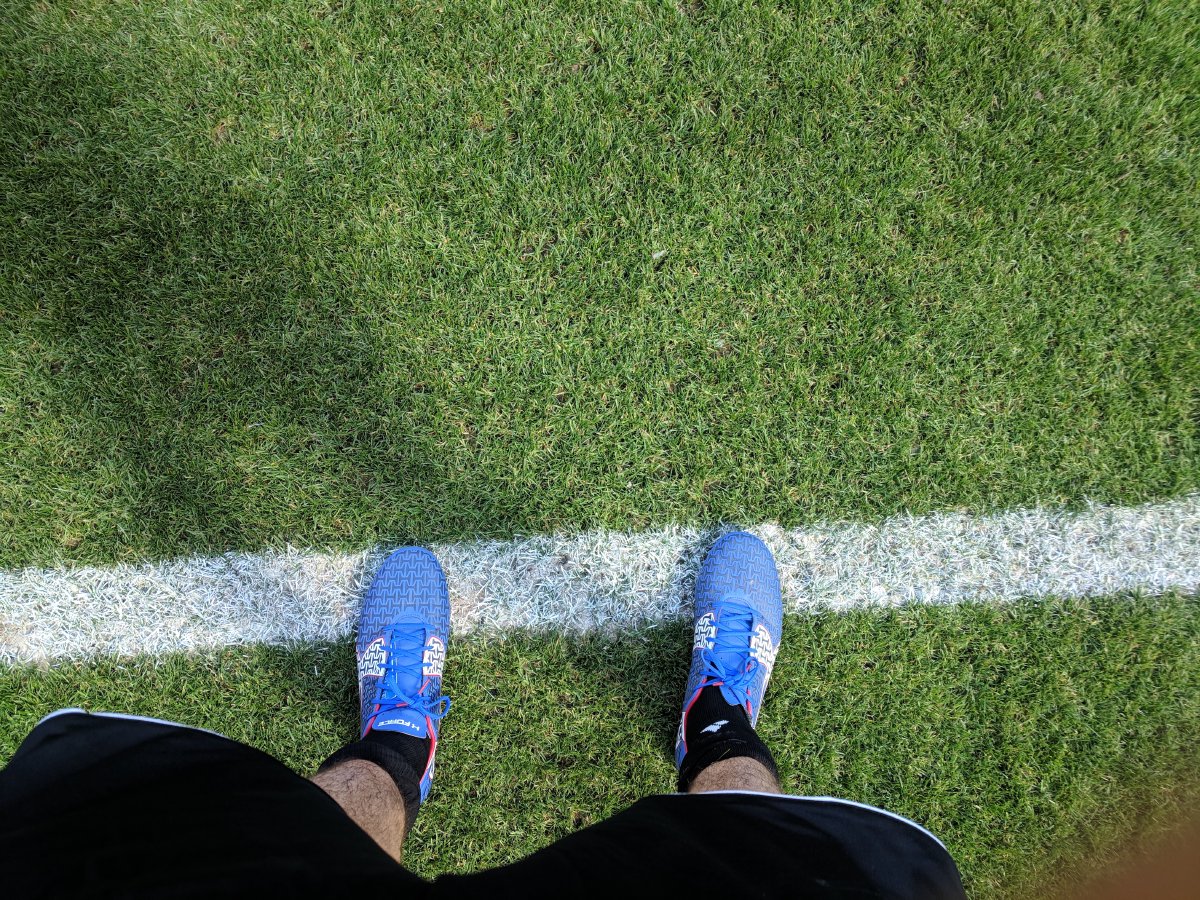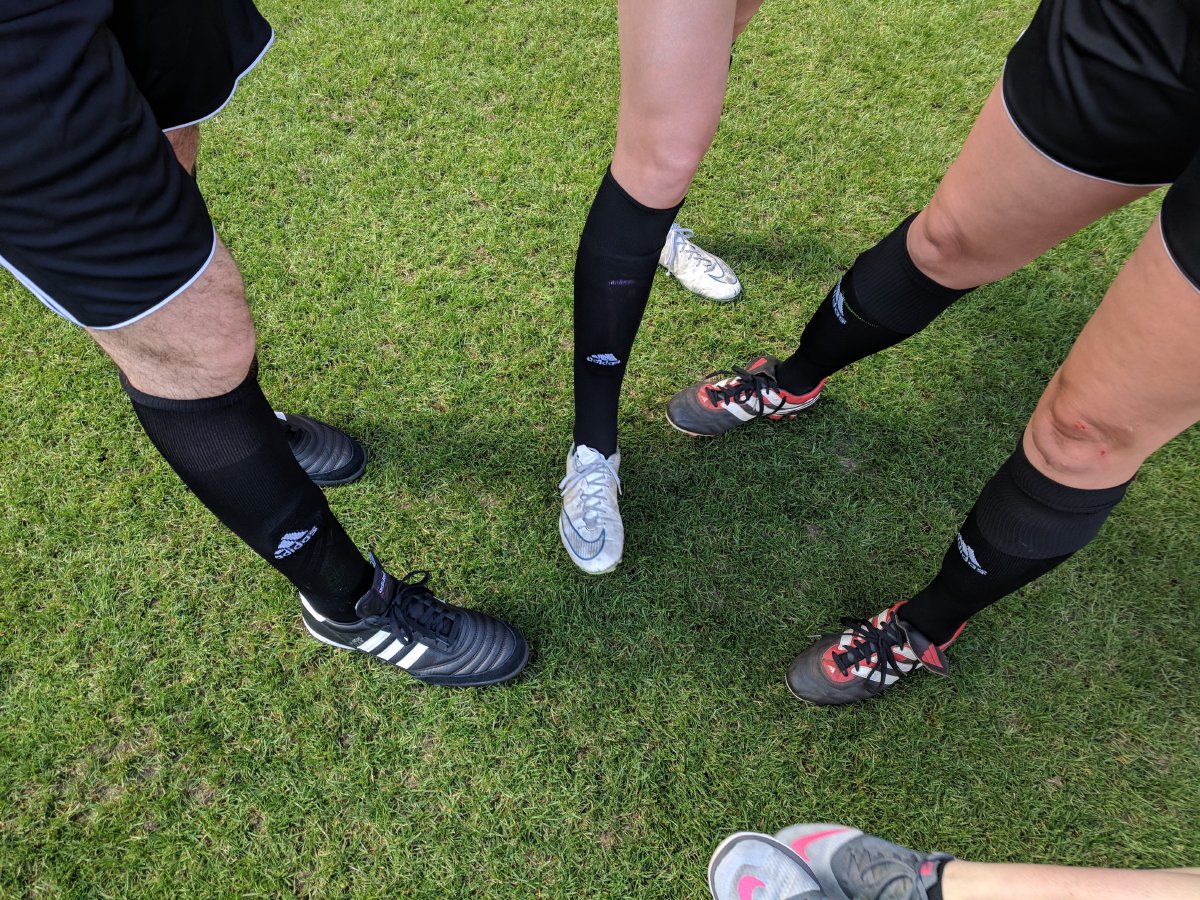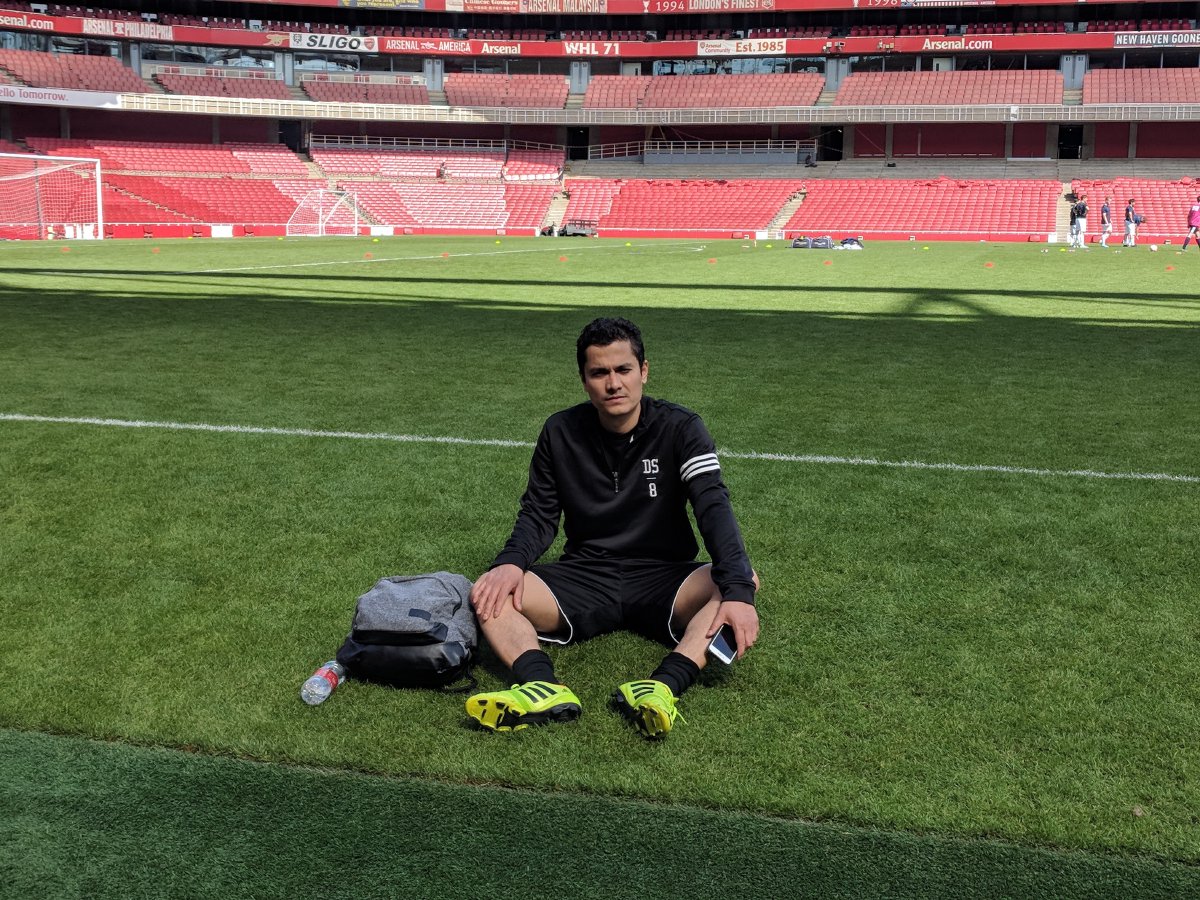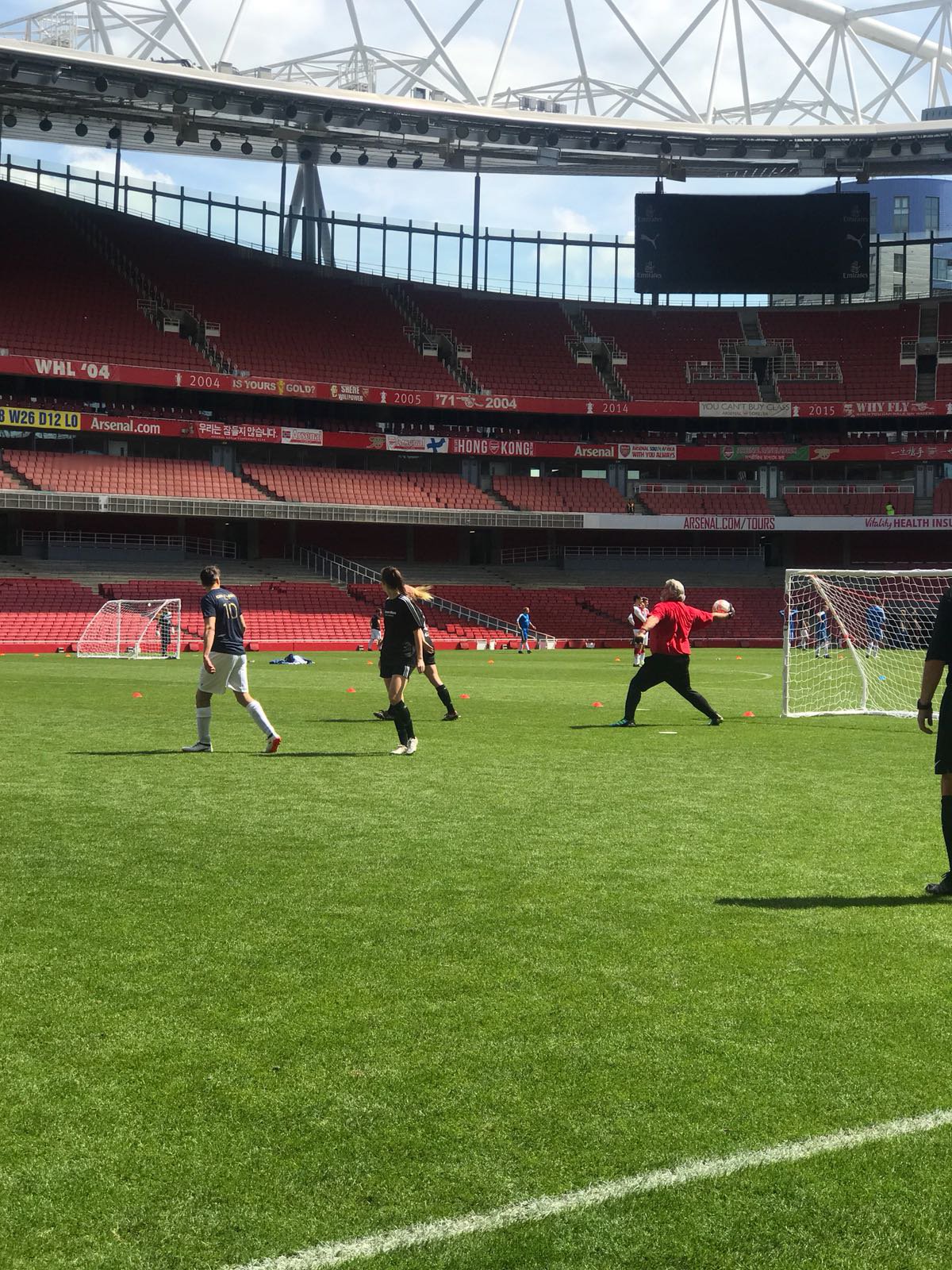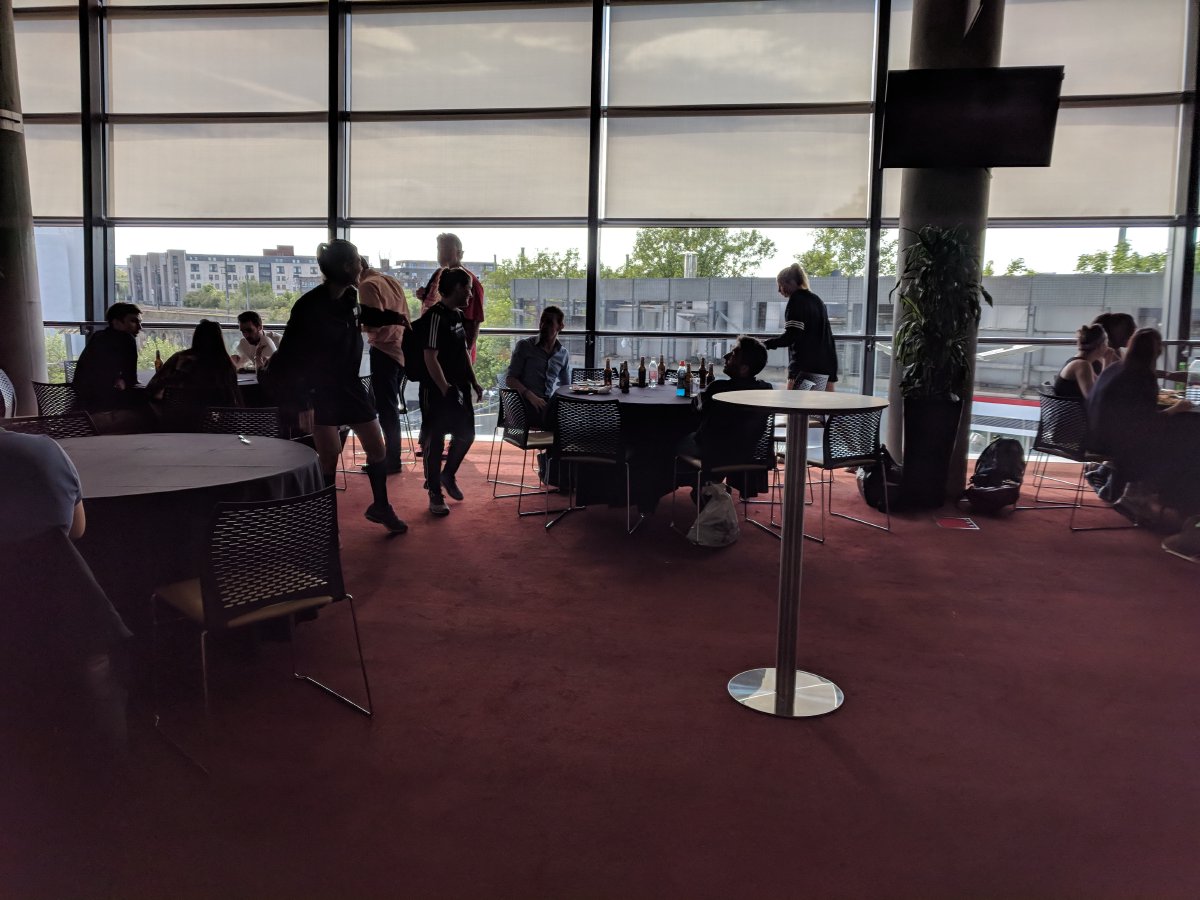 ---
After thanking our hosts Arsenal for a wonderful event, Team Cover-More repays their hospitality by spending an evening watching their bitter rivals Tottenham Hotspur play Newcastle United at their temporary ground - Wembley Stadium.
The seats were surprisingly easy to get and are amazing. We are seated way up front at almost the midfield line, and within screaming distance of the away teams seats.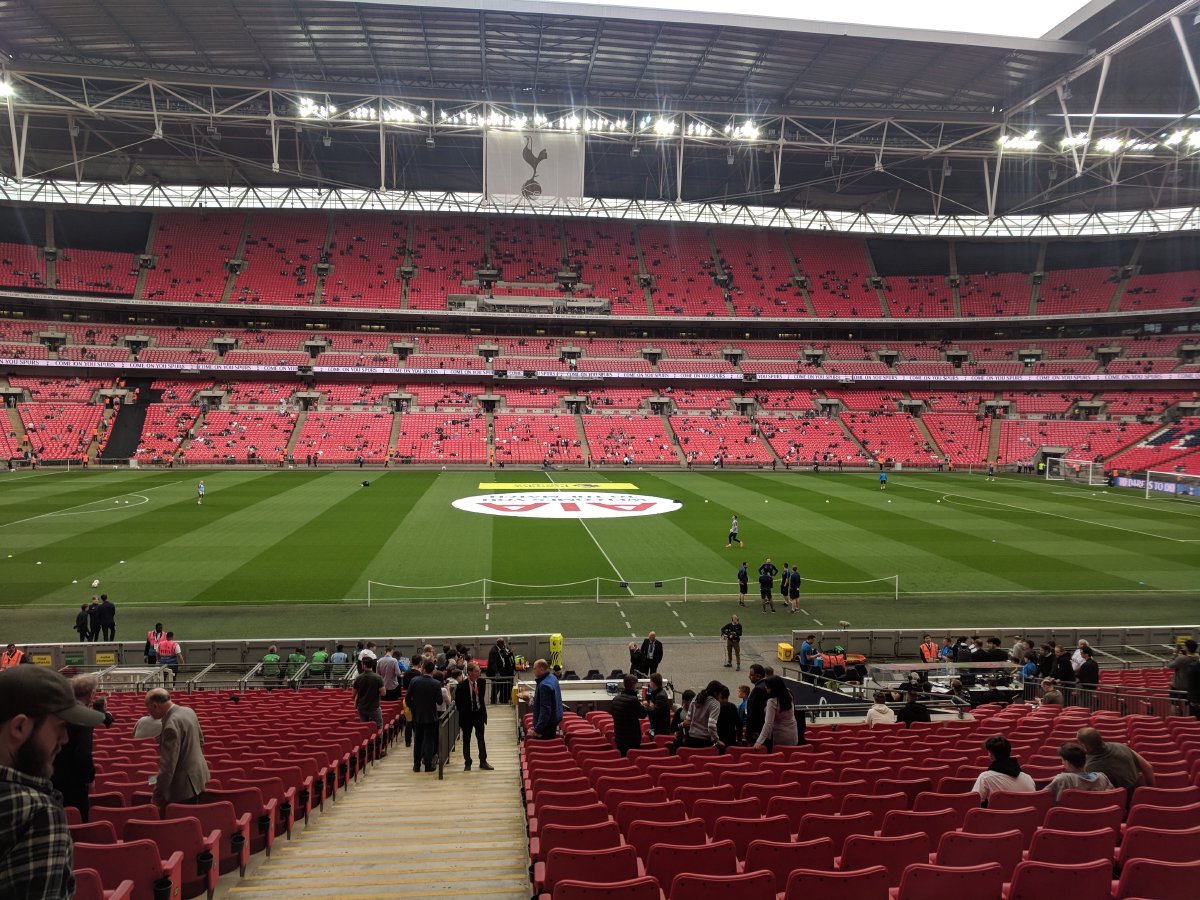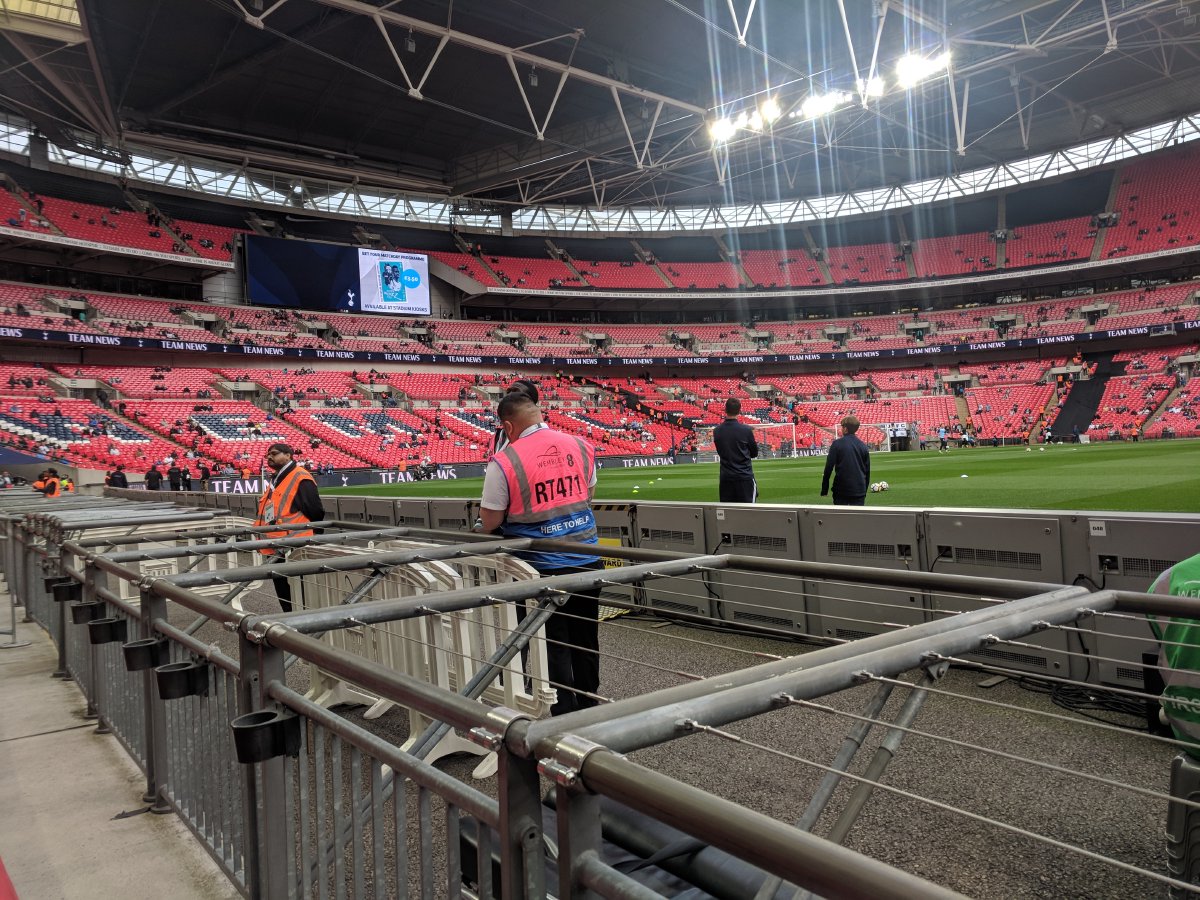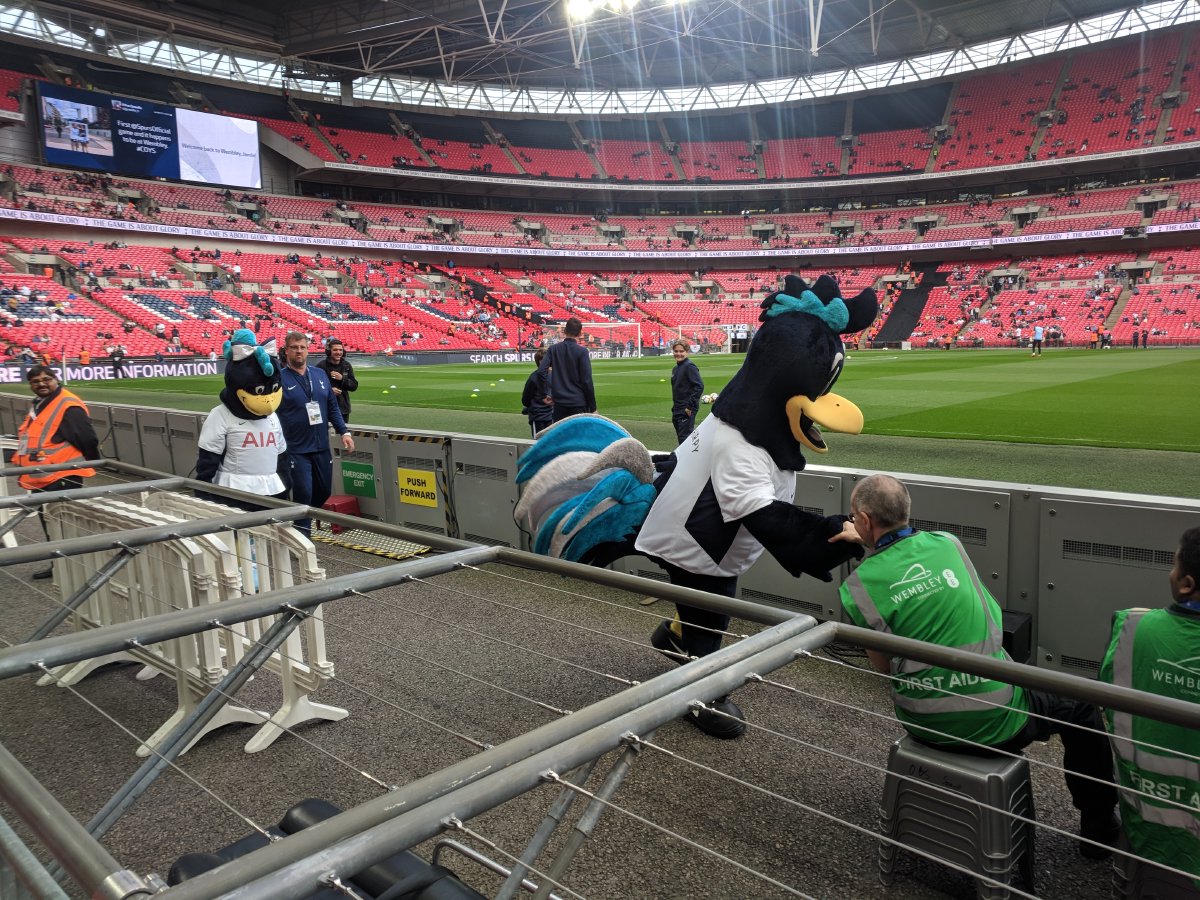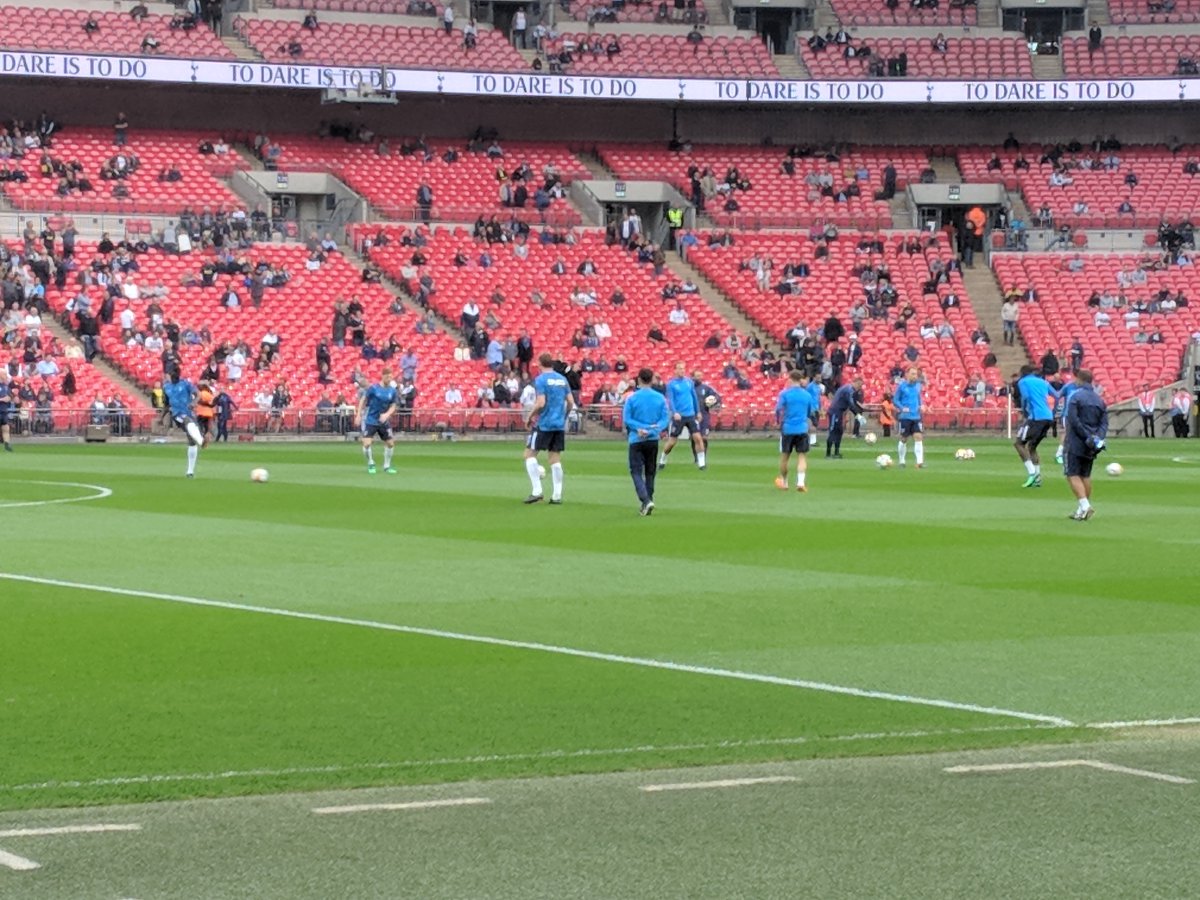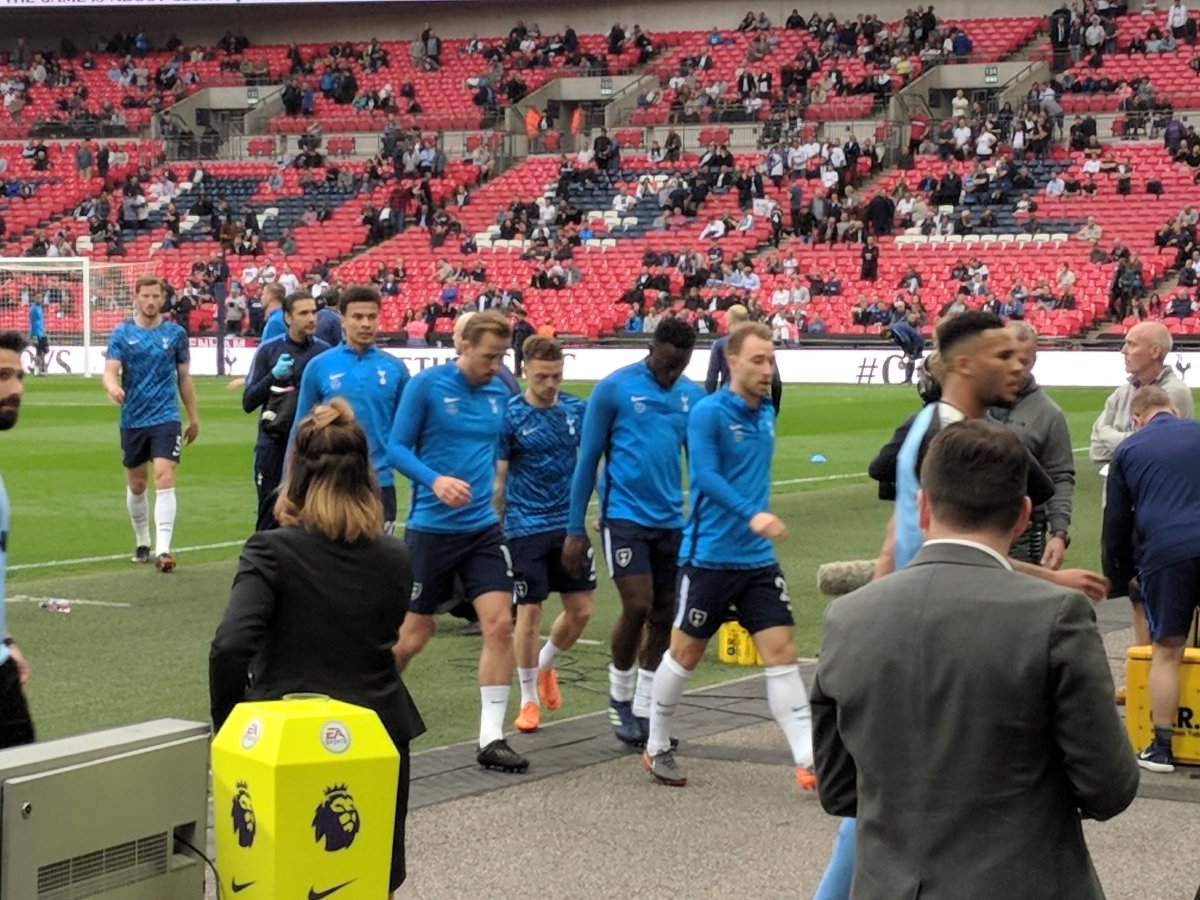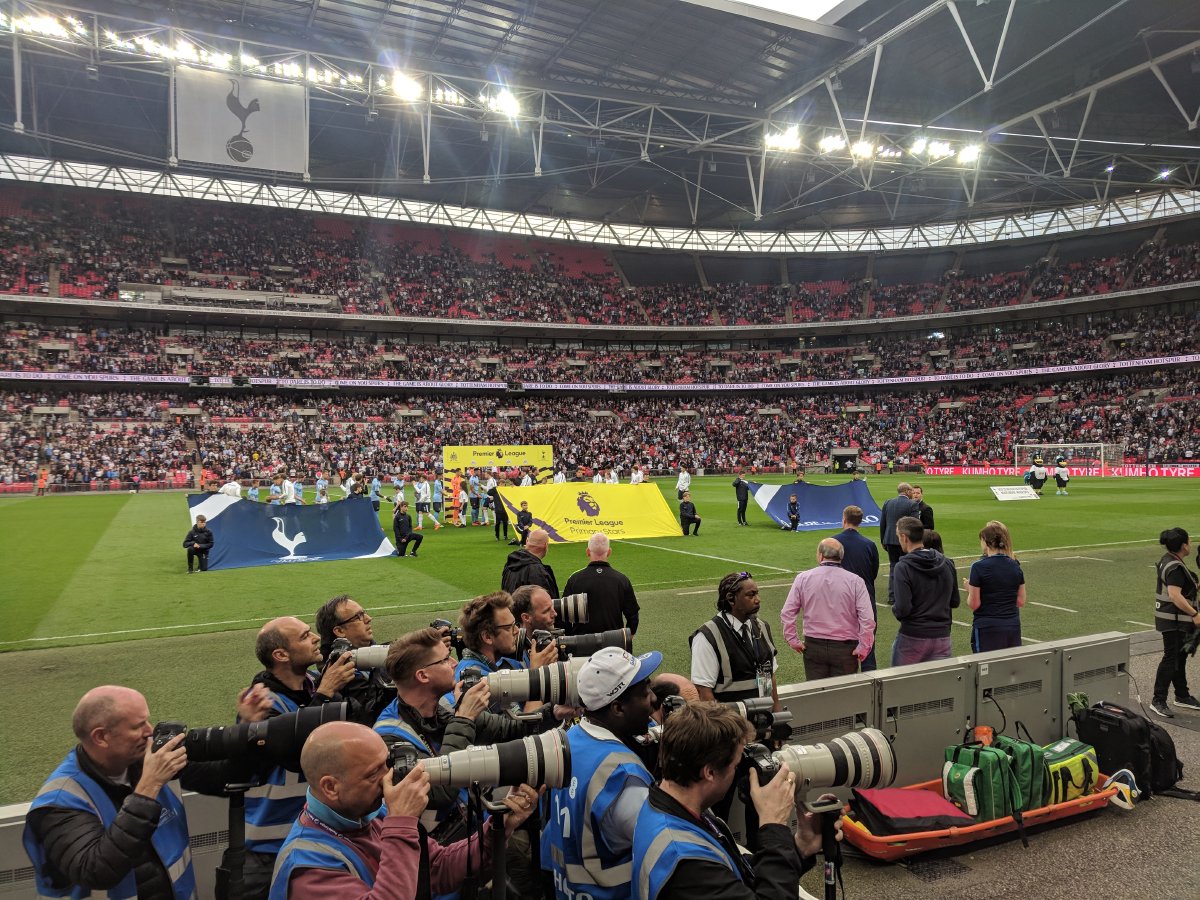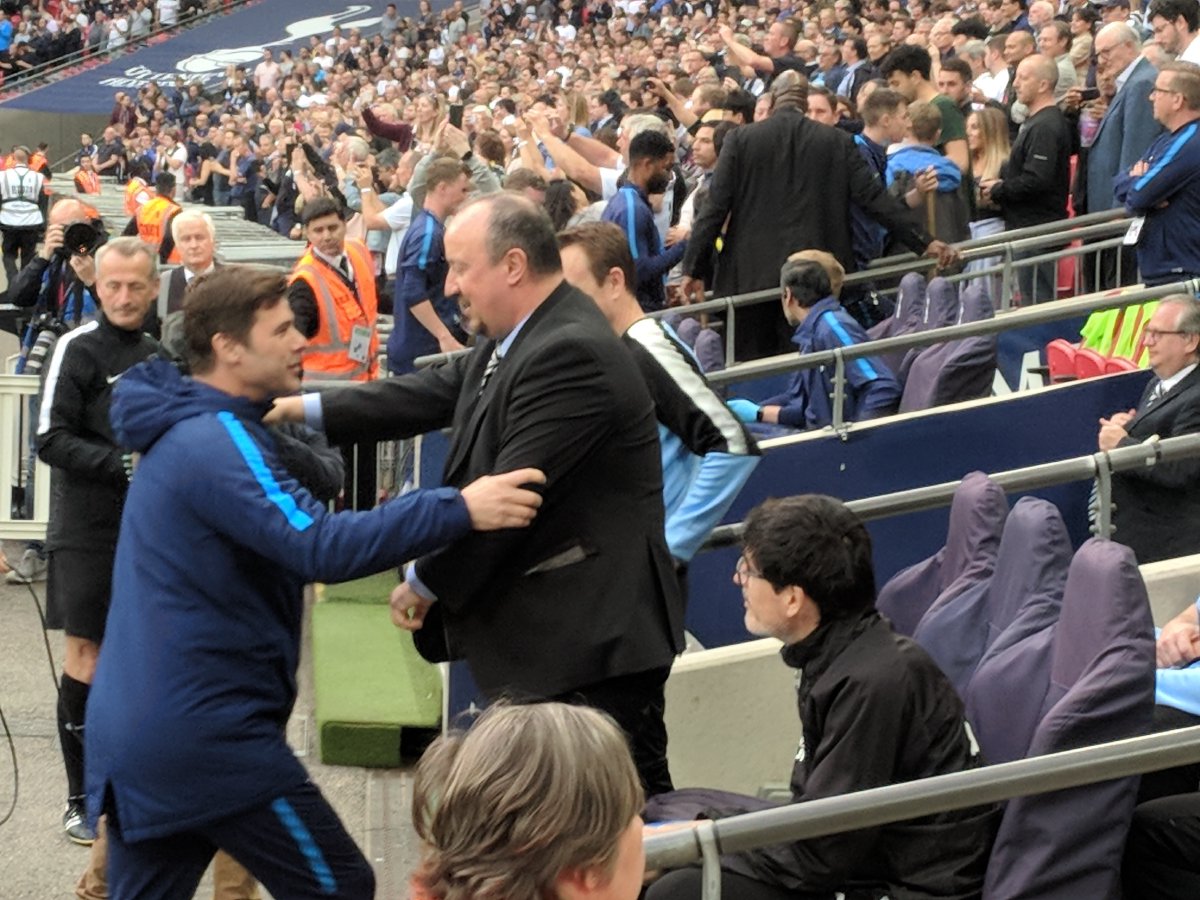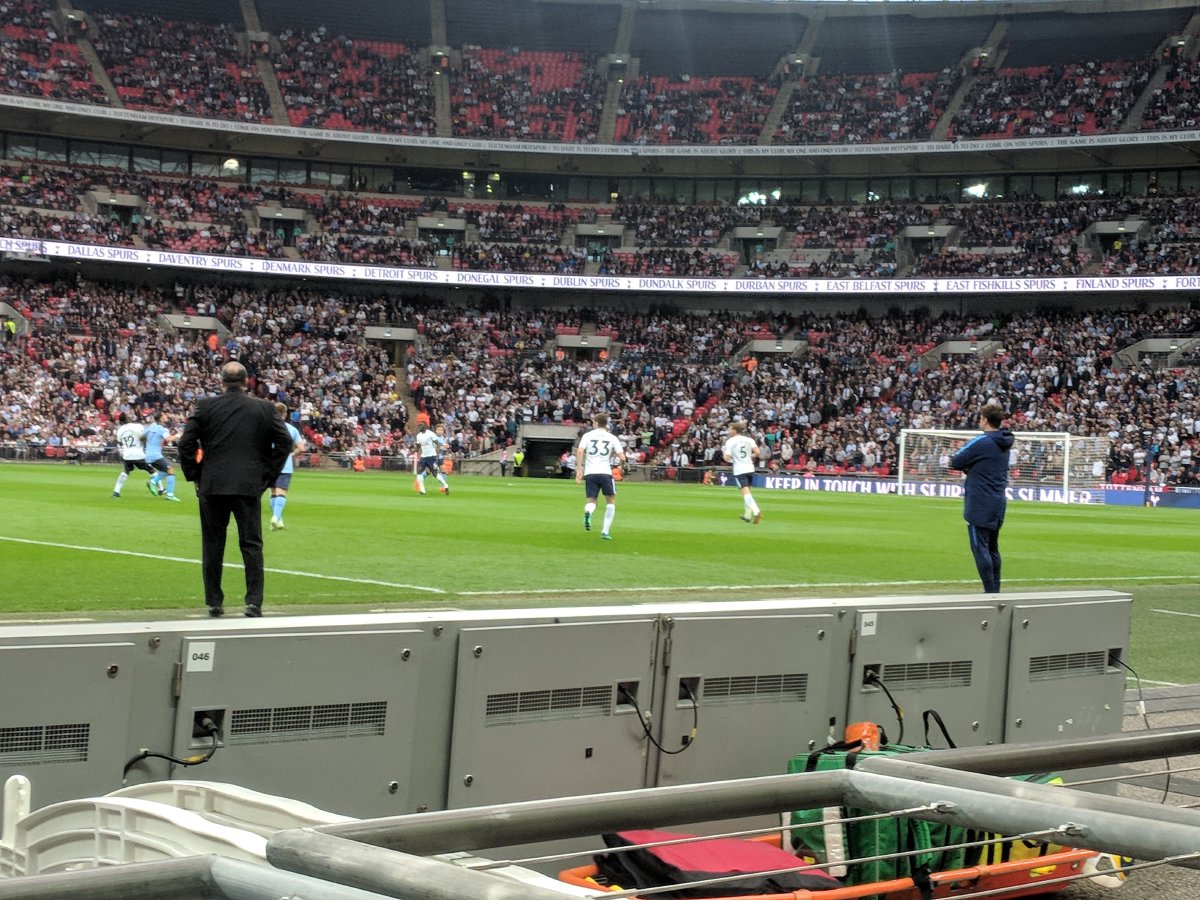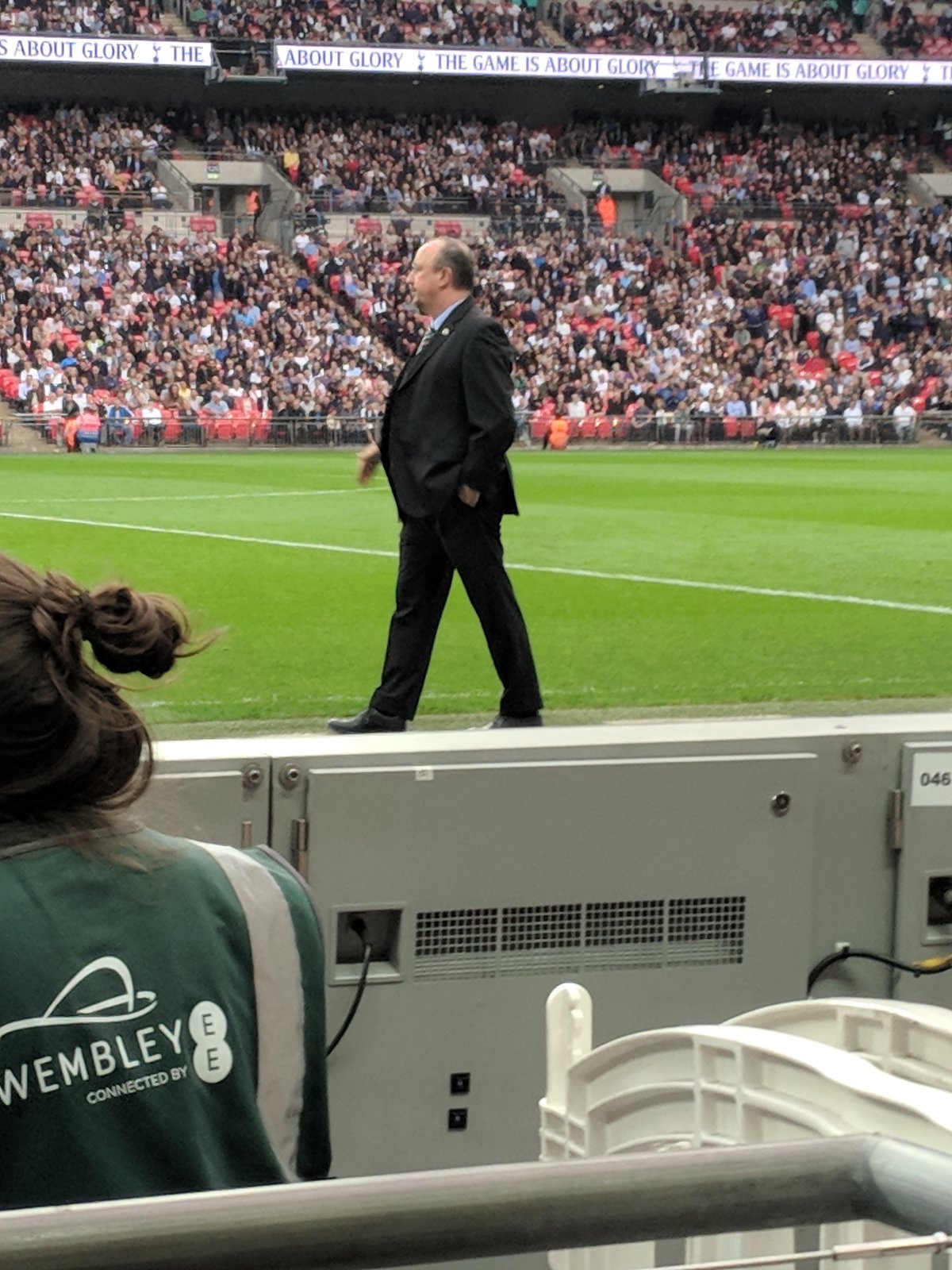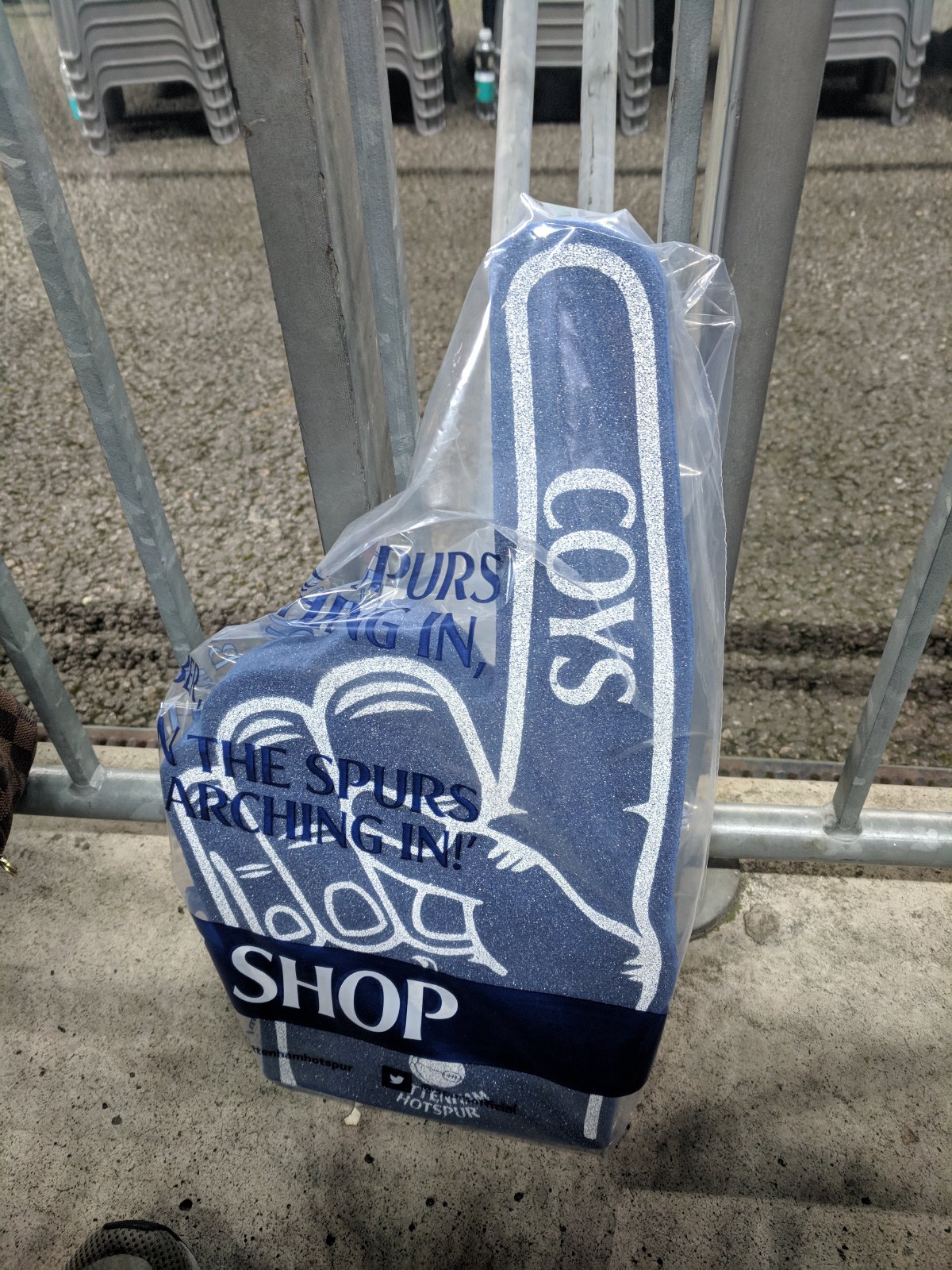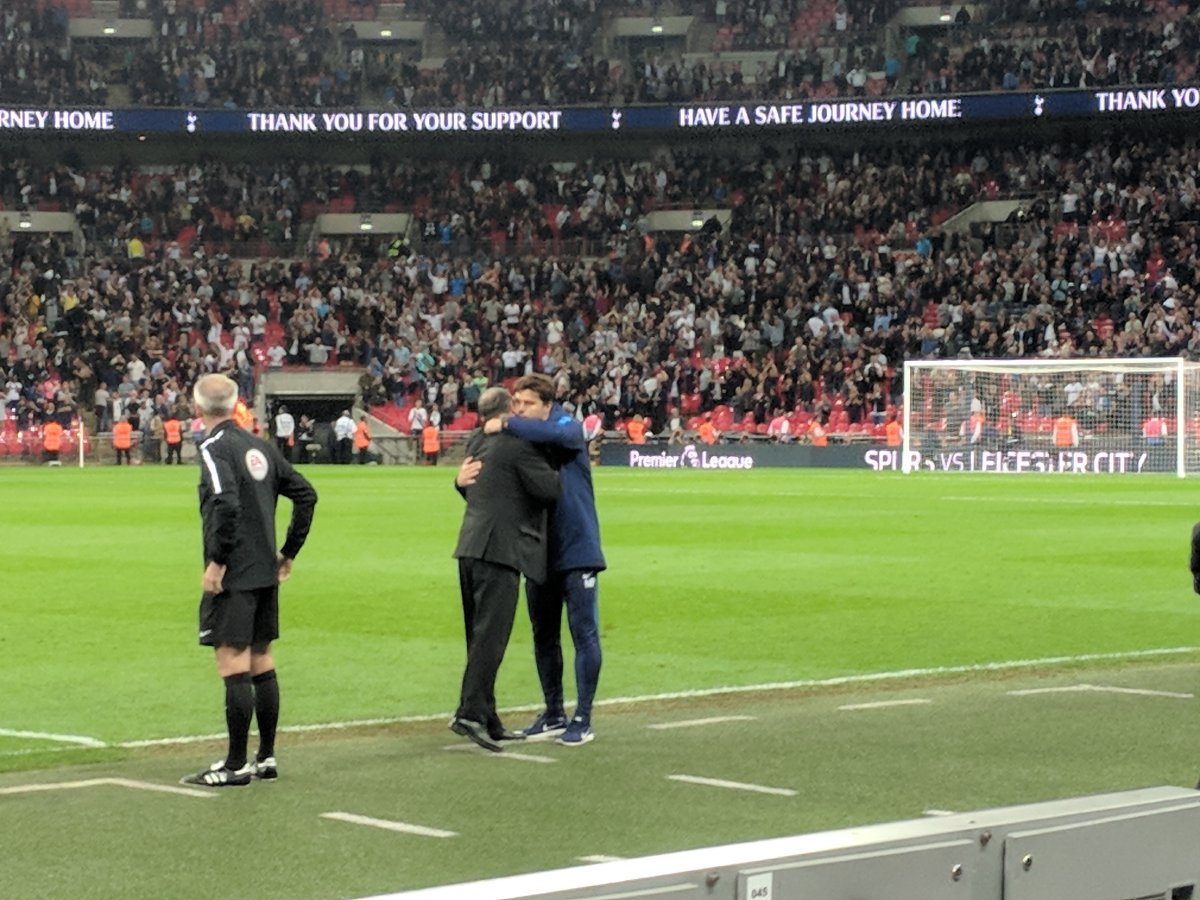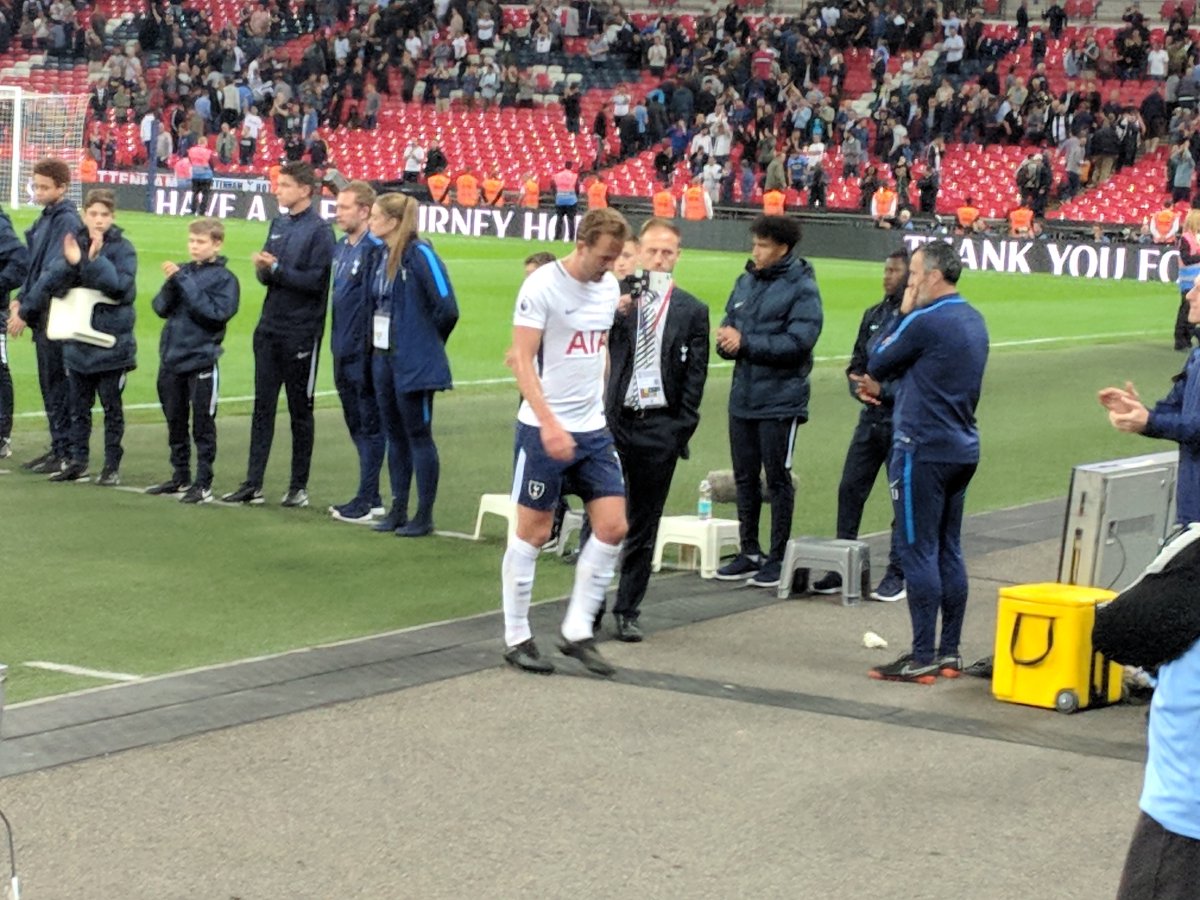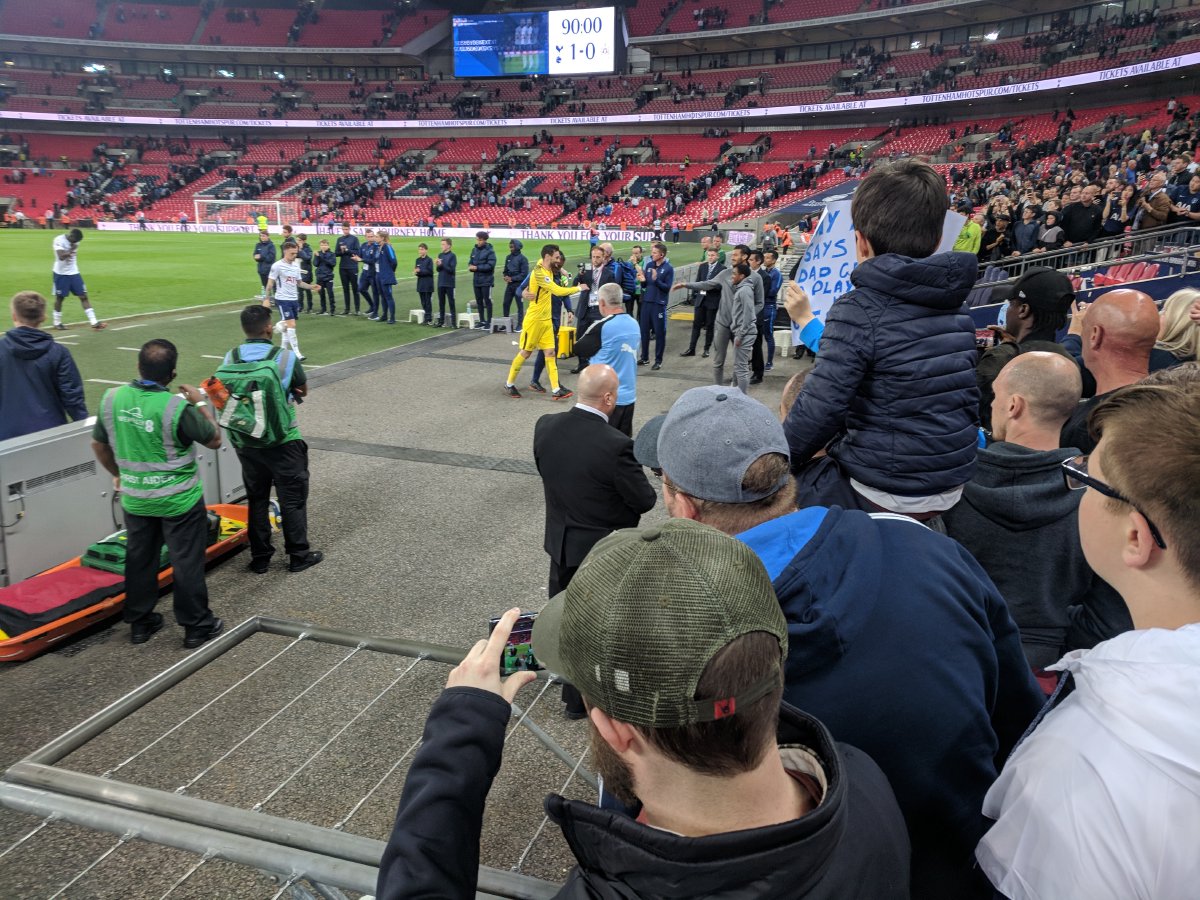 ---
After breakfast with my coworkers, I split for a day of Stadium Tours and football!
First off is a trip to west London and a morning tour of Stamford Bridge. I haven't been here since 2001 and things have changed - decidedly - for the better at this club.
They have a designated space for tours now with a lobby and everything. We begin by walking around the stands, down to the players' seats and reverse through the tunnel into the home and away dressing rooms. Then we are led back out up to the media center and - out though the team store. The spaces were tight and our tour guide was friendly and knowledgeable.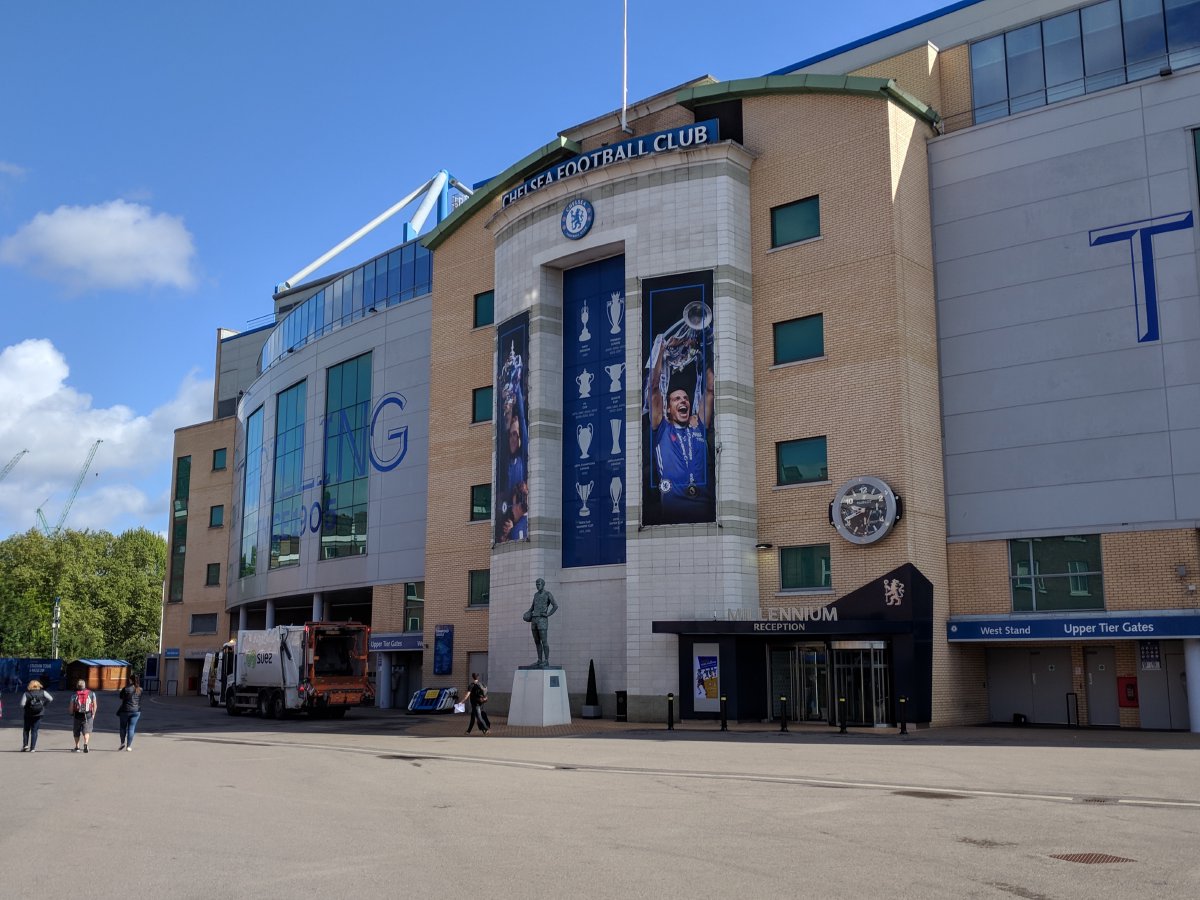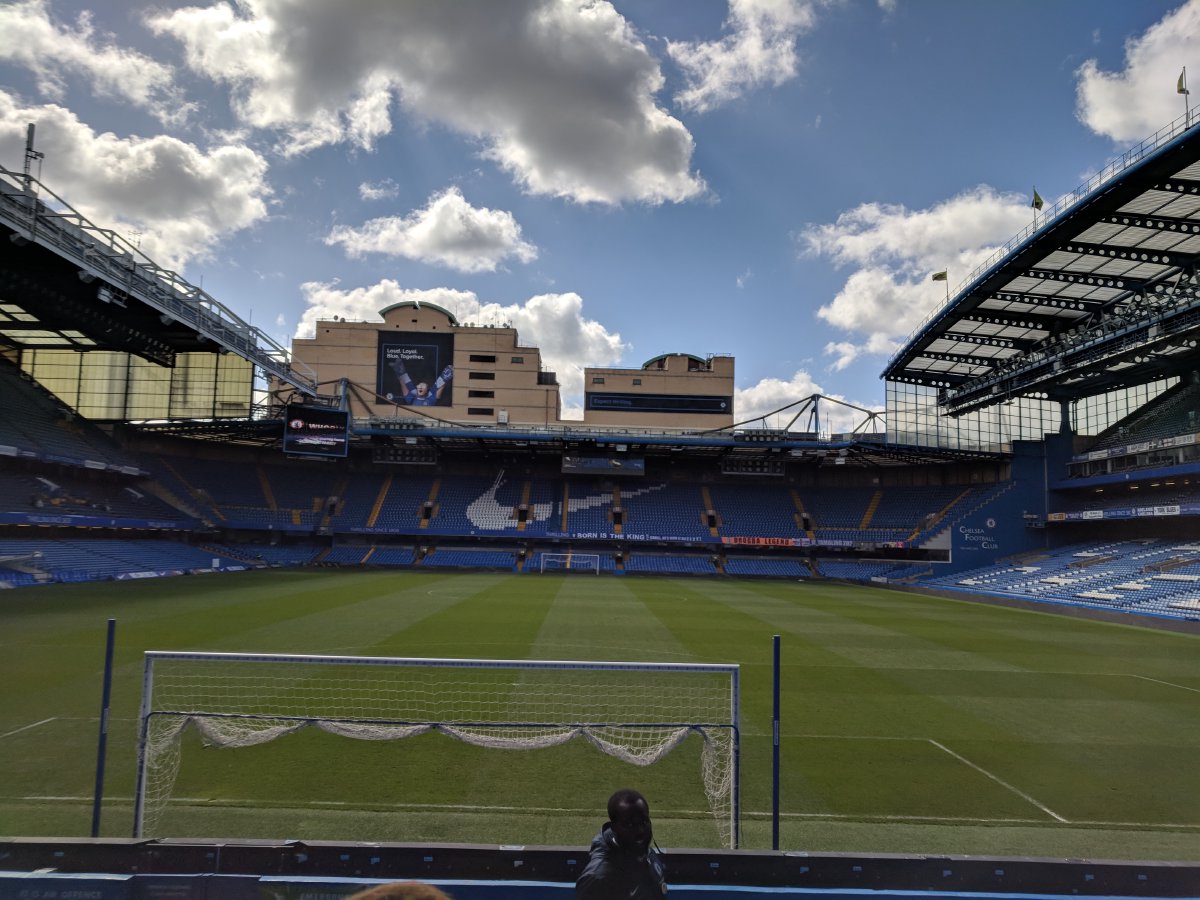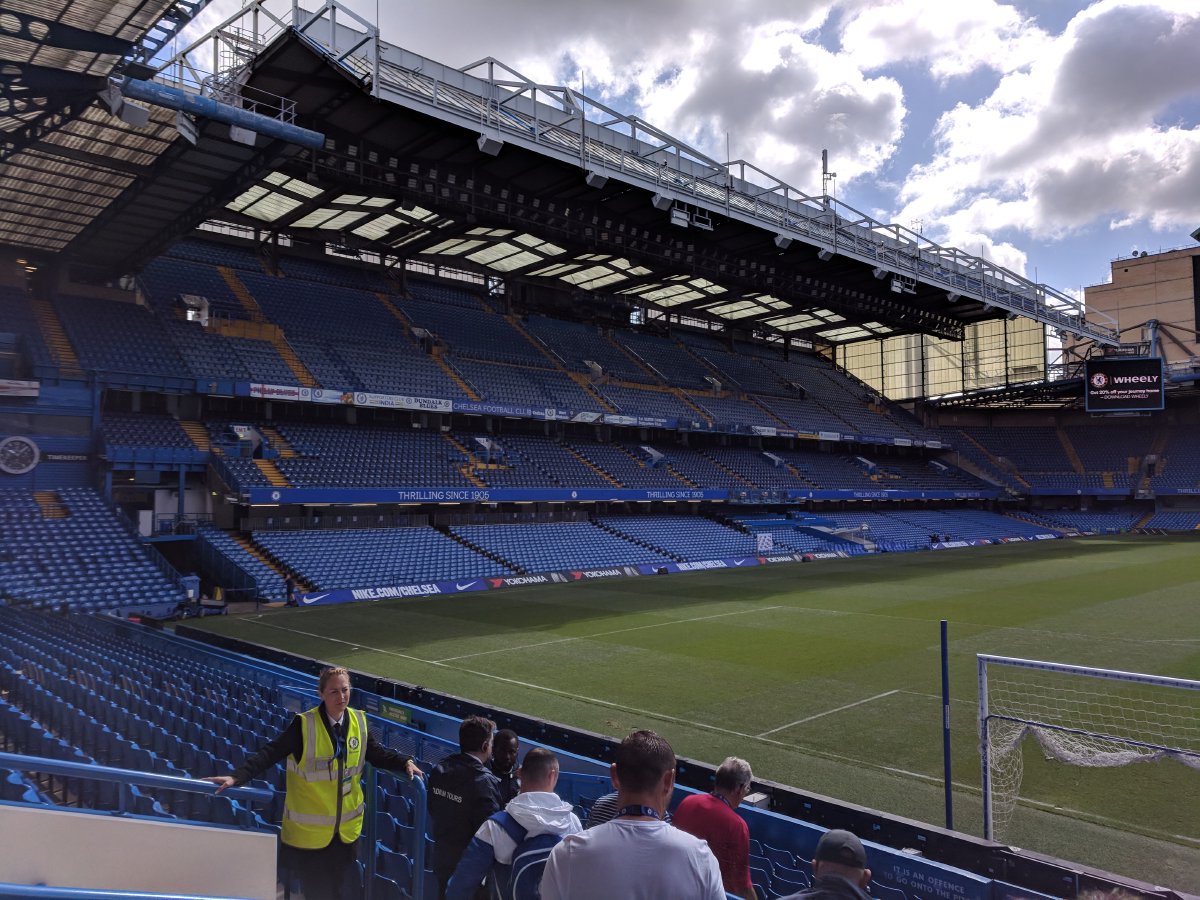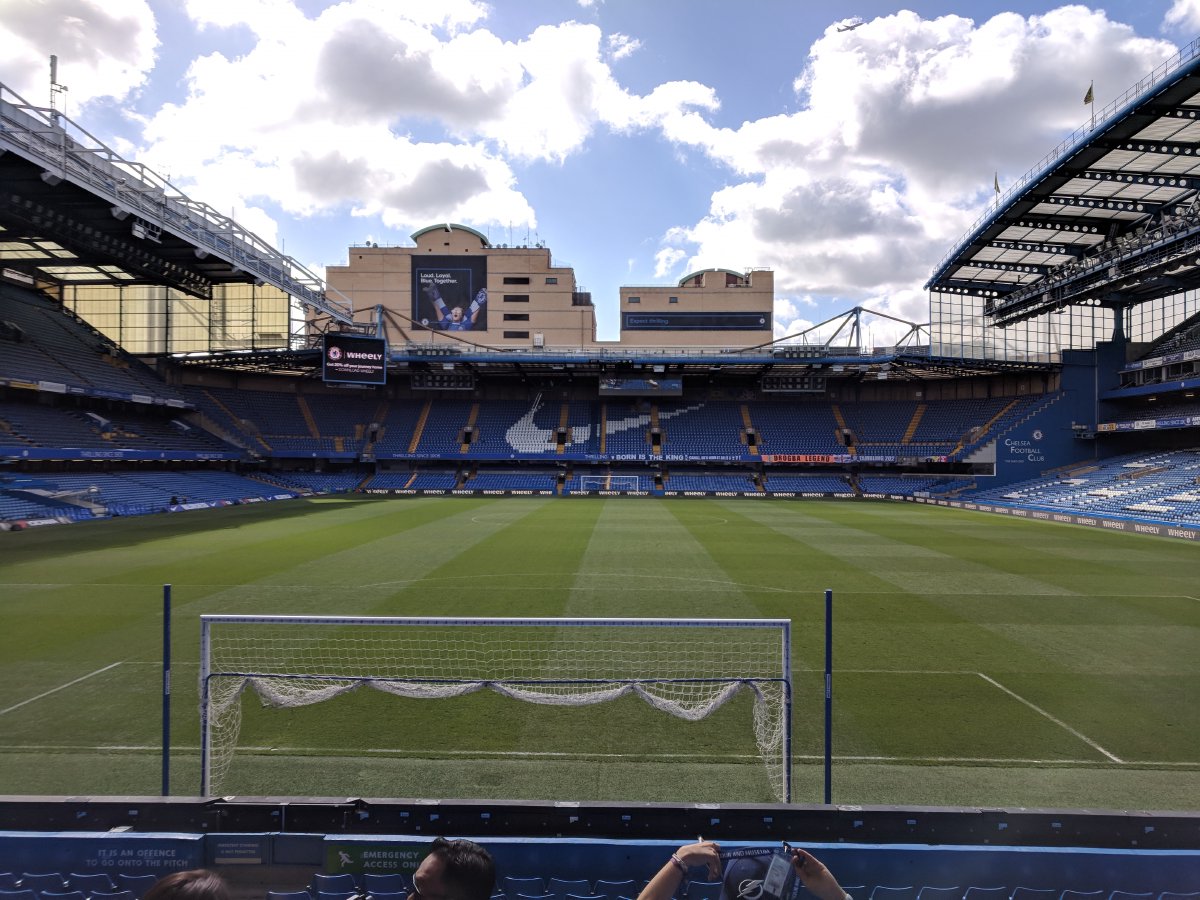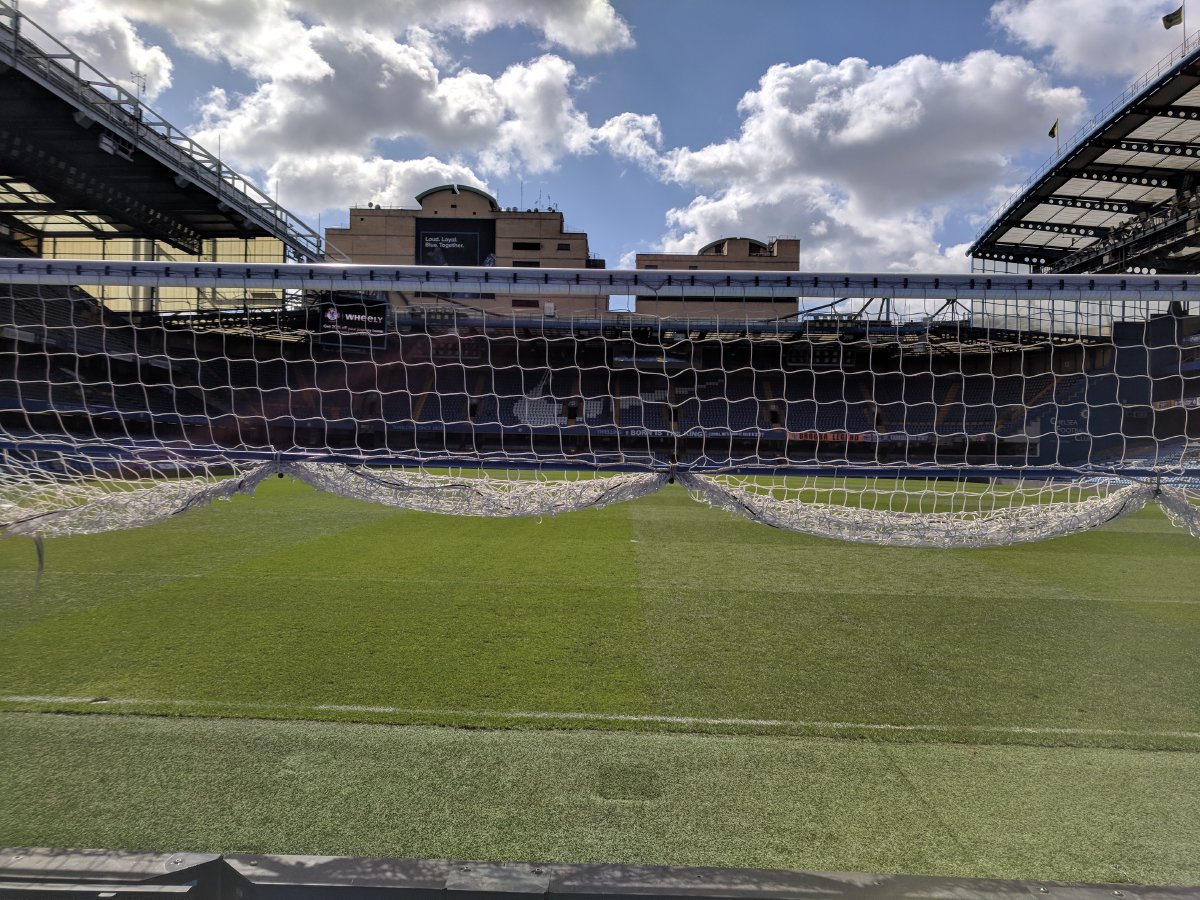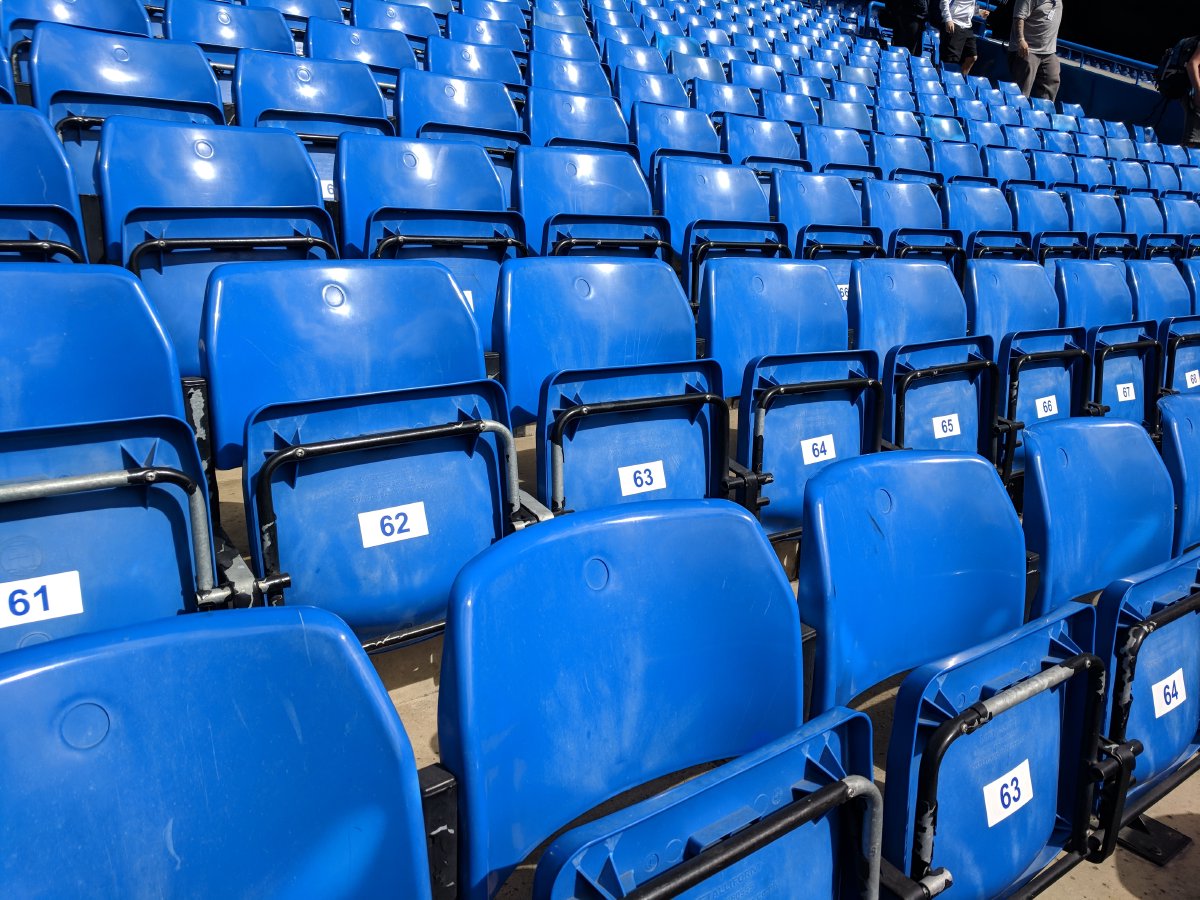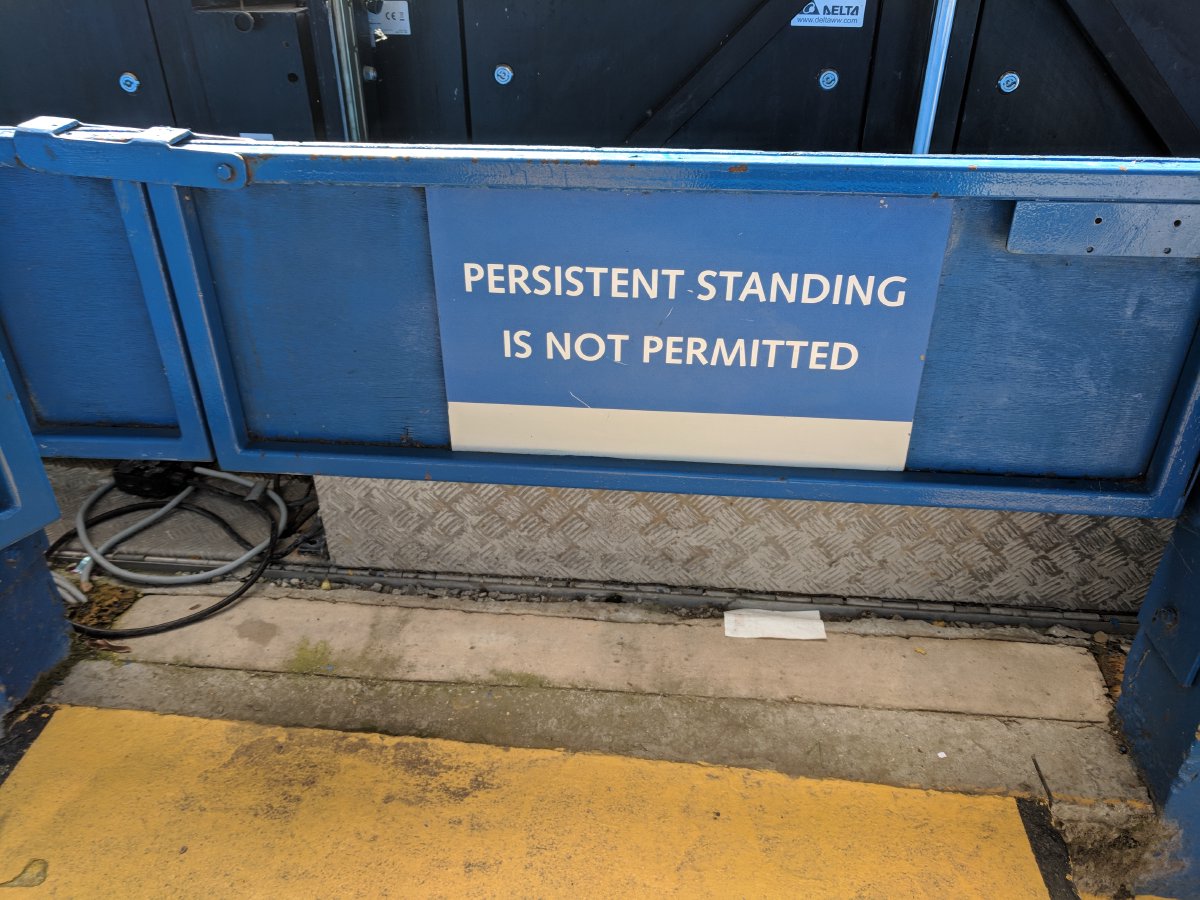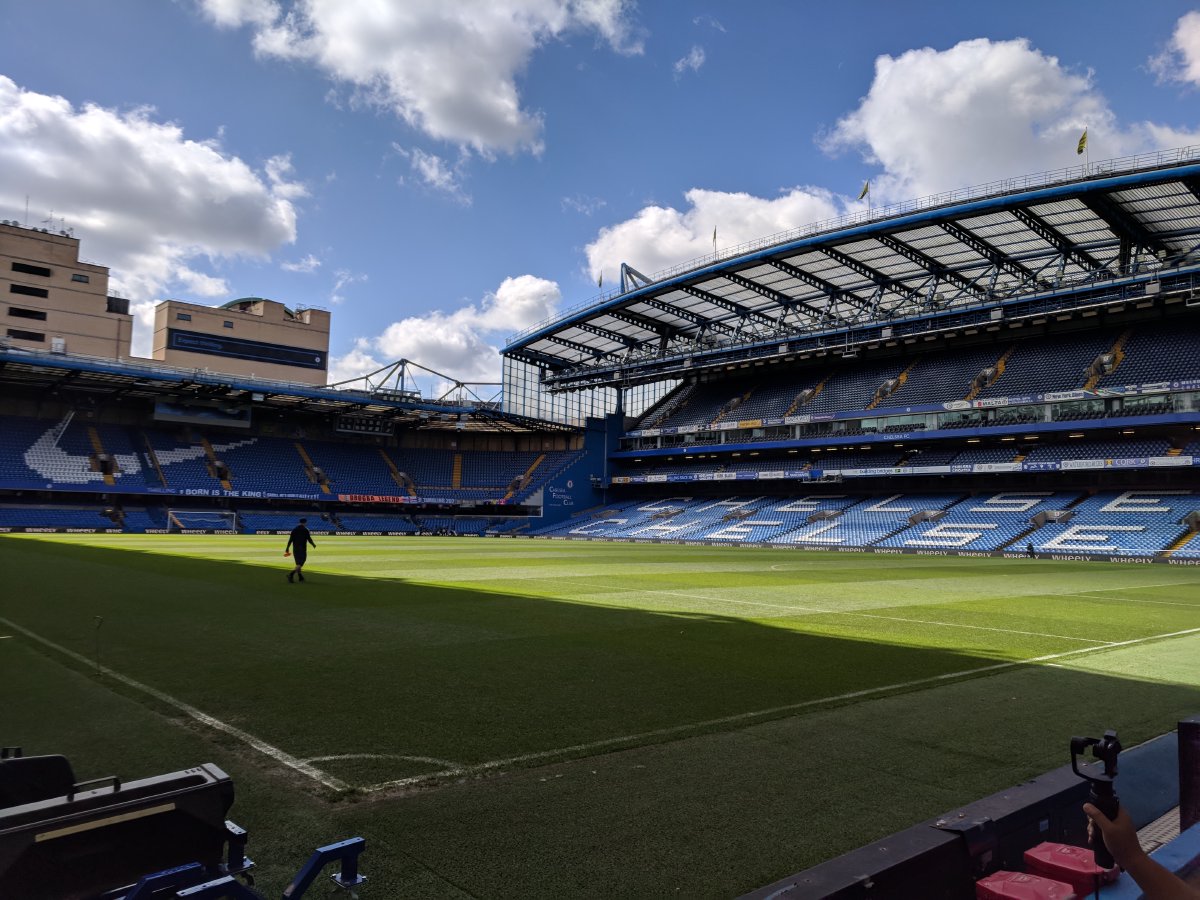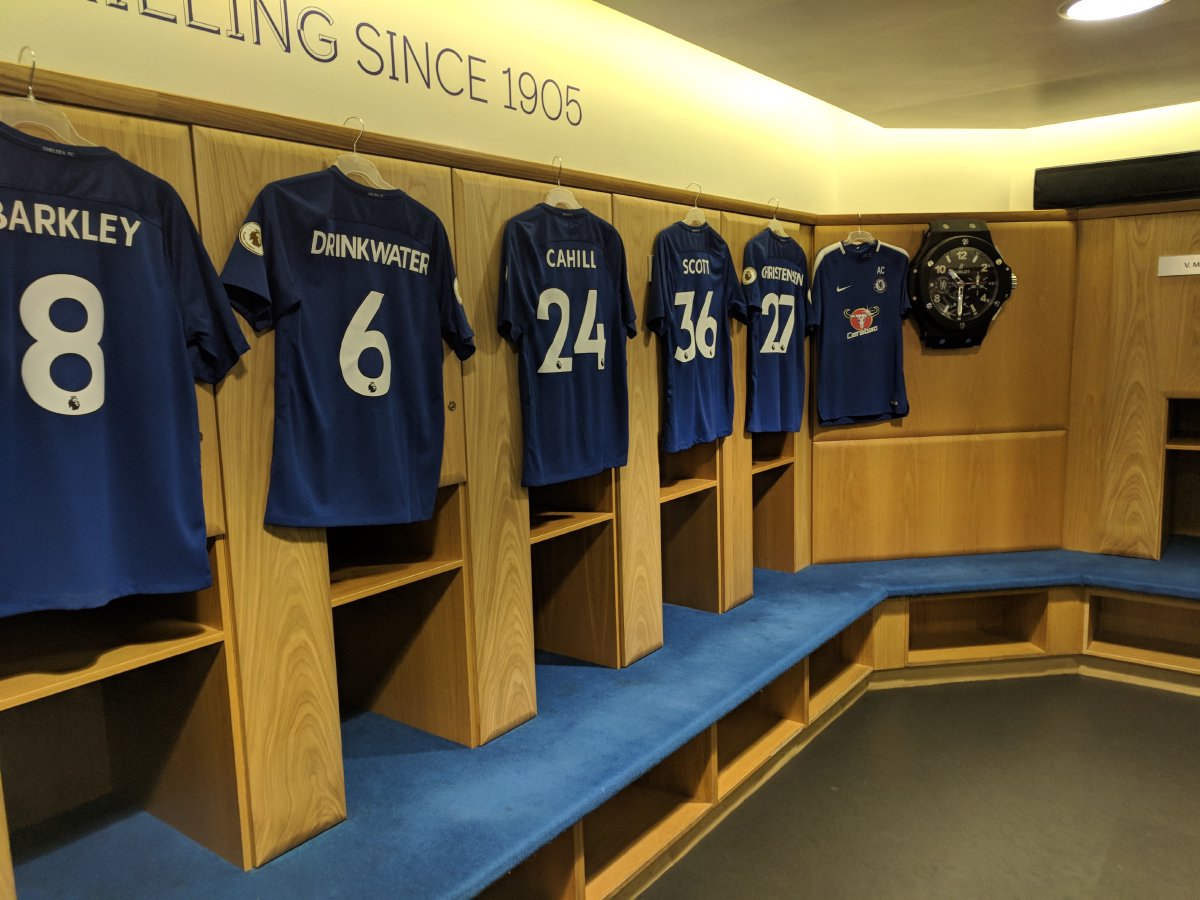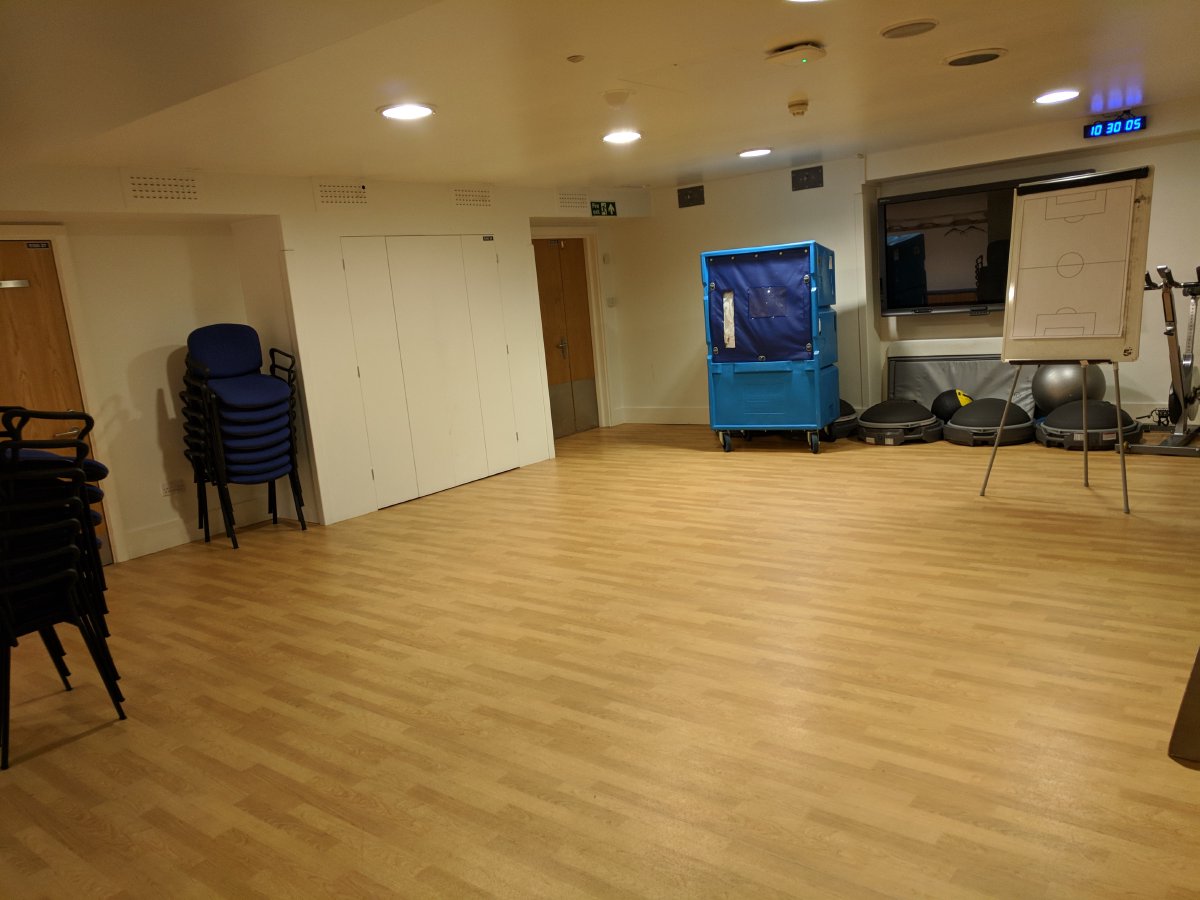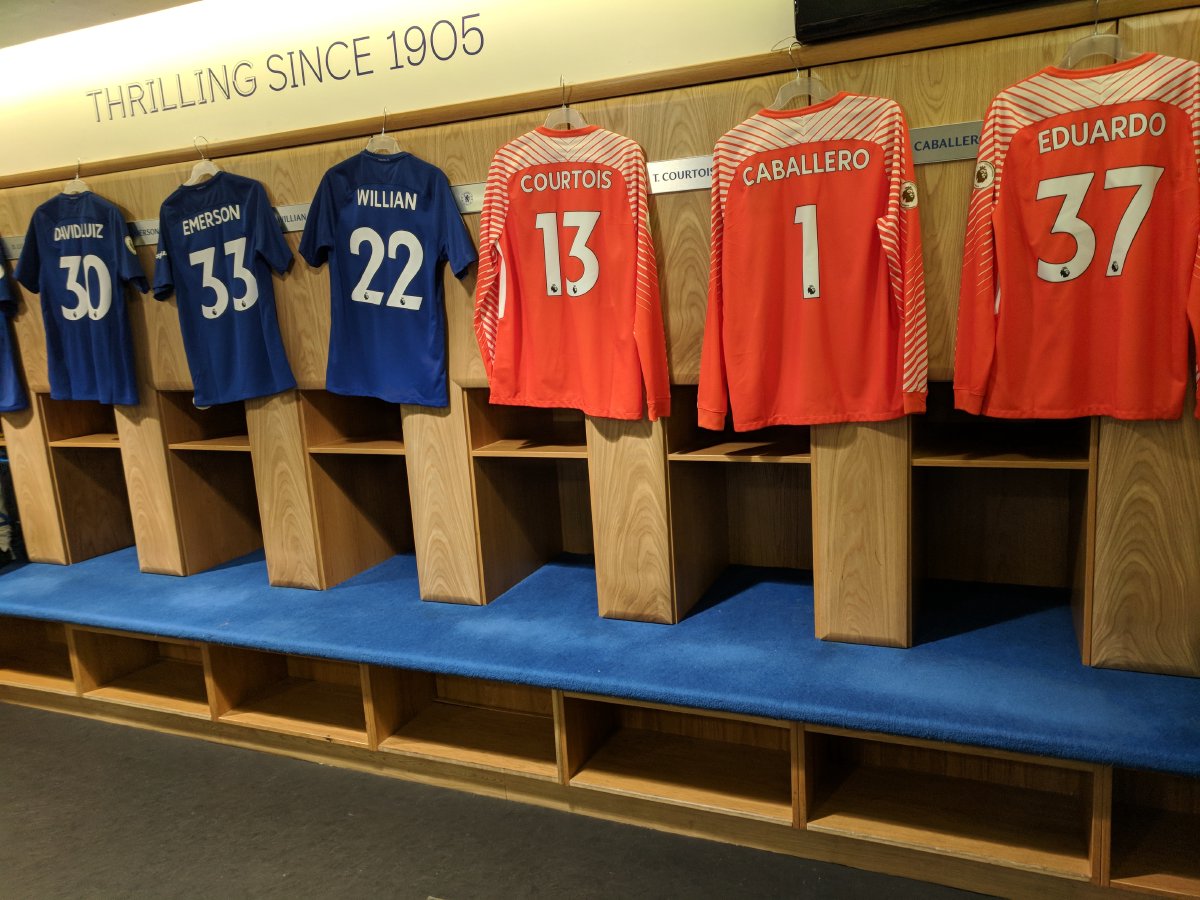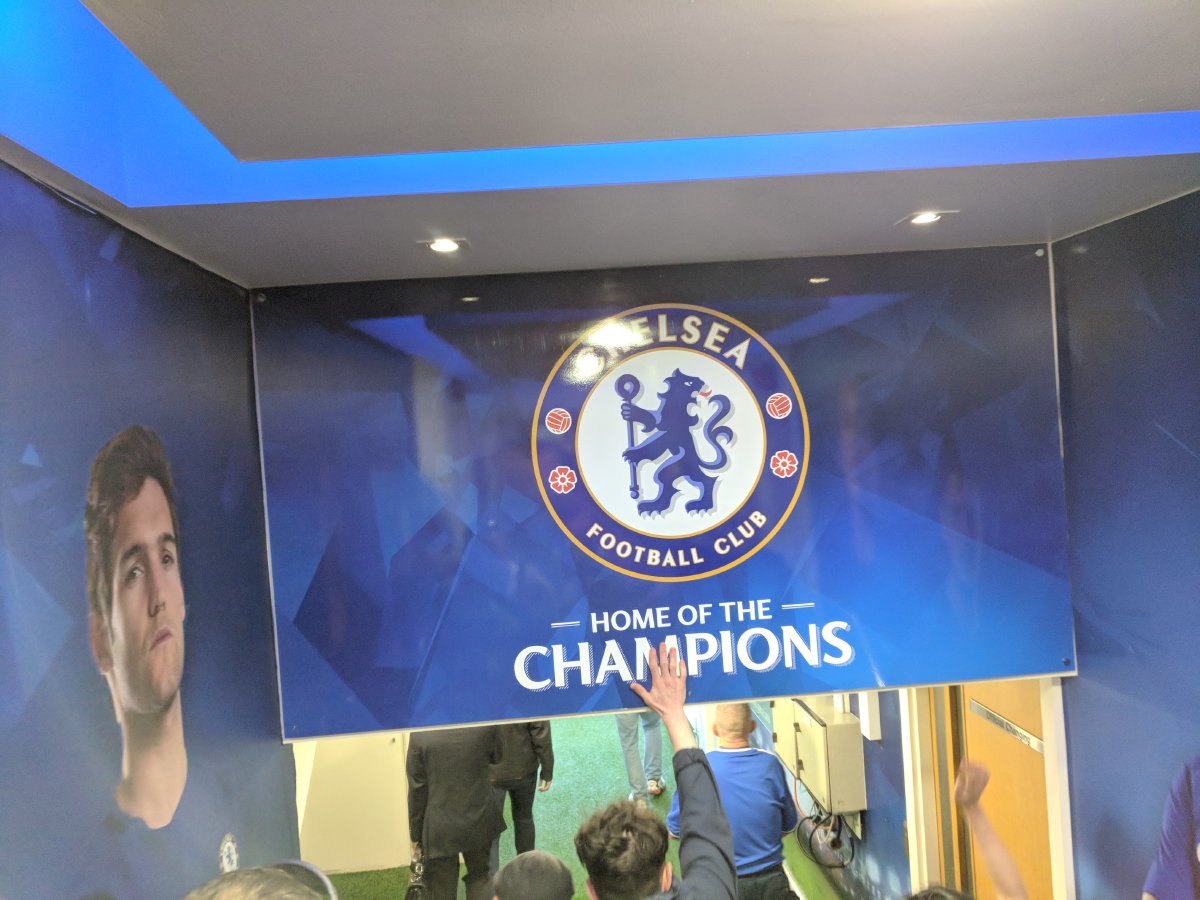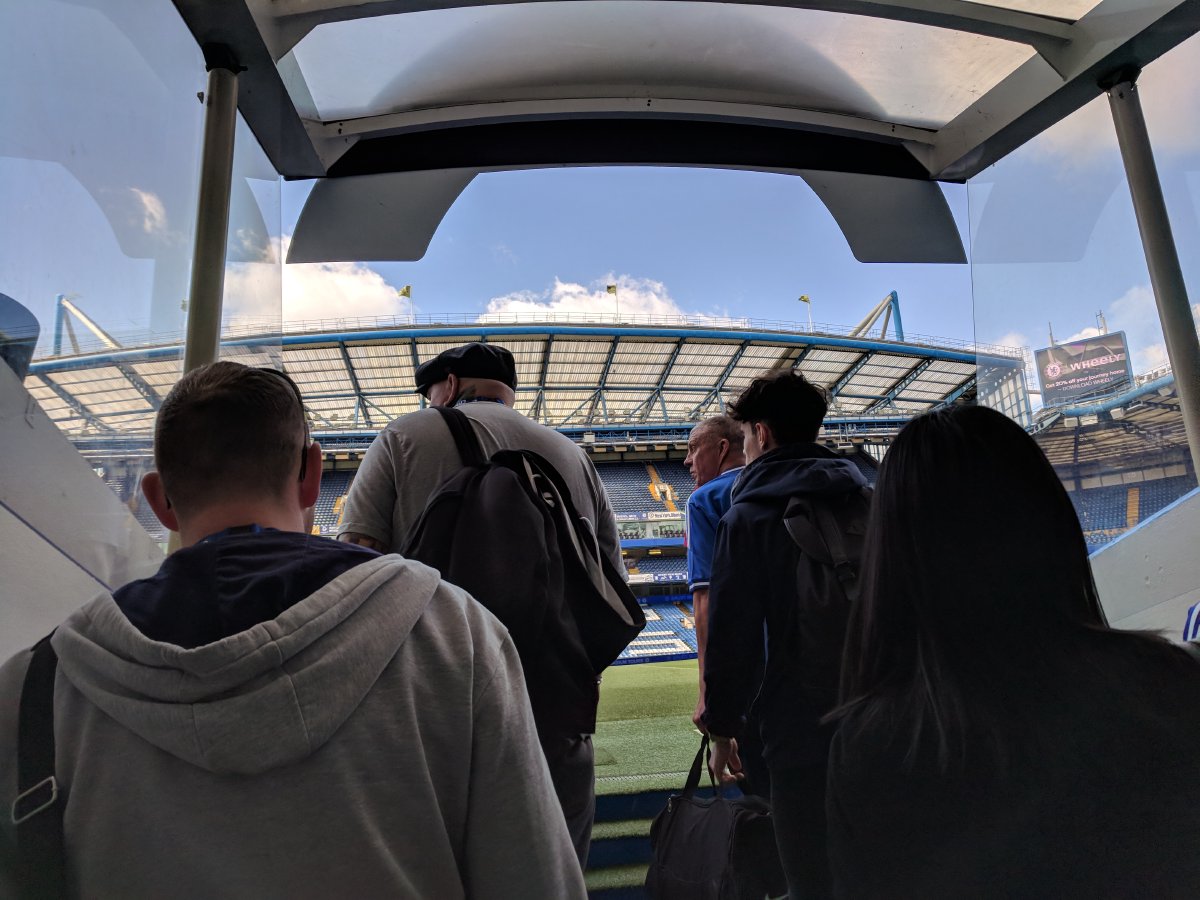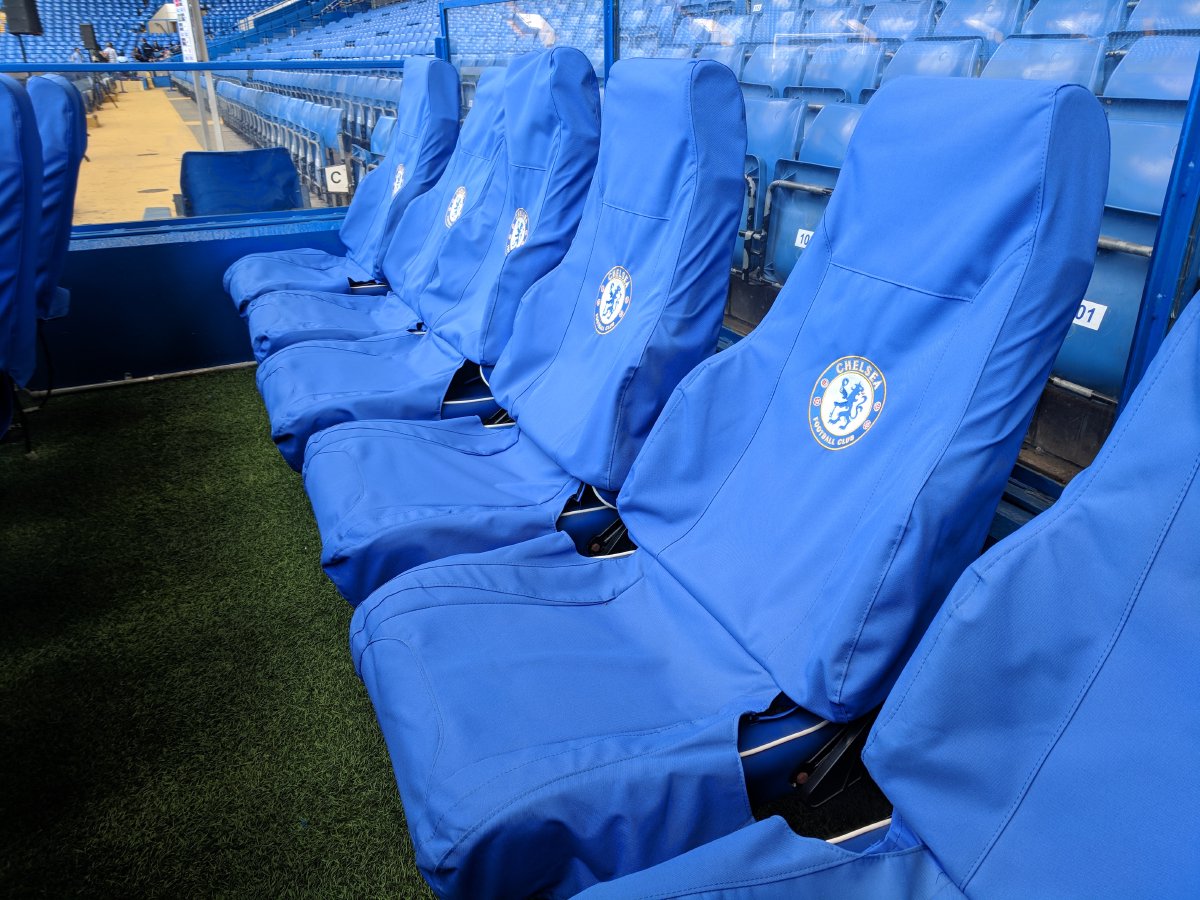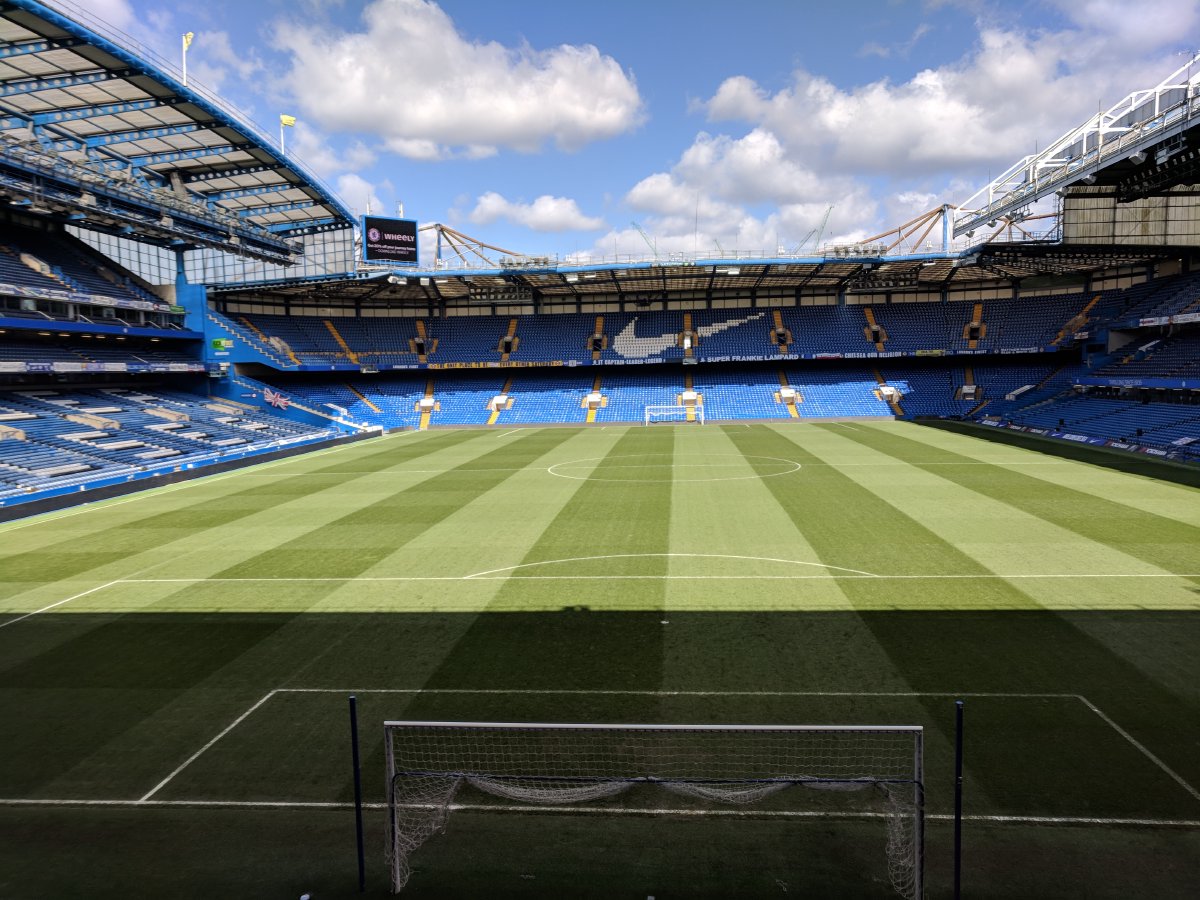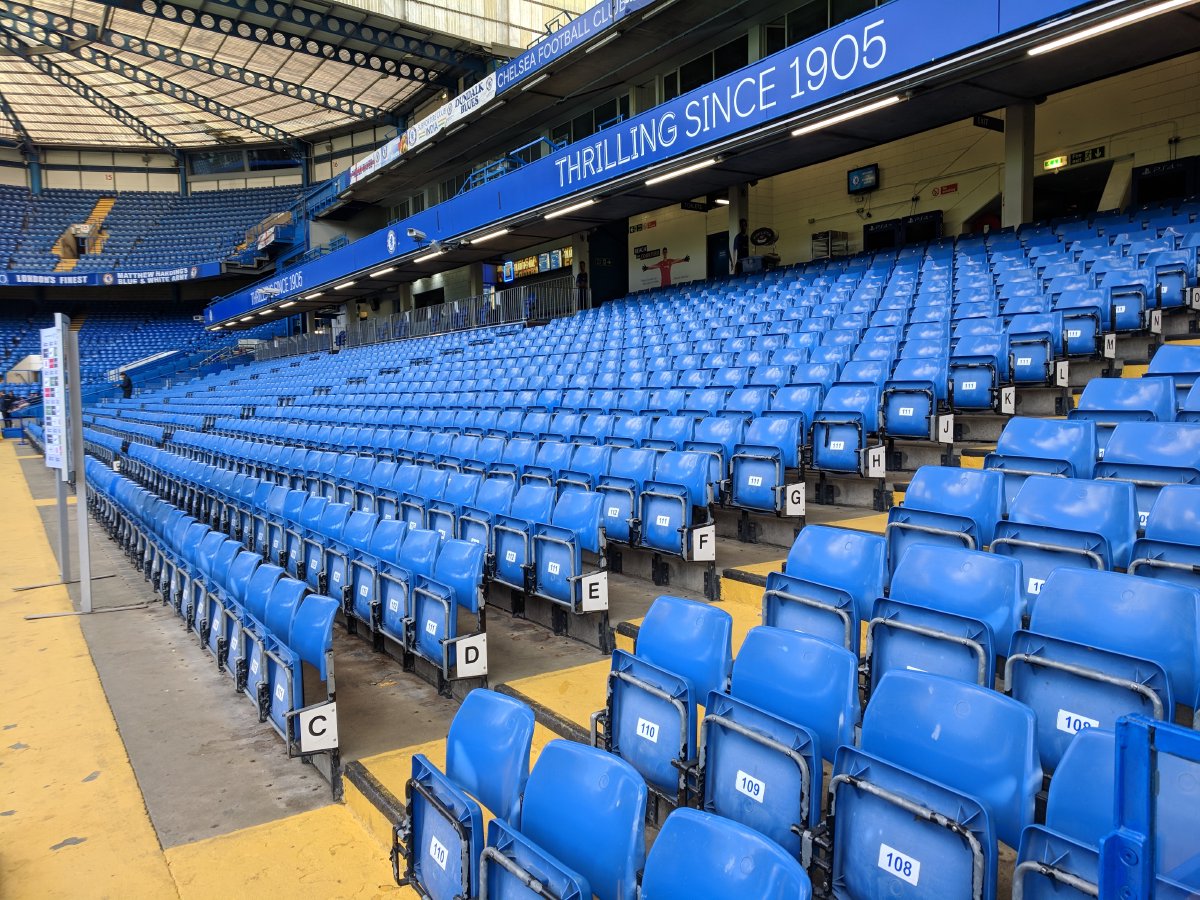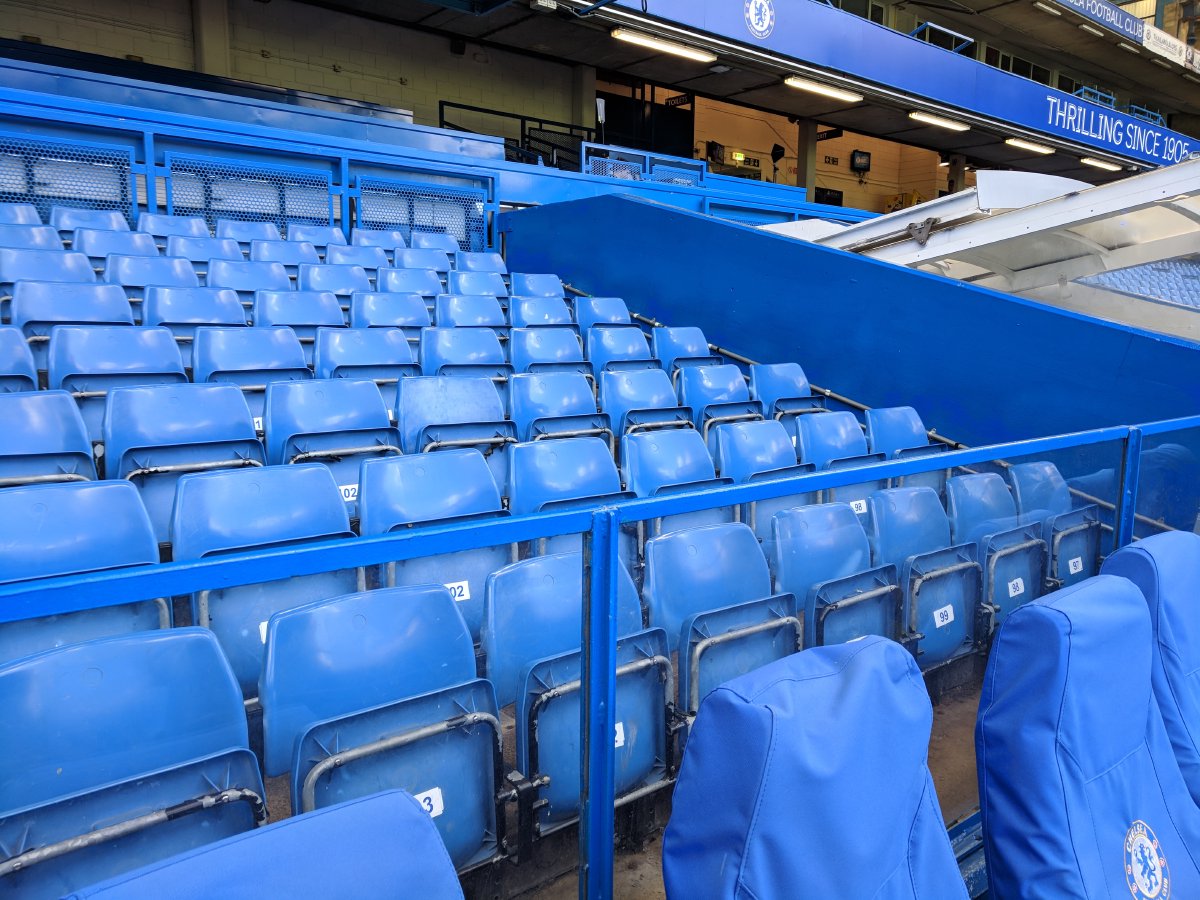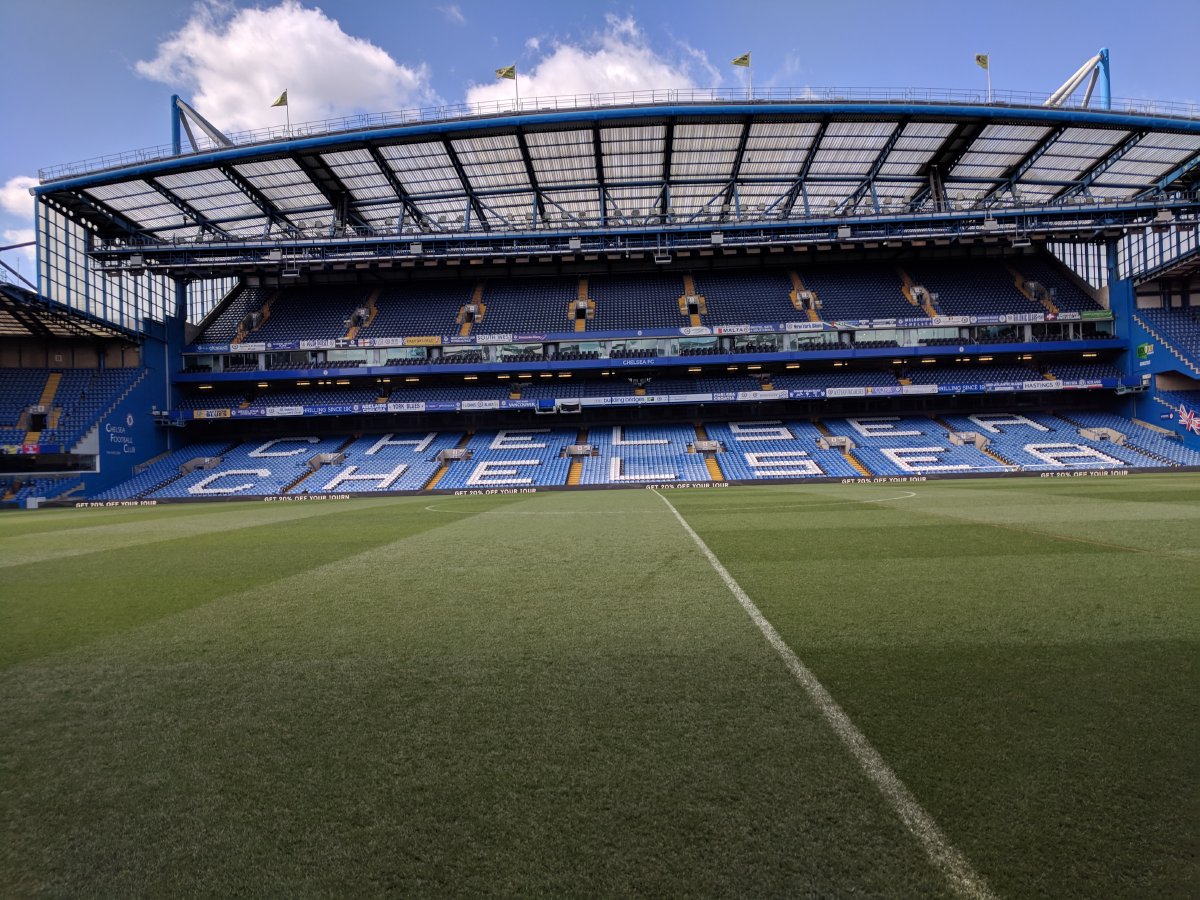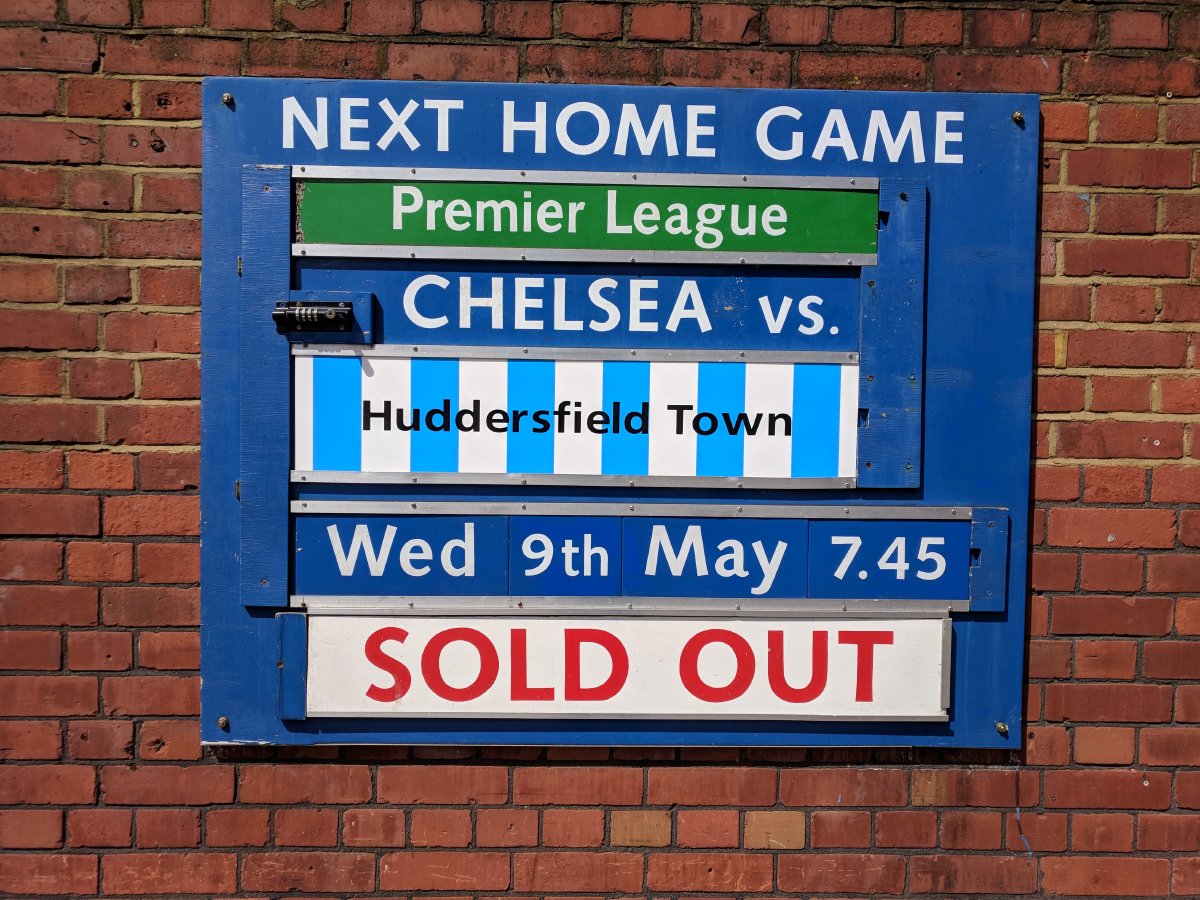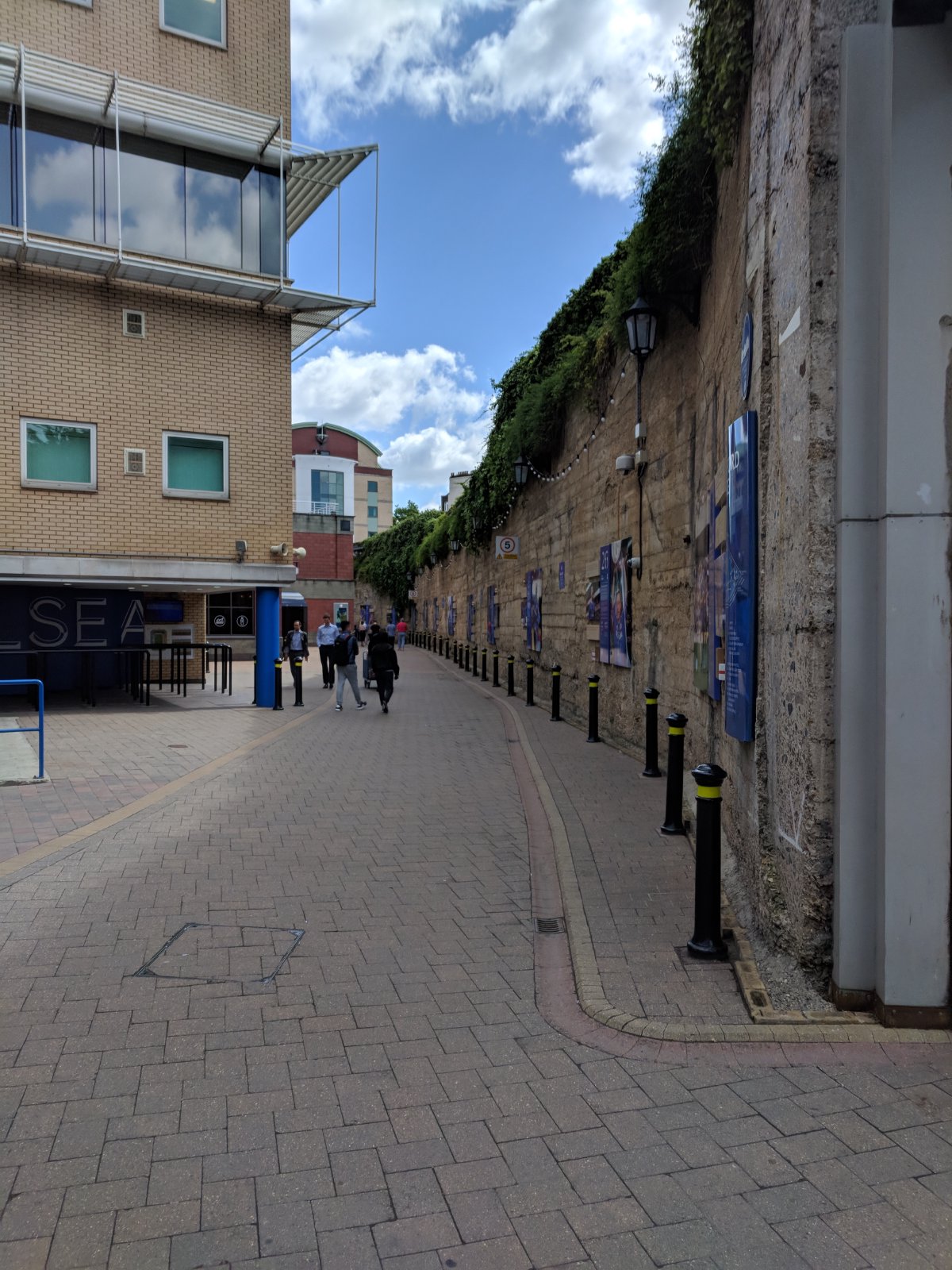 ---
After Stamford Bridge I take the tube to east London. I have a bit of time before my tour of the London Stadium begins so I can walk around Olympic Park for a bit. It's a huge space that houses the 2012 Olympic Aquatics Center and Velodrome.
Interestingly, there is no parking at the London Stadium, it's all serviced by public transit. The tourguide is without question one of the best I've ever encountered. Local, knowledgeable and personable. London Stadium (formerly Olympic Stadium) is not a football stadium per say, it was built for the 2012 London Olympics and is still basically a multisport stadium.
West Ham are tenants, but you could be fooled into thinking it's theirs full time. The tour starts at the players entrance (where there is parking, but only for players and staff) and goes straight up to the executive dining room, which is well appointed with all things West Ham.
Then it's out to the executive box, before going down to look into, but not go into the home and away locker rooms (it's game day and things have been laid out for the match that night). Then we are out into the media center before hitting the players tunnel and the pitch. As it was game day, the pitch was getting a final mow.
It's still an athletics stadium, so there is a running track around the pitch, and the managers area is a good 30 meters from the substitutes bench, so he has to have a runner to go back and forth when he wants a sub to warm up or go on. Also, all the seats are in West Ham colors, but if there's ever a non-soccer event, all these seats are pulled out and neutral colored seats replace them - each time they do this it costs 1.3 million pounds according to our guide.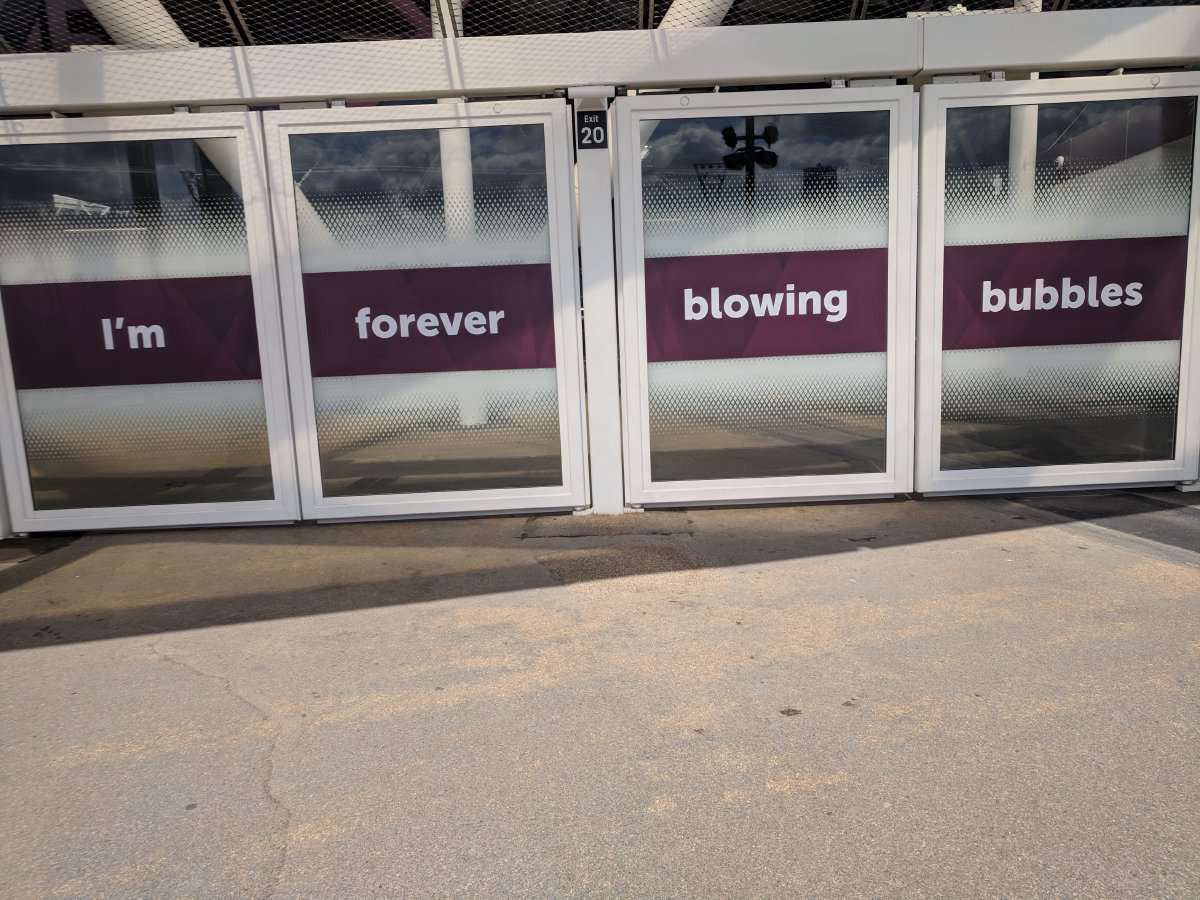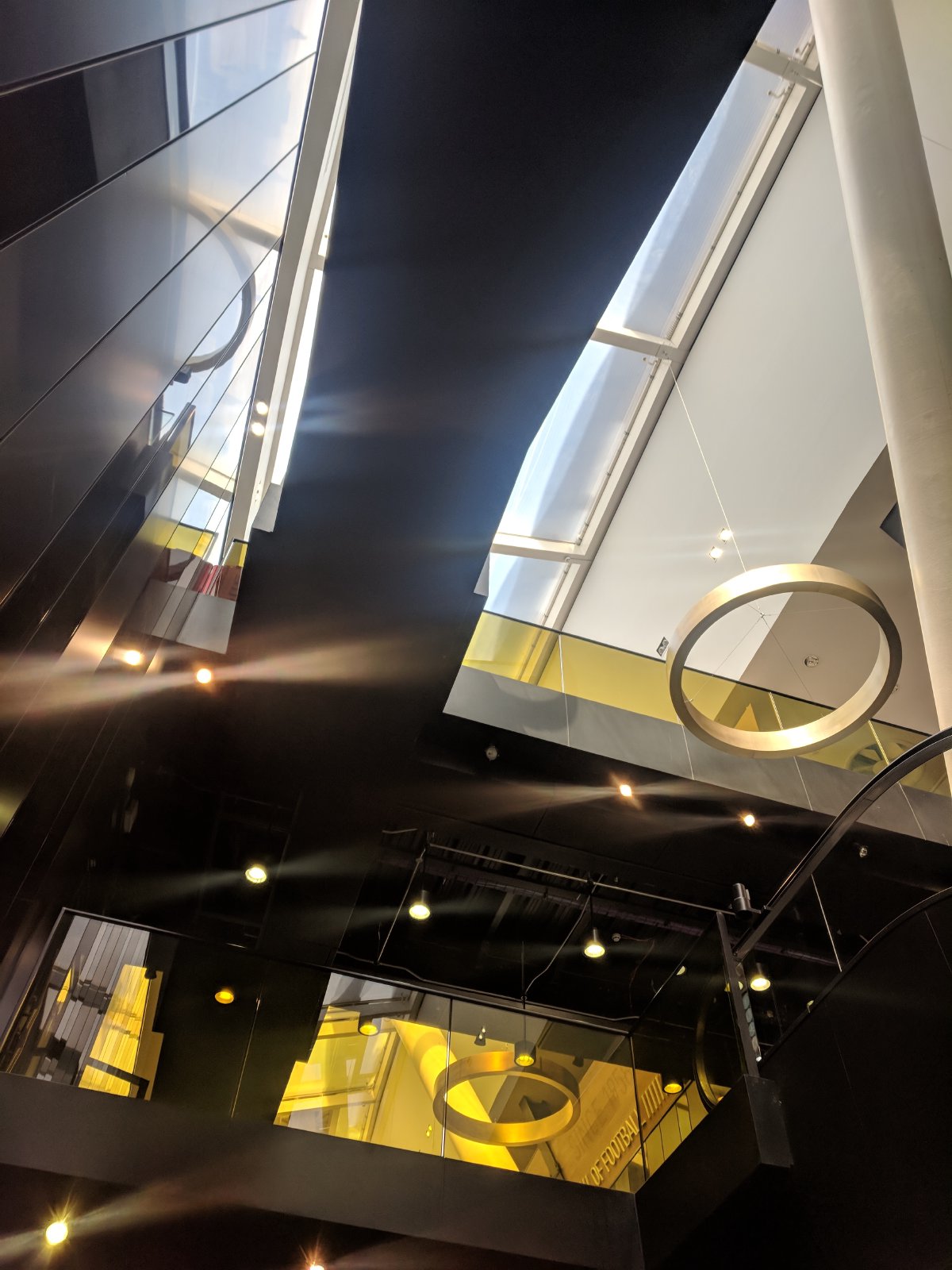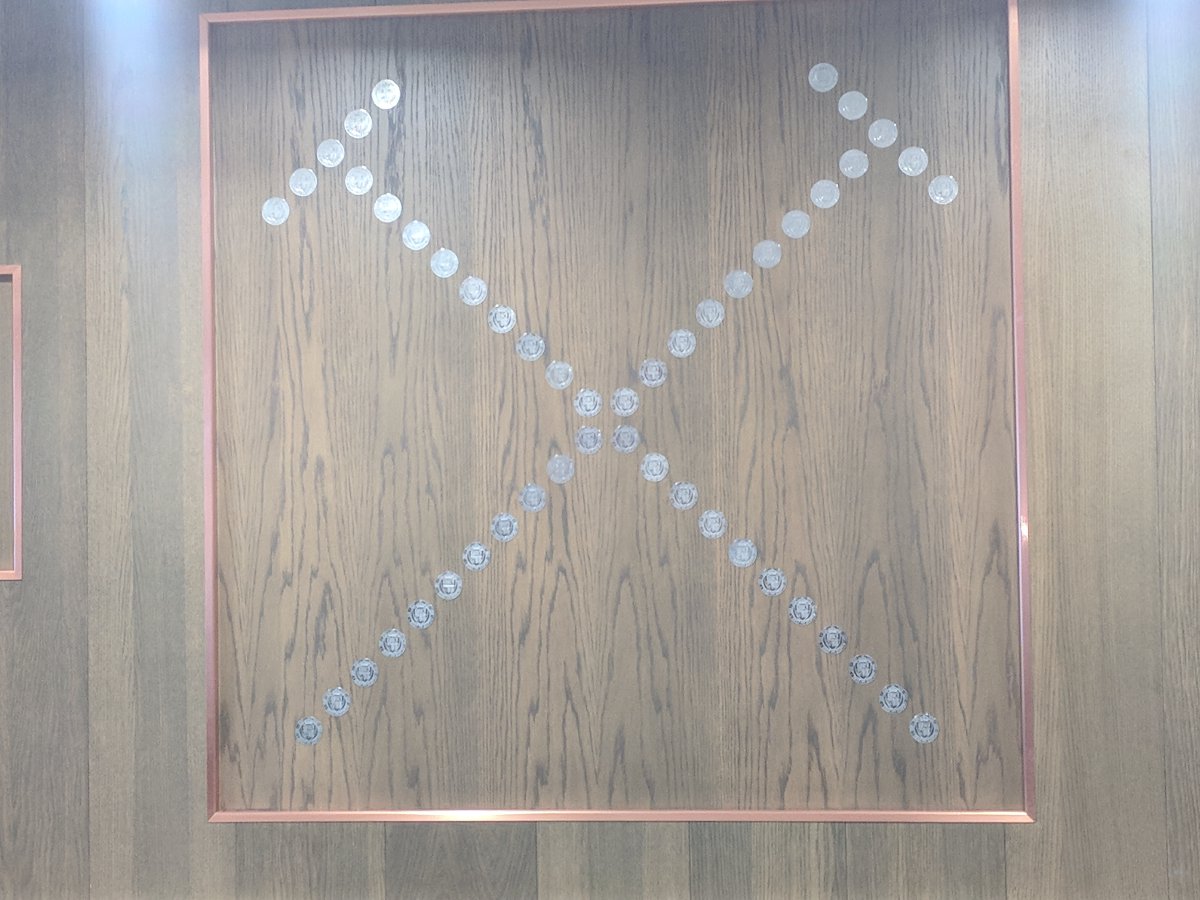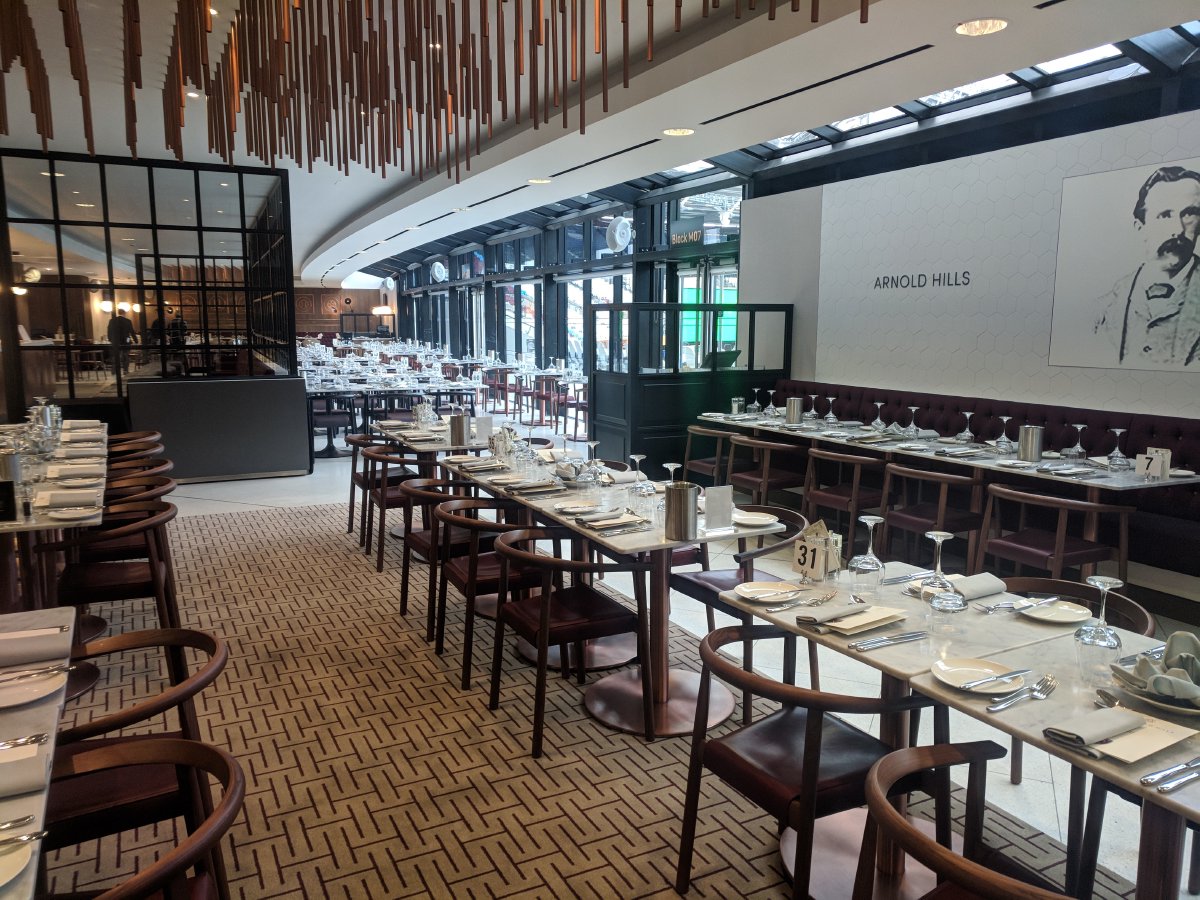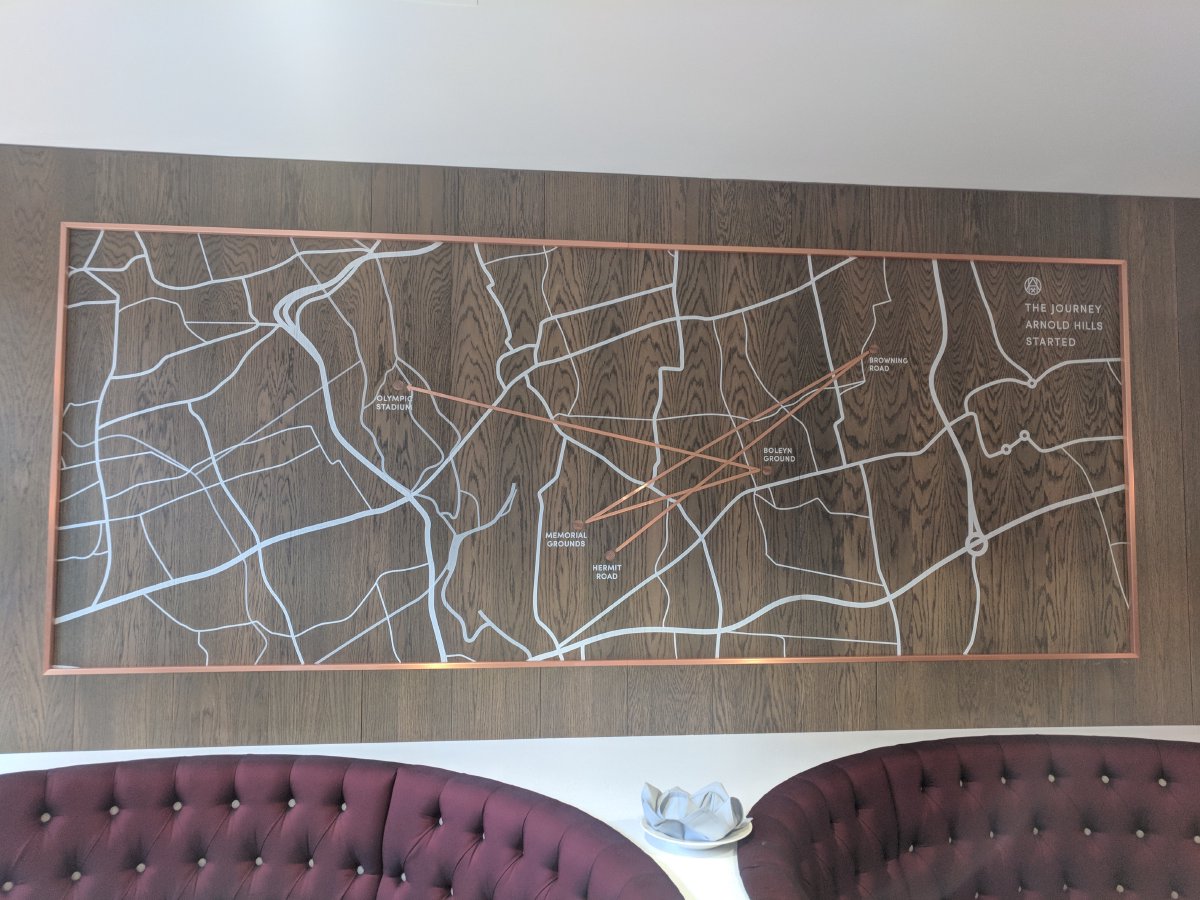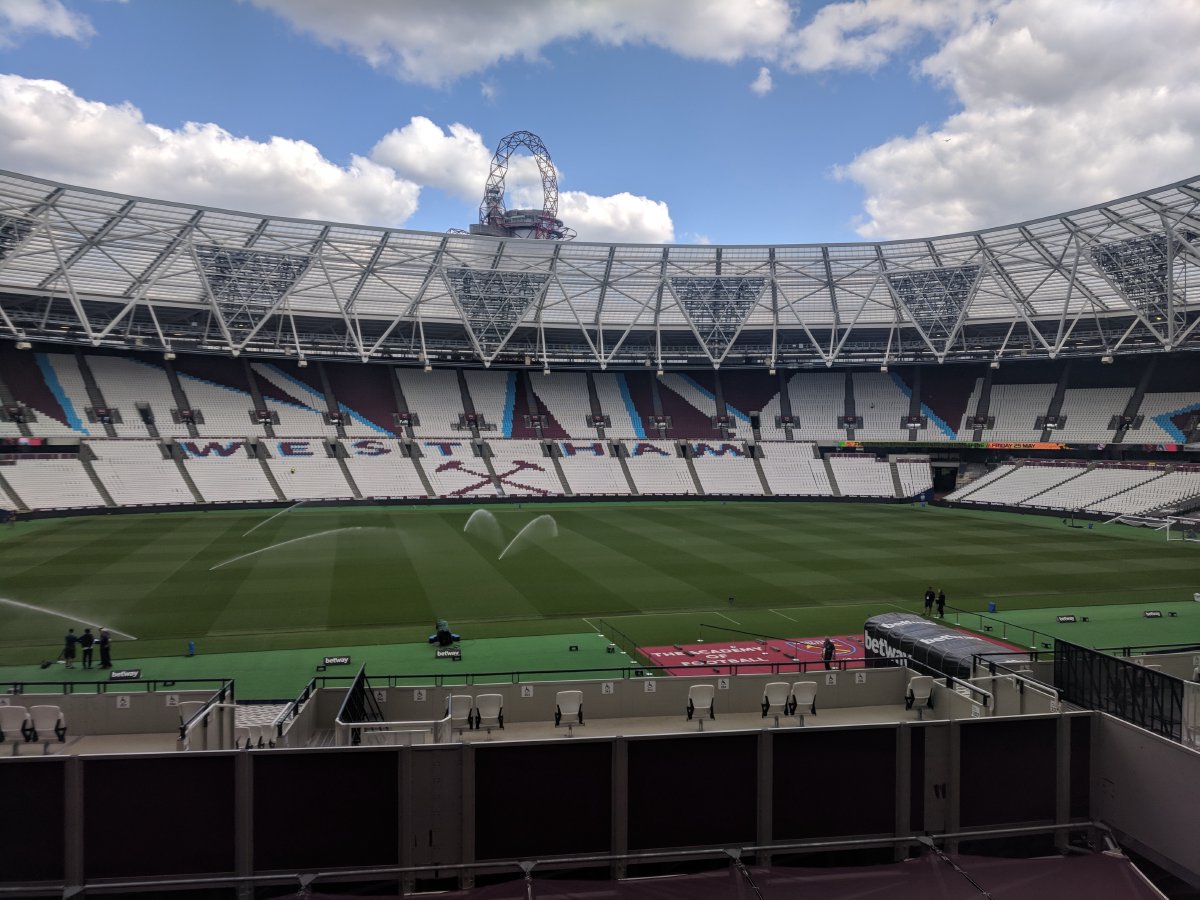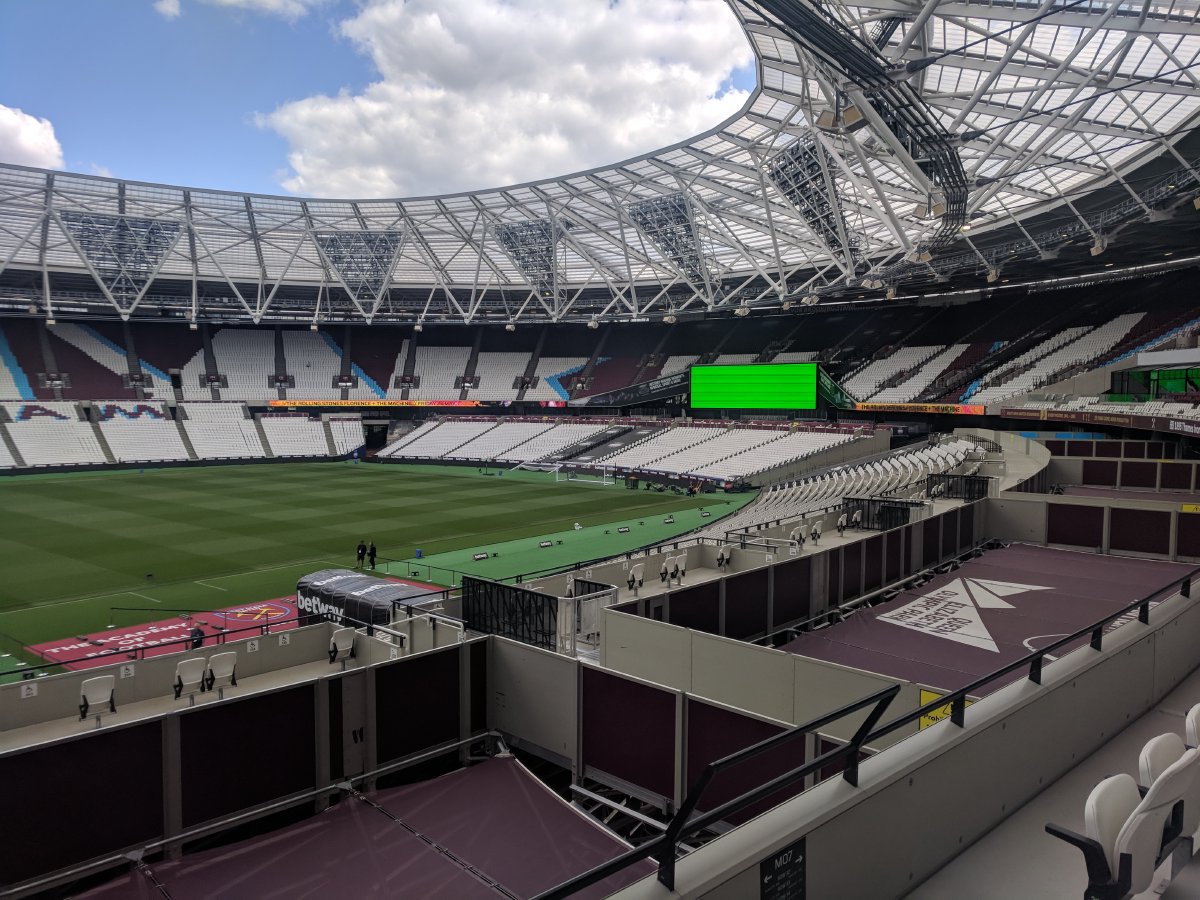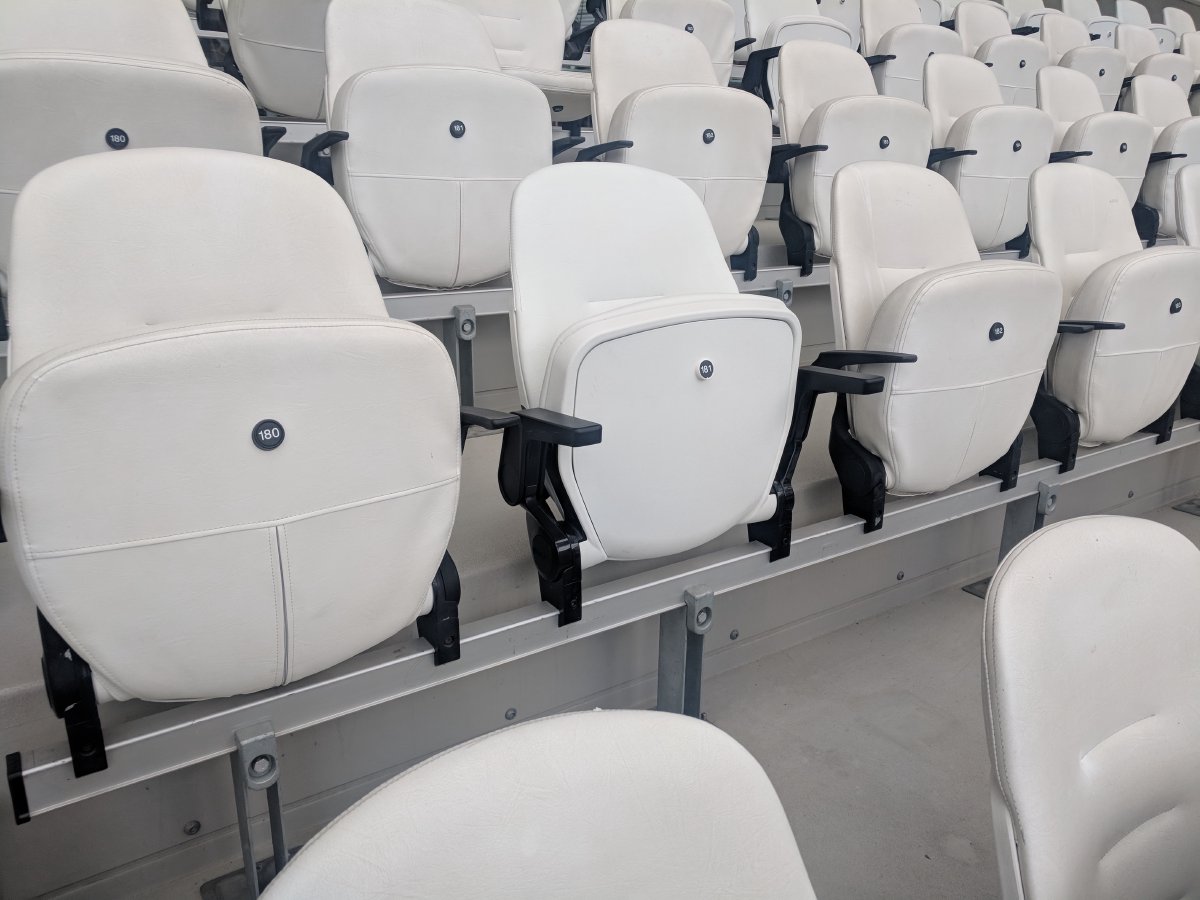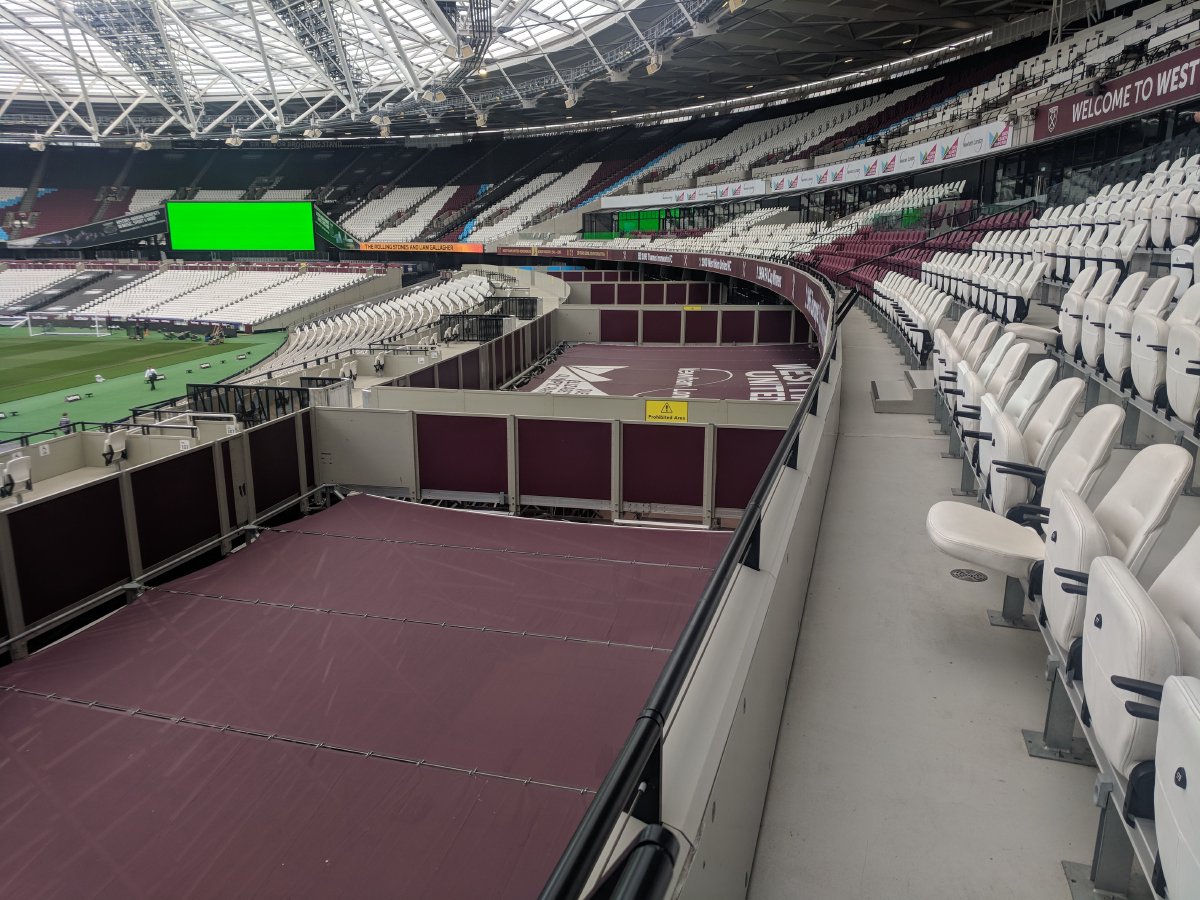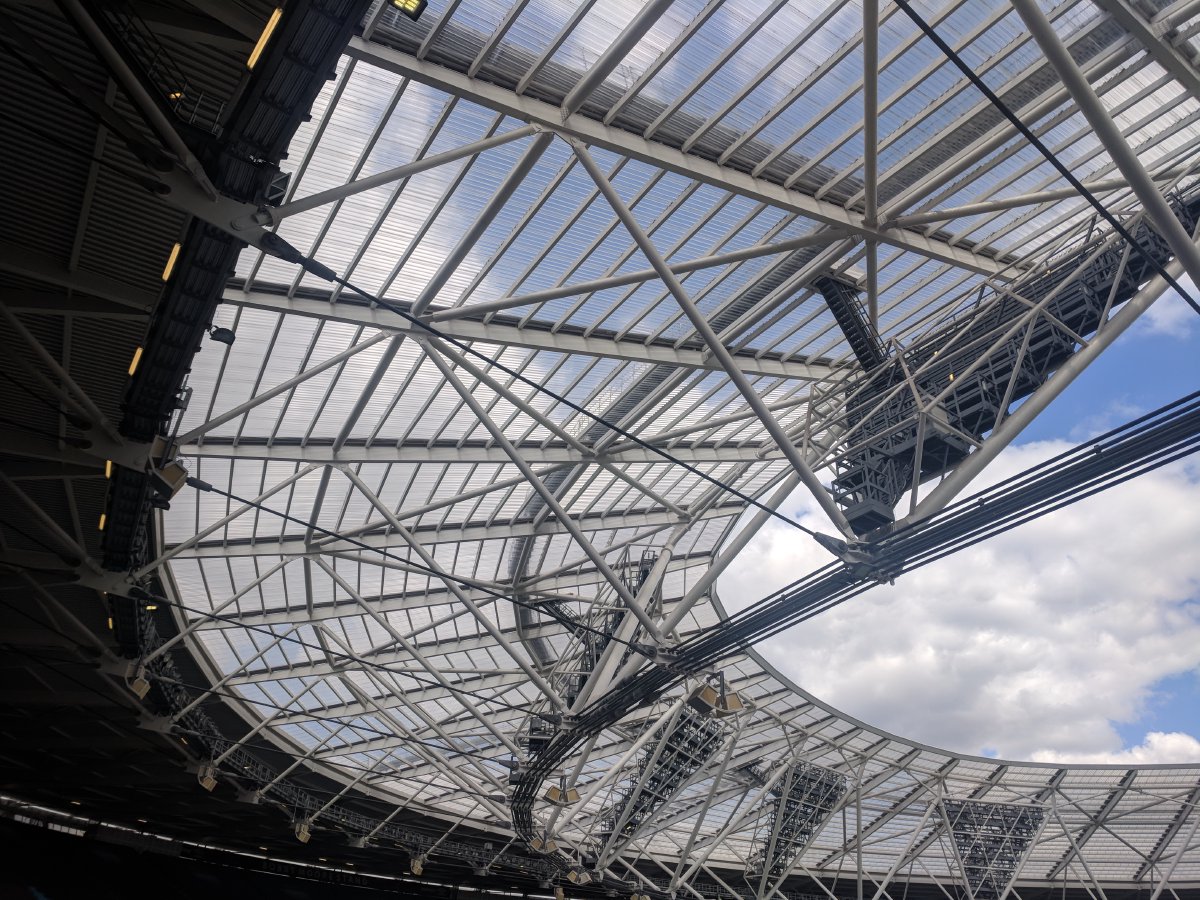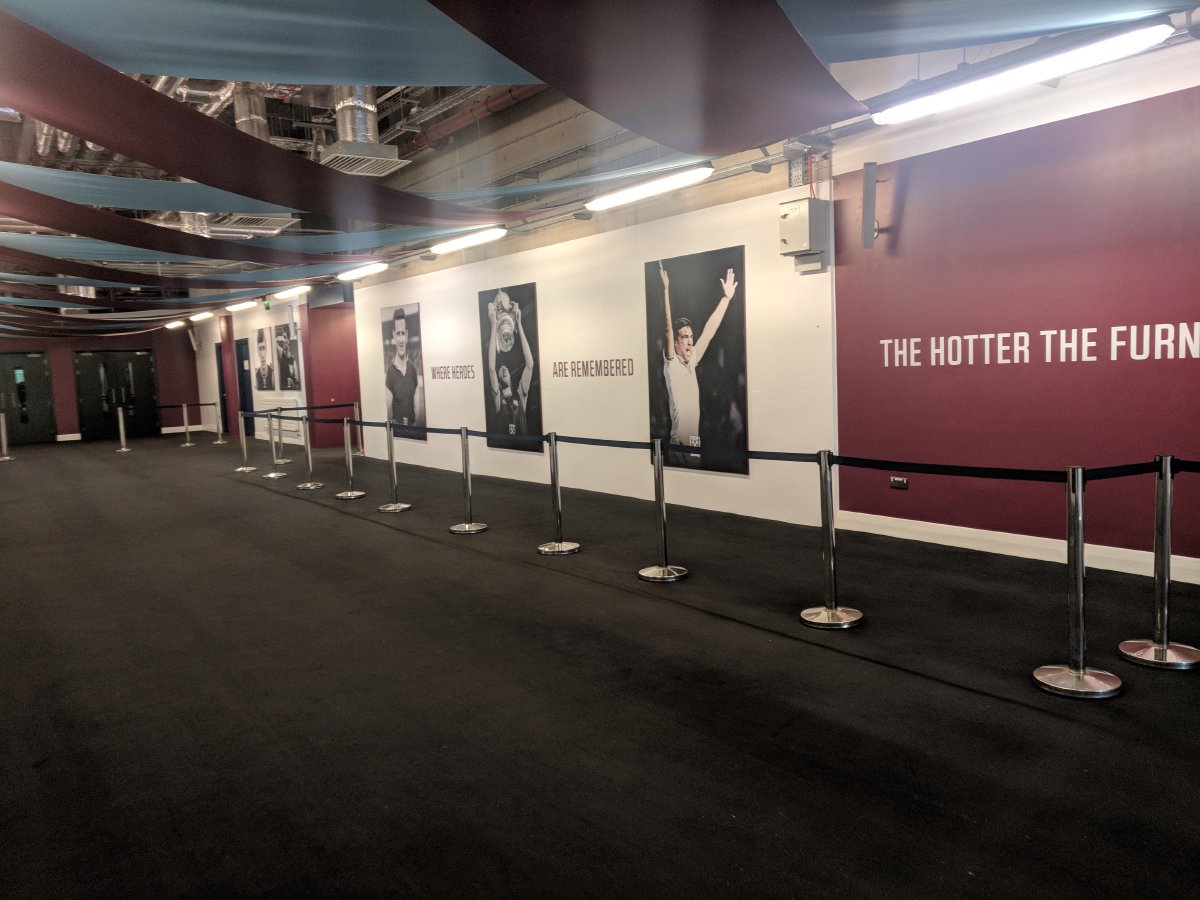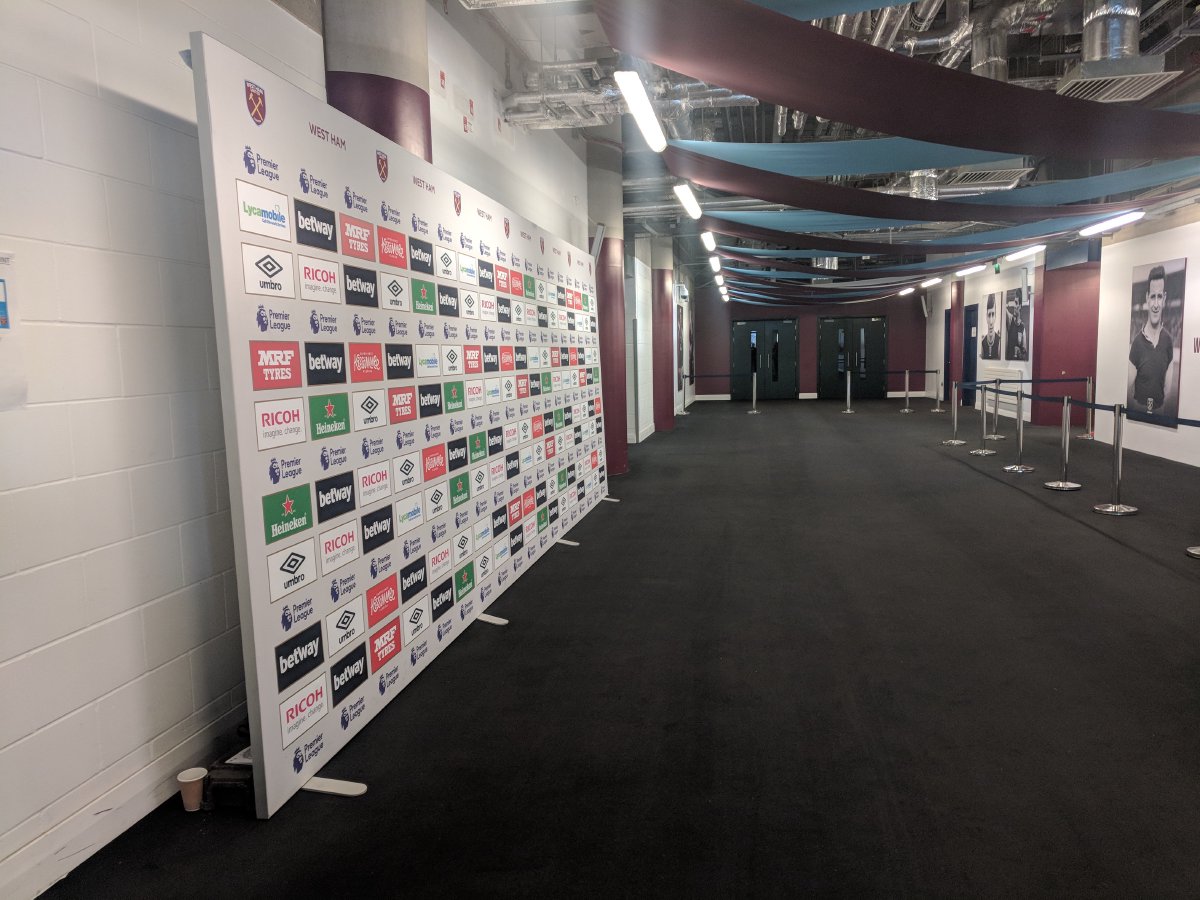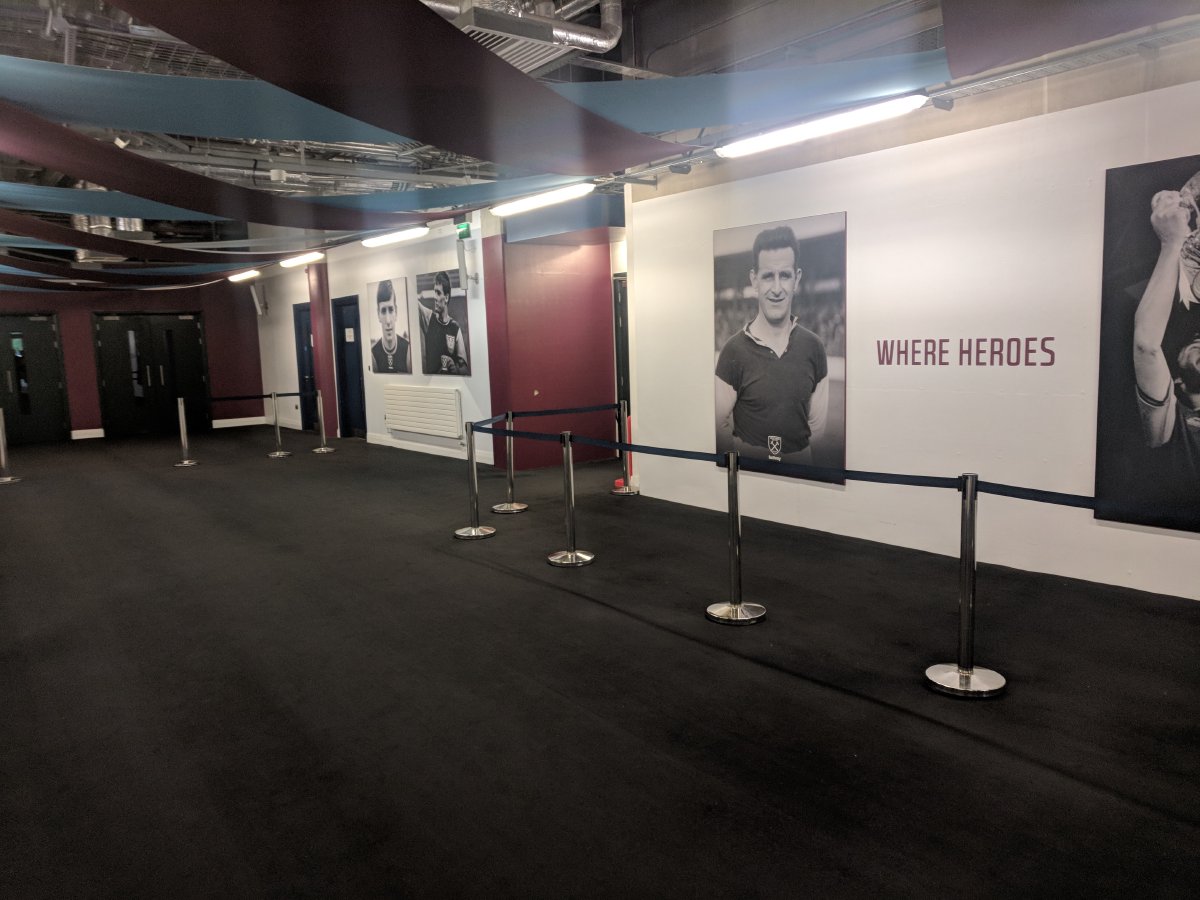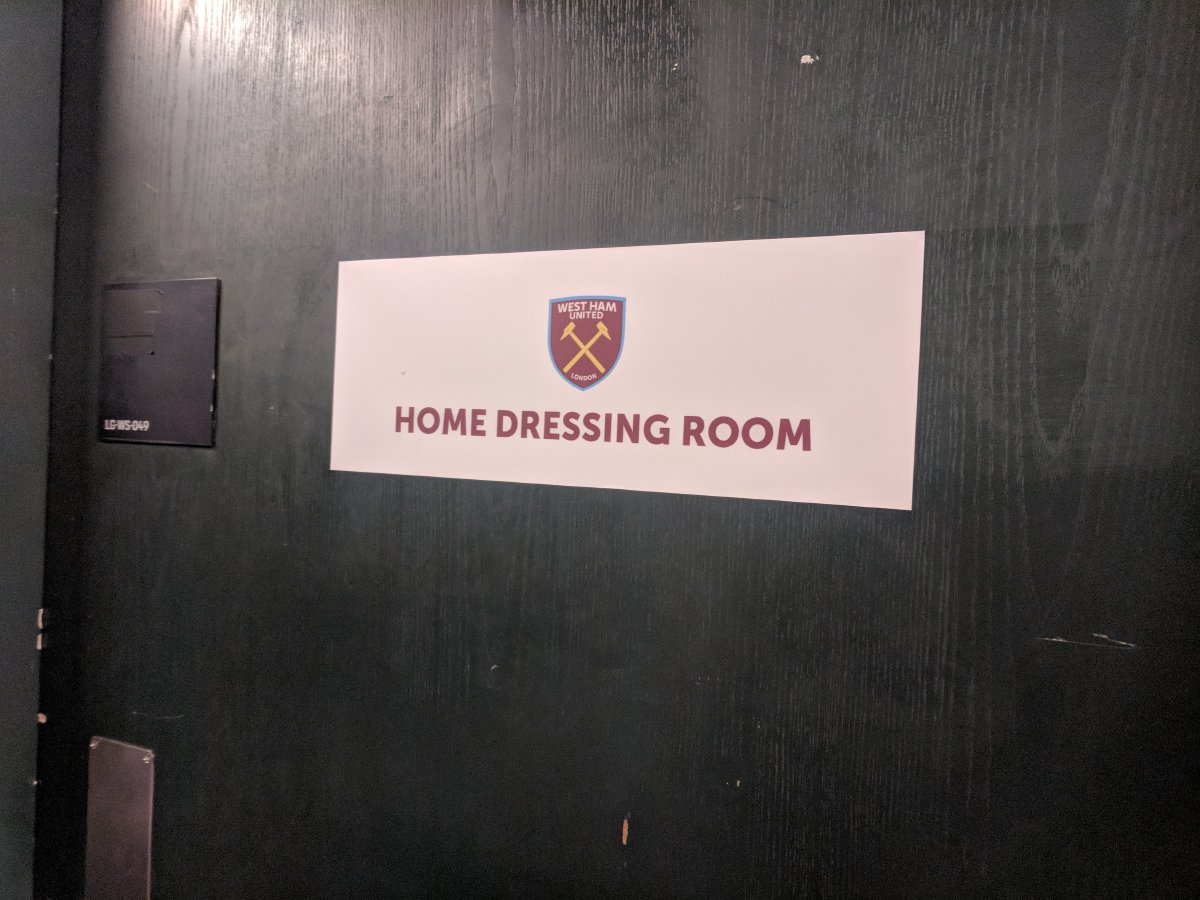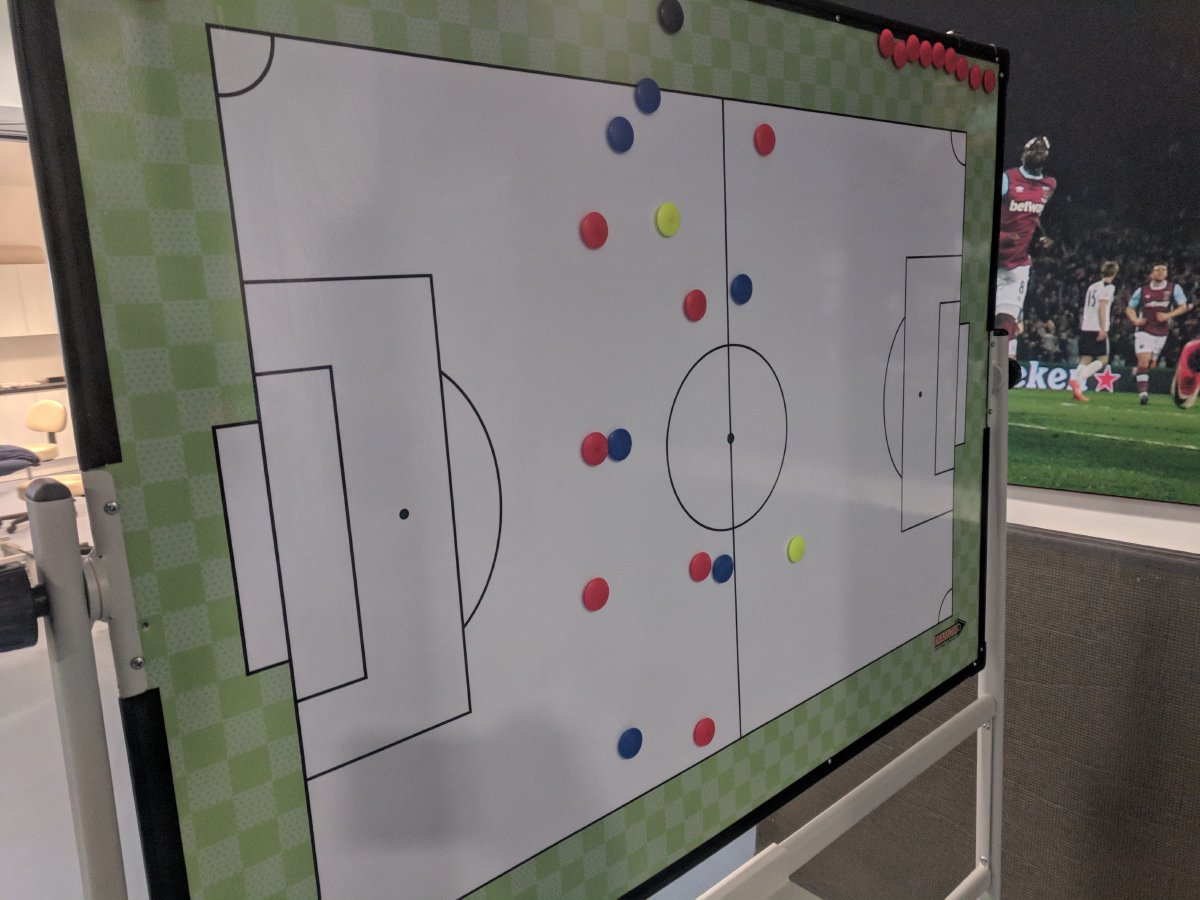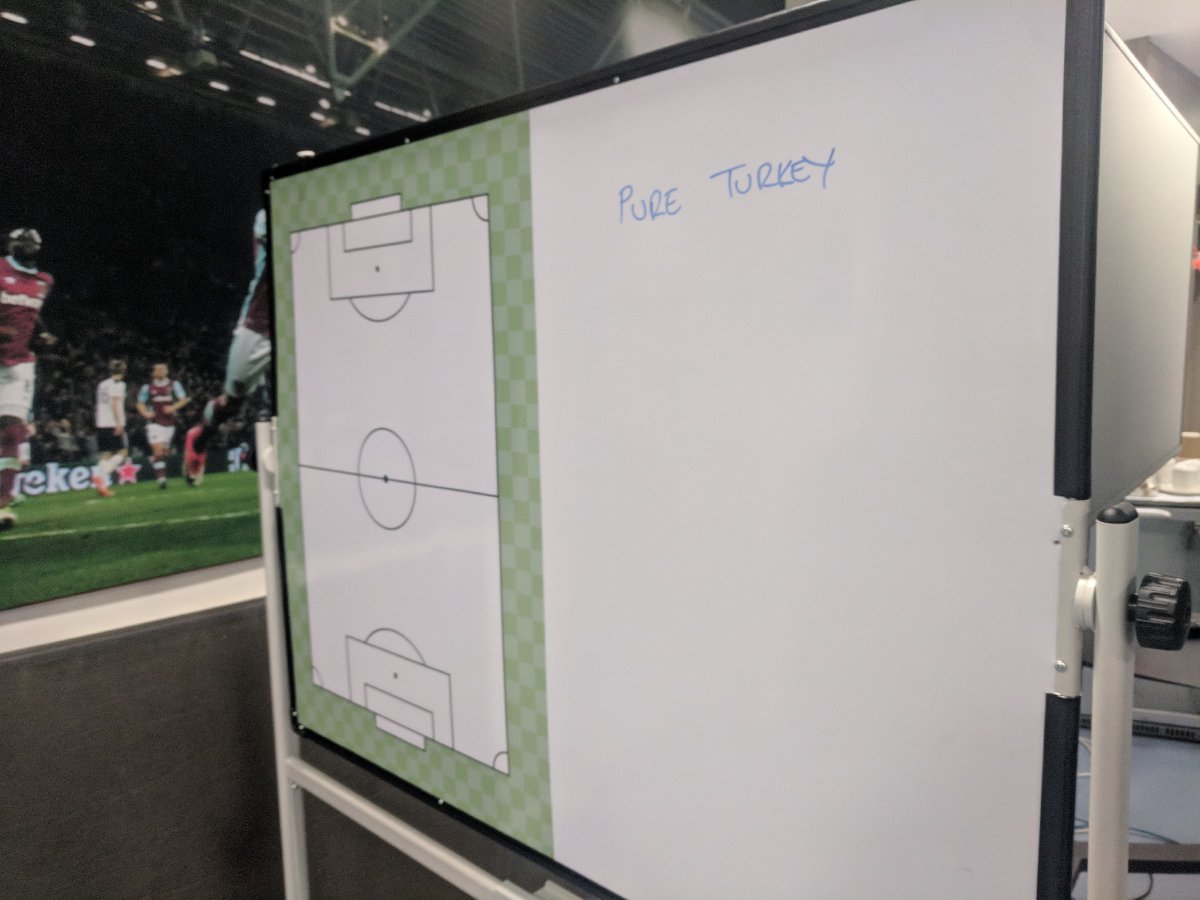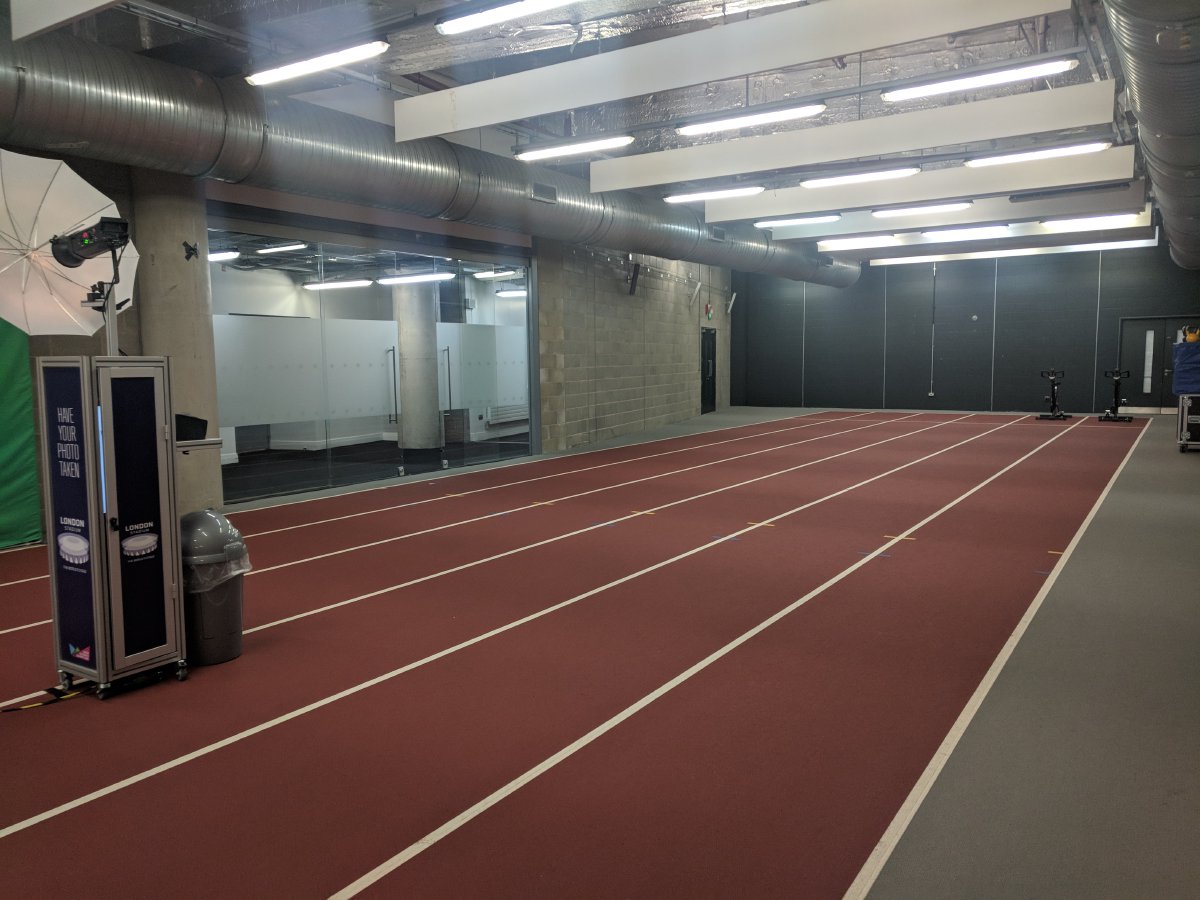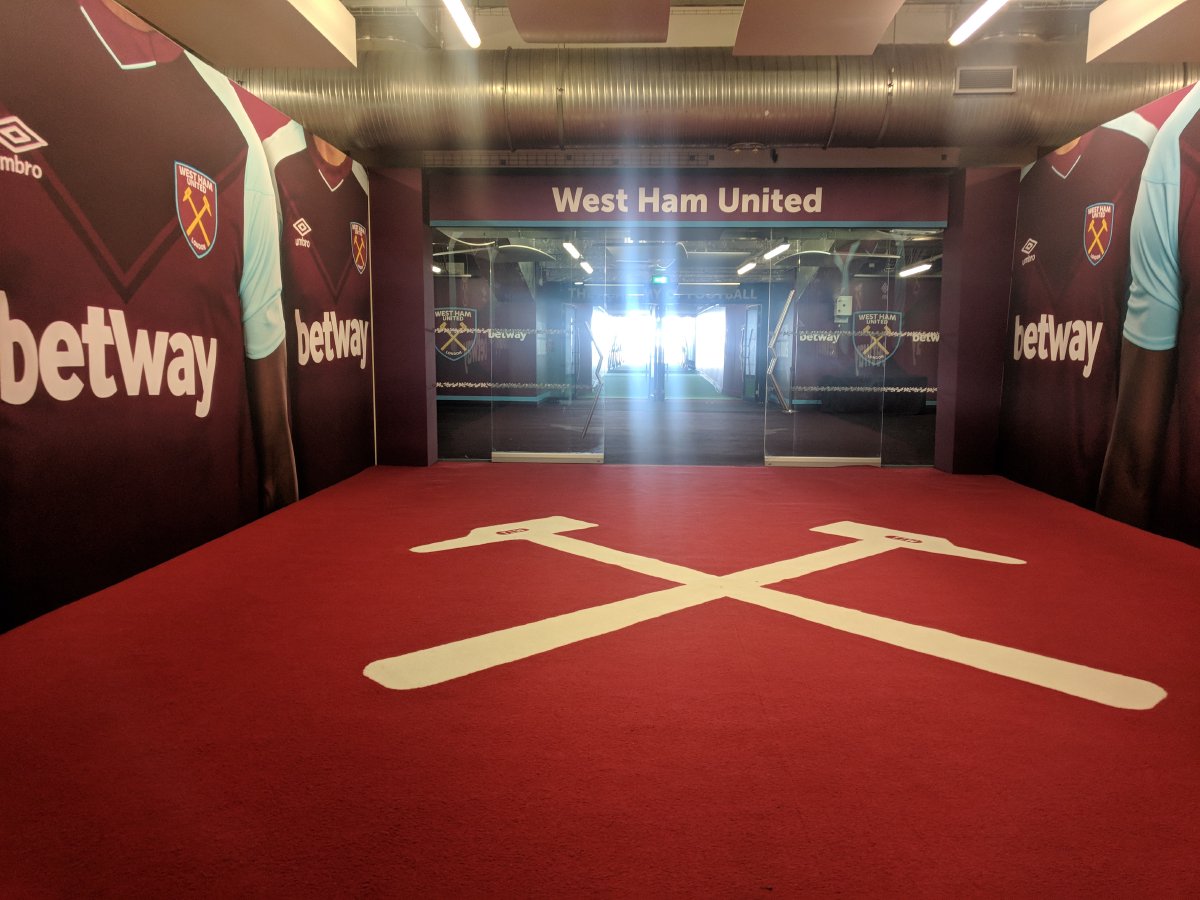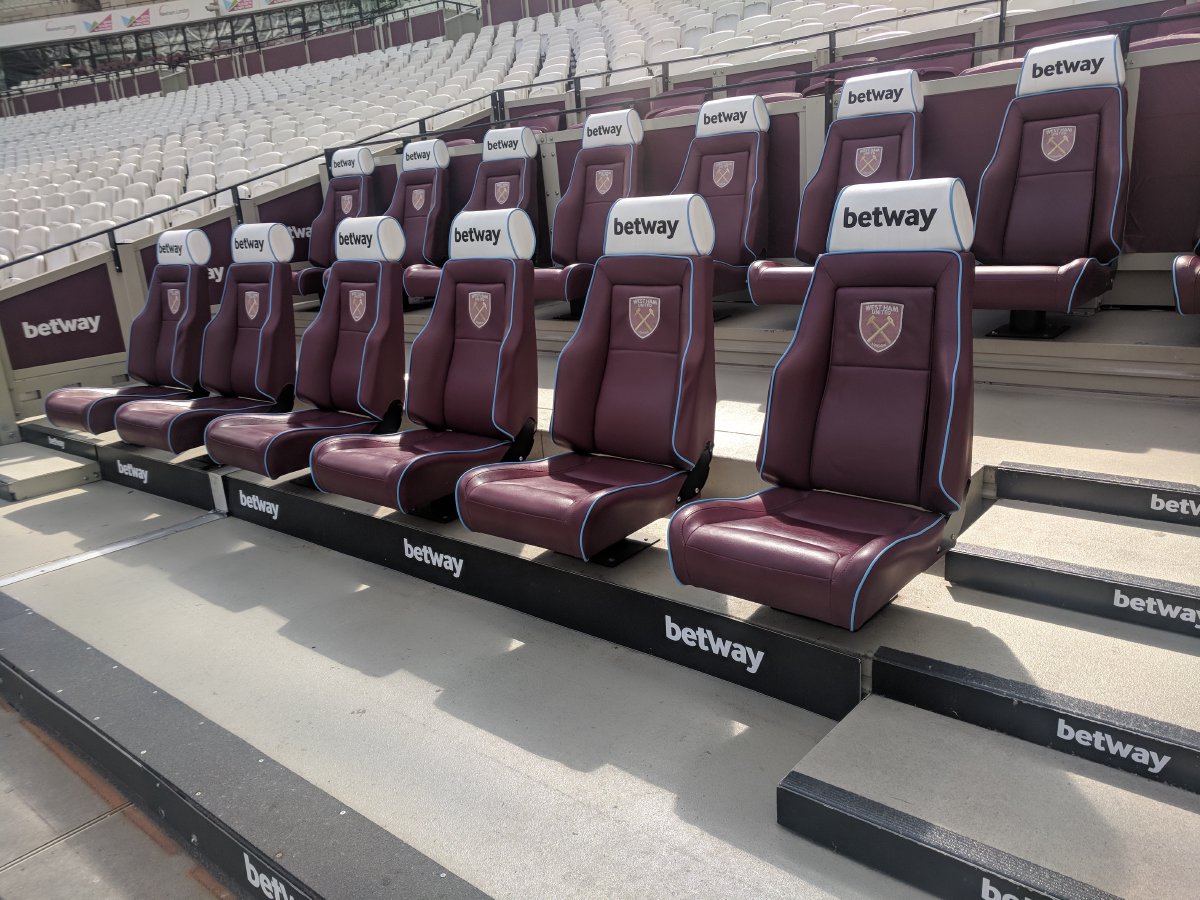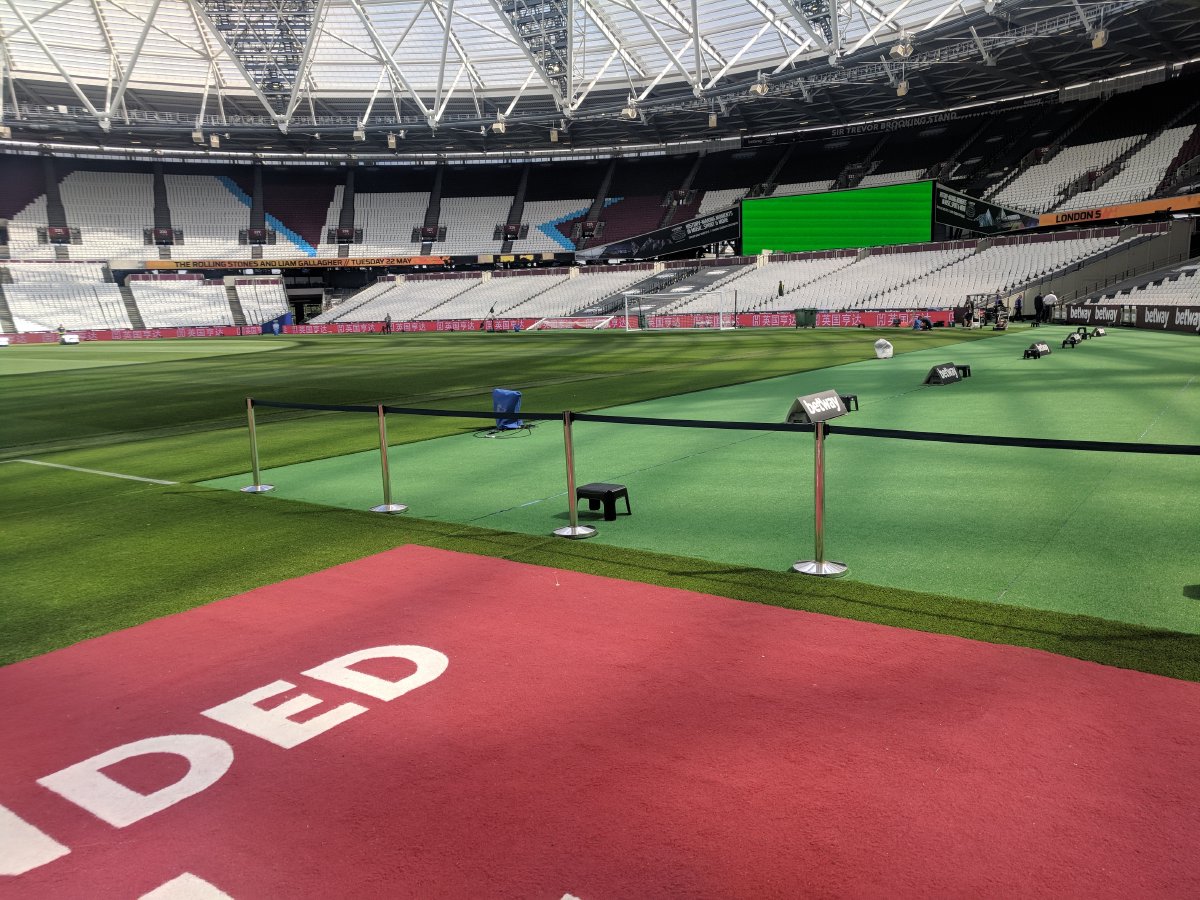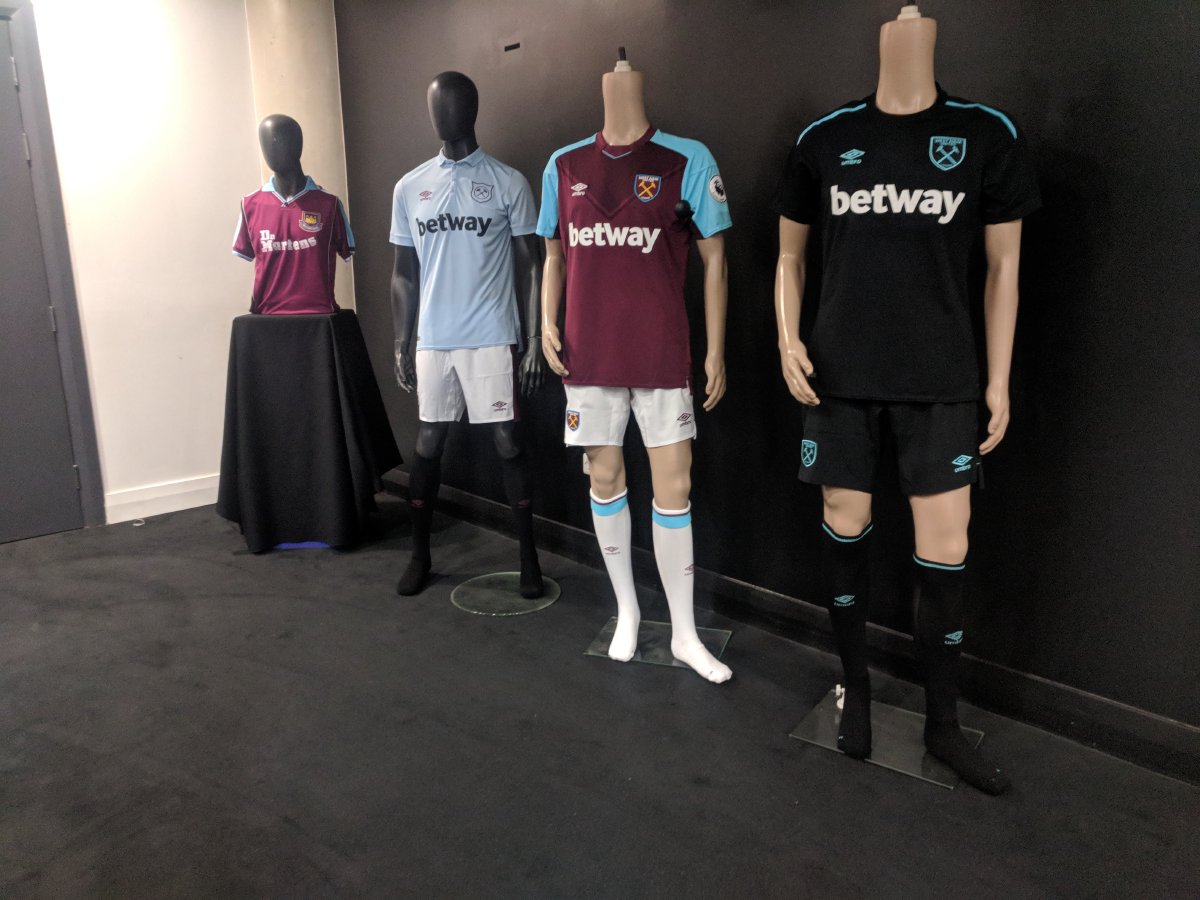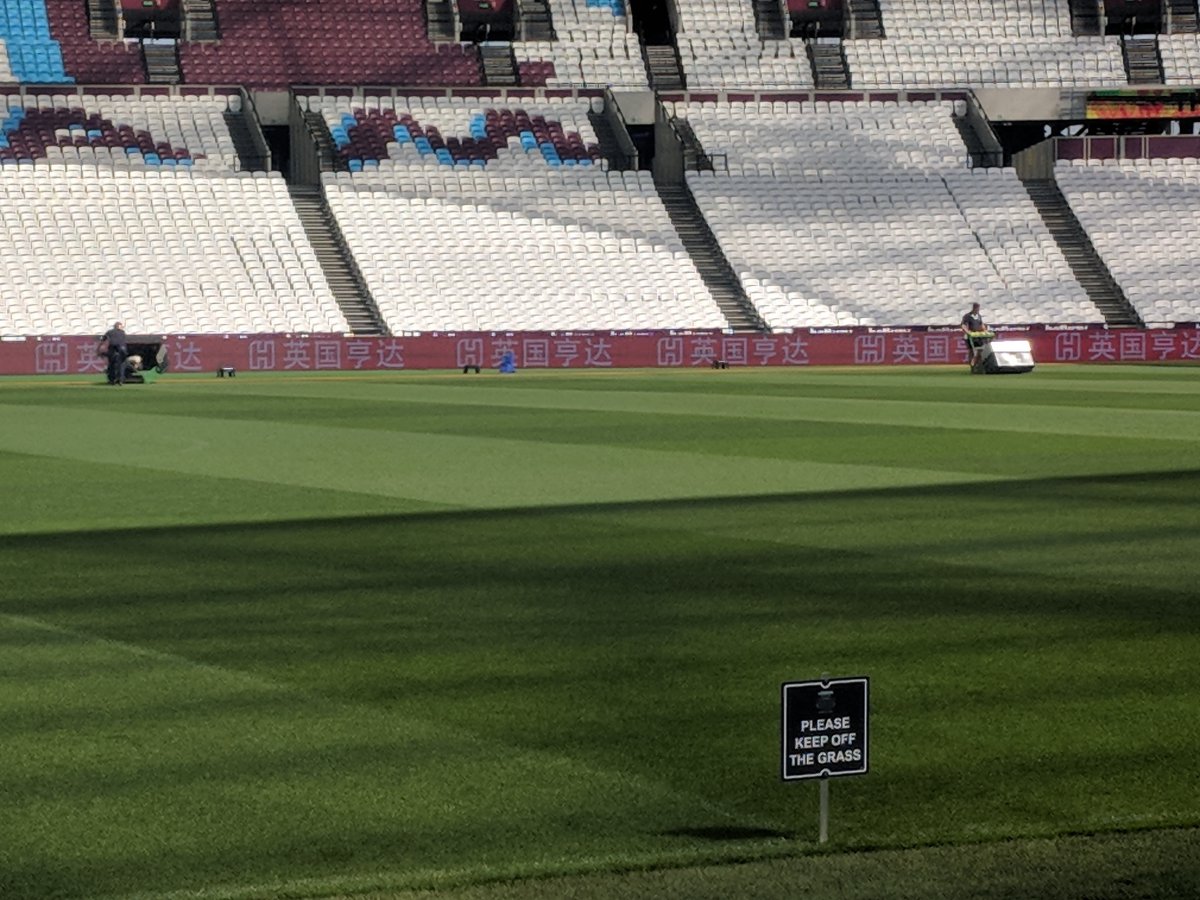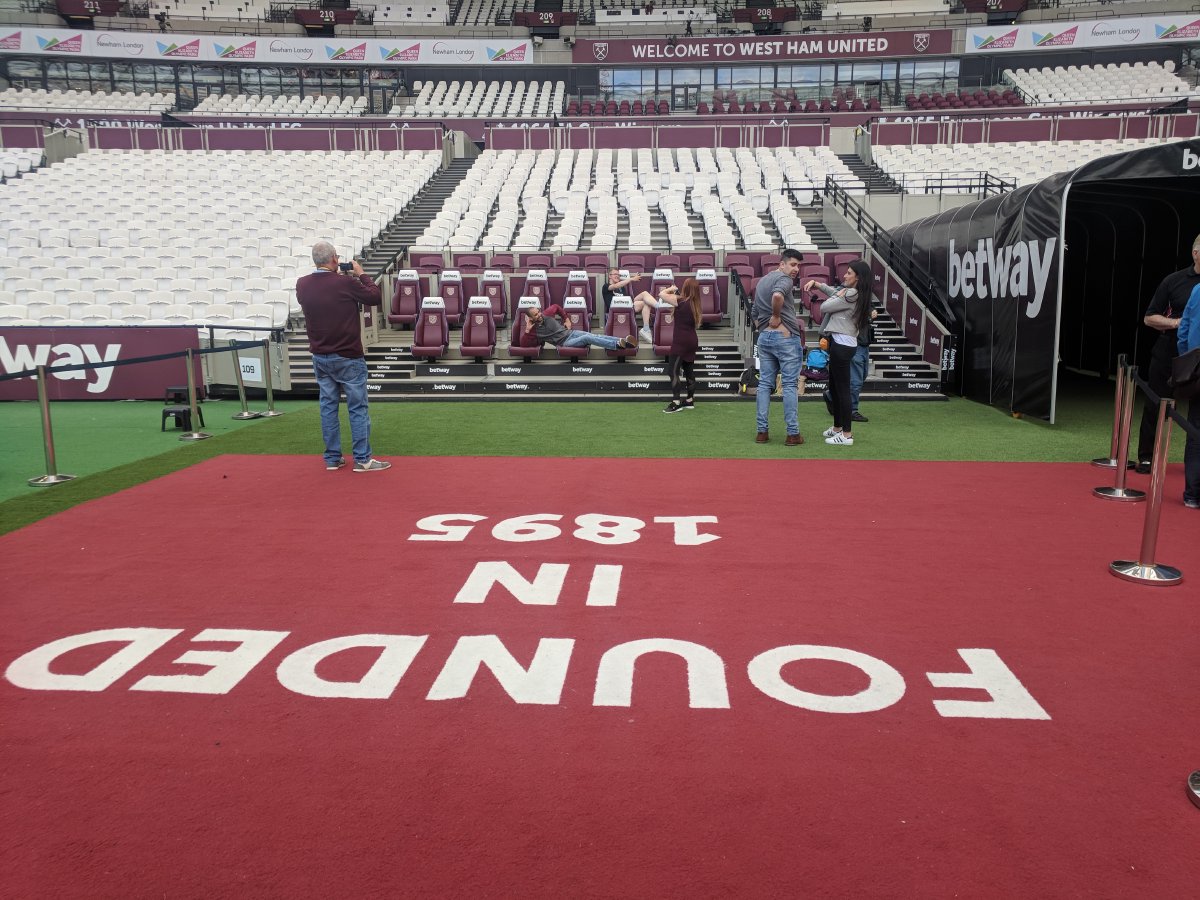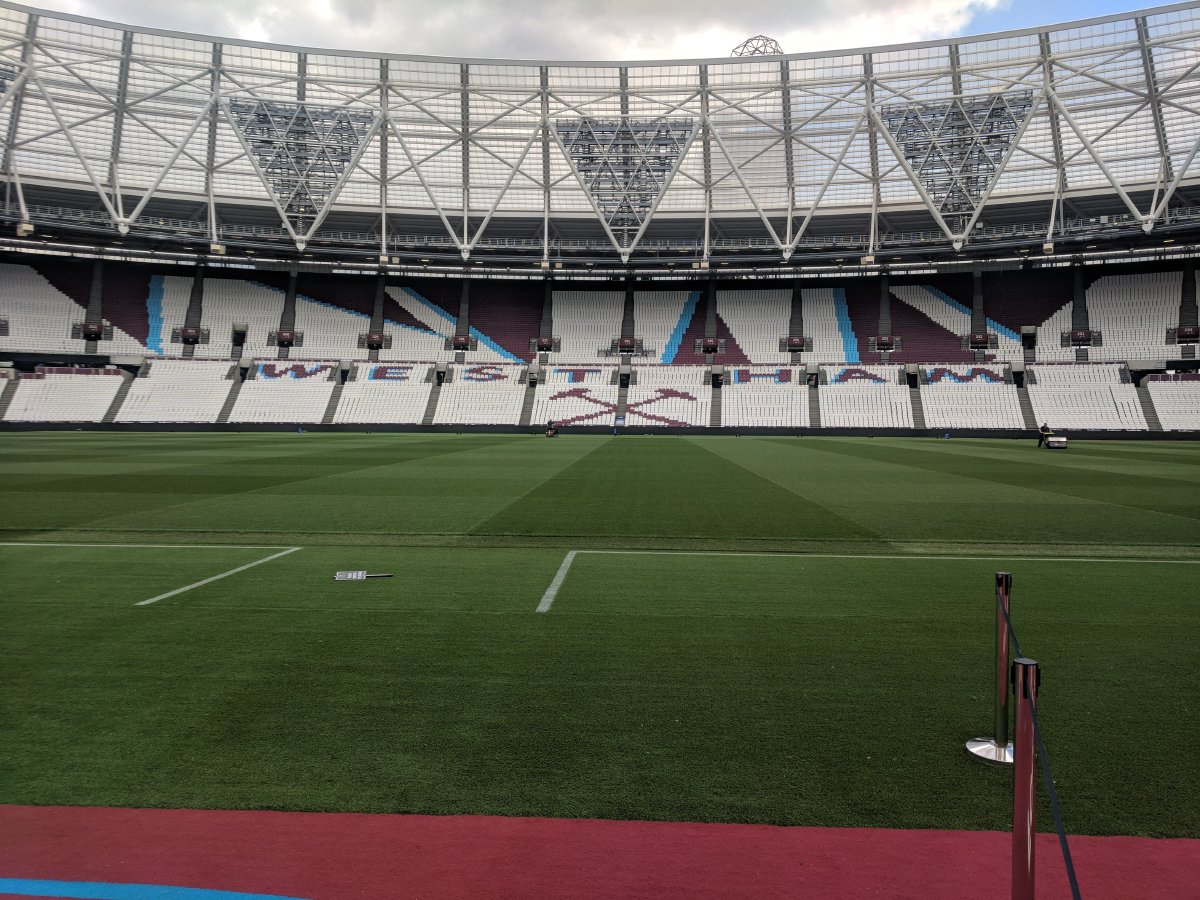 ---
And just like that - I'm back at the London Stadium for the evening entertainment. West Ham host Manchester United. This will be the second of three matches these two will play in a week, and with not much on the line for either team this late in the season - the atmosphere was subdued.
The crowd were not particularly pleased with subdued and there was overall a feeling of grumpiness with a scoreless draw. Still nice to get into the stadium for a match before I head back to the states in the morning.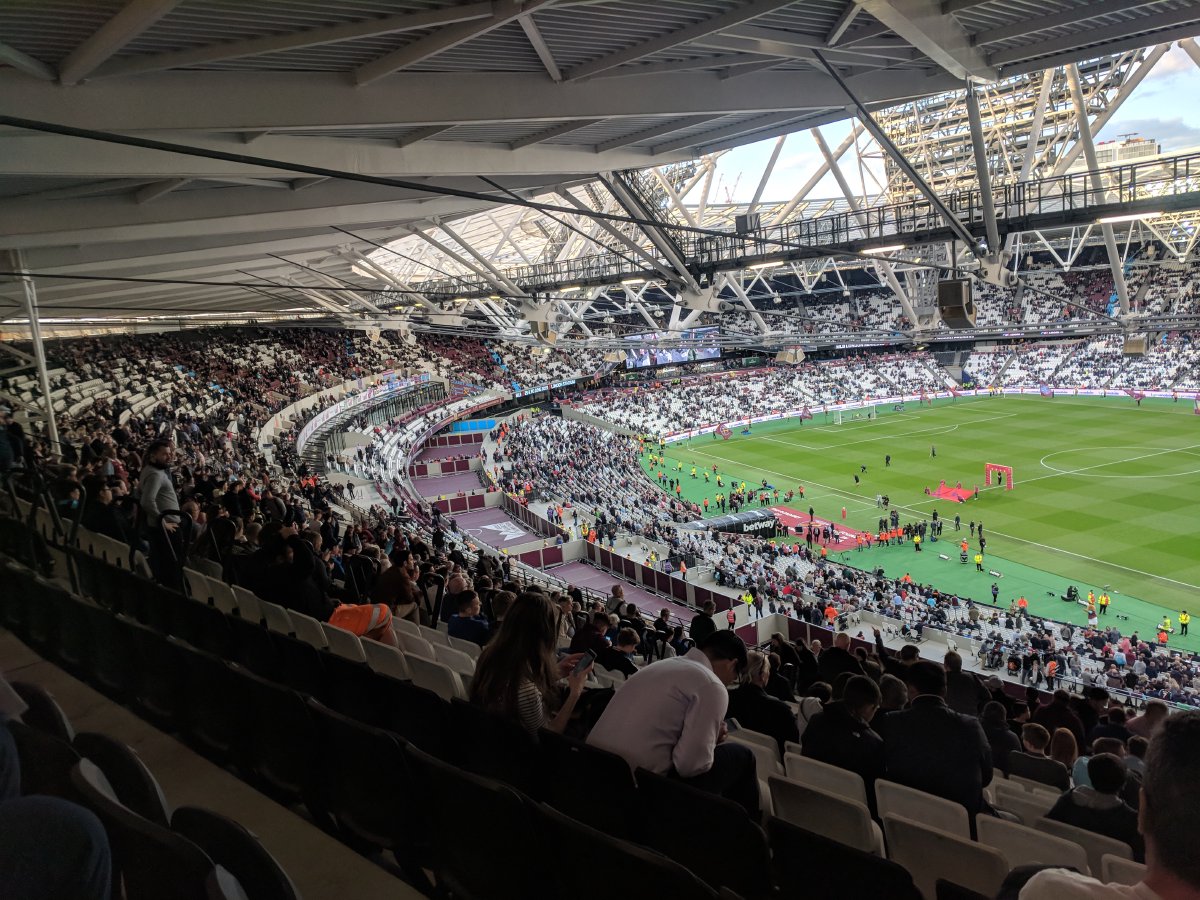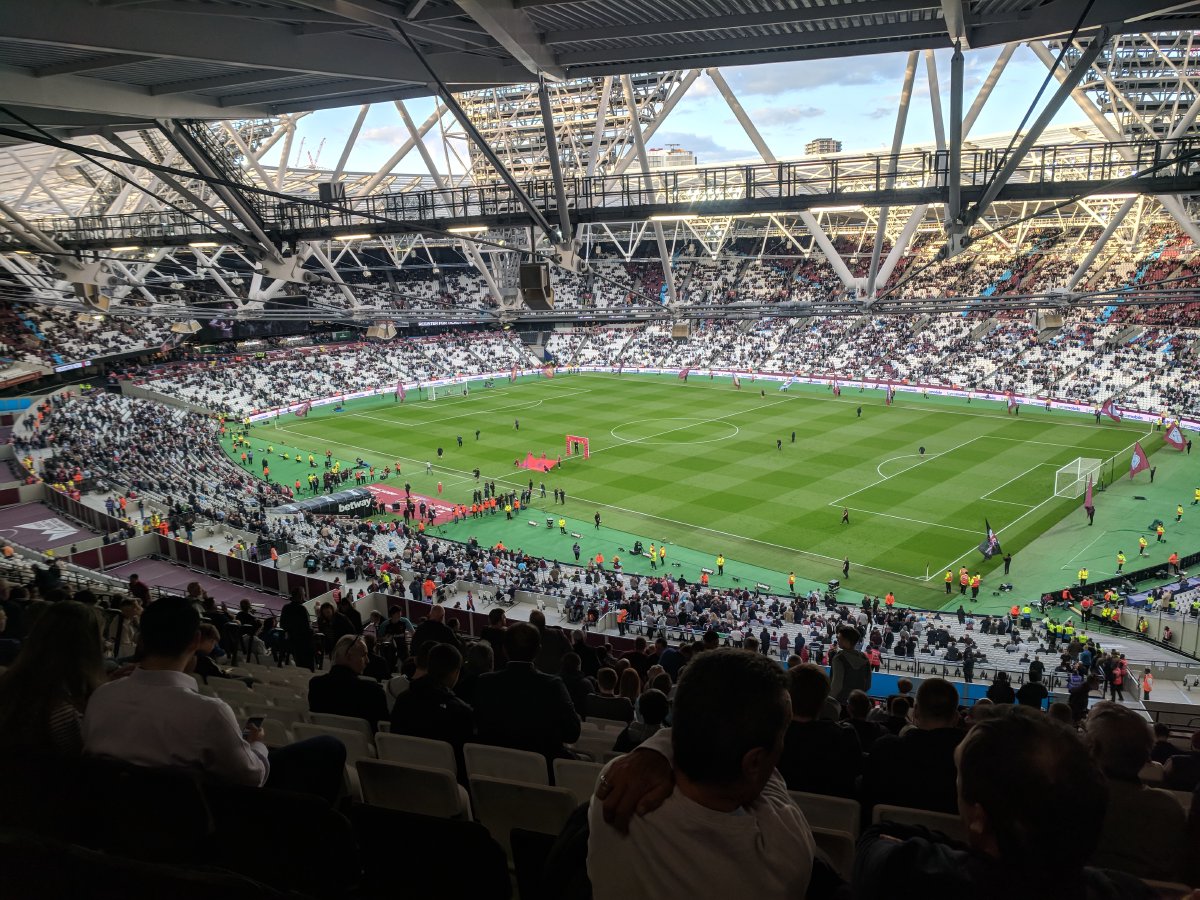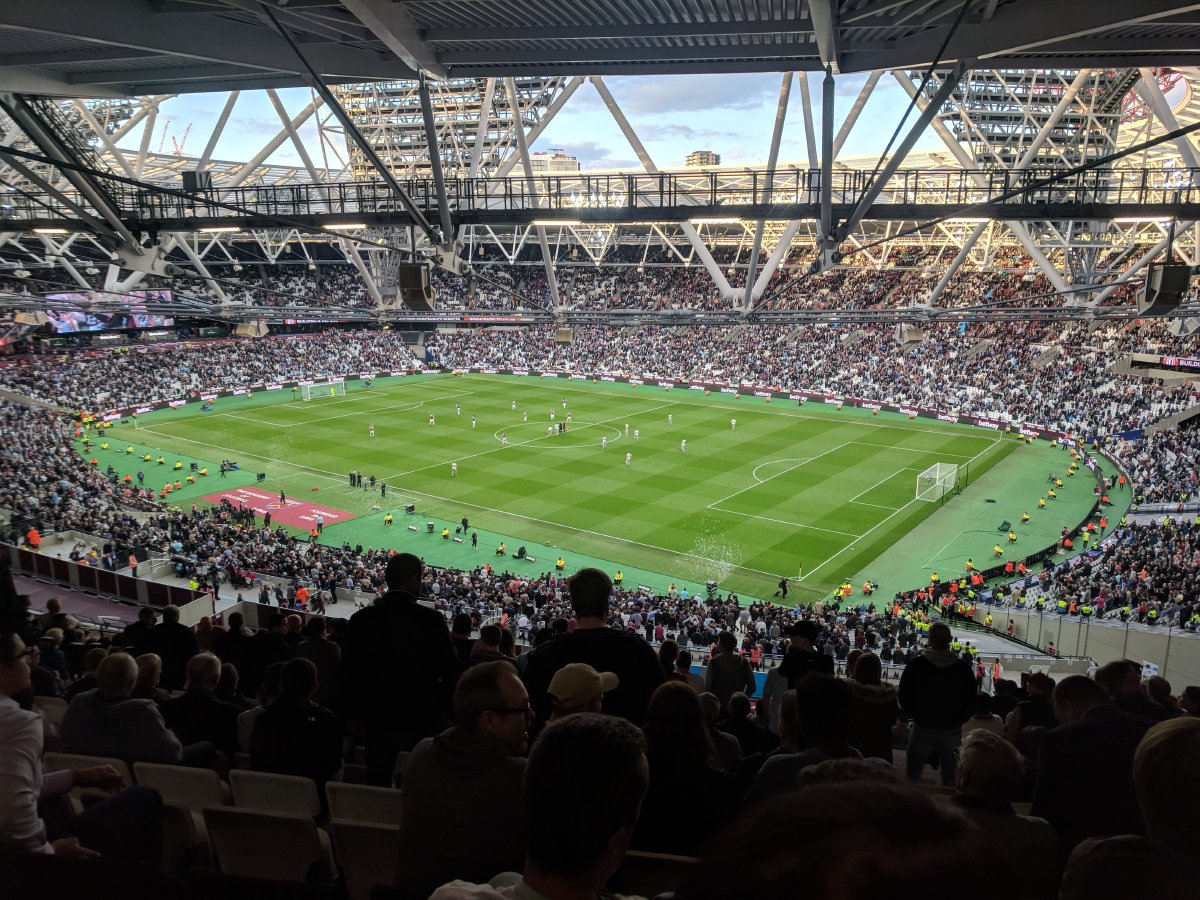 ---
Sadly, it can't All be Football
With this as my third trip to the UK for football in three years - people are starting to talk. Especially my family who are getting jealous. I've acquainted myself with the best hot cocoa in the world from Dark Sugars in White Chapel. And I managed to squeeze in an early morning run around Hyde Park before flying back home to the state.